More Middle Eastern airlines poised for profits
Etihad Airways, Qatar Airways and flydubai are majority state-owned – 100% for Etihad and flydubai, 50% for Qatar – and all three have been among the brightest growth stories in a region already noted for its rapid development.
Now the three look set to join the ranks of Middle Eastern airlines that are consistently profitable.
State-owned carriers in the region typically don't perform well when it comes to their bottom lines. According to IATA, airlines in the Middle East as a group have had just three years of profitability in the last seven.
After airlines across the region reported a combined profit of USD900 million in 2010, regional profitability returned after a four-year absence. The outlook for 2011 and 2012 is strongly positive, even with the impact of the Arab Spring.
Middle East airlines net profits estimate (USD millions): 2004 to 2012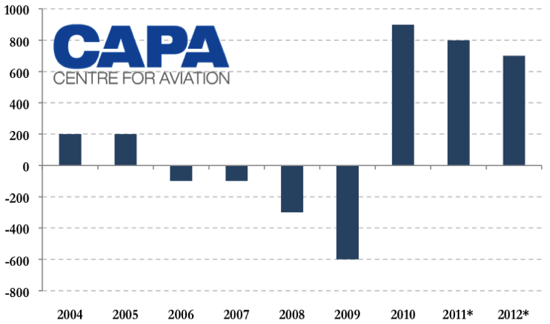 Emirates is the poster child for financial success – and financial transparency – in the region. It has been consistently profitable, even in the face of the financial crisis, over the past decade. The Dubai-based, state-owned airline group has its accounts audited by PricewaterhouseCoopers and makes the annual results for its airline and IT/ground operations arm, dnata, publicly available.
Emirates airline net profit (AED million) and net margin: FY2001 to FY2010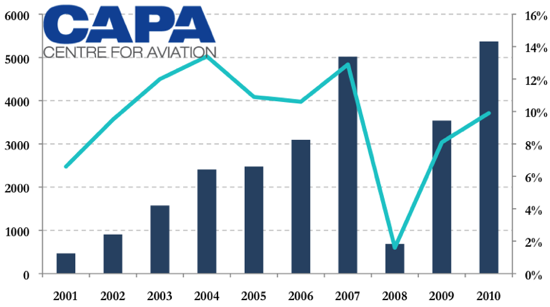 Even with their aggressive expansion plans, state-owned airlines such as Etihad, Qatar Airways and flydubai are now edging into profitability.
Qatar Airways CEO, Akbar Al Baker, stated in Jun-2011 that the carrier had been profitable for six of the past 14 years, including a net profit of USD205 million for FY2009/10 and a net profit of USD230 million for the 12 months to 31-Mar-2011. The carrier does not disclose its full financial results like the government-owned Emirates, despite the fact that its ownership is split between the Qatari Government and private Qatari interests.
Qatar Airways had planned to launch an IPO once it achieved profitability for three consecutive years setting up 2012 as a potential launch date for a listing. In Sep-2011, the airline announced that it had pushed back its IPO plan, citing the global financial situation as driving the decision.
Another government-owned carrier following Qatar Airways into sustained profitability is Etihad Airways. The national carrier of the UAE has only been operational since 2003 and has a ferocious growth profile: it now operates to 71 destinations with 62 aircraft.
Despite the rapid expansion – Etihad has added six new aircraft and seven new routes already this year – the carrier is also edging its way out of the red. One of the three pillars of the carrier's mandate is commercial viability, of which sustained profitability is a major part. The carrier had been forced to push back its profitability targets during 2010, due to the lingering effects of the global financial downturn.
Although it does not disclose full figures, the airline has reported that its EBITDA result has been positive for the last three quarters, as it adds both depth and scale to its operations. The airline is now on track to deliver a positive result for FY2011, even with the loss in traffic and the negative affect on yields of the Arab Spring. CEO, James Hogan, believes Etihad can achieve its goal of break-even this year, followed by a move into sustained profitability from 2012.
flydubai is another new and fast-growing carrier, set-up by the Emirate of Dubai in 2008. It is also the region's only government-owned LCC, and one of the few government-owned LCCs globally. Since its launch, the airline has added 20 aircraft and 45 destinations, and becoming the fifth largest carrier by ASKs within the Arab World, after Saudi Arabian Airlines, EgyptAir, Emirates and Qatar Airways.
AACO members intra Arab-world capacity by carrier: Aug-2011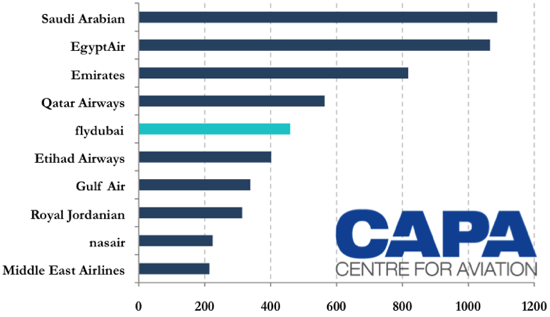 According to comments by the carrier's CEO, Ghaith Al Ghaith, the airline is now very close to achieving break-even and is targeting profitability from 2012 onwards. flydubai's strategy has been to operate a mix of the most heavily trafficked Middle East and Indian sub-continent routes as well as underserved markets in Eastern Europe and Africa. This one-two combination provides it with a potent regional network offering strong connectivity and access to some of the fastest growing markets within 4-5 hours flying time of its Dubai hub.
As it nears profitability, flydubai is also talking about more orders. The carrier has 30 B737-800s left from its order for 50 placed in 2008, the last of which is slated for delivery in 2016. The airline is looking at the reworked offerings from the major manufacturers and Mr Al Ghaith has already commented that the airline will certainly consider the B737 MAX in its purchase decisions.
Profitability is the goal for state-owned carriers in the region, particularly those from smaller states. The region has its success stories: Emirates, EgyptAir and Middle East Airlines have all been consistently profitable over the past few years while Royal Jordanian managed to restructure and then transfer to majority private ownership. However, other carriers are not performing as well: over the three years Kuwait Airways, Gulf Air and Oman Air have racked up more than USD2.2 billion in losses between them, despite ongoing restructuring efforts at all three carriers.