Monarch Airlines restructure 2: lower fuel, labour productivity drive return to profit. Risks remain
Analysis
Part 1 of CAPA's analysis of Monarch's restructuring examined capacity cuts and the shrinking of the fleet and network. An obvious sign of success is that the Monarch Group and Monarch Airlines returned to profit in FY2015. The restructuring helped to stabilise load factor, reduce the seasonality in the business and improve its on-time performance. However, average daily aircraft utilisation continued to fall and load factor has fallen again in the first part of FY2016.
Part 2 of CAPA's analysis examines how the restructuring improved Monarch's financial performance. The return to profit by the UK LCC was driven both by a rise in unit revenue and a fall in unit cost – that cost itself helped by lower fuel prices and improved labour productivity.
Looking ahead, Monarch's Boeing 737MAX deliveries from 2018 should benefit the bottom line. However, in the meantime leisure-focused markets face considerable volatility from geopolitical and macroeconomic uncertainties, not helped by the UK's recent Brexit vote. Although back in profit, Monarch still needs shareholder support to fund its liquidity needs and there have been some reports – denied by the airline – that its owners may be considering a sale. The restructuring now gives it a base from which to address its challenges.
Monarch Group returned to profit in FY2015
The Monarch Group returned to profit in FY2015, achieving a net result of GBP38 million compared with a GBP42 million loss in FY2014. The underlying turnaround was even stronger, as the Group's pre-exceptional operating result improved to a profit of GBP45 million in FY2015 from a loss of GBP94 million in the previous year. Revenue fell by 16% to GBP828 million and the group's operating margin gained 14.9ppts to 5.4%.
Monarch's accounts do not separately reveal its fuel costs, but the turnaround likely owed much to lower fuel prices, in addition to the positive impact of its restructuring programme. The GBP/EUR exchange rate also favoured outbound UK tourists.
Monarch Group financial highlights: FY2015 versus FY2014* (GBP million)
| Year to 31 Oct | 2014 | 2015 | Change |
| --- | --- | --- | --- |
| Revenue | 990.0 | 828.1 | -16.4% |
| Operating profit before exceptionals | -94.0 | 45.0 | -147.9% |
| Operating margin % | -9.5 | 5.4 | 14.9 |
| Net profit | -41.9 | 37.7 | 79.6 |
| Gross debt | 143.4 | 168.9 | 17.8% |
| Cash | 5.9 | 42.3 | 616.9% |
| Net debt | 137.5 | 126.6 | -7.9% |
| Capitalised operating leases | 676.8 | 552.0 | -18.4% |
| Adjusted net debt | 814.3 | 678.6 | -16.7% |
| Equity | -211.5 | -173.9 | 37.6 |
The Group's positive net result was only its second in the past five years. The operating margin of 5.4% was better than it had achieved at any time this decade.
Monarch Group: operating profit, net profit and revenue (GBP million), FY2010 to FY2015*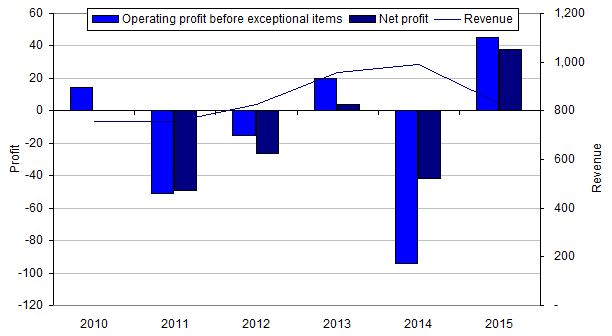 Liquidity requirements still need support from shareholders
Monarch's liquidity levels improved through the year, with its year-end cash balance (excluding restricted cash) growing from just GBP6 million to GBP42 million. Nevertheless this was still fairly low, representing only 19 days of group revenue. With a negative book equity value, the Monarch Group's operations continued to be supported by the rollover of loans from its shareholder, Greybull Capital.
There have been some reports that Greybull Capital is considering its strategic options for Monarch, including a sale. There were reported suggestions that easyJet may have been interested, but easyJet's largest shareholder Stelios Haji-Ioannou was said to oppose this. There have also been reports that China's HNA Group is in discussions about a potential acquisition.
Monarch's CEO Andrew Swaffield has reportedly dismissed rumours the airline was for sale: "We've got our eyes open on potential acquisition that we might be able to make ourselves with Greybull's support and we haven't' denied the fact that there has been interest in us from potential acquirers" (TTG Media/Reuters, 29-Apr-2016). Mr Swaffield added: "The for sale sign is not up and as far as we're concerned out focus is on delivering a successful and sustainable profitable business".
Although Monarch has returned to profit its liquidity still needs funding, and Greybull will be assessing whether or not its continued involvement meets its own financial targets.
Airline segment was 67% of the group's external revenue in FY2015
The Monarch Group consists of three business segments. The largest of these is the airline (Monarch Airlines), whose external revenue accounted for 67% of the group total in FY2015. Note that the airline segment now includes charter airline broker First Aviation, which was previously reported as a separate segment, but represented only 1% of revenue in FY0214.
The tour operations segment was responsible for 28% of external revenue, while Monarch Aircraft Engineering generated 4% in FY2015.
Monarch Group external revenues by division FY2015 versus FY2014*
| GBP million | 2014 | 2015 | Change | % of 2015 total |
| --- | --- | --- | --- | --- |
| Airline operations** | 602.9 | 554.9 | -8.0% | 67% |
| Engineering services | 41.5 | 39.0 | -6.0% | 4% |
| Tour operations | 344.3 | 234.2 | -32.0% | 28% |
| Group activities | 1.4 | 0.0 | -100.0% | 0% |
| Total | 990.0 | 828.1 | -16.4% | 100% |
Group's turnaround was driven by airline segment
The airline segment's pre-tax result underwent the most dramatic transformation in FY2015, when it achieved a profit of GBP26 million after a GBP206 million loss in the previous year. The airline segment's FY2014 result was weighed down by GBP92 million of exceptional items, mainly comprising GBP90 million of restructuring costs and a GBP21 million aircraft impairment as part of its fleet reduction programme.
(Note that at the Group level negative exceptional items in FY2014 were more than offset by a GBP161 million positive exceptional gain in respect of the settlement of pension liabilities.)
The engineering segment improved its pre-tax result modestly from break-even to a profit of GBP1 million, while the tour operator made a small loss of GBP3 million after a GBP2 million profit in the previous year.
Monarch Group profit before tax by division: FY2015 versus FY2014*
| GBP million | 2014 | 2015 |
| --- | --- | --- |
| Airline operations** | -206.2 | 26.0 |
| Engineering services | 0.0 | 1.0 |
| Tour operations | 1.7 | -2.8 |
| Group functions | 147.2 | -4.9 |
| Total | -57.3 | 19.2 |
Monarch Airlines' pre-tax result was its best in at least 10 years
According to figures in Monarch Airlines' annual report the airline (excluding First Aviation) made a pre-tax profit of GBP26 million in FY2015, versus a loss of GBP210 million in FY2015. The FY2015 figure was its best result in at least 10 years, and only its second positive result since it just beat break-even in 2008.
The pre-tax results in both FY2015 and FY2014 were negatively affected by exceptional items – mainly restructuring costs and (in FY2014) aircraft impairment charges. Monarch Airlines' operating result before exceptional items turned around from a loss of GBP113 million in FY2014 to a profit of 45 million in FY2015.
The airline generated total revenue of GBP656 million in FY2015, including sales within the group – a reduction of 14% on its FY2014 level. Its operating margin gained 21.7ppts to 6.9%, which would place it above the midpoint of the margin ranking of listed European airlines and their major subsidiaries.
(For a chart showing this margin ranking, see Flybe: back in profit, but still one of Europe's least profitable listed airlines)
Monarch Airlines revenue and profit before tax (PBT), GBP million: FY2005 to FY2015*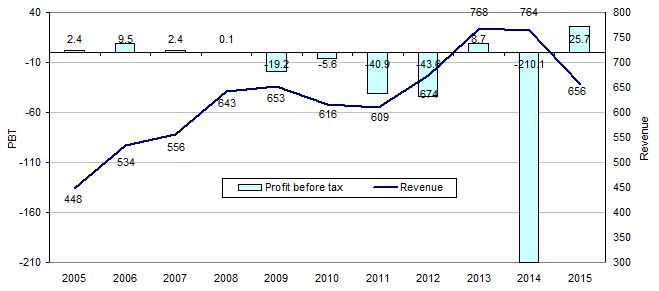 Seat capacity cut by 18%, load factor stabilised in FY2015
According to figures in Monarch Airlines' annual report, it cut its seat capacity by 17.6% in FY2015, while its total passenger numbers fell by 17.1% to 6.0 million. This number is consistent with Monarch's aim at the outset of its restructuring programme.
However, it is a little higher than the 5.8 million reported on the Civil Aviation Authority website. The difference is probably due to Monarch's recording of all revenue bookings – regardless of whether the passenger boards the flight or not – whereas the CAA data are based only on passengers carried.
Monarch Airlines operating highlights: FY2015 versus FY2014*
| | FY2014 | FY2015 | Change |
| --- | --- | --- | --- |
| Total pax 000 | 7,210 | 5,975 | -17.1% |
| Total seat capacity 000 | 8,730 | 7,196 | -17.6% |
| Total load factor (pax/seats) % | 82.6 | 83.0 | +0.4ppts |
| Total revenue** GBP million | 764.4 | 655.5 | -14.2% |
| Operating profit before exceptionals GBP million | -113.3 | 45.1 | -139.8% |
| Operating margin % | -14.8 | 6.9 | +21.7ppts |
| Total revenue per seat GBP (calculated) | 87.56 | 91.09 | 4.0% |
| Cost per seat GBP*** | 100.54 | 84.82 | -15.6% |
Using Monarch's numbers, and based on passengers and seats, its load factor gained 0.4pts to 83.0% in FY2015. Using CAA data for ASKs, which fell by 21.4%, and RPKs, which fell by 20.9%, Monarch's load factor gained 0.5ppts to 82.0%. This stabilisation of load factor halted a declining trend that Monarch had experienced over a number of previous years.
However, as examined in part 1 of this report on Monarch's restructuring, monthly load factor figures started to fall again from Dec-2015.
RASK up 9.1%; CASK drops 11.5%
Capacity cuts seem to have helped the airline to increase its unit revenue in FY2015. Using data reported to the CAA on ASKs and Monarch Airlines' total revenue figures from its FY2015 annual report it can be calculated that revenue per ASK (RASK) increased by 9.1%, mainly due to higher yield.
At the same time, Monarch's cost per ASK (CASK) fell by 11.5%, according to CAPA calculations based on operating costs before exceptional items. Neither the group's nor the airline's annual accounts provide full details of costs, but this unit cost performance was certainly helped by lower fuel prices and the restructuring programme. Monarch Airlines' labour costs, which are reported in the accounts, fell by 33.7% to GBP117 million.
Monarch Airlines ASK data: FY2014 and FY2015*
| | FY2014 | FY2015 | Change |
| --- | --- | --- | --- |
| ASK million | 19,354 | 15,215 | -21.4% |
| Load factor % (RPK/ASK) | 81.5 | 82.0 | +0.5ppts |
| Average trip length km | 2,217 | 2,114 | -4.6% |
| RASK GBPp | 3.95 | 4.31 | 9.1% |
| Rev per pax GBP | 107.84 | 111.85 | 3.7% |
| CASK** GBPp | 4.54 | 4.01 | -11.5% |
Headcount cut by 29% in FY2015
In addition to the capacity and fleet reductions detailed in part of this report, a further important element of Monarch's restructuring involved headcount reductions and changes to staff terms and conditions. These changes made a notable contribution towards its CASK reduction in FY2015.
Monarch Airlines' FY2015 annual report indicates that its average number of employees fell by 29.4% year-on-year, a bigger fall than the 17.6% cut in seat numbers and the 21.4% reduction in ASKs. Labour costs fell by 33.7% – even more rapidly.
The headcount reduction in FY2015 followed increases in both of the two previous years. The cut was heavily focused on flight deck and crew, whose numbers were reduced by 32.9%, while admin staff jobs were cut by 14.9%. The overall average number of employees at Monarch Airlines was 1,522 in FY2015, compared with 2,155 in FY2014 and 1,985 in FY2013.
Monarch Airlines: average number of employees during financial year FY2012 to FY2015*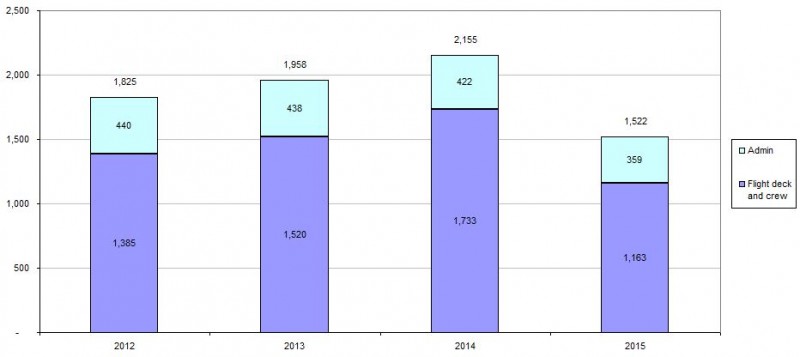 Labour productivity measures improved in FY2015
As a result of the reduction headcount and labour costs in FY2015 Monarch Airlines achieved improvements in a number of labour productivity measures, according to CAPA calculations.
Labour cost as a proportion of revenue fell to 11.2%, after spiking up to 14.4% in FY2014 (inflated by a sharp increase in pension-related costs, reversed in FY2015). The average employee cost per employee fell by 6.1% to GBP48,000 and the number of ASKs per employee increased by 11.3%. Labour cost per ASK fell by 15.6% and revenue per employee jumped by 21.4%.
In each of these productivity measures Monarch performed better than easyJet – the UK's biggest LCC and an important competitor at London Gatwick (the biggest base by seats for both airlines), Luton and Manchester airports. The two airlines have different average trip lengths (Monarch's are broadly twice easyJet's) and this, to some extent, distorts the comparison.
Nevertheless, Monarch's progress on all of these labour productivity indicators, and its performance relative to easyJet, demonstrate the positive impact of its restructuring programme in this area.
Monarch Airlines: labour productivity measures FY2012 to FY2015*
| | 2012 | 2013 | 2014 | 2015 | Change 2015 vs 2014 | |
| --- | --- | --- | --- | --- | --- | --- |
| ASK/employee | 9.34 | 9.24 | 8.98 | 10.00 | 11.3% | 17.0% |
| Employee cost per employee GBP | 44,274 | 44,433 | 51,137 | 48,039 | -6.1% | -19.0% |
| Employee cost per ASK GBPp | 0.47 | 0.48 | 0.57 | 0.48 | -15.6% | -30.8% |
| Revenue per employee GBP | 369,151 | 391,982 | 354,710 | 430,683 | 21.4% | -9.8% |
| Employee cost as % of revenue | 12.0% | 11.3% | 14.4% | 11.2% | -3.3 | -10.2% |
CASK reduction broadly similar to that of other LCCs
As noted above, Monarch's CASK reduction in FY2015 was significant, and improved labour productivity made a contribution towards this achievement. However, all the other main European LCCs also enjoyed a CASK reduction in 2015, with lower fuel prices being a significant factor for all.
A scatter plot of CASK in USc versus average trip length (see below) indicates that Monarch's CASK cut was broadly consistent with those of the other European LCCs. Moreover, Monarch continued to sit above the LCC trend line in FY2015. Currency movements distort the comparison, since GBP was more stable against USD than were EUR and NOK. This means that the USc denominated CASK reduction for non-UK LCCs owed more to the weakening of their local currency against USD than was the case for Monarch.
Monarch's CASK reduction in FY2015 was certainly welcome, and at least partly reflects the effort of its restructuring. Nevertheless, this comparison with other European LCCs suggests that it will need to continue to seek further cost efficiencies, particularly if the comparison is broadened to include the much lower cost ultra-LCCs.
Cost per available seat kilometre (CASK, USc) versus average trip length (km) for Monarch Airlines compared with trend lines for other European airlines

Restructuring is a base on which to build – towards meeting ongoing challenges
Monarch's restructuring programme included: significant capacity cuts and fleet reduction; the closure of the airline's East Midlands base withdrawal from long haul and charter flying; headcount reductions and new terms and conditions for employees.
It has been successful in returning the airline and the group to profit, although it is not possible to analyse how important a part was played by lower fuel prices in the turnaround.
The restructuring has also been successful in: improving labour productivity (contributing to CASK reduction); reducing seasonality; improving the airline's on-time performance; stabilising load factor in FY2015 (although the load factor decline reported in the first part of FY2016 is a puzzle), and growing RASK. A further fall in average daily aircraft utilisation in FY2015 was one area in which the restructuring did not achieve its goal.
Monarch is now growing capacity once more, but it continues to face challenges in its markets. To geopolitical and macroeconomic risks can now be added uncertainties arising from the UK referendum vote to leave the European Union. Monarch only flies to and from the UK and not between other EU countries. So, it should not be too heavily affected by any loss of access to the single aviation market, provided that the UK negotiates bilaterals to preserve its access to each destination market.
Nevertheless, the weaker GBP resulting from the Brexit vote makes it more expensive for UK residents to make outbound trips to other countries and this will likely have a negative impact on demand for Monarch.
See related report: Brexit and aviation Part 2: lower air traffic, economic uncertainty. UK-EU relations up in the air
This may mean yield declines, and particularly if the load factor declines apparent in the winter 2015/2016 traffic figures continue it will be difficult for Monarch to repeat the RASK increase of FY2015 this year. When the current uncertainties pass Monarch's medium to longer term prospects should be enhanced by a more disciplined approach to capacity, as well as its switch to the more fuel-efficient Boeing 737MAX when deliveries commence from 2018.
For now, Monarch Airlines will be looking to build on the successes of its restructuring programme to ensure that it can bridge the gap between now and its fleet modernisation.