Milwaukee Airport anticipates bright spots in 2015; longer term growth prospects need some nurturing
Analysis
Similar to other medium-sized airports, traffic patterns at General Mitchell International Airport serving Milwaukee reflect the service reductions those airports have endured in the post-consolidated US environment.

But some positive developments are occurring at Mitchell. The airport's largest airlines Southwest and Delta are adding new service in 2015 and Alaska Airlines becomes a new airline serving Mitchell when it launches flights to its Seattle hub in 2H2015.

Milwaukee's Mitchell Airport may not reach the passenger levels it enjoyed before the onset of the latest period of consolidation in the US marketplace, but the additional service is obviously a welcome development for an airport determining its role in the market place with a handful of airlines controlling the majority of traffic.
Milwaukee's passenger counts fall as a result of US consolidation
Passenger numbers at Mitchell notched up 0.4% to 6.6 million year-on-year in 2014 after falling 13.2% in 2013 and 21.1% in 2012. Its airport passenger levels peaked in 2008 at 9.6 million before steadily falling over the past six years.
Milwaukee General Mitchell International Airport annual passenger numbers: 2008 to 2014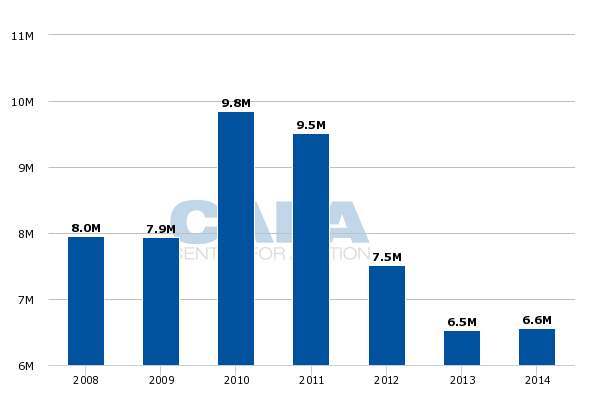 Milwaukee General Mitchell International Airport annual passenger growth: 2008 to 2014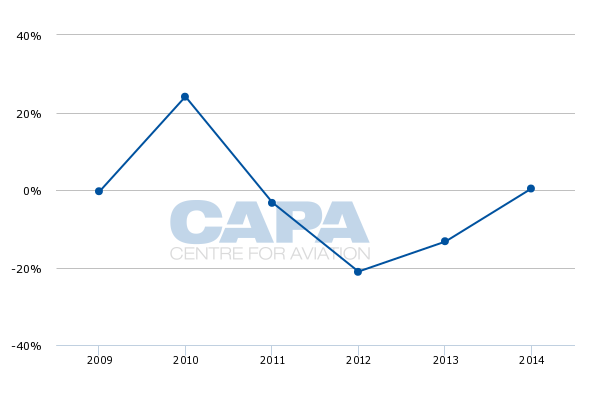 Mitchell has undergone significant change during that time as Midwest, which was headquartered in Milwaukee and had a hub at the airport, was purchased by Republic and folded into the Frontier brand.
Republic subsequently sold Frontier to Indigo Partners and the airline is transitioning itself into a ULCC. AirTran, which also had a major presence in Milwaukee, was purchased by Southwest and its brand was officially retired in late 2014.

Although Mitchell's passenger levels are still well below its historical highs, all the US major airlines serve the airport, and its list of top domestic destinations measured by ASMs and seats includes many of the hubs where US majors have consolidated their traffic including Phoenix, Atlanta, Denver, New York LaGuardia and Dallas/Fort Worth.
Milwaukee General Mitchell International Airport top 10 domestic routes by ASMs: 2-Mar-2015 to 8-Mar-2015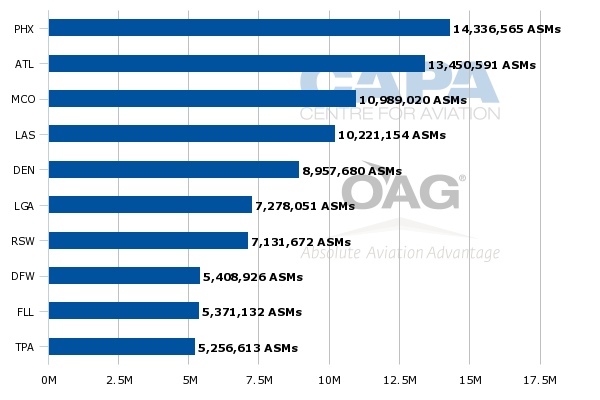 Milwaukee General Mitchell International Airport top 10 domestic routes by seats: 2-Mar-2015 to 8-Mar-2015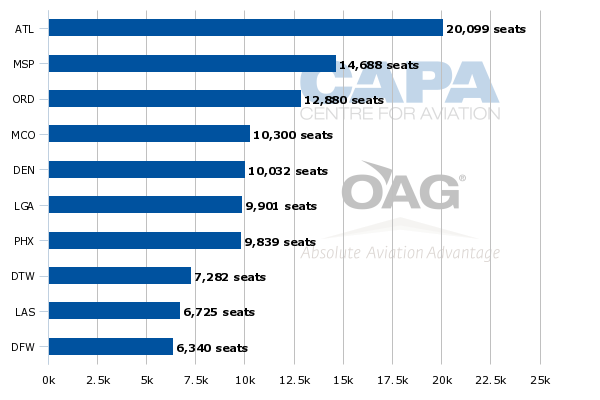 Even as Mitchell has sometimes been viewed as a reliever airport for Chicago O'Hare – where both American and United have hubs – its proximity (roughly 147km from Chicago) to such a large hub in a post consolidated environment does not create a lot of opportunity for those airlines to add service from Milwaukee.
Presently, United serves its hubs in Chicago, Houston Intercontinental, Cleveland and Denver to flow passengers over those markets. American operates service from Mitchell to its hubs in O'Hare and Dallas/Forth Worth. US Airways operates service to its hubs in Charlotte, Philadelphia and Phoenix from Milwaukee. American and US Airways are in the process of merging, but with little overlap in Milwaukee, odds are reasonably high that service to all the existing hubs should remain intact.
In a market dominated by Southwest, Milwaukee gains some new domestic wins in 2015
Mitchell has some promising prospects in 2015 as Southwest Airlines, its largest airline measured by both ASMs and seats, is adding flights to Dallas Love Field and San Diego. Southwest will be the sole operator to both airports, but will compete with American in the overall Dallas market. Initially, it should be a boon for Milwaukee's customers.
American during 1Q2015 is feeling pressure in some markets in Dallas due to pricing actions by low-cost airlines; a significant portion stems from Southwest's new route additions in late 2014 and 2015 after the Wright Amendment limiting flights to some longer-haul routes was lifted in late 2014.
Milwaukee General Mitchell International Airport capacity by airline (% of ASMs): 2-Mar-2015 to 8-Mar-2015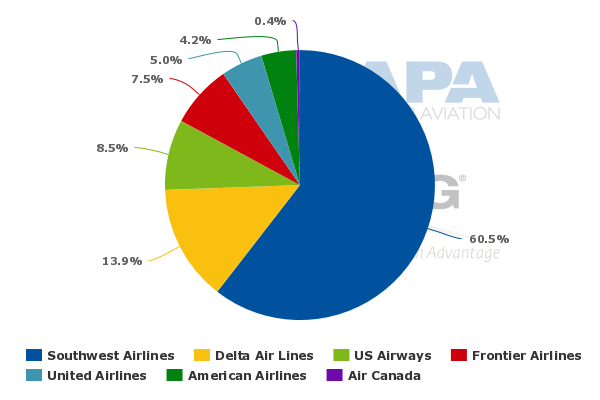 Milwaukee General Mitchell International Airport capacity by airline (% of seats): 2-Mar-2015 to 8-Mar-2015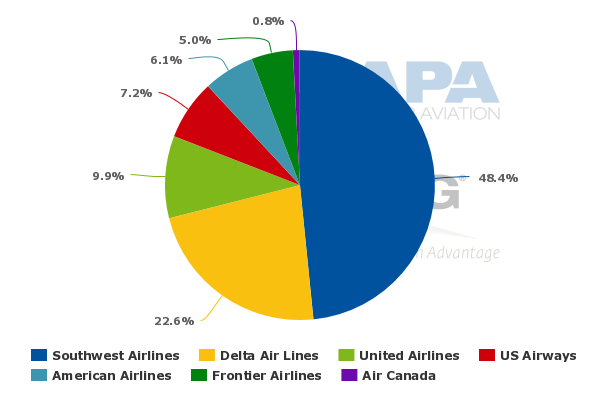 See related report: American Airlines and Southwest Airlines in Dallas DFW and Love: competition revives as Wright ends

Milwaukee's second largest airline Delta is also opting to add new flights to Boston in 2015, joining Southwest on the route pairing. Delta also serves its hubs in Atlanta, Cincinnati, Detroit, Minneapolis, New York LaGuardia from Milwaukee, as well as Cancun and Orlando.

Mitchell has secured new service from Alaska Airlines, which is planning new flights to its Seattle hub in 2H2015 with new Embraer 175 jets operated by its regional partner SkyWest Airlines. Previously, Alaska has stated that the Embraer jets allow it to add flights on longer, thin markets not suitable for its mainline Boeing 737 narrowbodies.

See related report: Alaska Airlines touts successful network evolution as 2015 growth estimates in the high single digits

Another factor contributing to Alaska's decision to launch service from Milwaukee was the opening of a distribution centre by online retailer Amazon in nearby Kenosha, according to the Milwaukee Wisconsin Journal Sentinel. Amazon is headquartered in Seattle, so the route seems like a natural choice for Alaska, which faces competition from Southwest on the pairing.
Data from CAPA and OAG show that in early Jul-2015 after Alaska launches service, Southwest will hold an approximate 69% seat share on the route, with Alaska holding a 30% share.
Milwaukee seems to be focussed on attracting new service for business travellers
Mitchell's international service is limited to flights operated by Air Canada to Toronto Pearson; service offered by Frontier, Delta and Southwest to Cancun; Southwest and Frontier to Montego Bay; Frontier to Puerto Vallarta; and Frontier and Southwest to Punta Cana.

The airport's proximity to such a large international hub at Chicago O'Hare creates formidable challenges for Mitchell to attract long-haul trans-Atlantic service, and that may not be a huge priority for the airport as it works to carve out its role in the mature and consolidated US industry.

Mitchell's new airport director Terry Slaybough told the Journal Sentinel that he intends to reach out to businesses in the area to determine how the airport can attract new service.
Mr Slaybough told the publication that the business community has expressed a desire for more direct service to US domestic markets, and that would be one of his top priorities in 2015. The new flight by Delta to Boston is likely a welcome development, but attracting flights to business markets featuring favourable schedules could be a tough challenge given the short flight for one-stop service through Chicago.
Milwaukee may not be a top market for additional ULCC service
Milwaukee has a ULCC presence with Frontier, but the airport for now does not seem to be a high priority for other ULCCs. Even though Allegiant is moving into more medium-sized markets, it has yet to indicate it would launch flights from Milwaukee. Southwest serves the large leisure bases of Las Vegas and Orlando (also served by Frontier) from Milwaukee, which are markets that Allegiant typically links to smaller destinations like Casper, Wyoming and Billings, Montana. But Allegiant during the last couple of years has opted to compete with some major airlines in atypical markets for the airline, albeit at much lower frequencies.

Previously, Allegiant has estimated that Southwest actually transported more passengers from Austin to Las Vegas after Allegiant's market entry at essentially the same fare, leading Allegiant to conclude that the passengers it has flown on the route have been stimulatory, and not really had an effect on Southwest.

See related report: Allegiant Air works to exploit opportunities created by consolidation in medium sized markets

But the market stimulation opportunities may not be as ripe in Milwaukee as in other markets. Data from the US Department of Transportation show that Milwaukee's average domestic fare was USD367 in 3Q2014, a roughly 1.3% rise year-on-year and below the overall average of USD397. Even though Cincinnati's fares grew just 0.3% to USD533, Cincinnati's domestic fares remain among the highest in the US.
Allegiant has made a big push from Cincinnati during the last year after it determined there are many medium-sized markets where there are higher passenger pools that require less deep discounting to foster traffic stimulation.

Allegiant's fellow ULCC Spirit Airlines has expanded from larger markets during the last couple of years including Atlanta and Houston, markets that are dominated by large network airlines. Spirit reasons there are stimulative opportunities in those markets among low-yielding passengers that may be priced out of air travel, so potential service from Milwaukee may not be a top priority for the ultra low-cost airline.
Milwaukee's Mitchell has stable prospects in 2015, but its long-term options will depend on its strategy - and matters outside its control
Milwaukee's General Mitchell International Airport is starting 2015 on a relatively solid footing, slightly growing passenger counts in 2014 and adding new service to larger domestic markets. Similar to Cleveland and Cincinnati, Milwaukee will likely never reach its previous peak passenger levels.
It does seem to be accepting that the consolidated US market place is creating new market realities, and heightened competition among medium sized airports vying for service from a smaller pool of airlines to court. However, unlike many other airports in the US post-consolidation, the major airlines all operate to Milwaukee and holds some attractions for lower priced airlines. Even if it has limited options, Mitchell's short-term prospects remain favourable.
A long-haul international route would be extremely attractive and potentially a driver of connecting traffic; meanwhile, a focus on steadily restoring and enhancing domestic and nearby international routes is the lower risk strategy.