Milan-New York: the fifth freedom route at centre of US carriers' Gulf ire shows improbable growth
Analysis
The big three US airlines watched from a distance as Gulf carriers grew in the US, linking America with distant parts of the world US carriers did not serve and had little or no offline coverage from their traditional airline partners. But Emirates' entry on the Milan-New York route with full fifth freedom pick up rights was too close to home. Despite the market accounting for only 1.6% of total US-Europe travel in 2014, Milan-New York became a rallying cry for the US big three, who forewarned of the slippery slope where further Gulf-operated fifth freedom flights would be detrimental to the market and undermine the US airlines.
That has not eventuated. In fact, quite the opposite has occurred: capacity on Milan-New York has grown by nearly two thirds and Italian visitors to the US are increasing despite the weakening Euro and Italy's economic malaise. United Airlines however argues the local market has not grown, that there are just more non-stop seats that take passengers who used to connect over another European hub (to no benefit to Italy). Further, United argues, Milan-New York yields are weak. This is not the first time a US carrier has cited weak yields – despite there being no specific evidence. Emirates has meanwhile cited US airlines' trans-Atlantic yields growing despite decreasing in the trans-Pacific and Latin American markets.
'Milan is the future' anti-Gulf side warned. So, the future looks bright?
After Emirates' entry on the Milan-New York route was granted by the Italian government, which had experienced declining competition (and service) in the market, Emirates entered the market in Oct-2013 with a daily 777-300ER; it up-gauged the flight to A380 in Jun-2015. The service remains the only fifth freedom flight to the US from Gulf carriers. Emirates has spoken of other trans-Atlantic fifth freedom opportunities, but it is constrained by aircraft and perhaps knows additional fifth freedom flights would upset US equilibrium even further.
Milan-New York received outsized attention from US carriers. Delta led the initial charge. "This is kind of ground zero on fifth freedoms, and we have to stay vigilant to get fair skies, not open skies," Delta chief revenue officer Glen Hauenstein said. The US carriers were concerned over the Milan-New York service by itself (and tried unsuccessfully to have Emirates removed from the market) but also, as Mr Hauenstein's comment says, the potential for other fifth freedom services by Gulf carriers (while ignoring the others in the trans-Atlantic market, and even Delta's own fifth freedom flights).
See related report: US airlines take aim at the Gulf carriers when perhaps they would be better woo-ing them
Mr Hauenstein's remarks were made in 2013, but the mindset has continued – and grown. President of Americans for Fair Skies (a coalition to limit Gulf carriers in the US) Lee Moak in Mar-2015 summarised the concern to Forbes: "Milan is the future." He implied it was the beginning of the end for US airlines.
But as this report shows, if Milan and the fifth freedom service it encapsulates is indeed the future, the future looks bright for aviation and the United States.
Emirates' entry has grown the Milan-New York route. United is now fighting for market share
Emirates' launch of Milan-New York services has produced a non-stop seat capacity increase. In Sep-2013, prior to Emirates' entry there were approximately 6,600 weekly seats between Milan and New York City. This is forecast to increase to 10,900 in Apr-2016.
Milan Malpensa Airport to New York (JFK/Newark) (seats per week, one way): 19-Sep-2011 to 29-May-2016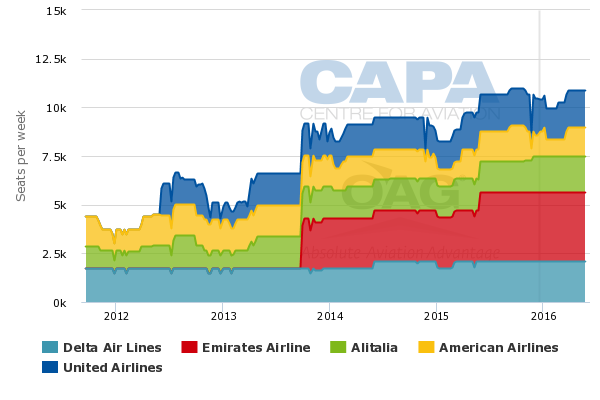 Most of the non-stop seat growth is from Emirates, but there is also notable growth from Delta and United. United's growth, through up-gauging, occurred just prior to Emirates' up-gauge from 777-300ER to A380.
Milan Malpensa Airport to New York (JFK/Newark) (seats per week, one way): 19-Sep-2011 to 29-May-2016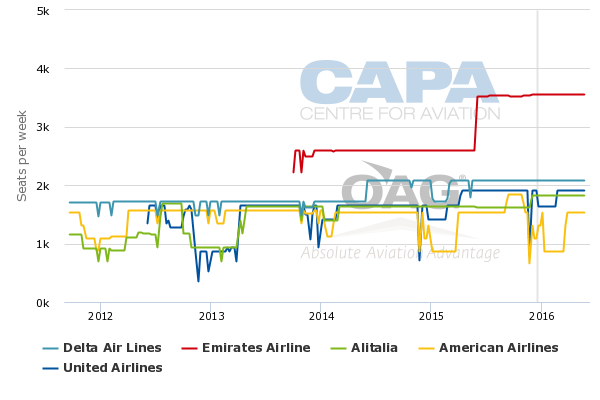 United's up-gauging was not merely coincidental. United VP Network Brian Znotins, responding to a question from CAPA at the Star Alliance CEB meeting in Chicago in Dec-2015, addressed United's up-gauging in the Milan-New York market:
"It's very analogous to the LCC growth in the US where low cost carriers will come in at a price point that stimulates a lot of demand. There was someone in Milan who wasn't going to go to the US until they saw that USD200 fare, and they decided they wanted to go. The same is true for someone who lives in the US that wasn't going to go to Milan or maybe was thinking about a different destination – perhaps Brussels or Amsterdam – and they see a USD200 fare to Milan and they go there. That's the stimulative effect of low fares.
"And what we'll do is we will anticipate that stimulative effect and not want to just hand over passengers in our market to a Middle Eastern carrier, and we'll add capacity to address that. We don't want any incoming carrier in our market or in Alitalia's market or whoever's market to add capacity, stimulate demand, and have them participate entirely in that stimulation. So it warranted a bigger airplane.
"So from a demand point of view, you could call it there's more demand in the Milan to the US market, but from a profitability point of view, you can see revenue decline. What they're doing is they're taking traffic from the region and sucking it in from the regions around Milan – Naples, whatever – and traffic that used to go Naples-Frankfurt-US is now driving to Milan to get a cheap fare, getting on the Milan flight. So it's not like they're manufacturing new Milan passengers, they're actually just sucking them in from surrounding regions and we're seeing that impact on our Frankfurt flights.
"There's nothing wrong with stimulative effect. There's nothing wrong with economic development as it relates to air service. We believe air service is a key driver of economic development. But in any open skies deal we expect both parties to benefit and right now only one party is benefitting from the open skies deal with the US."
There is much to infer from that statement.
Market share battles: There has been much talk of US carriers being capacity disciplined (or at least until fuel prices decreased and they grew, provoking Wall Street worries). But adding capacity for the sole purpose of preventing another carrier to "participate entirely in that stimulation" shows market share battles, while not as large as before, are still alive.
Perhaps over-capacity is not the sole problem of Gulf carriers: The US big three have alleged Emirates has created over-capacity in the Milan-New York market. But Mr Znotins acknowledges Gulf carriers are like LCCs in that they lack legacy baggage, allowing for a lower cost base. (Unlike LCCs, Gulf carriers bring a better service proposition to legacy carriers.) Gulf carriers can stimulate new demand. This is demand United and other legacy carriers cannot capture – yet they try to, and lower their revenue in doing so.
Fundamentals of open skies: Mr Znotins does not once refer to Gulf carriers being subsidised or there being any unfair advantages. Instead, the concern is that under open skies United expects "both parties to benefit and right now only one party is benefitting". At the time of Mr Znotins' statement, United had not announced its exit from its sole remaining Middle East route, Washington Dulles-Dubai.
There is no definition or set of parameters to determine the weighing of benefits to each side of an open skies agreement. US carriers would be well aware of that. Emirates compiled data (see below) on the share of frequencies in 63 markets that have open skies deals with the US and active flights. In only a few markets are the benefits not lopsided. Yet this discussion of which side benefits from open skies is against the principle of open skies that it is countries and their markets and populations – not a few corporations that do the flying – that benefit.
The absence of consumer benefits from Gulf carrier competition have been routinely ignored by the US big three.
Legacy carriers' share of frequencies to 63 open skies countries with direct or one stop service to the US: 2015
"They're stealing our passengers": Mr Znotins invokes the well used legacy claim that Gulf carriers are not generating new passengers but rather stealing them from incumbents, or in this case "just sucking them in from surrounding regions". Emirates presented evidence that its entry caused O&D bookings to grow 79% in the market, including legacy carriers and their JV partners seeing 46% growth.
Emirates did not look at the Naples-New York market - but doing so would require an analysis of nearly every market to/from the US and Italy because a US passenger, if not for the Milan service bringing lower fares, would have picked another European city or somewhere else in the world. Likewise for an Italian considering another destination. It is a bold assertion that Naples (population one million) and smaller regions can drive a 79% increase in market demand that is solely the result of switching destination preferences, and is not entirely new demand that is stimulated.
At a top level of damage to US airlines: their international traffic is growing (and likewise for the domestic market that connects to some international services), and so too are their profits. Their profits have perhaps surprised themselves and creating the question of what to do. American Airlines CFO Derek Kerr is reported to have said in Nov-2015 that American has "more cash than we need at this time."
Monthly bookings by carrier group, and legacy carrier seat capacity on Milan-New York: 2013-2014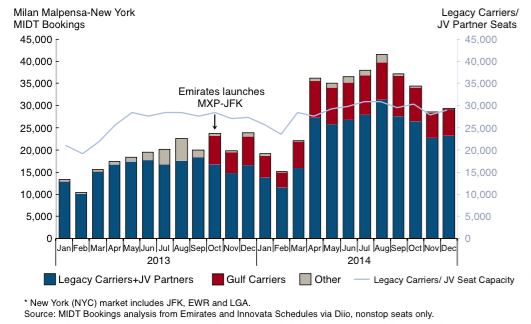 Milan-New York before and after Emirates' entry: 9M2013-9M2014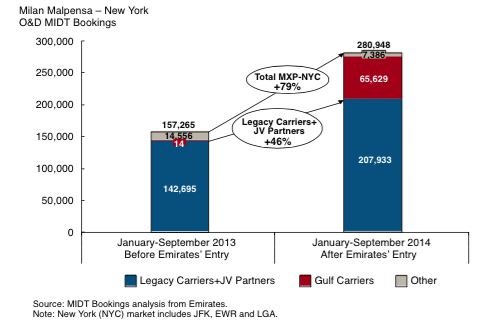 While US carriers and their JV partners have seen an increase in bookings, their share has decreased. Their White Paper notes a 13 point market share loss, but fails to reflect that total volumes have grown. Some in the US media have repeated this flawed argument about market share.
Load factors on the Milan-New York route are available through Jun-2015. Emirates is generally performing the same as a year ago. Alitalia, Delta and United in 2014 saw improvements over 2013, but have mostly lost these gains so far in 2015.
Emirates load factor Milan-New York: 2013-2015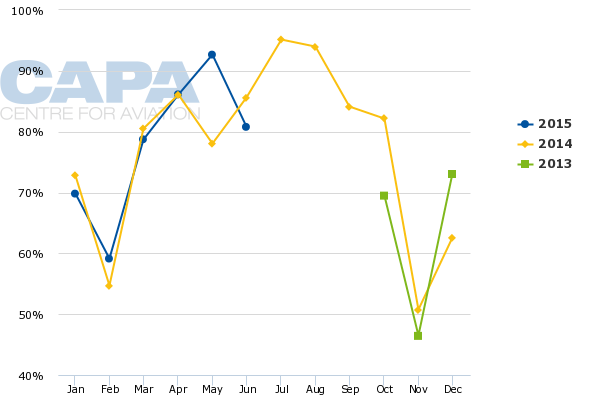 United load factor Milan-New York (Newark): 2013-2015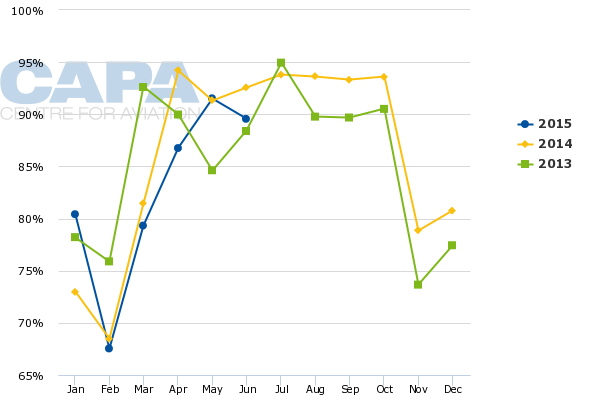 US airlines post gains in trans-Atlantic yields
Emirates has disputed damage to US carriers from its Milan-New York service. Amongst its points of evidence is that combined yields for American, Delta and United are growing in the trans-Atlantic market. They have grown in 2013 and 2014 despite Pacific yields decreasing in each 2013 and 2014, and Latin American yields decreasing in 2014.
American, Delta and United combined yield trend by international region: 2010-2014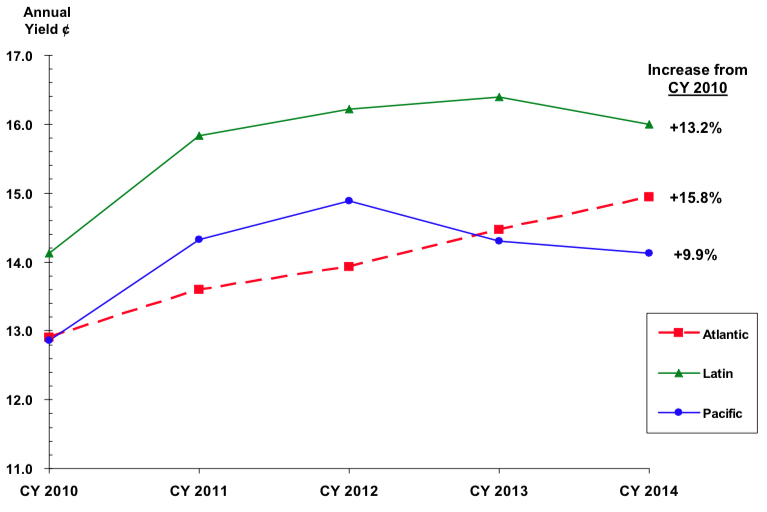 767" height="512" />
A spot check on upcoming pricing shows the New York-Milan market in this very limited data set is approximately USD100 more expensive than New York-Rome non-stop options, but New York-Rome in the winter season is a monopoly between the Alitalia and Delta JV. New York-Milan has year round service from American, United and Emirates as well.
New York-Milan is slightly more expensive than New York-Frankfurt, which is a comparable distance. For one-stop options, New York-Milan has hardly forced competitions to lower fares to compete with any point to point overcapacity; one-stop fares are in the more expensive bracket of this limited scale.
Select trans-Atlantic New York or Milan fares (USD, economy return including taxes) for a week-long trip: Mar-2016 as of 17-Dec-2015
| | | |
| --- | --- | --- |
| Route | Non-stop | One-stop |
| New York-Milan | 809 | 571 |
| New York-Rome | 906 | 540 |
| New York-Paris | 843 | 499 |
| New York-Amsterdam | 859 | 556 |
| New York-Frankfurt | 771 | 586 |
| New York-Zurich | 873 | 656 |
| Boston-Milan | N/A | 716 |
| Chicago-Milan | N/A | 733 |
| Washington DC-Milan | N/A | 778 |
Italian visitor numbers to the US are up 4.1%
Tourism figures give no indication that the negative impacts US carriers warned of would come from Emirates' Milan-New York service. Italian visitor numbers to the US in 5M2015, the latest data available, are up 4.1%. This is despite the weakening euro, which makes the US more expensive for Europeans – especially those in countries like Italy that are still showing economic malaise. Italy's 4.1% growth is half that of the overall 8.7% growth from all of Europe to the US. But Italy's 4.1% growth is still just above the average global 4.0% growth of visitors to the US.
The US-Europe market is shifting in favour of US arrivals due to the dollar's strength, but Italy's inbound tourism figures are unavailable for a detailed breakdown. US government statistics cite a 5.8% increase in outbound Americans visiting Italy in 2014.
United States of America monthly tourist arrivals from Italy: 2008-5M2015
The Gulf and Norwegian threats: two battles US big three airlines are not winning
The US government has yet to say what, if anything, it will do in response to concerns about Gulf carriers from the US big three carriers. But it is not looking good for the US carriers. Not only is any evidence of damage lacking, they are asking for a reversal of one of the US government's biggest aviation policies – open skies – and the US carriers, especially Delta, are not in good standing with the government.
Nor are they finding success stopping the growth of Norwegian. The trans-Atlantic LCC flies right in the heart of US carriers' JV-protected markets. In 3Q2016, it will have about 8.5 daily Europe-US flights, having entered the market only in 2013 (see graph below). Norwegian has made its presence felt: Delta and United will now serve Scandinavia only on a seasonal basis. Norwegian has eight 787s in service and expects this to increase to 38 by 2020.
Norwegian's 8.5 daily US trans-Atlantic flights compare to just one (Milan-New York) from Gulf carriers. In 3Q2016, Gulf carriers will have 31 other flights a day to the US, but these are bringing passengers to markets that are, at best, marginal for US carriers. Turkish Airlines in 3Q2016 will have about 12 daily flights to the US, putting it at one third the size of the Gulf carriers collectively, and twice as big as Etihad and slightly larger than Qatar.
Gulf (Emirates/Etihad/Qatar), Norwegian and Turkish Airlines average daily flights to the US: 2013-2015, 3Q2016F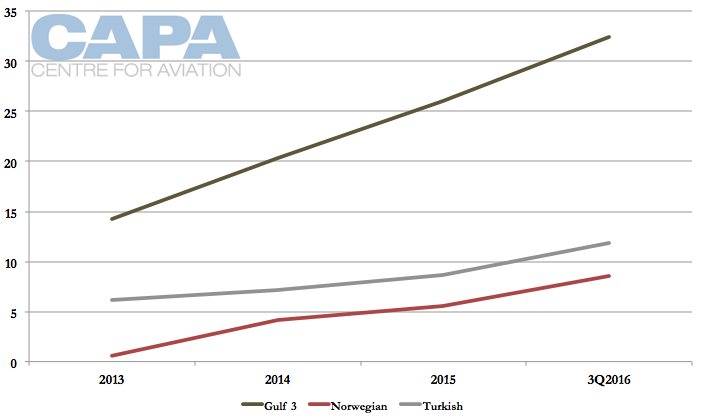 US carriers have managed to keep Norwegian's NAI application to US DoT in limbo. But this may have had the unintended consequence of causing Norwegian to fly more to the US. An NAI licence would have allowed Norwegian access to more Asian markets (and others) than are permitted under its licence in Norway. Without access to those other markets, Norwegian is forced to focus on where it can grow using its Norwegian licence, which has no restriction to the US.
See related reports:
Norwegian in Dec-2015 applied to the US for permission to serve the market on its Norwegian UK licence, which the UK swiftly granted. This is obviously a challenge to some degree to the leisure traffic of British Airways. Yet BA's response has not been to cry for protection. Instead, BA has responded competitively: following Norwegian's London Gatwick-New York service, BA added Gatwick-New York service too. Norwegian is growing in the San Francisco area with a London Gatwick-Oakland service, and BA is growing with a London Heathrow-San Jose service.
BA is foregoing moaning and regulatory filings about supposed unfair competition and instead is getting on with it. It is finding ways to grow its business in new markets. That is a sound example of how a market should work.