Miami's airport juggles its role as the US' primary passenger and cargo gateway to Latin America
Analysis
Miami is a major business and leisure city that doubles as the US' primary gateway to and from Central and South America. As a consequence its airport also acts as a hub connecting those regions with other parts of the US and Europe. It has a large and growing annual passenger throughput but its main strength is in air cargo, where it is also the principal US-Latin American gateway.
But Miami International Airport does not have things all its own way. There is pressure in both the O&D and hub business segments from nearby airports such as Fort Lauderdale-Hollywood and from giant hubs further afield such as Atlanta and Charlotte Douglas. Additionally, developers hope to open a new commercial airport nearby to challenge Miami in the handling of perishable cargo.
This report looks at present and future growth trends at the airport, local airport statistics, how it matches up to competing airports across a range of metrics, at any construction activities and at its ownership.
Miami's appeal embraces finance, commerce, the arts and entertainment
Internationally, Miami is the best known city in Florida, though it is not the biggest in its own right. The main entry point for renowned vacation destinations such Palm Beach and the Florida Keys, it is both a tourist hotspot in its own right and a dynamic commercial centre in the fields of finance, trade and commerce. In 2010, Miami ranked seventh in the United States in terms of finance, commerce, culture, entertainment, fashion, education, and other sectors and ranked thirty-third among global cities. A UBS study of 73 world cities in 2009 identified Miami as the richest city in the United States and the world's fifth richest city in terms of purchasing power.
Miami is classified as an Alpha Word City (the second highest ranking) in the World Cities Study Group's rankings: one that is 'generally considered to be an important node in the global economic system.'
It is rated particularly highly for culture, media, the arts and entertainment. In the case of entertainment, partly thanks to television series such as 'Miami Vice' and 'CSI: Miami' and films varying from James Bond ('Goldfinger', 'Thunderball') and Schwarzenegger's 'True Lies', to comedies such as 'Bad Boys', 'Meet the Fockers', 'Ace Ventura' and 'There's Something about Mary', all of which were set there. Moreover, the city is renowned as the home of the world's largest art exhibition, Art Basel Miami, which attracts thousands of international visitors.
The city is known as the Capital of Latin America, having the second largest Spanish speaking population in the country and the largest congregation of Cuban Americans. Most of them are located in the separate metropolitan area city of Hialeah, to the west of downtown Miami and the location of Tom Wolfe's 2012 novel 'Back to Blood', which also 'blew the lid off' Miami's art world.
With such an assortment and congregation of economic and cultural activities Miami requires an airport that is attuned to the often contradictory needs of local, North American, Caribbean, Latin American and global users. After all, it is not only the alternative 'capital' of Latin America, it is also one of the premier gateways linking the eastern side of the US, Canada, Europe and Asia to that continent. That role is likely to intensify as and if relations between the US and Cuba continue to improve, paving the way for much greater demand for flights to that country.
Moreover, the demands of its diverse users have to be weighed against competition that comes not only from nearby airports such as Fort Lauderdale-Hollywood but also from large hubs to the north.
MIA competes with local O&D and national hub airports
The table below compares Miami International Airport (hereinafter 'MIA') with peer and neighbouring airports in Florida and the south eastern US, both O&D and hub airports, using a variety of metrics that include aviation and population statistics. (N.B. population figures in this instance are for metropolitan areas not cities. For example, the population of the city of Atlanta numbers only slightly more than 400,000 people, while the wider metropolitan area's population is 5.5 million).
Rankings of Miami and airports in the US southeast, by assorted metrics:
Airport/metric

ASKs

Seats

Frequencies

Cargo payload

Pax (million)

(2015 unless specified)

City population (million)

Ratio: pax to local population 2014

Miami Intn'l

22

32

34

22

44.4

5.5 *1

0.12

61

64

56

103

24.6 (2014)

5.5 *1

0.22

Atlanta Intn'l

20

3

1

21

101.5

5.5

0.05

Orlando Intn'l

45

45

47

52

38.8

2.3

0.06

Jacksonville Intn'l

351

304

265

354

5.0

1.3

0.26

Charlotte Douglas Intn'l

70

30

7

63

44.9

2.4

0.05

Tampa Intn'l

118

113

102

150

18.8

4.3

0.22
This table demonstrates how Miami International is in competition with a number of quite different airport types. For example, Fort Lauderdale-Hollywood, with a strong presence from low cost airlines (66% of seat capacity), is an O&D airport only 25 miles away from MIA. Orlando International (and to a lesser degree Orlando Stanford, which is not considered here), are some 230 miles away but attractive to tourist traffic owing to the collection of attractions there, and in the environs.
Tampa, some 290 miles to the northeast is an attractive option for western Florida, especially for international routes. Jacksonville is actually the largest city in Florida, but most of its metropolitan area population is within the (very large) city boundary.
Further afield are two rival hubs. Firstly Atlanta, which needs no introduction as the world's largest airport with over 100 million passengers in 2015. And Charlotte Douglas airport in North Carolina is also a major hub, as well as one of the busiest airports in the US with a similar annual passenger throughput to Miami's.
Location map of Miami in relation to Orlando, Tampa, Jacksonville, Atlanta and Charlotte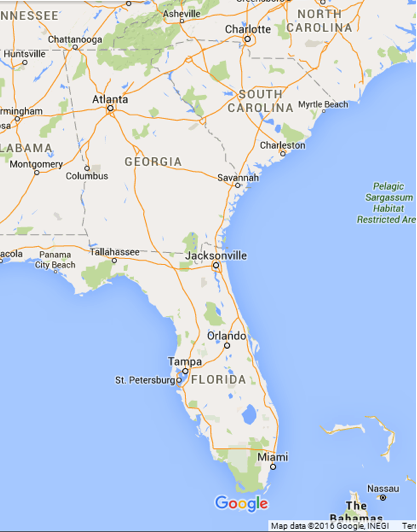 Miami's strength lies in the fact that it is an important airport for freight as well as passengers, as is evident from the table below, with 59 nonstop freight destinations recorded.
MIA network summary, airline operations and destination (at 01-Feb-2016)
| | |
| --- | --- |
| | 65 |
| Domestic only | 9 |
| International | 56 |
| Total nonstop passenger destinations | 153 |
| Domestic | 54 |
| | 0 |
| | 0 |
| | 18 |
| | 74 |
| | 1 |
| | 6 |
| Total nonstop freight destinations | 59 |
| Domestic | 11 |
| | 0 |
| | 1 |
| | 2 |
| | 44 |
| | 0 |
| | 1 |
MIA easily leads in the freight segment. Offers fewer nonstop passenger destinations than expected
The table below shows how MIA compares in terms of overall connectivity alongside a selection of neighbouring US airports (the ones compared in the previous table), which comprise LCC-oriented, regional and large hub facilities.
The statistics are illuminating and in some cases quite remarkable, and indicative of the complexity of the US airports system.
MIA has many more airlines (both total and international) serving it than do the large hubs of Atlanta (dominated by Delta) and Charlotte Douglas (dominated by American). This is certainly on account of the large number of Latin American airlines for which MIA is a primary gateway, as will be investigated further.
MIA also has a lower passenger to airline ratio than all the other airports – meaning that there is more choice per passenger (although Jacksonville, an entirely different type of airport, runs it close). This ratio is notably higher at the two big hubs in Georgia and North Carolina.
On the other hand MIA has fewer non-stop passenger destinations than Atlanta by a wide margin, and around the same number as at Charlotte Douglas. Nearby Fort Lauderdale and Orlando are not far behind it in this category. The challenge from Fort Lauderdale, which has less than half the number of MIA's total airlines, is clear.
Where freight is concerned, MIA is the clear leader in the whole of the south eastern part of the US. However, that dominance could be challenged by the emergence of a rival freight-only airport, which will be examined later in the report.
Comparison of airports by total airlines and nonstop destinations, passenger and freight 2015
| | | | | | | |
| --- | --- | --- | --- | --- | --- | --- |
| Airport | Total airlines | Pax traffic 2015 (unless specified) (in millions) | Pax to airline ratio | International airlines | Nonstop passenger destinations | Nonstop freight destinations |
| Miami Intn'l | 65 | 44.4 | 0.68 | 56 | 153 | 59 |
| | 26 | 24.6 (2014) | 0.95 | 20 | 118 | 0 |
| Atlanta Intn'l | 26 | 101.5 | 3.9 | 16 | 222 | 19 |
| Orlando Intn'l | 34 | 38.8 | 1.1 | 24 | 115 | 4 |
| Jacksonville Intn'l | 7 | 5.0 | 0.7 | 0 | 23 | 0 |
| Charlotte Douglas Intn'l | 9 | 44.9 | 5 | 3 | 149 | 0 |
| Tampa Intn'l | 18 | 18.8 | 1 | 9 | 71 | 2 |
International connectivity is mainly with Latin America, then Europe
The route map below shows destinations that can be reached by direct or connecting flights.
The hub nature of the airport is clear, as represented by connections with North and Latin America, and to a lesser degree Europe and Latin America. By comparison there are few flights to Asia, and of flights that operate, all are focused on North Asia.
If the map is expanded it becomes evident that most of the destinations in mainland Europe are along the curve of the 'banana' of economic activity that stretches from The Netherlands in the north, through western Germany to Milan and Turin in Italy, and to the French Mediterranean coast.
Further expansion of the map to the east shows that there are few destinations in the Middle East, with only Doha served, along with Istanbul (which actually spans Europe and West Asia). The number of services to/from this region is unlikely to increase while the dispute over state support continues between US-based airlines and those in the Gulf region. Delta Air Lines recently cancelled its Atlanta–Dubai service and the Miami–Doha one is operated not by a US airline but by Qatar Airways; there is no reciprocity in play.
There are no direct services to Africa.
From this data alone an early conclusion might be drawn that while MIA, through its fortuitous positioning, acts a hub between North and Latin America, and Europe–Southern US and Latin America, it is not yet playing to its full potential, with Asia (an insignificant part of its network) and Africa not even on the radar. This latter omission is despite historical connections between Africa and Latin America.
In a previous report in this series of airport profiles it was demonstrated how Marseille Airport in France is wedded to traditional ties with North Africa. In Miami's case the knot has been, continues to be, and will be increasingly in the future, tied with Hispanic countries of the Caribbean and South American regions.
Direct and indirect (connecting) routes from MIA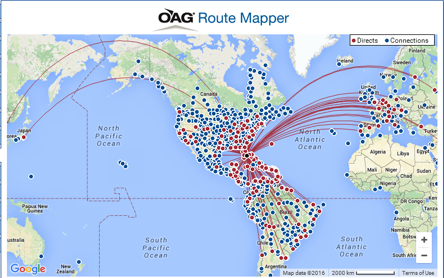 The 'heat' map below simplifies the information above by identifying the countries/regions with the greatest density of international seats, and they are the northern part of South America followed by Central America and Western Europe.
MIA capacity, seats by region, 'heat' map, 01-Feb to 07-Feb-2016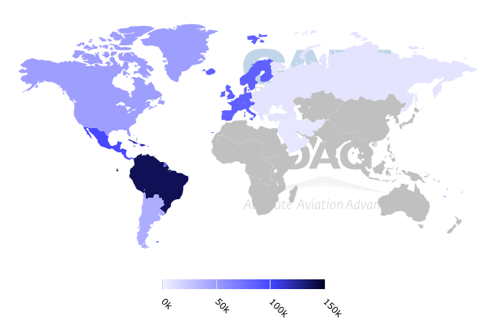 Nonstop connectivity – MIA surprisingly weaker than its peers in North America
The chart below adds more detail to the examination of nonstop connectivity, this time embracing all destinations rather than just international ones, and comparing MIA again with the same clutch of airports, with the exception of Jacksonville airport, which is omitted on this occasion.
Nonstop connectivity values (passenger destinations). Comparison of Miami, Fort Lauderdale, Orlando, Tampa, Atlanta and Charlotte Douglas airports, Feb-2016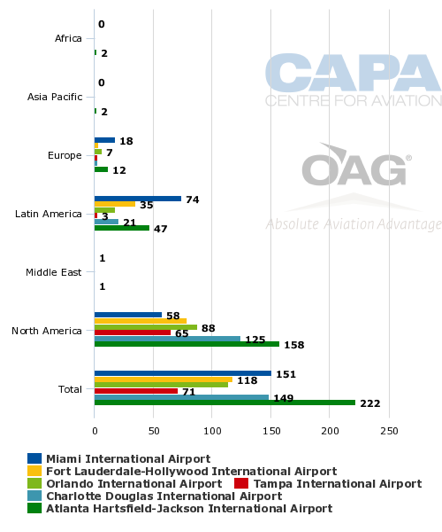 It shows how all these airports are weak in three international regions, namely Africa, Asia Pacific and the Middle East. In fact they comprise most of the main airports in the south eastern part of the US, omitting only the Washington area airports and Raleigh Durham as airports of any significant size.
MIA clearly leads the way in Europe and Latin America, even outstripping Atlanta, which is more than twice as big as measured by passenger numbers. But the chart also shows that MIA is actually the weakest in terms of nonstop connectivity within North America, even falling behind Fort Lauderdale (which now also has almost half of MIA's Latin America route total as well).
Landing charges – MIA typically higher than peer group average
Using the selected criteria here (landing charges for five different aircraft types at MIA and competing airports), across all the categories MIA had the second highest level of charges after Atlanta, in most cases, during 2014 (2015 statistics are awaited). In one case (B777-300ER) its charges were higher than those of Atlanta.
The surprising statistic to emerge, though, is that there was no great difference between charges at MIA and Fort Lauderdale, which competes with MIA in the way of a low cost airport vs. a full service one, in the sense that it hosts services by JetBlue, Spirit and Southwest in fairly equal proportion, and also a smaller number of services by Allegiant and Frontier. Hence all three ULCCs have a presence there. In fact, in the case of the B777-300ER Fort Lauderdale's charges were the highest of all of these airports.
Landing Charges for Miami International Airport, Fort Lauderdale-Hollywood International Airport, Tampa International Airport, Orlando International Airport, Atlanta Hartsfield-Jackson International Airport, Charlotte Douglas International Airport (USD) for 2014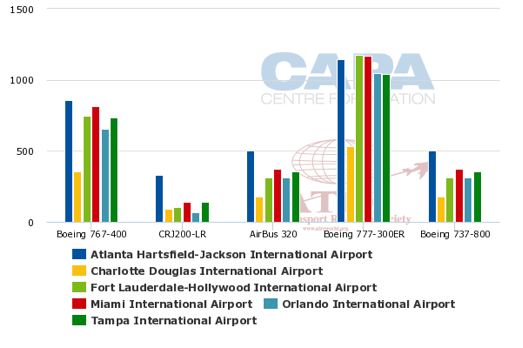 Very low impact of LCCs at MIA
Just 3% of seats at MIA are on low cost airlines; a remarkably low figure for any airport.
MIA capacity, seat share by airline type, 08-Feb-2016 to 14-Feb-2016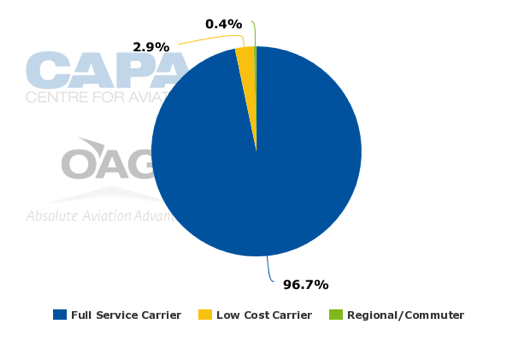 The chart below compares this traffic split with some of the airport's peers; again the two hub airports at Atlanta and Charlotte Douglas, also Fort Lauderdale (which attracts LCCs), Orlando, Tampa and Jacksonville.
Comparison of selected airports by airline type – seat availability, 08-Feb-2016 to 14-Feb-2016
| | | | | |
| --- | --- | --- | --- | --- |
| Airport | % of seats on FSCs | % of seats on LCCs | % of seats on other modes (e.g. regional, charter airlines) | Clarification of previous column |
| Miami Intn'l | 96.7 | 2.9 | 0.4 | Regional/commuter |
| | 86.2 | 13.8 | - | - |
| | 98.3 | 1.7 | - | - |
| | 31.4 | 65.9 | 2.7 | Regional/commuter/charter |
| Orlando Intn'l | 45.7 | 53.6 | 0.7 | Regional/commuter |
| | 44.9 | 53.7 | 1.5 | Regional/commuter |
| Jacksonville | 66 | 32.8 | 1.1 | Regional/commuter |
The relatively low impact of LCCs at two of the three main hub airports is evident. By comparison, all the predominantly O&D airports have LCC seat ratios in the range of 33% to 66%.
The main airlines operating at MIA are shown in the seat availability distribution chart below. American Airlines, for which MIA is a hub (along with Charlotte Douglas Airport), has the bulk of seats with only one other airline (Delta) having more than 5% of seat capacity at this time.
International capacity by region – oriented towards Latin America & Caribbean
International capacity at MIA is fairly evenly distributed between regions and sub-regions, and is led by Upper South America, the Caribbean and Central America. In fact there appears to be a disconnect between regions regarding hub capacity, with considerably less of it available to North America (i.e. Canada) and Western Europe.
Note that capacity to and from other regions, including Asia Pacific, is very low. MIA is an Atlantic-facing airport.
MIA international capacity seats by country, 25-Jan-2016 to 31-Jan-2016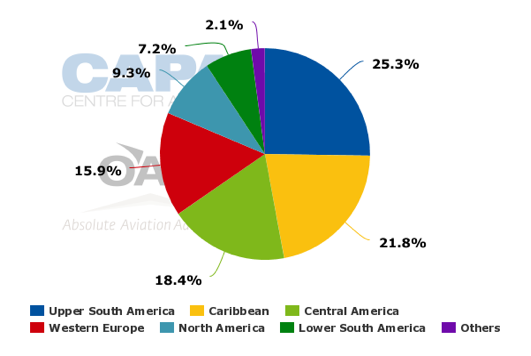 The percentage of First, Business and Premium Economy Class seats at MIA is greater by some margin than the global average (in the total system), at this time. There is little difference whether the measure applied is international or domestic seats.
MIA schedule by class of seat - one-way weekly departing seats (total system) 08-Feb-2016 to 14-Feb-2016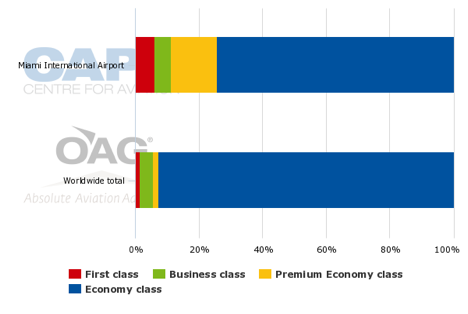 The actual figures are available online in the CAPA site, but not in the representation above, and they are:
MIA: percentage departing by class of seat - one-way weekly departing seats (total system) 08-Feb-2016 to 14-Feb-2016
| | | | | |
| --- | --- | --- | --- | --- |
| % of seats | First | Business | Premium Economy | Economy |
| MIA | 6.1 | 5.1 | 14.6 | 74.2 |
| Worldwide | 1.5 | 4.2 | 1.7 | 92.6 |
Currently MIA is served mainly by local (i.e. US) airlines, with 77% of seats.
MIA share of seats by local versus foreign airlines, 08-Feb-2016 to 14-Feb-2016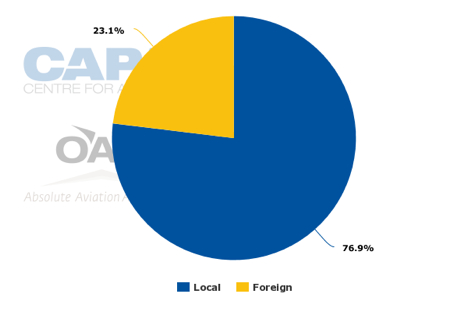 Alliance penetration is very strong, led by oneworld
Airline alliances are very much in evidence at MIA led by oneworld, including LAN and TAM from South America, together with their subsidiaries, and American Airlines, a principal member. Only 7% of available seats at this time are on unaligned airlines.
MIA capacity, seat share by alliance/unaligned, 08-Feb-2016 to 14-Feb-2016
How does this compare with peer airports? The same group is used as previously. MIA has the second highest ratio of available seats on aligned airlines, after the remarkable Charlotte Douglas airport.
Together with the high proportion of First, Business and Premium Economy seats this hints at the 'business' nature of the airport.
Comparison of MIA with selected airports by alliance penetration – seat availability by percentage, 08-Feb-2016 to 14-Feb-2016
| | | |
| --- | --- | --- |
| Airport | % of seats on unaligned airlines | % of seats on aligned airlines |
| MIA | 6.8 | 93.2 |
| | 14.4 | 85.6 |
| | 1.8 | 98.2 |
| | 70.7 | 29.3 |
| Orlando Intn'l | 57.4 | 42.6 |
| | 55.9 | 44.1 |
| Jacksonville | 34 | 66 |
Good traffic growth figures in 2015
After flatlining for two years passenger traffic growth was strong in 2015, with a rate of +8.3% achieved.
MIA annual passenger numbers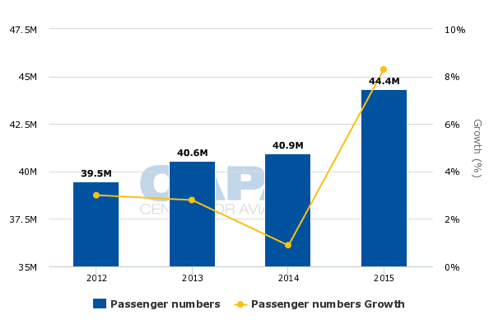 Independent figures from the MIA website indicate an average monthly passenger growth rate that was increasing in the second half of the year 2015.
Stage lengths – the majority of seats are on flights of up to four hours duration
The vast majority of seats at MIA (52.2%) are on flights of two to four hours in length, which embraces much of the eastern side of the US, many cross-country routes, built-up parts of Eastern Canada, the Caribbean and the upper region of South America. 20% are on flights of one to two hours duration and only a small number (less than 5%) are on flights between 10 and 16 hours.
MIA seats by length of flight, total system, 08-Feb-2016 to 14-Feb-2016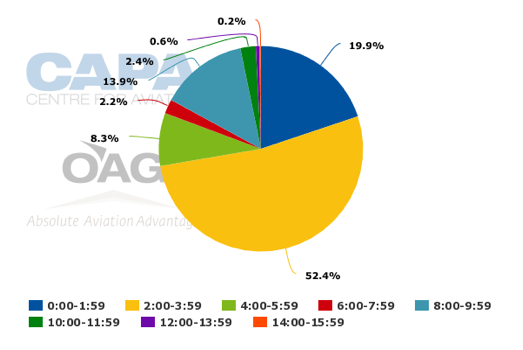 The busiest domestic routes are shown in the table below (year to Oct-2015). All of them, apart from Los Angeles, fall within the four hour flight window. In order of popularity they were:
US domestic routes from MIA by pax numbers, Oct-2014 to Sep-2015
| | |
| --- | --- |
| City | Pax (Oct-2014 to Sep-2015) |
| New York, LaGuardia | 885,000 |
| | 846,000 |
| | 629,000 |
| | 594,000 |
| New York J F Kennedy | 538,000 |
| Los Angeles | 518,000 |
| Orlando | 478,000 |
| | 442,000 |
| | 408,000 |
| | 398,000 |
The chart below also emphasises the heavy concentration of frequencies at MIA in that 0-4 hour flight time band.
MIA frequencies by flight duration: 08-Feb-2016 to 14-Feb-2016
Another perspective on frequencies is represented below in the form of a bar chart of available seats (arriving and departing) by time of day, on a typical day. The distribution is normal for a large international airport of this nature, with a modicum of activity between 2200 and 0500, but with the peak occurring during the late evening. In fact, the balance of arriving and departing passengers is a little out of kilter compared with most airports but the main imbalances are limited to late in the evening (when there are still many passengers) and in the early morning (when there are not).
MIA, seats per hour, typical day, Wednesday 10-Feb-2016 (all airlines, total system, all terminals, all origins and destinations)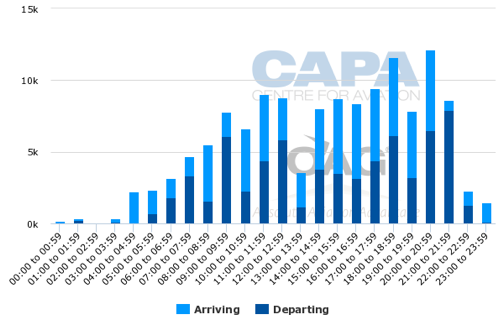 Cargo – MIA's trump card
62.6% of freight at MIA is international. MIA was the US' 12th busiest airport in 2014 as measured by total passenger numbers, but #3 in terms of total cargo (freight/mail) with 2.2 million tonnes, and #1 in international freight. The only two airports ahead of MIA in the 2014 total cargo category are Memphis and Louisville, home to parcels integrators FedEx and UPS respectively.
Roughly two thirds of freight at MIA is carried on passenger aircraft, and one third on designated freighters.
International freight capacity is split quite evenly between Upper South America, Central America, the Caribbean and – unlike passenger seat capacity – Western Europe. In Upper South America the largest market by volume is Brazil.
MIA total international capacity – Cargo Payload (kg) by region, 08-Feb-2016 to 14-Feb-2016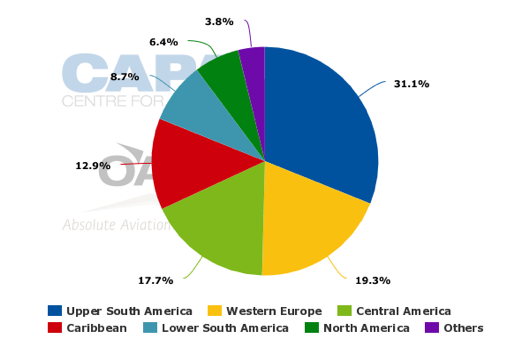 Total cargo tonnage fell by 0.32% in 2015. This compares with an overall global expansion of cargo volume of 2.2% in 2015 (source: IATA), as measured by freight-tonne-kilometres (FTK). However, the North American cargo market as a whole was flat throughout 2015.
The main cargo airlines are broadly similar to the passenger ones in that American leads the way, except that its cargo volume share is 20 percentage points less than its passenger share. All American's freight is carried belly hold into and out of MIA, and all the next biggest airlines are outright cargo airlines: Amerijet, ABX Air, Atlas Air and Martinair, down to Delta. Amerijet is headquartered in nearby Fort Lauderdale and specialises in Central America from what is its Miami hub.
MIA total capacity per week (cargo payload) total system, by airline, 08-Feb-2016 to 14-Feb-2016
Where cargo is concerned MIA might not have it all its own way for long. There is a longstanding scheme to convert the existing Airglades Airport in Clewiston, Florida into 'Airglades International Airport,' an integrated freight and logistics hub to capitalise on the trade in cut flowers, fish and other perishables flowing between the US and Central and South America. Presently this trade is channelled through MIA, which handles nearly 75% of all perishable goods imported into the United States, and ranks number one in the country for US imports of fruit and vegetable, flowers and fish.
The project is an initiative of three parties: Florida Fresh Produce (aka Florida Cargo Fresh) – 49% of the project – and the remaining 51% split between US Sugar Corporation and Hilliard Brothers, a diversified agricultural operation. The new airport is planned to feature a 4000m runway, costing USD400 million. It is currently the only application to the US Airport Privatisation Pilot Programme, which has been in existence since 1996.
The rationale is that MIA is already at capacity and cannot accommodate future growth. Even then, Airglades would only act as a reliever airport specifically for perishables, on the basis that it can offer far shorter taxiing times: 6.2 minutes compared with MIA's average of 24.5 minutes. Proximity to Central and Latin America also counts – it is as close as is MIA, so there would be no additional fuel requirement; in fact, fuel burn should be less on account of less stacking time prior to landing.
There are other logistical issues, however. It is clear from the map below that Clewiston (on the southern shore of Lake Okeechobee, top of the map) is quite isolated. It does lie along Road 27, which goes straight into Miami, and it feeds the cross-state Florida State Road 80 (Palm Beach – Fort Myers), but its location is far from any populated area, thus potentially restricting staff recruitment.
Map of the relation of Clewiston to Miami and southwest Florida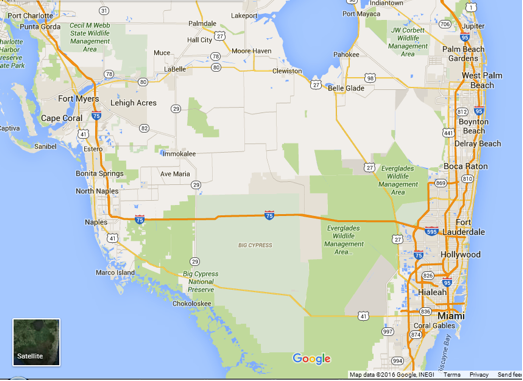 Little has been heard of the project for almost a year but the proposers' timescale is long, stretching to 2018; there is a management contract in existence. The FAA has approved arrival and departure routes but has not yet approved the sale of the airport. An environmental assessment is almost complete and that will also require FAA approval. If the project goes ahead, attempts might also be made to attract MRO businesses.
Construction – USD690 million expenditure included a now abandoned airport city project
MIA is unusual for an airport of its size for only having one terminal proper, though that is divided into North, South and Central, each with numerous concourses.
Airport terminal layout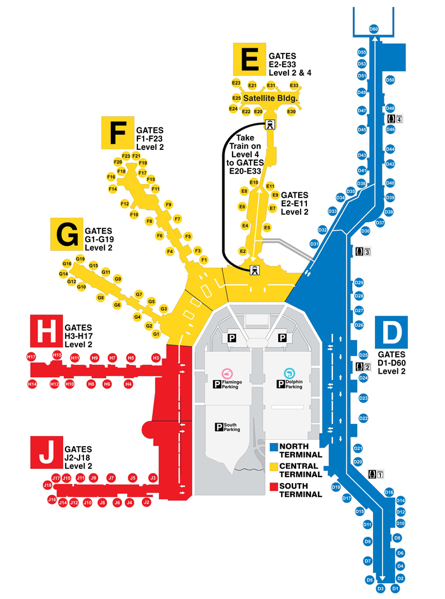 According to the CAPA Global Airport Construction Database more than USD690 million has been allocated to various upgrades, inclusive of concourse improvements, an intermodal centre and a hangar for LATAM. The airport has long-term plans to demolish and replace the Central Terminal, beginning in 2025.
Moreover, an 'airport' city project was proposed in 2013 (the USD512 million cost of is included in the amount above), consisting of a business park, a four star hotel and conference centre, and a convenience centre (fuel station etc). It was slated as a private project by the Brazilian construction company Odebrecht through its US subsidiary, to create as many as 10,000 jobs.
Subsequently the Miami Dade Aviation Department (MDAD) appealed to the County's Transportation and Aviation Committee for the return of 24 acres of land of the 33 acres designated for the airport city development. MDAD said that the request was fuelled by unprecedented growth of 17% in passenger traffic between 2009 and 2013, and that the 24 acres could be better utilised by the airport to improve capacity and provide widebody gates. MDAD further opined that while the airport city plan could provide between USD3 million and USD4 million in annual return, if the land were utilised to increase capacity at MIA it could generate an annual net worth of USD26 million.
During 2015 the project was abandoned. There was some suggestion locally that politics played a part; namely the alleged ties of Odebrecht with Cuba. Florida passed a law barring contracts of more than USD1 million with companies that have business in Cuba or Syria. Odebrecht sued and the law was later struck down as unconstitutional in a federal court.
In the light of recent events and improving relations with Cuba, perhaps that was a short-sighted move by the Florida legislature.
Meanwhile Atlanta is pressing ahead with its own airport city project although like Miami's before it, it is on quite a small scale compared with others, both in the US and worldwide.
Odebrecht's MIA airport city proposal
Ownership – a traditional county owned airport
MIA is owned by the Miami-Dade County government and operated by the Miami-Dade Aviation Department. CAPA has no record of any evidence suggesting that privatisation of the airport is favoured by the County. However, the private sector airport city proposal suggests that PPP agreements or even the outright use of spare airport land – of which there is precious little now – for private developments are not impossible.
Nor is it considered likely that a successful conclusion by the private sector – in its attempt to initiate the Airglades Airport as a cargo alternative – will have any effect whatsoever on municipal preferences concerning MIA.
Summary and conclusions
Miami is at the centre of one of the larger US conurbations and is a major centre for both business and leisure;
MIA also enables easy access to tourist destinations that are outside the city boundaries, but it has competitors for that passenger business;
As a hub connecting the US and North America, also Europe, with Central and South America it is unrivalled in the eastern US;
There is hub pressure though, from Atlanta and Charlotte Douglas airports further north, while Fort Lauderdale-Hollywood airport provides O&D competition (and increasingly in the hub domain);
On North American routes alone MIA has less direct connectivity than some of its rivals;
Landing charges are typically higher than at peer group airports and there is little difference in charges between MIA and Fort Lauderdale;
MIA is principally a 'full service/network' airport as LCC penetration is very low
American Airlines provides over two thirds of passenger capacity and 46% of freight capacity;
International passenger capacity is oriented towards Upper South America, the Caribbean and Central America, at the expense of North America and Western Europe. Capacity to and from other regions, including Asia Pacific, is very low;
There is a high percentage of First, Business and Premium Economy seats versus the global average;
Alliance penetration is strong and oneworld leads (i.e. American Airlines and Latin American airlines);
Passenger traffic growth was very positive in 2015;
The majority of seats are on flights of up to four hours duration;
MIA is one of the US' leading airports for air cargo and its largest international market by volume is Brazil. Cargo volume fell slightly in 2015 in line with the remainder of the US;
MIA's pre-eminence in cargo could be threatened by a new airport at Clewiston, which is awaiting approval by the FAA;
There is moderate short-term investment in infrastructure but much bigger plans for the long term. However, a private sector initiative to build a small-scale 'airport city' has been shelved in favour of using the land for a terminal extension;
The airport is owned by the local county and looks as if it will stay that way.