Mexico-US aviation: currency, fuel, other pressures soften the market
Analysis
Airlines operating to, from and within Latin America are experiencing headwinds driven by high fuel prices and currency pressure –particularly in Argentina and Brazil.

But airlines have also faced challenges in the Mexico-US transborder market due to overcapacity, currency depreciation and travel warnings over certain leisure markets. Aeromexico, the largest Mexican airline operating between Mexico and the US, is dropping five US routes in 2019.

Some US airlines are seeing slight signs of improvement in the Mexican market as 2018 draws to a close. But Southwest Airlines does not foresee a dramatic improvement in operating conditions.
Summary
Weakening conditions force Aeromexico to cut some US transborder routes
Many airlines have cited changing conditions in the Mexico-US transborder market, including currency depreciation and overcapacity once restrictions that limited the number of airlines operating on certain routes were lifted in late 2016.
Data from CAPA and OAG show that weekly seats between Mexico and the US reached their high point for the week of 31-Dec-2017, at approximately 473,000.
Weekly seat capacity between Mexico and the US from 2012 through early 2019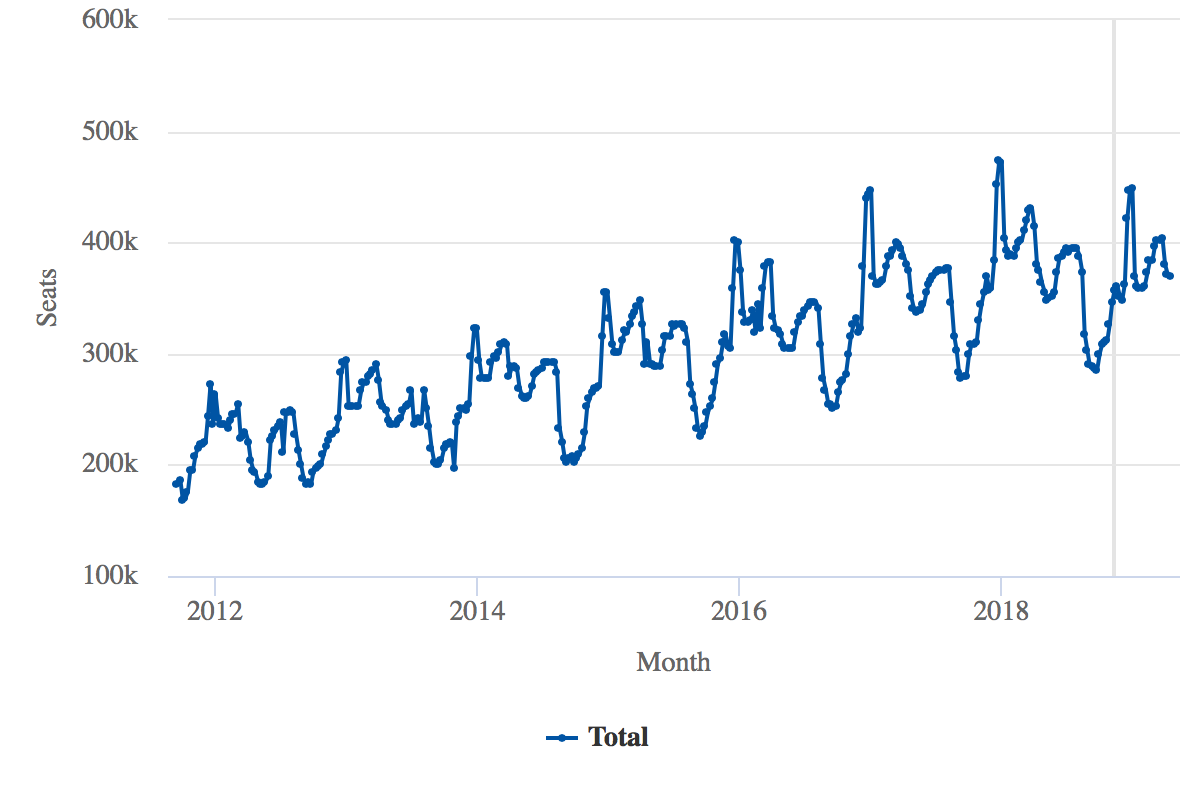 Several airlines expanded service between Mexico and the US after the new agreement took effect and SkyTeam partners Aeromexico and Delta forged an immunised transborder JV. As a result of the new partnership Aeromexico launched several new transborder routes, including service to Delta's hubs in Atlanta, Seattle and Detroit.

Throughout much of the past year Mexico's airlines have cited overcapacity in the Mexico-US market and now rising fuel costs, and the MXP depreciating against the USD, have further depressed demand.

Given those negative conditions, Aeromexico has opted to eliminate several US and domestic routes in 2019.
In the US transborder market the airline plans to cut flights from Mexico City to Washington Dulles, Boston and Portland, as well as flights from Monterrey to Las Vegas and Guadalajara and San Jose, California. Services between Guadalajara and San Jose were launched in Jun-2018 and flights from Mexico City to Boston and Portland began in 2015 and 2017, respectively. Aeromexico has operated flights from Mexico City to Washington Dulles since 2012.
Volaris cuts some international capacity to counter transborder softness
The Mexican ULCC Volaris has also expanded to the US during the past couple of years and recently determined that the load factors on its US routes during 3Q2018 were more unbalanced than in previous years, especially at the end of high season. The airline has cut its international ASK growth by 2% through improving schedule efficiency. The US is Volaris' largest international market; Volaris and Volaris Costa Rica serve 25 destinations in the country.

Volaris' largest passenger segment is visiting friends and relatives (VFR), and company executives have stated that type of traffic is more dependent on US economic performance, which is strong. As a result, Volaris has seen some benefit from those favourable economic conditions.

During Aug-2018 Volaris launched a codeshare with fellow ULCC Frontier airlines, and in late Oct-2018 Volaris executives remarked that the company was reaping approximately 1ppt to 3ppt of increased load factor in transborder flights, mostly through the eight connecting airports currently operated under the codeshare.

During 2019, Volaris and Frontier are aiming to expand to 20 connecting airports.
For American and United: some positive developments in the Mexican market
American Airlines, which held the largest seat share between Mexico and the US as of early Nov-2018, recently confirmed that Mexico was a tough environment due to pricing pressure from overcapacity and travel warnings.
Year-on-year seat share between Mexico and the US by airline, as of early Nov-2018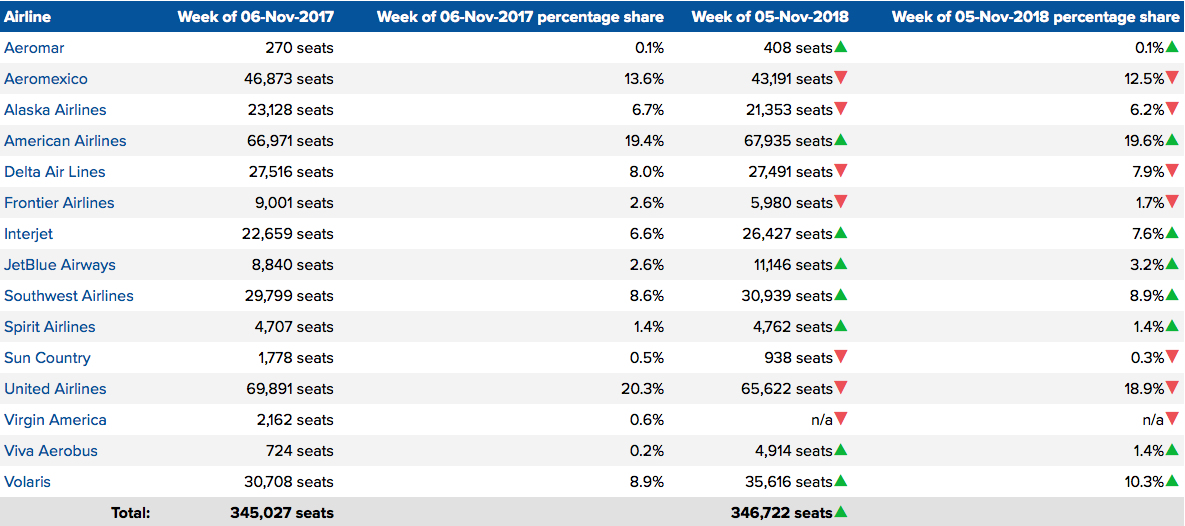 The Mexican resort area Cancún has also been the subject of travel advisories during the past year as a result of violence and incidents of alcohol-related blackouts from consumption at its resorts.

See related report: Cancún: solid air travel growth, but negative publicity

At the end of 3Q2018 American's management remarked that demand was slightly rebounding in 4Q2018. The airline has made some changes to its revenue management and sales for its off-peak load factor performance, and its executives disclosed that load factors had improved in Mexico; however, the yield environment remains weak.

United recently said that a mild recovery was taking place in Mexican business markets. Mexico represents United's largest service footprint in Latin America; as of Nov-2018, the airline was operating service to 21 destinations in the country, and held an approximately 19% share of seats deployed between Mexico and the US (see chart above).
Southwest has mixed views of the 'off-trend' Mexican market
Southwest is a relative newcomer to the Mexican market, first through its acquisition of AirTran, and then through the launch of its own flights to the country.
As of early Nov-2018, Southwest was serving Puerto Vallarta, Mexico City Juarez and Cancún from various points in its US network, and Mexico represented nearly 45% of the airline's international departing frequencies as of early Nov-2018.
Southwest Airlines: percentage of international departing frequencies by country, as of early Nov-2018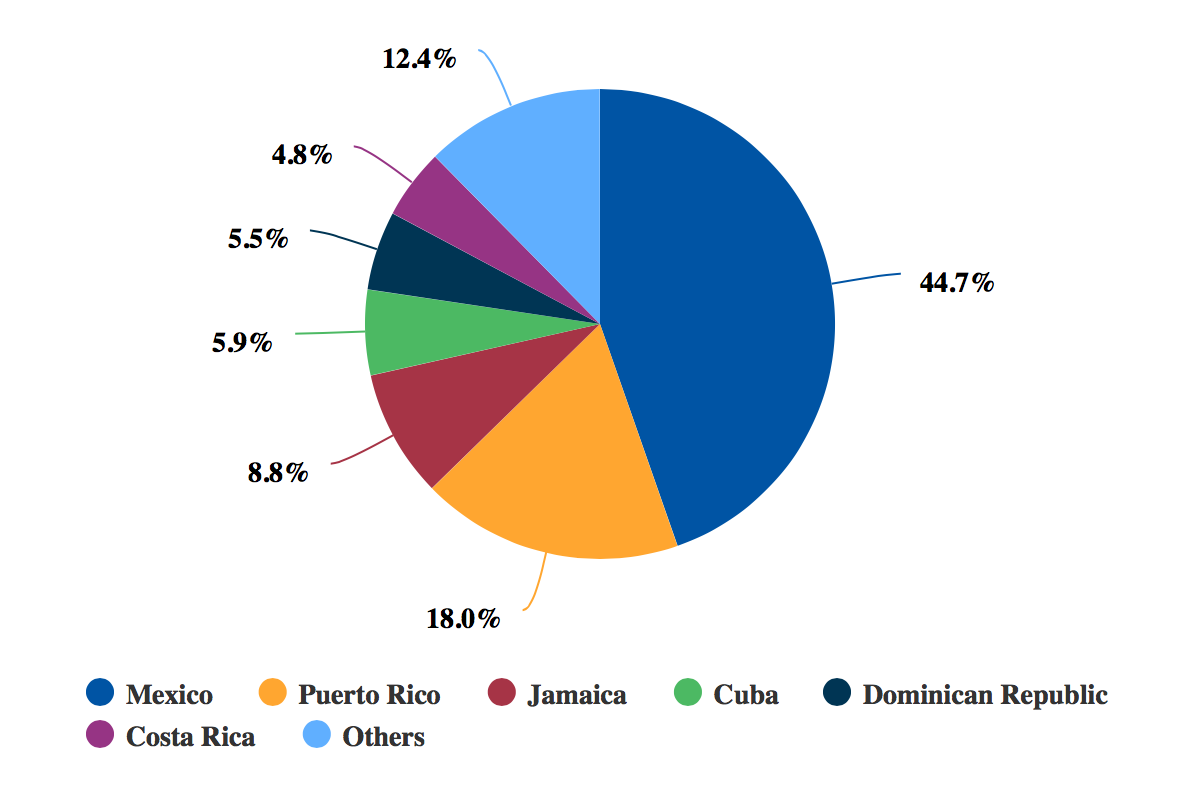 Southwest executives recently observed that in 3Q2018 Mexico was weak in terms of revenue performance, and concluded that the country had been "off-trend" for 2018.

The airline's executives said that up until 2018 there had been a strong demand for leisure customers to Mexican beach markets.

"Consumers have options, and if they feel like they've got better options, they'll go other places. So it may have in fact helped our business in other Caribbean beach destinations", Southwest CEO Gary Kelly stated.

Looking forward, Mr Kelly remarked that Southwest does not expect any signs of the weakness in the Mexican market abating dramatically, "but it does sound like it's not worse, and maybe we'll see some strengthening here".
Outside forces could create a natural correction in the Mexico-US market
Mexican airlines seem to be working toward a correction in the Mexico-US market and US airlines recognise some slight positive developments on routes between the two countries.

Other forces may also be at work to create a natural correction, including a potential slowing global economy in 2019 and the recent decision by a majority of Mexico's electorate to scrap construction of a new airport in Mexico City, which – for now – results in the constraints at Mexico City Juarez remaining intact for the foreseeable future.