Mexican aviation: Domestic shares shift as transborder rationalises
Analysis
Growth in Mexico's domestic passenger market remained steady in 1Q2019 as nearly 12 million passengers travelled on the country's airlines. But passenger share has shifted, with ULCC Volaris leapfrogging Grupo Aeromexico as the country's largest domestic airline measured by passengers carried.
Volaris made a domestic push in the first three months of 2019 with the introduction of 16 new routes while Aeromexico unexpectedly needed to deal with the grounding of the Boeing 737 Max. But even prior to the grounding, Aeromexico had planned temperate capacity growth in 2019, while its domestic ULCC competitors are on track for double digit increases.
Both airlines see continuing capacity rationalisation in the US transborder market, which should continue to help yields recover on those routes. However, Aeromexico remains cautions in its approach on US transbroder routes while Volaris continues to expand
Summary
Volaris' had the highest domestic passenger share in Mexico during 1Q2019, surpassing historical market leader Grupo Aeromexico
Aeromexico is working with its partner Delta to mitigate the effects of having to ground six Boeing 737 Max jets in its fleet
Volaris captured the highest domestic passenger share in Mexico during 1Q2019
Growth in Mexico's domestic passenger market reached nearly 6% year-on-year in 1Q2019 to 11.9 million passengers. And the passenger share shift among Mexican carriers has notably changed. Volaris captured a 32% share compared with 27% for Grupo Aeromexico. Historically FSC Aeromexico has been the dominant airline in the country, but ULCCs appear to be gaining ground. During 1Q2019 Volaris' domestic passenger traffic increased 16.7% on 15.2% ASK growth.
Ultra low cost operator Viva Aerobus posted a 13.5% increase in passengers carried year-on-year. Viva Aerobus is largely a domestic airline, with nearly 91% of its ASKs deployed to the domestic market in 1Q2019.
Domestic passenger share among Mexico's airlines in 1Q2019
Volaris' total unit revenues (which includes ancillary revenue) grew 9% year-on-year in 1Q2019, which reflects a solid domestic performance. The airline's total capacity increased 12.8% year-on-year with a 15.2% rise in domestic ASKs.
The airline introduced 16 new domestic routes in 1Q2019, and launched sales for 17 additional new routes – 10 domestic and seven international. The new routes introduced in 1Q were largely from bus switching markets that previously had no air service.
Executives from Volaris recently concluded its higher cost competitors (Aeromexico and Volaris) continue to "be very rational regarding capacity growth in Mexico". Volaris' unit costs excluding fuel in 1Q2019 was USD4.1 cents, which is no doubt one of the best performances among ultra low cost airlines worldwide.
Aeromexico planned tempered capacity growth prior to Max grounding
Data from CAPA and OAG show Aeromexico's domestic ASK growth will essentially be flat in 2019. Overall, the airline is targeting flat system capacity growth in 2019, but depending on the timing its Boeing 737 Max jets returning to service, the company could post negative capacity growth in 2019.
Aeromexico Group weekly total domestic ASKs from 2016 to late Oct-2019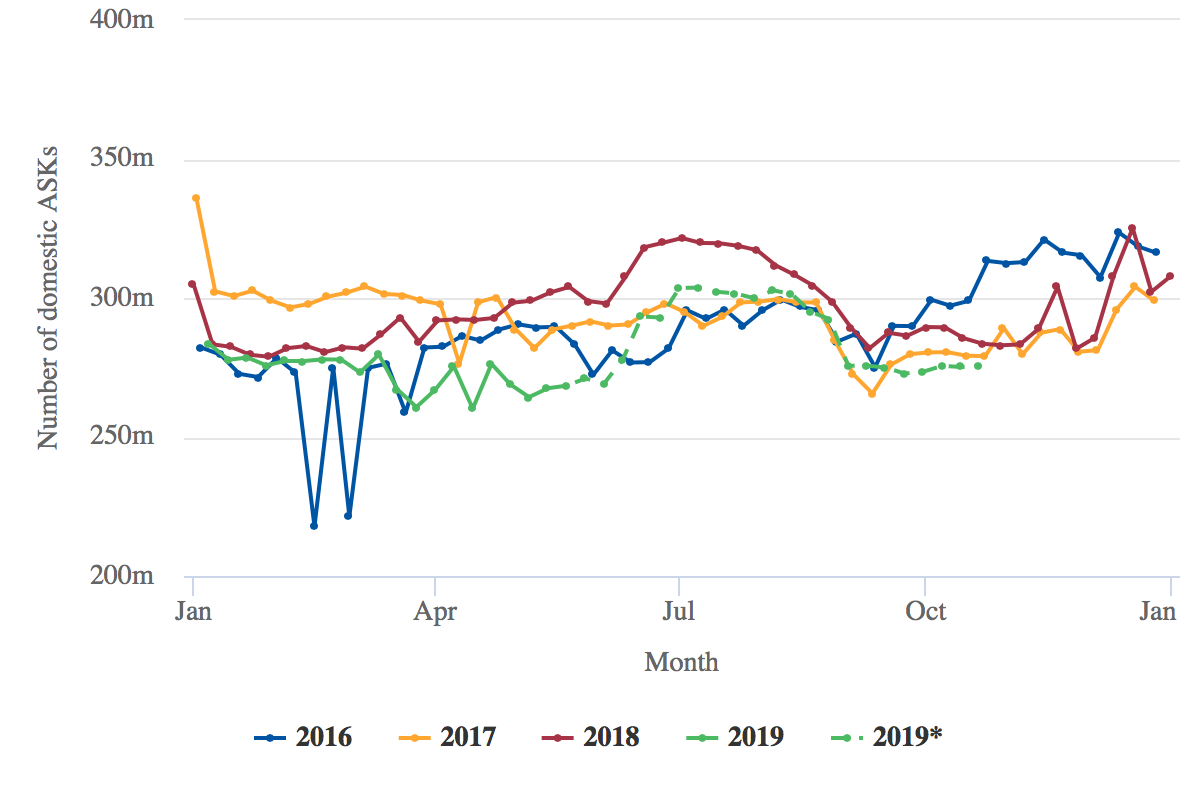 Six 737 Max 8 jets in Aeromexico's fleet were grounded in Mar-2019, and the airline has placed two 737-700s back into service to fill the gaps created by the grounding.
Aeromexico is working with its trans-border JV partner and partial owner Delta Air Lines to re-optimise transbroder capacity in 2Q2019, noting its was "reviewing opportunities for Delta to take some of Aeromexico's transborder capacity in order to free up capacity which we would deploy elsewhere in our network".
Aeromexico and Volaris adopt different approaches to the transborder market
The Mexico-US transborder market suffered from a capacity glut after the two countries reached a more liberlised air service agreement in late 2016.
Partly due to the oversupply in the market, Aeromexico cut flights from its Mexico City hub to Boston, Washington Dulles and Portland and between Monterrey and Las Vegas and Guadalajara to San Jose, California.
See related report: Mexico-US aviation: currency, fuel and other pressures soften the market
During the last few months, both Aeromexico and Volaris have cited improving trends in the US transborder market. Aeromexico's management stated transborder yields have recovered some, and capacity rationalisation is occurring the the market, particularly from Mexico City.
Southwest Airlines has ended service from Houston to Mexico City and Alaska Air Group has ended service from San Francisco, San Diego and Los Angeles to Mexico City. JetBlue has also reduced its frequencies from Fort Lauderdale and Orlando International to Mexico City.
See related report: Mexico City air services: tough conditions force US ULCCs out
Aeromexico's management is not ruling out the possibility of returning to Portland and Boston I the future, particularly as Delta continues to grow Boston, which is now a focus city for Delta. For now, the marine is focusing on other international markets, with plans to launch flights from Mexico City to Barcelona, Guayaquil and Cali.
Volaris also noted some capacity rationalisation in the Mexico-US transborder market, specifically highlighting reductions to Mexico City and Guadalajara.
The new transborder routes Volaris is launching in 2019 include Durango to Dallas, Puerto Vallarta to Phoenix, Queretaro to Chicago O'Hare, Aguascalientes to Chicago Midway and Chihuahua to Albuquerque. Data from CAPA and OAG show Volaris operates nonstop service to 23 US destinations and Volaris Costa Rica operates flights to three US markets.
As it adds those new international markets and continues its domestic expansion, Volaris believes its capacity growth for 2019 should settle around 15%, which is higher than the company's capacity growth in 2017 and 2018.
Volaris Group annual ASM growth from 2012 through Apr-2019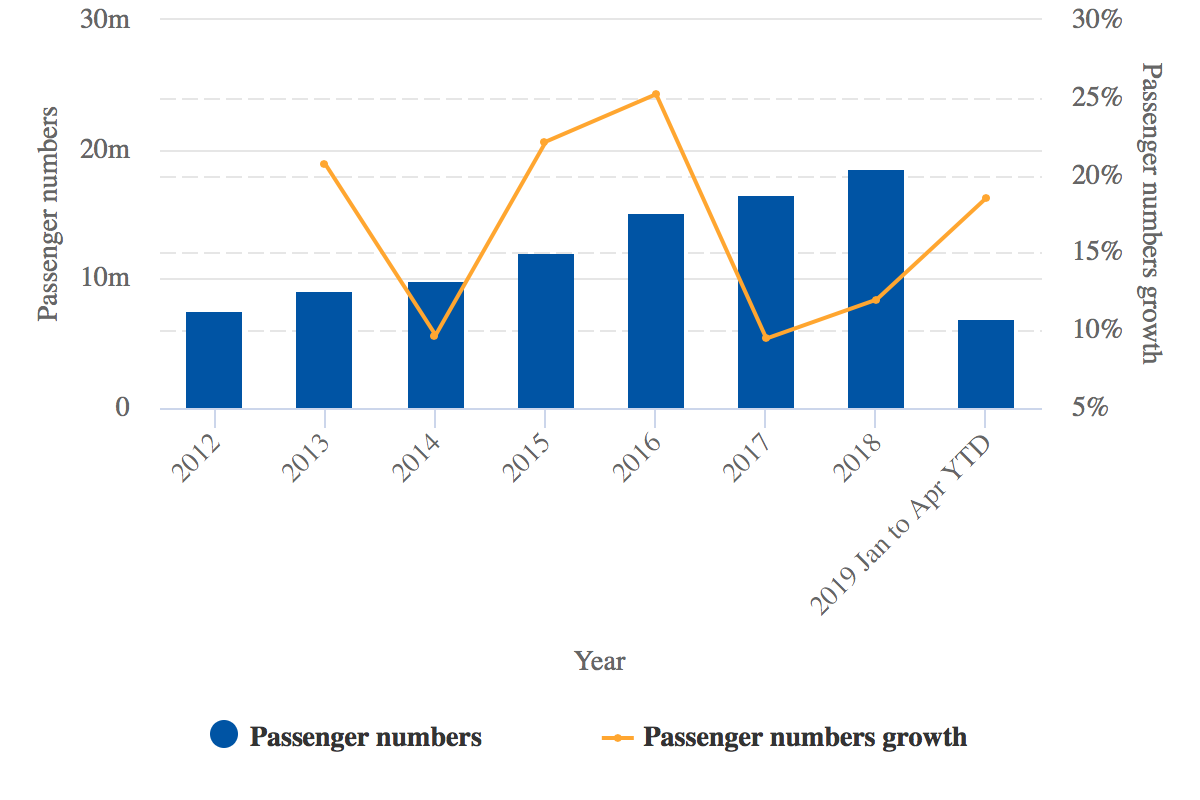 Ambition remains high among Mexico's low cost operators
Mexico is the second largest air passenger market in Latin America, and many opportunities exist to stimulate traffic through switching traveller from bus to air. LCCs and ULCCs began entering the market nearly a decade and a half ago, and the latest passenger distribution data show those airlines are firmly entrenched in the market.
It remains to be seen if, at some point, consolidation is possible in the market. But for now low cost airlines show no signs of diminished ambition.