Massive net loss for JAL anticipated; double-digit pax and freight growth again for Hainan Airlines
JAL's shares tumbled 9.5% yesterday, after the Nikkei reported that the carrier was likely to post a net loss of USD13.3 billion in the current financial year, due to a huge restructuring charge of approximately USD12 billion related to fleet write-downs. The benchmark Nikkei average fell 0.5%.
Also in the Japanese market, ANA's shares gained 1.8%, with Skymark Airlines' shares down 2.2% yesterday. See related article: Japan's forgotten airlines: the Japanese LCC segment
Double-digit passenger and freight growth again for Hainan Airlines
On the other end of the spectrum, Hainan Airlines' shares jumped 4.6%, upon the release of the carrier's Dec-2009 traffic highlights, which revealed continued double-digit passenger and cargo growth.
In the month, the Chinese carrier witnessed a 26% increase in passenger numbers, to 1.5 million (following growth of 4.7% in Dec-2008), with load factors also marginally stronger, up 0.2 ppts to 76.9%. Cargo volume also grew significantly, up 71% to 24,531 tonnes (comparatively, freight growth was down 13.9% in Dec-2008).
Hainan Airlines passenger and freight growth (%): Dec-2008 to Dec-2009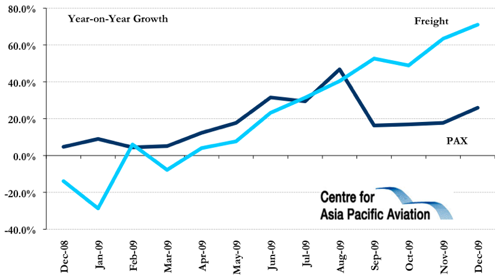 Positive outlook for Qantas
Qantas' share price fell 1.7% yesterday. Macquarie Private Wealth raised its full year profit forecast for Qantas by 36%, estimating a full year net profit of AUD248 million, and raised its 12-month price target by AUD0.05 to AUD3.66.
Commenting on the recent AirAsia agreement, Macquarie Private Wealth stated, "we view Qantas' strategy of forging an alliance on the LCC front with AirAsia as astute, providing opportunities to reduce unit coasts and capex in the medium term."
Macquarie Equities and Goldman Sachs also commented positively on the AirAsia agreement, with Macquarie Equities stating "we retain Qantas as our top pick in the transport and aviation sector", adding, "whilst ongoing leverage to the rebounding Australian economy is the key driver in near-term Qantas earnings, we believe closer ties with AirAsia are laying a solid foundation for incremental Qantas growth in the medium term".
See related article: AirAsia and Jetstar join forces: a potential killer combination in Asia
Asia Pacific selected airlines daily share price movements (% change): 07-Jan-2010