Malaysia Airlines still in the black in third quarter
Analysis
Malaysia Airlines (MAS) eked out a its smallest quarterly return in two years in the third quarter (ended 30-Sep-08), but the fact it remained profitable is testament to the MAS team, led by Idris Jala, whose contract was recently extended for another three years. Idris Jala stated the current financial crisis "will result in many bankruptcies and it will take two to three years for the aviation to fly out of this crisis".
The carrier's shares fell 2.7% on Friday ahead of the results announcement, extending losses to 48% since the start of 2008.
Net profit was down 90% year-on-year as fuel costs rose 56%.
Malaysia Airlines financial performance (% year-on-year growth): 3Q08 vs YTD3Q08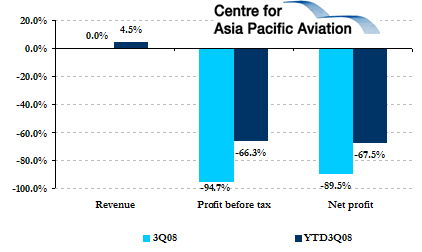 A flat revenue performance in the third quarter put a squeeze on the net margin.
Malaysia Airlines net profit margin: 2005 to YTD3Q08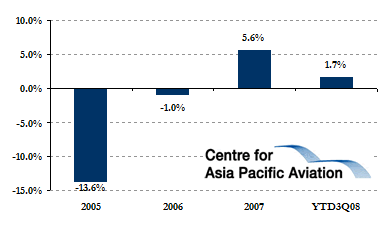 Passenger numbers declined 11% in the third quarter, with domestic passenger numbers hit hardest in Sep-08, the latest month in the period under review. Load factors eased to 69.7% in the September quarter (compared with 74% in the same period last year). International volumes are expected to remain under pressure for the balance of 2008 and into 2009.
Malaysia Airlines passenger numbers growth (% year-on-year): Oct-07 to Sep-08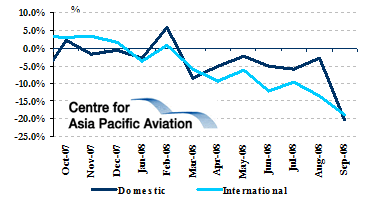 However, the airline moved early to right-size its network with prevailing conditions, announcing in Jun-08 that it would cut capacity by a further 6% and suspend some routes. Capacity cuts were most notable in Sep-08. Qantas and Cathay Pacific have announced further capacity cuts in recent days, though Idris stated MAS has no immediate plans for further route cuts.
Malaysia Airlines passenger capacity growth (% year-on-year): Oct-07 to Sep-08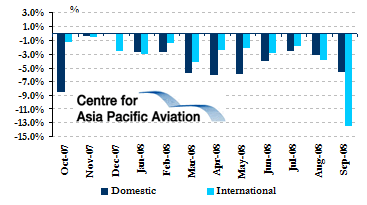 Despite the turbulence, Idris is "cautiously optimistic" about the airline's fourth quarter results, helped by a reduction in fuel prices. According to Idris, "the question now is which airline can innovate fast enough to overcome the challenges". MAS has demonstrated it is adapting more quickly to the challenges than many of its rivals and has limited the damage so far. With Idris at the helm until at least late 2011, MAS will have the leadership it needs in the difficult months that lie ahead.