Malaysia Airlines CEO Peter Bellew: "Something very wrong in the (Asian) long haul market"
Analysis
Peter Bellew spent a decade at Ryanair before joining Malaysia Airlines in late 2015, initially as COO before being promoted to CEO in mid 2016. Mr Bellew held a wide range of positions during his tenure at Ryanair – including in operations, training, sales and marketing – providing ample exposure to Michael O'Leary's unique approach to running an airline.
The new Malaysia Airlines strategy being implemented by Mr Bellew is decidedly non LCC. In recent months the government owned airline has reinforced its premium position, invested in its full service product, resisted unbundling, and pursued closer relationships with travel agents. However, Mr Bellew's approach with supplier negotiations and media seems at times Ryanair-esque.
Mr Bellew has been extremely blunt in media interviews, public speeches and private meetings. He is not shy to talk about industry weaknesses and challenges – as well as opportunities to secure additional aircraft at bargain basement prices.
Mr Bellew's presentation at the CAPA Airline Fleet and Finance Summit on 3-Mar-2017 in Singapore was forthright and insightful, particularly his views on current market conditions in Asia.
Malaysia Airlines CEO Peter Bellew's thoughts on the Asian market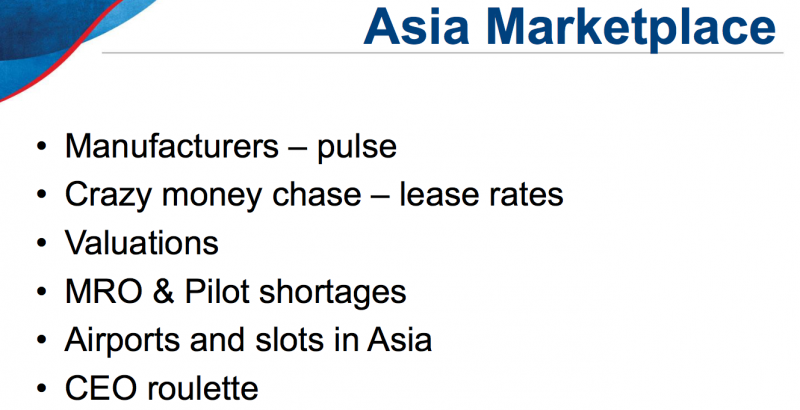 Since 3Q2016 Malaysia Airlines has been looking for additional widebody aircraft to meet short term needs. Mr Bellew said that the availability of aircraft, particularly A330s, has consistently increased over the past several months while lease rates have steadily come down in price. "The prices of second hand widebody aircraft are plummeting by the week at the moment", he said.
In recent weeks Malaysia Airlines has been inundated with calls from airlines and leasing companies seeking to offload A330s at short notice. "I got a call on [2 March] at 1am when I'm fast asleep, from an airline in distress", Mr Bellew said. "A big airline with three A330s they want to shift in the next three weeks. We can't actually take in all the offers at the moment."
"Of course do contact us, but it is a bit crazy at the moment the number of aircraft. Something has gone very, very wrong in the long haul market – and a lot of people must be hiding the problems – because I'm getting calls from big airlines that on the outward seem to being doing OK but they are quietly trying to shed aircraft and staff and resources quite quickly. It's quite interesting at the moment."
Malaysia Airlines. The finger on the "pulse"; doubts sustainability of Southeast Asian order book
Mr Bellew questions the sustainability of the order book in Southeast Asia. The AirAsia and Lion groups alone have over 900 aircraft on order, and Mr Bellew expects that 500 of these have been allocated to the Malaysian market.
"It's breathtaking the number of orders", Mr Bellew said. "I asked the manufacturers and one of the senior guys said to me: 'Peter the way it is we are just offering great deals to pretty much everybody. We don't know what's going to happen. We don't know who is going to be successful. So we sell planes to anyone that has got a pulse.'
"They are just backing them because they can't be too sure."
According to the CAPA Fleet Database, Southeast Asian airlines currently have more than 1,700 aircraft on order.
More than 1,250 of these orders are from LCCs or LCC groups. Southeast Asia currently accounts for 30% of global LCC orders – a disproportionate figure, given that Southeast Asia accounts for only 6% of the global fleet.
LCC orders by region/subregion: as of 8-Mar-2017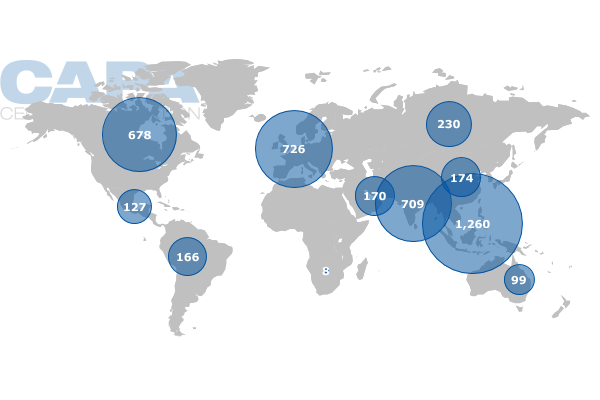 Malaysia Airlines believes aircraft are being overvalued (but then, it is in negotiating mode...)
The situation is being exacerbated by extremely high valuations of aircraft. Mr Bellew talked about the growing mismatch in the actual value of aircraft compared to the prices offered in tenders.
LCCs may be taking advantage of the current mismatch, banking large profits from sale leaseback transactions. While this is good for airlines in the short term, it may not be sustainable over the long term.

Also impacting the current market for aircraft are new Asian based lessors that are chasing leasing deals with "crazy money". These new competitors are putting further pressure on lease rates.
This can be a positive for the airlines with orders - for example, AirAsia's Tony Fernandes recently talked up the potential for an IPO of the group's leasing arm, suggesting a value in the range of USD1 billion.
Malaysia Airlines continues to look for additional widebody aircraft
Malaysia Airlines obviously stands to benefit from plummeting lease rates and airlines desperate to shed excess aircraft. The airline has not yet completed any deals for additional widebody aircraft, despite searching for more than six months and receiving numerous proposals.
Malaysia Airlines has repeatedly increased the number of additional widebody aircraft it needs over the next two to three years (2H2017 through 2019) but has still not completed a deal for any aircraft, including for the current year. In the short term (by early 2018) it is now looking for six additional widebody aircraft.
Mr Bellew is perhaps trying to send a message to manufacturers and leasing companies that conditions have become so favourable for buyers or lessees that he expects an even better deal than the already low prices Malaysia Airlines has been offered. Malaysia Airlines has been considering a combination of second hand A330-300s and ordering new 787-9s or A330-900neos.
See related report: Malaysia Airlines update Part 3: New widebody order designed to support long term growth
With the prices of second hand A330s plummeting, Mr Bellew pointed out that the gap between used and new aircraft is increasing, making the used aircraft option more attractive. However, Mr Bellew continues to negotiate with Airbus and Boeing over new widebody aircraft for both short and more longer term requirements.
Some of his comments can be viewed as smart negotiating tactics to get an even better deal from the manufacturers – taking perhaps a page out of his former boss Michael O'Leary's playbook. Mr Bellew told the CAPA Summit that with the 787-9, "we just haven't gotten the right pricing. Maybe we will get there".
On the A330neo he said the biggest issue is that it is still a paper aircraft and he fears the unknown. "We don't know how it will perform. We just know what's in the brochure. That's a hard decision to make on the aircraft right now."
Malaysia Airlines continues to negotiate with its existing 737-800 lessors
Malaysia Airlines is also in the middle of negotiations with some of its 737-800 lessors and is clearly hoping for a further reduction in lease rates. As CAPA highlighted in a Jan-2017 analysis report: "Until Aug-2017 the airline has the flexibility under the MAS Act to cancel any leases forged by the old pre restructured Malaysia Airlines. It intends to cancel up to six 737-800 leases if it does not get the reduction in rates it seeks."

See related report: Malaysia 2017 aviation outlook: passenger growth may reach 15% as AirAsia, Malindo & MAS expand
Mr Bellew told the CAPA Summit that "we have some few companies we still have a problem with and we may fall out with them over the next few weeks on moving some of the aircraft. But by and large it has all gone well".
Malaysia Airlines is already committed to reducing its 737-800 fleet from 54 to 50 aircraft over the next few months, due to upcoming lease returns. The 737 fleet could be reduced further if the current negotiations with its 737 lessors do not conclude with an agreement by Aug-2017.
The reduction to 50 – and perhaps fewer – 737s addresses an imbalance in the Malaysia Airlines fleet, which Mr Bellew believes now includes too many 737s and too few A330s. As a result, Malaysia Airlines is now forced to use 737-800s on popular flights to slot constrained airports where there is actually sufficient demand to upgauge to A330s. In some cases these flights were operated with widebody aircraft prior to the recent restructuring, which resulted in a significant reduction in the widebody fleet as the 777 fleet was phased out in early 2016.
"I just don't have any seats left on many routes today and I need put to widebodies in", Mr Bellew said. "It's merely about serving the market as there's massive overspill at the moment. We have a lot of great slots to India, Japan, Australia, Korea and Taiwan at times and at airports where there will never be any more slots ever again. And I'm stuck at the moment operating some of those with 737s. I need bigger planes. It's kind of a no brainer."
Malaysia Airlines has 25 737 MAX 8s on order for delivery from 2019 but these can be used to replace existing 737-800s. Its only other outstanding order is for six A350-900s, which are slated to be delivered in Dec-2017 and 1H2018, and used to replace its six A380s.
Malaysia Airlines fleet summary: as of 8-Mar-2017
Negotiations with Lufthansa Technik over MRO JV continue
Mr Bellew is also now negotiating with Lufthansa Technik over a planned heavy maintenance joint venture using Malaysia Airlines' underutilised hangar at Kuala Lumpur International Airport.
The two companies have been in talks for a year, and the new JV was initially expected to begin overhauling narrowbody aircraft (for Malaysia Airlines and mainly third party customers) by the end of 2017. However, an agreement has still not been finalised.
Again, Mr Bellew's comments could be seen as angling for a better deal. "The deal isn't done yet. It may not get done", he told the CAPA Summit. "I hope it gets done but it may not get done. There are still some terms that I'm unhappy with."
In his discussion of the Asian marketplace Mr Bellew predicted there will be a "huge shortage" of heavy aircraft maintenance capacity in Southeast Asia from 2020 to 2023 as aircraft from the region's massive order book are delivered. He said that in Singapore, where slots are already fully booked, there is no space for expansion, and there is limited space in the Philippines, where Lufthansa Technik has an existing facility.
Hence the message is that Malaysia offers Lufthansa Technik and potentially other maintenance providers opportunities – including ample space and resources (Malaysia Airlines' engineering operation currently has 400 apprentices) – if it succeeds at securing the right partner.
Peter Bellew's comments on other hot topics
Mr Bellew also talked about a looming shortage of pilots in Asia, pointing out that one operator in Vietnam had to ground aircraft recently as it did not have enough pilots. Here are some other comments made during Mr Bellew's presentation at the CAPA summit:
On the decision against pursuing a rebranding: "You don't hit 90% load factor in a month and there's something wrong with the brand. We have gotten over that."
On continuing to offer a fully bundled product: "I think in Asia it's a really bad idea to unbundle fares. I think it will be bad news for the (full service) carriers that do that. I don't think it works here … I think people in Asia want a really, really cheap low cost seat or they want something fancy. I don't think there's a middle ground in Asia."
On the need to constantly accept media interviews: Mr Bellew believes Asian legacy airline CEOs are missing major opportunities to influence developments by hiding in their offices. "The media here is starved of people to interview or who are transparent and open or aren't surrounded by 40 comms people when the interviews take place. I have shamelessly taken the opportunity to go with all the media that I can. We can track it – when we talk on the radio or to a Malaysia newspaper we see the bookings come in."
On re-engaging travel agents and offering agents access to the lowest fares: "Everyone is website, website, digital, digital, app, app. But 95% of all business travel in Asia is booked by agents and it's actually increasing. A lot of companies don't allow business class bookings without going through travel management firms. Previously, we had gone out of the way to annoy travel agents by having a digital first policy and lower fares on the website."
On the stock market: "Personally I believe the stock market is due for a good hard crash in the next six months. But boo hoo. We are in the airline business. I've been in travel for over 30 years. I've seen it up, I've seen it down, that's just the way it goes. We are being very cautious about the way we budget at the moment. It is easy to make a lot of money when oil and interest rates are low. We are being very prudent about this."
On opening a digitalisation lab at Kuala Lumpur International Airport: "I would love to partner with lessors or financing companies to come up with a proper electronic data management system. I know there's systems out there but they are all 10 years old. It's Mickey Mouse how we are all dealing with this. We need to get our act together on this."
On airport slot shortages in Asia: "It's fine selling people planes, leasing people planes. There are no slots left anywhere where you really want to fly and make good money. That's an issue."
On expected airline CEO changes ('CEO roulette'): "I think what's really going to create chaos in the next 12 months is there's going to be a massive amount of changes in CEOs at airlines from Western Europe all the way across to Hawaii. It is going to be good times for recruitment consultants. But a lot of new people will come into big Asian carriers with ideas to unbundle fares, charge for seats and bags etc. That's going to actually make things worse for some of these carriers."