Macquarie Airports bounces back, Ferrovial, Vienna Airport and Zurich Airport drop
Shares in Ferrovial, parent of BAA, eased 0.6% yesterday, as investors welcomed the group's corporate debt restructure (see below). Ferrovial signed a EUR3.3 billion loan with 35 banks, grouping together the corporate debt of the parent company at a single level. The net debt position of Ferrovial before infrastructure projects stands at EUR1.7 billion, as of 31-Mar-2009.
European airports shares generally fell yesterday as European stock markets lost ground. Vienna Airport, Zurich Airport both fell 3.7%, while Fraport was steady. The Frankfurt Dax 30 index lost ground yesterday, closing down 1.56%.
In Asia, Macquarie Airports' shares bounced back (+4.5%) yesterday as the Sydney ASX200 index recovered ground, closing up 1.75%. Beijing Airport's release of resilient May-2009 traffic figures were not quite enough to stop the airport's shares falling 1.1%.
Beijing Capital International Airport's traffic highlights in May-2009 included:
Passenger numbers: 5.3 million, +15.8% year-on-year;

Domestic: 4.2 million, +23.1%;
International: 1.1 million, -5.7%;
Cargo volume: 118,235 tonnes, -0.40%;

Domestic: 66,850 tonnes, +9.8%;
International: 51,385 tonnes, -11.1%;
Aircraft movements: 41,398, +14.3%;

Domestic: 33,229, +20.2%;
International: 8,099, -4.9%.
Selected airports daily share price movements (% change): 30-Jun-09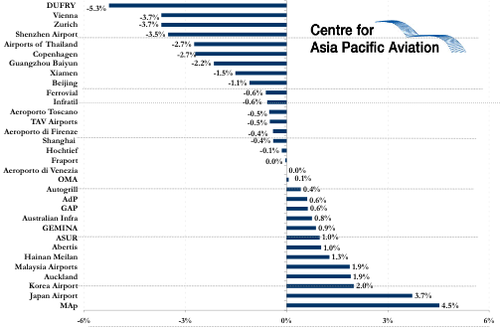 Ferrovial reorganises and simplifies its corporate debt structure - edited press release

Grupo Ferrovial announced the signing of a EUR3.3 billion loan with 35 banks. This new financing groups together the corporate debt of the parent company at a single level.
Unconnected with the existing financing of its subsidiaries, the agreement allows the parent company to simplify its current financial structure, at the same time as enabling it to ensure the liquidity necessary to undertake its foreseen business plan.
This new structure amalgamates the Ferrovial Infraestructuras loan of EUR1.8 billion, syndicated loans from 2004 and 2006, several bilateral loans and the working capital lines made available to the Group. The net debt position of Grupo Ferrovial before infrastructure projects at the end of 31-Mar-2009 stood at EUR1.7 billion.
Ferrovial stated the signing of the agreement with the banks strengthens the financial structure of the Group by providing an even stronger base from which its entire asset portfolio can be managed. It added the new structure, whose financial close would take place once the process of the merger with Cintra is concluded (at present under study), smoothes the way for any such merger to take place.
Ferrovial CFO, Nicolás Villén, stated "the operation disassociates the corporate debt of Ferrovial from any movement in Cintra's share price. The significant amount of both Spanish and international banks participating in this operation reveals a great deal of confidence in Ferrovial. Not only do we have plans under way to reduce our debt level through the rotation of mature assets, but we also anticipate like other large companies possible future needs in a financial setting such as that of today".