Lufthansa walks the line: Profitability, acquisitions and pilot strikes don't mix
Lufthansa Chairman and CEO Mayrhuber has a conflict. Hopefully it will remain at the conceptual level, and not become industrial. Last week, the airline transmitted a flurry of "it could be worse than it looks" messages, mainly for the consumption of Lufthansa's vigilant Vereinigung Cockpit pilots' union. The union is threatening action to oppose changes in crewing levels, underlaid with what will undoubtedly become a regular theme: how the operations of Lufthansa's various airlines will be integrated. In particular, they don't want Lufthansa to allow subsidiaries to fly LH-branded routes – among other sensitive issues.
The highly acquisitive airline suffered a difficult year in 2009, along with all of its major European counterparts. But that did not stop it buying Austrian Airlines, Brussels Airlines and BMI, to add to its previous list of purchases.
This expansion creates an impression of strength, at the same time as raising new issues about integration of operations. Europe is not all that big and Lufthansa and its satellites are now entrenched in a lot of airports, hubs and others, that historically have been fierce competitors.
Lufthansa also boasts a strong balance sheet – but it is nowhere near as strong as it was.
Lufthansa: Cash and Cash Equivalents (at beginning of quarter)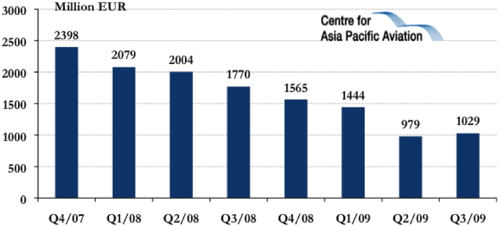 That's why the airline is looking for up to EUR1 billion in cost reductions by the end of next year, as it seeks to adjust to what looks like being a wholly new long term operating environment. It is going to need that cash if the losses keep mounting.
A fine line between profitable performance and union dissatisfaction
It is important for management to maintain a brave financial face - but one which is not too brave. Investors and ratings agencies must be given sufficient confidence that the outlook is strong; but at the same time, unions must be kept onside. The airline's various unions felt constrained to show some moderation in 2009, while economic conditions verged on catastrophic, but feelings can escalate as soon as the status quo is threatened – and once there is the slightest whiff of financial upside.
Most sensitive is anything that threatens that equilibrium. Pilots in particular are endowed with considerable risk aversion, accompanied by the power to disturb any management-proposed new equilibrium. Integration of and cooperation between the various parts of the Lufthansa network of airlines must inevitably involve rationalisation. For pilots – and others – that word spells threat.
Last year, Lufthansa had remained bullish while all around were faltering. In Apr-2009, reporting on 2008's results, Mr Mayrhuber expressed dissatisfaction over the airline's share price performance: "This is something that neither you, nor we can be satisfied with. The share price of our company fell by almost 40 % during the past year. We are not the only ones on the stock exchange to have suffered, and it is no consolation that we are clearly outperforming our major competitors in the monthly average; however it is still very bitter; especially bitter, because our own strong and stable performances, which we have achieved in an extremely difficult environment, do not seem to count for much.
"The drop in the share price clearly shows that the overall economic conditions weigh considerably heavier and are decisive. At present, the share has given up about 12 per cent since the beginning of the year. However, we remain optimistic and I feel the current share price also offers opportunities."
A bad case of too-bullish analysts
But last week, in an analyst presentation, CFO Stephan Gemkow announced gratuitously that "some analysts'" projections were "too favourable". This may not be a first, but it is hardly regular practice to talk your shares down (and sure enough they did fall, much further than the overall market) – unless there is a strike in the wind. In its Oct-2009 reporting, Lufthansa had already projected a bleak outlook, saying that a full year operating profit was "subject to a very considerable risk," and that its passenger performance could deliver a "distinctly negative result".
In stoking the risk scenario, Gemkow even dragged out the hoary old chestnut of Middle East airlines' "irrational capacity growth" posing a threat to the Lufthansa's future. But the spectre of higher fuel costs and continued lower yields were still very much a real threat. See related report: Emirates, Qatar Airways and Etihad Airways: Opportunities for airports as Gulf airlines expand
Pause for consolidation
Cost cuts are essential for future profitability. That much is now obvious. Yesterday, on the Wall Street Journal's livemint.com, Mr Mayrhuber was quoted as saying he didn't believe, despite the airline's ability to do so, that there would be any more acquisitions this year. Other priorities filled the windscreen.
Citing the "huge" yield reductions of the past year, he believed that it was preferable to focus on regaining profitability, following the string of new airlines in the carrier's stable. He noted, "it's natural to go back to the drawing board and say, well where have we put on some fat? How can we tweak this out? And we have to adapt to the current yield level..."
This is a pivotal confrontation for Lufthansa – so strike action becomes more likely
There are potentially massive cost efficiencies to be achieved now, with the array of hubs and airlines under the Lufthansa umbrella. Many of those gains will be sacrificed on the altar of political necessity, as there are keen national goals that are inseparable from the local airline; but gaining union support for unit cost reductions at a time when there is no growth in the full service airlines is also going to be an uphill battle.
After six months of negotiations, management and pilots failed to reach agreement last month and now Vereinigung Cockpit has embarked on a voting process, due for completion on 17-Feb-2010.
Now there are rumblings in the union that even the pilots' agreement not to seek pay rises (though it may seem incredible this is not a given in the current environment) would now be back on the table. If so, that is probably little more than a negotiating tactic at this stage; the union is clearly aware that pay rises in the near future would not be in anyone's interests, even theirs.
However, it is essential for Lufthansa to generate not just additional revenue from its new network, but also to generate efficiencies. If the entire system is growing, that may be possible, but if contraction or static performance is unavoidable, something has to go. So, extracting even the efficiencies of using subsidiary airlines to operate (full cost) Lufthansa services appears to be a step too far. If that is the case – if Lufthansa is unable to achieve even that concession – then the prospects for real efficiency gains are remote. It is not only the pilots who will be lining up for favourable treatment if this battle is lost.
If management cannot establish valuable ground rules for the process of slimming down, then the future of Lufthansa's acquisition strategy could be seriously compromised. That is what is at stake now. And that is why the prospect of a strike should not quickly be dismissed. There is a lot to be gained – and lost – on both sides here.
And if the pilots hold firm, they may just be successful in making CFO Gemkow's words come true.