Lufthansa ends codesharing with Turkish Airlines. A full rift would mean new strategies for each
Analysis
The recent decision by Lufthansa to end its codeshare agreement with Turkish Airlines (THY) came as a surprise to most observers. Talks between the two carriers over the past 18 months had been seeking closer co-operation, a prospect that had even been discussed by the respective heads of government of Germany and Turkey.
However, the strong growth of THY in Germany has led to imbalances in their relationship. In particular, THY now has a strong presence in secondary German cities away from Lufthansa's Frankfurt and Munich strongholds. This has undermined Lufthansa's strategy of funnelling Asia-bound traffic from secondary markets via its hubs as THY increasingly offers an alternative connection via Istanbul.
With fares that Lufthansa cannot match, one of the world's biggest networks and a product that continues to win plaudits, THY has become a formidable competitor to Lufthansa and its group companies in spite of also being a Star Alliance partner.
"…commercial disputes come up from time to time."
THY said in a statement that it did not approve the "unilateral decision" and hoped that Lufthansa would reconsider its termination of the codeshares. Lufthansa has also devalued THY's FFP miles in its 'Miles & More' programme.
Star Alliance CEO Mark Schwab played down the rift at the Nov-2013 CAPA World Aviation Summit in Amsterdam, saying the situation reflected a "bilateral discussion going on between two carriers and that has happened through the course of our history". He added that "there has always been competition within the alliances… there are commercial disputes that come up from time to time."
Lufthansa sponsored THY's application to join the Star Alliance in 2006, but the rift between the airlines, whose main hubs are Star's two largest by seats, raises some important questions for the alliance.
How did the dispute arise?
Top 50 Hubs/Bases for Star Alliance by seats: 2-Dec-2013 to 8-Dec-2013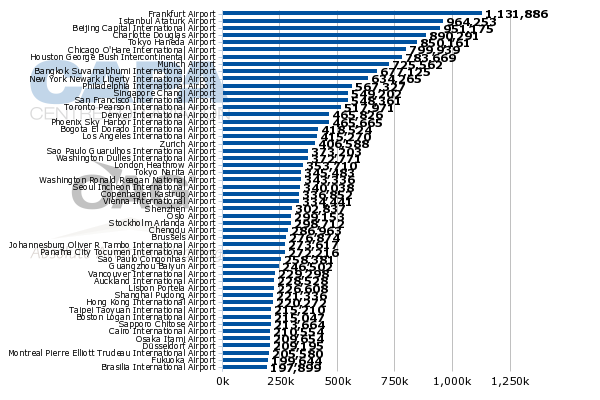 THY has more than three times Lufthansa's weekly frequencies on Germany-Turkey
On routes between Germany and Turkey, THY is a much bigger player than Lufthansa, with 43% of seat capacity to Lufthansa's 12%. SunExpress, which is 50% owned by each of the two airlines, splits the two with a share of 20% of seats, while independent LCC Pegasus Airlines is fourth with 11%.
In the current winter season, THY is operating 217 weekly frequencies between the two countries, more than three times the number operated by Lufthansa (data source: OAG, week of 25-Nov-2013).
Moreover, Turkish Airlines' activity is not just confined to the major hubs of Frankfurt and Munich: it operates to a total of 11 German airports, with a frequency of at least double daily flights from seven of them. Lufthansa concentrates its flights to Turkey from just three German airports (Duesseldorf and its two main hubs).
Turkish Airlines and Lufthansa routes between Turkey and Germany: 25-Nov-2013 to 1-Dec-2013
Germany is THY's number one international market
Germany is, by some distance, the most important international market for THY (by number of seats). In the week of 2-Dec-2013, OAG data show that it operates almost twice as many seats to Germany as to France, its number two market.
Turkish Airlines international seat capacity by country: 2-Dec-2013 to 8-Dec-2013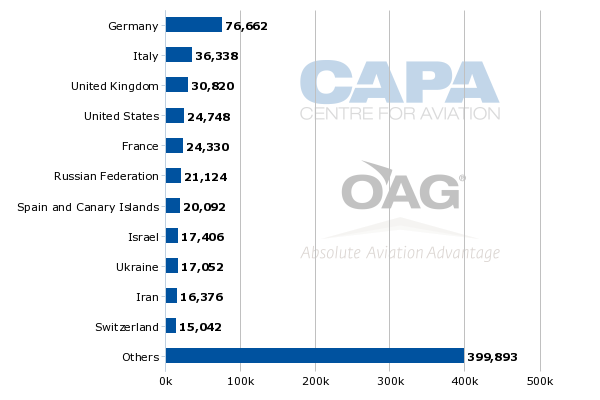 By contrast, Turkey is not among Lufthansa's top eleven country markets by seats.
Lufthansa international seat capacity by country: 2-Dec-2013 to 8-Dec-2013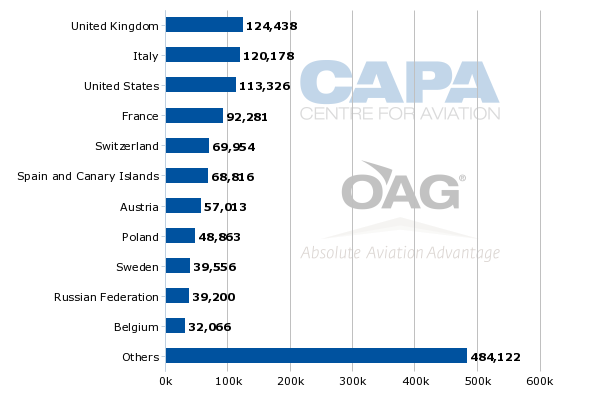 THY has almost trebled its seat capacity to Germany since 2003
THY's strength in the German market comes after a number of years of strong growth. From 2003 to 2013, it has almost trebled its seat capacity from Turkey to Germany, growing at a compound average annual growth rate of 11%, compared with a 5% annual rate for Lufthansa (according to data from OAG).
In 2013, THY has flown more than three times the number of seats deployed by Lufthansa on these routes.
Lufthansa and Turkish Airlines annual seat capacity between Turkey and Germany: 2003 to 2012

THY's growth has taken in secondary German airports
The following three charts demonstrate the differences in the two airlines' capacity development on routes between Turkey and Germany over the past decade. Not only has THY grown more rapidly than Lufthansa on these routes, but also it has spread its growth across a number of German airports and thereby built a strong presence in secondary markets.
In Turkey, THY has concentrated sharply on feeding this traffic from Germany into its hub at Istanbul Ataturk, with only a very small number of seats going to/from Ankara and other airports
Lufthansa and Turkish Airlines annual seat capacity between Turkey and Germany from German airports: 2003 to 2014

Lufthansa and Turkish Airlines annual seat capacity between Turkey and Germany from Turkish airports: 2003 to 2012

Lufthansa has also grown, but at a slower pace and with a strong focus on Munich and Frankfurt for its Turkish operations. This reflects its strategy of using its two hubs to gather connecting traffic from other German (and European) markets before sending these transfer passengers to global destinations, including Turkey and markets beyond to the East.
At the two main German hubs, on routes to Turkey, THY has only a little less seat capacity than Lufthansa in 2013. However, at all other German airports, where Lufthansa has almost no seats operating to Turkey, THY has more than twice the seat capacity that Lufthansa flies to Turkey from its two hubs.
Taking account of THY's higher load factors on its European routes, the OAG seat data for 2013 suggest that both airlines will carry around 450,000 to 500,000 passengers from Munich and Frankfurt to Turkey in 2013, but that THY will additionally carry around 1.2 million passengers from other German airports. An important proportion of this number will make onward connections via Istanbul.
Lufthansa and Turkish Airlines seat capacity to Turkey from Munich/Frankfurt versus other German airports: 2013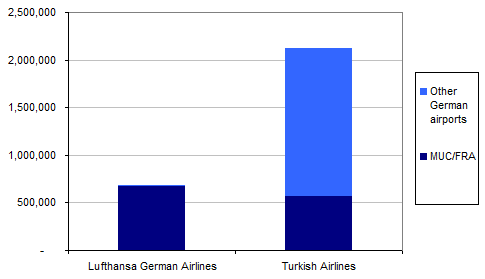 THY's traffic from secondary German cities is taking significant numbers from Lufthansa's two hubs
While we do not have data on how much of THY's German traffic is point to point and how much is making international connections via Istanbul, it is likely that connecting traffic is a significant proportion.
Nevertheless, for THY's network overall, we do know that the number of transfer passengers connecting from international to international flights increased by 29% in the first nine months of 2013, compared with 24% growth in total passengers. International to international transfer passengers accounted for 40% of THY's international passengers in the period, up from 39% in FY2012.
Germany has a significant ethnic Turkish population and this drives an important VFR market, which means that the proportion of THY's Germany passengers that transfer to/from another international destination through Istanbul may be lower than the 40% seen across its international network.
Istanbul Ataturk Airport to Germany (seats per week, one way): 19-Sep-2011 to 8-Jun-2014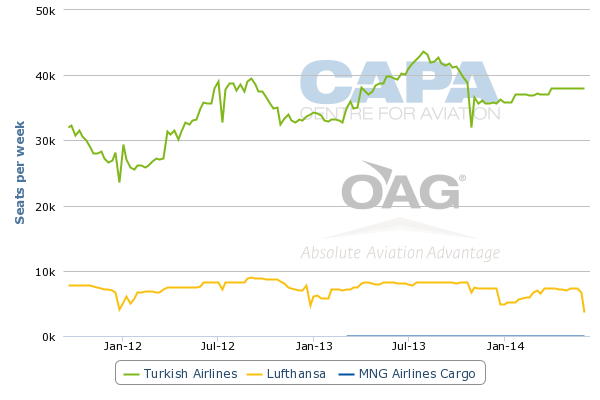 On the other hand, the strong imbalance in the number of seats that THY has on Germany-Turkey compared with Lufthansa suggests that connecting traffic is very important to THY in this market. If it was all about the point to point market, Lufthansa would surely have more capacity there.
As noted above, we estimate that the two carriers have a more equal number of passengers flying between Frankfurt/Munich and Istanbul and it is to be assumed that both carriers also benefit from onward connecting traffic. However, the situation is very different outside Frankfurt and Munich.
If we assume that 30% of the estimated 1.2 million passengers travelling with THY to Turkey from secondary German cities (ie excluding Frankfurt and Munich) are making connections in Istanbul, this suggests that not far short of 400,000 passengers are by-passing Lufthansa's hub in 2013. Lufthansa's monthly traffic figures for 2012 and 2013 (to Oct) suggest that it will carry roughly 7.7 million passengers to Asia Pacific and the Middle East/Africa this year and that this number is falling.
Our estimate of the number of passengers lost to THY's Istanbul hub is around 5% of this.
Frankfurt Airport to Turkey (seats per week, one way): 19-Sep-2011 to 8-Jun-2014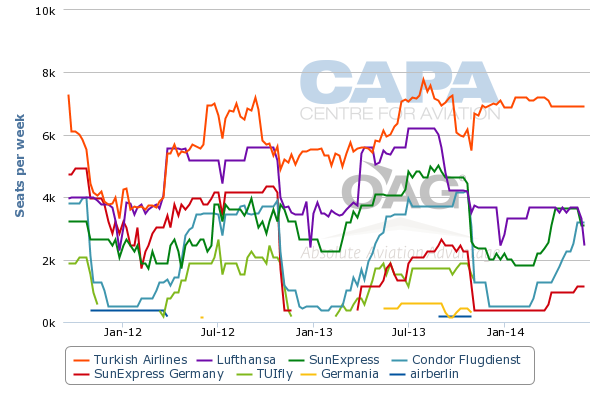 Munich Airport to Turkey (seats per week, one way): 19-Sep-2011 to 8-Jun-2014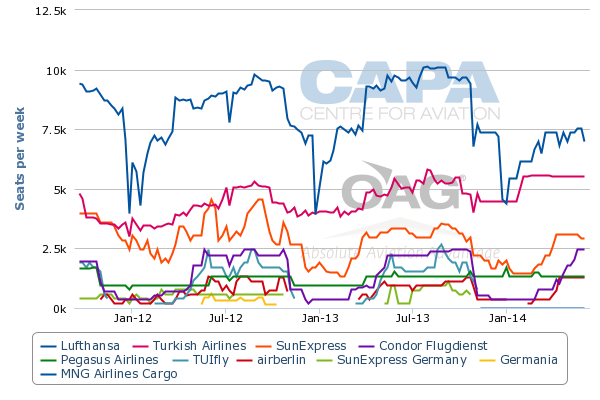 THY's expansion also affects other Lufthansa Group companies
From its Istanbul hub, THY can serve all of Europe, the Middle East, Central Asia, much of Africa and the northwest of India with narrow-body aircraft. Its wide-body fleet can reach almost all of the rest of the world, with the exception of Australasia and Lower South America.
The impact of THY's expansion has not only been felt by Lufthansa. Africa makes up around 10% of seat capacity for Brussels Airlines and THY's rapid expansion into the continent presents a challenge to Lufthansa's Belgian affiliate. For much of Africa, Istanbul provides shorter connections to Europe, Central Asia and North America than travelling via the Gulf.
See related reports:
For both SWISS and Austrian Airlines, the combination of Asia Pacific, Africa and the Middle East represent a double digit percentage of their seats, although their networks in those regions lack scale compared with Lufthansa. Aside from the direct impact on Lufthansa itself, THY's growth has a two-fold impact on the Lufthansa Group outside Germany. Not only does it take traffic from the Lufthansa Group subsidiary airlines, but it also takes traffic from the wider Group countries that might otherwise connect with Lufthansa.
Turkish Airlines, Lufthansa, SWISS, Austrian Airlines and Brussels Airlines weekly seat capacity by region: 27-May-2013 to 2-Jun-2013
Turkish Airlines, Lufthansa, SWISS, Austrian Airlines and Brussels Airlines breakdown of weekly seat capacity by region (%): 27-May-2013 to 2-Jun-2013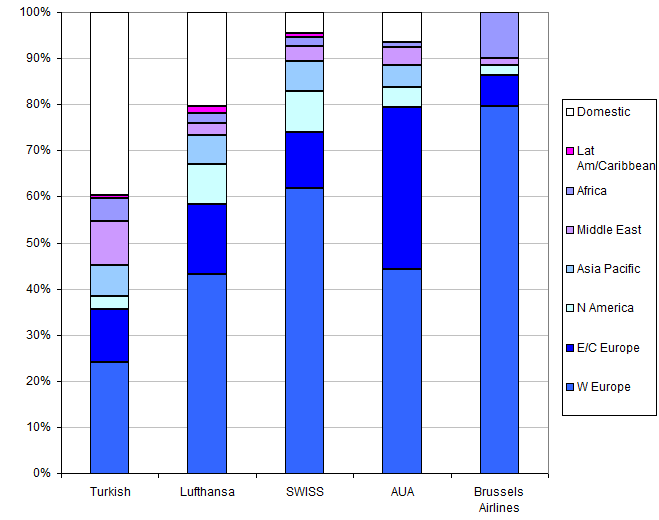 THY is a very cost efficient competitor
Viewed purely as a competitor, THY represents a significant threat to Lufthansa. The geographic positioning of its Istanbul hub allows it to capture global traffic flows and its strong presence in Germany and across Europe places it well to take traffic from there to destinations in Asia, Middle East and parts of Africa.
THY's rapid growth now makes it much larger than Lufthansa on routes between Germany and Turkey and its impressive network from Istanbul means it can offer German-originating passengers a wide range of destinations.
Crucially, THY also has much lower unit costs (cost per available seat kilometre, CASK) than Lufthansa, both on long-haul and on medium-haul. This allows it to undercut Lufthansa on price, while remaining profitable.
See related report: Turkish Airlines' 2012 operating profit almost triples; 2013 more doubtful, with 20% seat growth
Cost per available seat kilometre (CASK, EUR cent) versus average sector length (km): 2012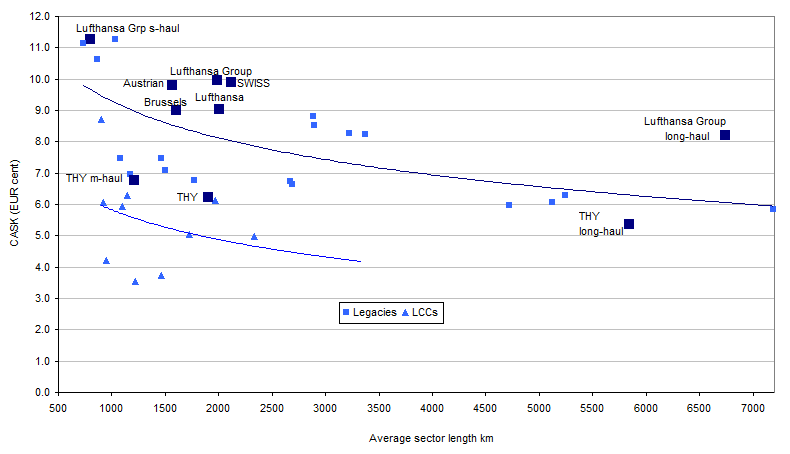 Lufthansa's strategic response to the Gulf carriers now needs re-evaluation
Where this leaves Lufthansa in its search for a competitive solution to the threat posed by Gulf carriers is not clear. Lufthansa has historically been the most vocal European critic of the strategic growth pursued by governments in the UAE and Qatar and is notably the only one of Europe's Big Three that still has no partnerships with a Gulf carrier. Turkish Airlines' global connecting strategy gave it a partner with some similarities to the Gulf Three. Lufthansa certainly does not want to have to deal with a fourth such competitor, especially one with such deep penetration of the German market.
It has made slightly more conciliatory noises regarding Emirates in recent months, noises reciprocated to some extent by the Dubai-based carrier, but it seems very unlikely that the termination of the THY codeshare is a precursor to a Qantas-style alliance with Emirates (especially given Qantas' membership of oneworld). None of Lufthansa's Asian Star Alliance partners offers a complete solution and it was rumoured to be considering a long-haul LCC start-up earlier this year, to service Asian markets.
See related reports:
A permanent rift would have major implications for Lufthansa and for the Star Alliance more generally
It must be that Lufthansa group members have been watching with increasing concern as Turkish ramped up its German capacity over recent years. Both carriers are now global heavyweights in transfer markets, but that was not always the case. As Lufthansa originally encouraged its smaller partner to expand it would not have foreseen the scale of Turkish's size today - to such an extent that today Lufthansa probably needs Turkish more than Turkish needs Lufthansa.
Meanwhile in this previously friendly atmosphere, Turkish has been allowed to penetrate the German market more effectively than any other foreign network airline. Compared with the frugal access provided to the apparently more threatening Gulf carriers, Turkish has received a welcome appropriate to a partner and friend. Although the German government has usually been willing to protect Lufthansa from further inroads by Emirates, Etihad and Qatar Airways, Turkish's access privileges cannot easily be wound back now.
Perhaps the dispute is just a temporary tiff. Sources in Lufthansa say that the rift does not necessarily mean a permanent end to strategic talks, pointing out that "existing imbalances in a loose partnership could well become complementary fields in a closer partnership". Although THY's statement expresses its unhappiness at Lufthansa's decision, it is open to renewing the codeshare, while also pointing out that total codeshare revenues are only 2% of its group revenues.
Both sides have stressed that there are no implications for SunExpress – indeed THY CEO Temel Kotil told CAPA at its Nov-2013 World Aviation Summit that he saw greater use being made of this airline – or for other areas of cooperation such as flight training. He insisted the two will both continue to work together as members of Star.
See related report: Turkish Airlines reiterates growth opportunities and a more profitable outlook for SunExpress
However, like a pair of lovers who take a break in their relationship when things get stormy, the only ways forward are often either a permanent commitment through marriage, or to agree to a permanent separation. In the case of Lufthansa and THY, marriage could translate to a JV and/or exchange of equity stakes, relationships that give both sides incentives to regard the existing imbalances as complementary. Anything short of a close relationship of this kind would leave the two airlines with incentives to compete. Yet, with over 75% of the Germany-Turkey seats, the competitive implications of a wider ranging alliance would certainly push the limits of competition laws.
If this deeper cooperation cannot be achieved, and right now it must be regarded as a big challenge, the Star alliance may not be able to accommodate an ongoing rupture between two of its biggest members.
At the same time, a permanent separation, with one or other leaving Star, seems almost unthinkable. Happy endings are not guaranteed in the real world, and neither side is expected to resume talks in the near term. But the sheer reality of the alternatives may force the two back into each others' arms eventually.
For Lufthansa, Turkish was seemingly the only remaining option for combatting the Gulf airlines' network threat. Etihad has teamed with Air France-KLM (after previously cosying up to Lufthansa and being rebuffed) and Qatar Airways is now firmly part of oneworld. A partnership with fierce opponent Emirates would appear to offer competitive challenges that Cologne would find impossible to digest. But this is a fast changing world and the only safe predictions on such matters are that anything is possible. Even the threat of such a combination might be enough to force Turkish back into Lufthansa's arms on sweeter terms. There will undoubtedly be some innovative poker hands being reviewed at management level in coming weeks.