Low-cost airline PEOPLExpress finally readies for launch; but will its "Vision" take hold?
Analysis
More than two years after declaring plans to resurrect the PEOPLExpress name, executives are now planning a Jun-2014 launch from Newport News Williamsburg International Airport.

After the airline's self-styled seasoned executives underestimated the effort and complexity of obtaining certification from the US Department of Transportation (DoT), PEOPLExpress is working with Las Vegas-based Vision Airlines to introduce service after flirting with the purchase of charter carrier XTRA Airways during 2013.

Without explicitly declaring itself an ultra low-cost carrier (ULCC), it seems PEOPLExpress is taking pages from Spirit's playbook in offering cheap base fares and charging for other aspects of travel. It will be largely shielded from large network airlines on its initial crop of routes; but limiting its exposure to larger carriers does not alone guarantee the airline's chances of success.
PEOPLExpress opts to partner with Vision rather than wait for DoT certification
PEOPLExpress first resurfaced in early 2012, declaring its intent to launch service in the summer of that year after raising USD5 million in funding. The original PEOPLExpress operated in the 1980s as one of the pioneers of the low-cost, no frills business model. It merged with Texas Air subsidiary Continental Airlines in 1987 after building up high debt through mergers and rapid growth.

The first launch date for the new PEOPLExpress came and went, and in 2013 it outlined plans to purchase charter carrier XTRA Airways. But PEOPLExpress CEO Jeffery Erikson (who joined the carrier in late 2013) told a local news outlet those plans were on a back burner.

Now the airline has tied up with Vision, which will operate Boeing 737-400 Classic aircraft and crew the jets doing business as PEOPLExpress. In May-2014 PEOPLExpress withdrew its application for an operating certificate from DoT after the agency required additional information from the carrier. Shortly after the airline held a launch event at Newport News explaining Vision is operating the aircraft, presumably until PEOPLExpress can ensure it can pass DoT's fitness test for reliable operations and financial stability.

See related reports:
PEOPLExpress aims to use the window of opportunity provided by US consolidation
PEOPLExpress has been one of the few start-up carriers so far to emerge during the final phases of US consolidation, selecting Newport News, Virginia as its base after AirTran pulled out of the airport in 2012. AirTran's new owner Southwest cut many of AirTran's smaller markets once it acquired AirTran, and as previously reported by CAPA after the cuts Newport News' passenger numbers fell almost 39% from YE2011 to YE2012.
See related report: Southwest Airlines reinforces San Diego, La Guardia, adds routes, withdrawing from smaller airports
Newport News Williamsburg International Airport annual passenger numbers: 2009 to 2012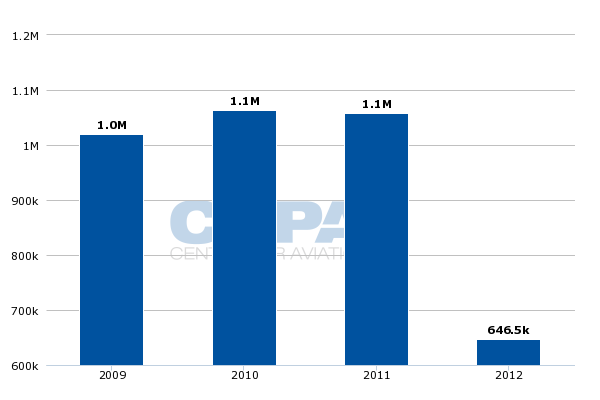 After seeking out Vision to finally launch operations, PEOPLExpress intends to launch service on 30-Jun-2014 from Newport News Airport to Newark Liberty, Boston Logan and Pittsburgh with Boeing 737-400s configured with 150 seats – 138 in coach and 12 "Living Large" seats available at a premium.

In Jul-2014 and continuing through Aug-2014 PEOPLExpress is adding service to West Palm Beach, Atlanta, St Petersburg and New Orleans.

Presently Newport News is essentially a spoke for US network airlines. Delta operates service to its Atlanta hub and US Airways offers flights from Newport News to its hubs in Charlotte and Philadelphia. Frontier Airlines has flights from Newport News to Denver and Allegiant Air offers service to Orlando Sanford.

There is no direct service between Newport News and Newark, Boston and Pittsburgh. Prior to ceasing operations from Newport News, AirTran served Boston, Atlanta, New York LaGuardia and Orlando.

Both American and Delta offer flights from nearby Norfolk (roughly 42km from Newport News) to New York LaGuardia and JFK, and Delta operates service from Norfolk to Boston.

PEOPLExpress does not face any competition on its planned service from Newport News to West Palm Beach, St Petersburg or New Orleans. Schedules in CAPA and OAG show that during Jul-2014 Southwest is operating service from Norfolk to Tampa, which is roughly 37km from St Petersburg.

Presently, (2-Jun-2014 to 8-Jun-2014) US Airways accounts for nearly 58% of the seats deployed from Newport News as it is the only carrier offering service to more than a single destination from the airport.
Newport News Williamsburg International Airport capacity by carrier (% of seats): 2-Jun-2014 to 8-Jun-2014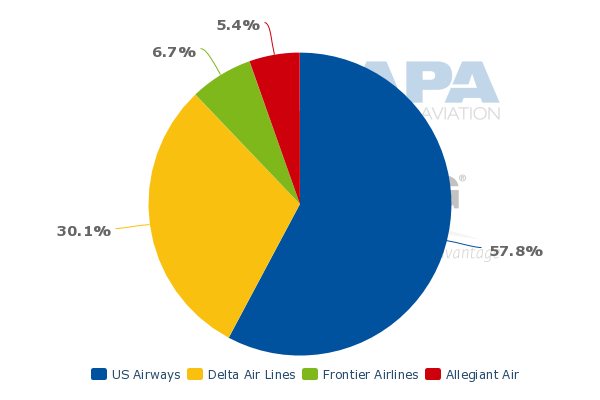 From a network perspective it looks as if PEOPLExpress is opting to offer a mix of business and leisure destinations with minimum overlap in terms of competition. It has outlined one-way fares as low as USD76.
PEOPLExpress mimics Spirit – avoiding customer backlash will be necessary
Vision, doing business as PEOPLExpress, is operating 737-400 Classics. Seat pitch specifications were not supplied by the airline.

Without declaring itself as completely ultra low-cost, PEOPLExpress says its product proposition includes the choice by customers to fly at an "ultra low price" and purchase extras including priority boarding, pre-assigned seats, and the "Living Large" upgrade (perhaps a nod to Spirit's "Big Front Seat").

Charges for luggage are USD20 for the first checked bag and USD25 for the second. The Living Large seats are USD59 per flight segment, and carry-on bag charges are USD25 per flight segment.

PEOPLExpress plans to charge for beverages and offer complimentary in-flight snacks. Without knowing the airline's costs, it is impossible to describe it as a true ultra low-cost carrier; but PEOPLExpress has taken pages directly from Spirit's revenue playbook with respect to charging for add-ons.

The reception PEOPLExpress receives should be interesting. For years Spirit has recorded industry-leading margins, but has drawn considerable angst from passengers over its bare-bones approach. Roughly seven years after it began transitioning its ultra low-cost model, Spirit in May-2014 launched a new Bare Fare campaign to better illustrate its business model – very low base fares with fees for almost everything outside the ticket price.

PEOPLExpress maintains that add-on fees let customers decide what they want to pay for, and that type of model is now commonplace in the industry. But some customers still baulk at the add-on fees even though they're attracted by low fares. PEOPLExpress is hoping to capitalise on the legacy of its name, but it will be beneficial for the airline to invest in educating its passengers and investors about its model to minimise the backlash it may draw over fees.
PEOPLExpress faces a tough environment as its launch nears
Even as it hypes the forthcoming launch of scheduled service, PEOPLExpress is not likely to generate a lot of positive investor sentiment given it abandoned efforts to obtain its own operating certificate after two years of effort, making early success vital to ensuring financial viability.

It is unclear how much demand or traffic PEOPLExpress can stimulate in southeastern Virginia at an airport that has not previously attracted carriers to backfill AirTran's service cuts. Allegiant only serves Orlando Sanford twice weekly.

For all the hype PEOPLExpress is attempting to generate the reality is it faces a tough road in successfully executing what has been a constantly evolving business model. There is definitely room in the US market place for ultra low-cost carriers to capture lower yielding passengers that are being discarded by network airlines; but the fits and starts that PEOPLExpress has shown during the past two years have done little to instil confidence in its staying power.