Los Angeles Airport receives a major facelift, with cutting edge in-terminal technology
Analysis
As a recent CAPA report on global airport construction indicated, there is a great deal of construction work in progress at the US' major gateways and hub airports - even if there is very scarce construction of green field facilities nationally.
Los Angeles World Airports is one of the leaders, with LAX's durable Tom Bradley terminal receiving the lion's share of the investment, as the airport strives to remain competitive with other Global Cities.
The upgrade timing is appropriate; of the world's top ten airports, LAX's 2013 passenger growth, at 4.7%, was second only to Dubai International.
(See also associated report: Inside the world's biggest airport construction projects in 2013/14)
One of the largest overall schemes in the US, valued at up to USD12 billion in recently completed, actual and so far unrealised projects, is being undertaken by Los Angeles World Airports (LAWA) at its flagship Los Angeles International Airport (LAX), while the estimated cost of projects to be implemented over the next three years (to 2016) is approximately USD2.4 billion.
The principal development there is of the New Tom Bradley International Terminal (NTBIT).
Table of LAX projects
Project

Cost USD

Implementation date if known

Notes

NTBIT

1.5 billion within a total budget of the 4.1 billion

LAX Capital Improvements Program-Phase 1

1st stage opened Sep-2013. Completion 2015.

Scheduled to open in phases, commencing 2013. Construction Dates: Great Hall: 2013. New west side boarding gates 2013. New eastside boarding gates 2014. The biggest public works project in L.A. City history. Funded from LAX's operating revenues, capital improvement program funds, fees from airlines, passenger facility charges, and airport revenue bond proceeds.

Terminal 5 renovation

240 million

2015

In Apr-2013. Delta Air Lines announced it had partnered with the City of Los Angeles and LAWA to overhaul terminal 5 at LAX. Delta has invested USD12 million for check-in and lounge improvements, with USD25 million provided by the US TSA. LAWA will finance the remaining amount through commercial paper/long-term debt, cash on hand and passenger facility charges collections.

NTIBT – T4 connection

107 million

2015

The new facility provides a secure connection between the international terminal and terminals four, five, six, seven and eight on the south side of the LAX's central terminal area. This project is the latest component of the LAX capital improvement programme. Funding for the project includes a combination of airport revenue bonds, passenger facility charges, and funds on hand.

Demolition and relocation of the North Runway/Ground transportation facility/consolidated car rental centre/automated people mover

160 million (car rental facility)

2016/2020

In Apr-2013 Los Angeles International Airport announced the Los Angeles City Council approved the USD4.1 billion proposal to expand and modernise the airport, and which includes the demolition of the north runway and rebuilding it 260ft to the north. The project will enable the landing of B787 and other wide body a/c in addition to easing congestion and increasing safety. At the same time Los Angeles City Council also approved plans to build a ground transportation facility, construct a consolidated car rental centre and introduce an automated people mover to shuttle passengers around the airport. Approved in Jun-2013 but the runway relocation faced strong local opposition from airport neighbours, who threatened to litigate. A light-rail system or a separate people-mover system to circulate inside LAX, is intended to improve passenger movement. A decision on the route and the type of system to be built is expected late in 2014; if extra funding can be secured and environmental reviews finished quickly, the light-rail extension could open as soon as 2020. With an estimated cost of USD1 billion, the Metropolitan Transit Authority hinted it will invest the majority if the airport opts out for the people mover option.

In Feb-2014, LAX stated a proposal to construct a car rental facility shared by multiple companies will be reconsidered again in the next three years under the LAX Board of Airport Commissioners (BAC) plan to improve transportation services. A study calls for the facility to be built in Manchester Square. The report should be completed by the end of 2014. LAX reportedly has more than USD160 million in available funds for the facility.

United Airlines terminals renovation

400 million

2016?

In Sep-2013 United Airlines was reported to be looking to renovate its three terminals at LAX. In a report filed with LAWA Board of Airport Commissioners, the carrier called for a project to improve security screening checkpoints, install a new baggage sorting system, renovate waiting areas, replace aerobridges and construct new lounges. LAWA would be liable for the bulk of the USD400 million cost, with the carrier to finance any carrier-specific additions such as branding.

LAX Central Terminal Area Curbside Appeal Project

118 million

2015

In Jan-2014, LAWA Board of Airport Commissioners awarded a USD118 million contract for the construction of the LAX Central Terminal Area Curbside Appeal Project. Construction is expected to begin in spring 2014 and complete in 2015.

Terminal 6 renovation

238 million

Completed

The renovation/modernisation of Terminal 6 increased lobby space, replaced traditional ticketing counters with customer-friendly islands of check-in kiosks, bag-check stations, and a behind-the scenes, in-line baggage-handling system. Additional security screening checkpoints were also added to facilitate quicker screening. Other elements include better access to the US Customs and Border Protection

inspection facility for arriving international passengers, aircraft maintenance facilities and offices.

Other projects

u/k

u/k

Additionally, there are other major projects in planning or under construction that are in support of the development program. These include a new Central Utility Plant, new taxiways and taxi lanes, and major renovations and infrastructure upgrades in all of the other terminals.
The terminal, like its predecessor, the original Tom Bradley International Terminal, which opened in 1984 for the Olympic Games in Los Angeles, is named after the first African-American Mayor of the city and located at the western end of the passenger terminal area.
Tom Bradley Terminal was intended to help ensure Los Angeles remained competitive with 'global cities'
The original terminal was subsequently modernised – at least in a cosmetic manner - but in 2008 the then Mayor, Antonio Villaraigosa (who remained in post until Jul-2013 just before NTBIT was inaugurated) unveiled the designs for the airport's Bradley West and Midfield Concourse projects together with architects Fentress and HNTB, which were tasked with developing a concept to modernise LAX as a whole, to improve passenger experience and to ensure Los Angeles remained competitive with other Global Cities. (In Loughborough University's (UK) standard work on Global Cities, of which there are 296 identified, Los Angeles rates as an Alpha City, along with the likes of Chicago, Toronto, Madrid and Kuala Lumpur [13 in all]. There are two grades above Alpha: Alpha+ [eight cities] and Alpha++ [New York and London]).
Despite the fact the city, county and surrounding metropolitan region is universally known for being a major centre for the entertainment industries and tourism (and somewhat less so for equally important aeronautical industries) there were good reasons for ensuring it remained globally competitive.
At that time the state of California as well as Los Angeles city and county was facing a critical budget crisis that lasted through to 2012. Committing public funds to major airport projects rather than social issues required steely political nerve.
LAX challenges SFO for Pacific Rim dominance
Equally significant at that time though was the dramatic rise in importance of San Francisco International Airport as a gateway/hub for the Pacific Rim in a direct challenge to LAX.
Construction work on the Bradley West project began in Feb-2010. The terminal's two existing concourses were demolished and replaced with 18-gate facilities, nine of which are capable of accommodating the A380 as well as the B747-8 although the latter is still better known as a cargo aircraft even though 38 747-8i passenger variants are in use by four airlines that could fly them to LAX: Lufthansa; Korean Air: Air China and Transaero. (Other preparations for the A380 included the relocation of a runway in 2007).
The ability to handle this aircraft, despite the fact that it has so far failed to achieve sales targets and is only operated by 10 airlines to less than 40 cities is another example of forward thinking by LAWA because few US airports initially made preparations for the European behemoth; preparations that encompass height, breadth, air bridge functionality, loading/unloading, supply and pavement/apron strength issues amongst many others.
The A380 is the global city/hub airport-serving aircraft par excellence. That it is absent from an airport's schedules suggests the airport does not have any significant hub status at the highest level; a dangerous omission even if the airport does not primarily aspire to be a hub.
LAX's reward is the ability to handle actual or putative A380 flights by foreign airlines at the NTBIT (there are no US A380 passenger version operators) by the following operators of that aircraft. (All airlines listed currently have the A380 and operate at LAX, and specifically at the NTBIT. Those known to use the A380 at LAX are in italics):
In this sense LAX is in a very competitive environment. San Francisco International Airport is also equipped for the A380 and handles regular flights that deploy it by Lufthansa, Air France and SIA (all mainly seasonally).
Flight operations in the South Concourse of the NTBIT commenced on 18-Sep-2013, with the start of operations marking completion of Phase I of the New TBIT Project, which is to open in phases.
Los Angeles' largest public works project ever
The NTBIT is the largest public works project in the history of the City of Los Angeles and responsible for almost 4,000 construction-related jobs during its five-year schedule and nearly 2,000 permanent concession jobs with the start of operations.
There are 18 new boarding gates, all of which can accommodate Group 6 aircraft such as the A380 and B747-8 Intercontinental, with triple (for A380s) and dual passenger-loading bridges for faster boarding and deplaning. Arriving international passengers also began processing through an expanded and upgraded US Customs and Border Protection federal inspection area. Roomier boarding gate/waiting areas have been constructed with half of the seats integrated with electrical outlets for charging personal electronic devices. The fully modernised facility will be able to accommodate 4,500 passengers per hour, up from the previous 2,800 passengers.
The project adds nearly 1.2 million square feet to double the size of the existing terminal. Phase 2 of the project, now under way, includes: demolition of the existing terminal's east side gates; new boarding bridges and aircraft aprons on the east side of the new terminal; upgraded federal customs and immigration inspection areas; relocation of and upgrade to the federal passenger security screening area; public art installations; and secured corridors between Terminal 3, TBIT and Terminal 4 so connecting passengers can conveniently go from one terminal to the next (see also table above).
Hollywood lands at LAX with IEMS
Passengers will also experience, for the first time, a significant feature of the New TBIT, what is claimed to be one of the most advanced multimedia Integrated Environmental Media Systems (IEMS) at a North American airport. Designed to create an "unprecedented" passenger experience and additional non-aeronautical revenue source for LAX, the revenue-generating platform is considered to be the first sponsorship programme at a US airport. The IEMS includes seven very large media features built within the new terminal's interior architecture.
Comprising over 12,000 square feet of light-emitting-diode (LED) tiles, hundreds of liquid-crystal-display (LCD) screens, a dedicated control and content management network system, and some 60 ultra-high-resolution multimedia productions; and totalling more than four hours of original content.
One of the features, the 72-foot-tall Time Tower, is considered the world's largest with an interactive base that triggers content across 5,480 square feet of LED surfaces. The IEMS has a total output of more than 105 million pixels (eight times an IMAX theatre) which is 19,075 square feet of video – and has 88 high-definition (HD) video playback channels, enough to run all the media screens in New York City's Times Square district.
It should perhaps not be considered surprising that 'first mover' implementation of this type of technology should be at the principal international airport serving Hollywood and, for that matter, the original Disneyland in Anaheim. Essentially IEMS is a more imaginative and contemporary version of some of the large-scale non-aeronautical revenue generators that have been trialled in the past at airports such as Calgary (Coca Cola 'Kidscape') and Cape Town ('Thunder City').
Indeed LAX has a history of imaginative non-aero ventures, such as the conversion in the late 1990s of a landmark central building (The Theme Building) into an upmarket restaurant (The Encounter Restaurant) and targeted at Angelinos rather than passengers.
The location of IEMS, the Antonio Villaraigosa Pavilion, offers over 60 premier dining and luxury retail and duty-free shops – including 22 local LA brands – and other amenities. The new dining and retail collection will phase-in as concessions transition from pre-security to post-security (landside to airside).
The terminal concessions manager – Westfield - and its partners are committed to an investment of USD79.8 million at the New TBIT. Westfield's retail collection attempts to blend many of the world's best known luxury designer brands with a distinctly Los Angeles flavour, and is joined by a USD25-million investment in the duty-free programme by DFS Group.
Ars Gratia Artis: artworks accompany the architecture
In keeping with a penchant at a number of primary-level US airports to satisfy the needs of culture-vulture travellers, three iconic, permanent public and free-to-view artworks are to be installed through 2014, in keeping with the City of Los Angeles' Public Percent-for-Art Programme, whereby one per cent of construction costs is designated for public art. This is art on a level that is scarcely found in European airports (with a few honourable exceptions) and to a higher level still than is often found in Asia.
Commissions include a hovering, 7,000-pound sculpture titled AirGarden to be located in the north light well; a suspended tapestry titled WovenWalk for the north and south sterile international arrival corridors leading to federal customs and immigration screening; and a sculpture titled Bell Towerto be suspended above a newly relocated federal passenger security screening area on the mezzanine level of the terminal.
New TBIT's initial USD1.5-billion cost remains on budget for construction, public art, architectural and engineering designs, permits, and other "soft" costs for the terminal facility itself.
Since the original design was completed, several individual projects estimated at a total of USD400 million and budgeted separately under the overall LAX Capital Improvements Program-Phase 1, have been shifted from other project budgets, and integrated into the New TBIT Project budget to ensure timely completion of the overall project.
These include: the IEMS, additional airline club lounge space, increased food-and-beverage concession areas, demolition of the existing north and south boarding gate concourses, and rebuilding the aircraft parking aprons (tarmac) and two taxi lanes (see also the table above). Total budget for the New TBIT Project is now USD1.9 billion. The LAX Capital Improvements Programme remains at the original USD4.1 billion budget. With the additional scope items, the overall New TBIT Project is expected to be completed in 2015.
Funding is from LAX operating revenues
The New TBIT Project cost is funded from LAX's operating revenues, capital improvement program funds, fees from airlines, passenger facility charges, and airport revenue bond proceeds. No monies from the City's general fund are being used and LAWA is at pains to stress this.
The new terminal is expected to help LAX retain its competitiveness as the premier US West Coast international gateway, especially to the Asia-Pacific region and the (new) LA
Mayor Eric Garcetti has stressed the benefits of "the first-class airport experience... (that both arriving and departing)...travellers expect from a world-class city like Los Angeles" and the knock-on effect on tourism, which is a critical segment of the economy.
LAWA's Executive Director Gina Marie Lindsey directed her comments on the need for passenger-friendly terminals and conveniences, and airplane-friendly taxiways and gates; all of which are 'must haves' as airports around the world compete for the economic vitality that world-class airports create. Latterly US airports in general have come under fire, from persons of influence within the country as well as outwith it, for their blandness, creaking infrastructure and lack of passenger-friendly features, including concessions. It could be argued that the NTBIT offers up a fresh benchmark for others to aspire to.
The new terminal has already won architectural design awards and is expected to become a new iconic structure for Los Angeles, joining the aforementioned historical LAX Theme Building and its parabolic arches.
The local economic benefits are expressed in terms of the 6,000 construction and concession-related jobs created and specifically that 90% of construction workers come from southern California, with 40% being residents of the City of Los Angeles and other communities near LAX. Some neighbourhoods close to LAX to the east count amongst the most deprived in the metropolitan community.
In terms of environmental sustainability, the project addresses Los Angeles World Airports' goal for a "greener" LAX. In accordance with LAWA's Sustainable Design and Construction Guidelines released in 2007, the New TBIT Project optimises the use of recycled building materials, minimises the amount of energy used during construction, and optimises energy efficiency. The architecture and construction of the new facilities are designed to achieve a LEED (Leadership in Energy and Environmental Design) Silver certification from the US Green Building Council.
So with a state-of-the art terminal in situ and well into its second phase, how is LAX actually performing in a domestic aviation market which is witnessing improved financial results (as this report is written JetBlue reports operating profit up by 165% and Spirit Airlines' by 113% in 4Q2013) but at the cost of consolidation and slashed routes across the country? Despite a significant international segment LAX, like most US airports, remains reliant on its domestic traffic.
Los Angeles International Airport international vs. domestic capacity seats share (17-Feb-2014 to 23-Feb-2014)
Actually, it is performing rather well.
LAX is the sixth busiest airport in the world and third in the United States, offering close to 700 daily flights to almost 100 domestic cities and over 900 weekly nonstop flights to 59 cities in 30 countries on 63 commercial air carriers. It also ranks 14th in the world and fifth in the US in air cargo tonnage processed. In 2012, LAX served nearly 63.7 million passengers, processed over 1.9 million tons of air cargo valued at over USD86.9 billion, and handled 605,480 aircraft movements. Over 30 airlines at the existing Tom Bradley International Terminal handled 8.6 million international travellers in 2012, or 50% of LAX's overall 17 million international passengers.
An economic impact study in 2011 reported that operations at LAX generated economic output of more than USD39.7 billion. This activity added a much needed USD2.5 billion to local and state revenues.
Apart from Dubai, LAX was the fastest growing of the world's top 10 airports in 2013
But the more notable (and breaking) statistic this week is that in holding its sixth spot in the global rankings by passenger numbers in 2013, LAX saw the greatest percentage increase (+4.7%) except for the unstoppable machine from the future (a creature that Hollywood is very familiar with) that is Dubai International Airport.
Table of the global top ten airports by passengers, 2013
| | |
| --- | --- |
| Atlanta-Hartsfield Jackson | 94.4 million (-1.13%) |
| | 83.7 million (+2.2%) |
| | 72.3 million (+3.4%) |
| | 69.0 million (+2.6%) |
| Chicago O'Hare | 66.9 million (+0.1%) |
| | 66.6 million (+4.7%) |
| | 66.4 million (+15.2%) |
| | 62.1 million (+3.4%) |
| | 62.0 million (+0.7%) |
| | 60.4 million (+3.2%) |
While DXB is likely to overtake LAX in 2014 at current growth rates it seems equally likely that LAX will overtake Chicago's O'Hare Airport, thus taking second spot in the US behind Atlanta, the super-hub that remains well in front (but whose passenger total actually declined in 2013). This scenario will mimic the one that took place a couple of decades ago when Los Angeles established itself as the US' 'second city,' snatching that title from Chicago.
Is LAX winning the battle with San Francisco in the Pacific? There are several ways to measure that but if we take the number of Pacific routes operated by airlines at each airport as the benchmark (rather than city-pairs), including routes that will terminate or commence in 2014, LAX currently has the edge with 38 compared to SFO's 24.
LAX has a fairly equable seat capacity split, of the kind that endears airports to credit rating agencies, with 64% of seats allocated to four carriers, three of which are the leading consolidated giants (American, United and Delta), while the fourth is the world's leading LCC.
Los Angeles International Airport capacity seats per week (all carriers) (17-Feb-2014 to 23-Feb-2014)
At 10.9%, LAX's foreign airline seat share is, surprisingly perhaps, much greater than that of Chicago O'Hare (3.9%) and of Atlanta also (1.1%) but still some way behind that of New York JFK (19.9%).
There is no clear 'favourite region' in terms of international capacity although the Pacific-facing nature of LAX's location does permit Asia/Northeast Asia to sneak ahead on 29.7%.
Los Angeles International Airport international capacity by region, 17-Feb-2014 to 23-Feb-2014
Regional and commuter airlines have a minuscule profile at LAX (there are several other airports which can handle them), with almost 78% of seats allocated to full service carriers and 22% to LCCs.
Los Angeles International Airport capacity share by carrier type, 17-Feb-2014 to 23-Feb-2014
As with individual airlines there is equanimity between alliances at LAX as measured by seat availability, with Skyteam the least represented.
Los Angeles International Airport capacity, seat share by alliance,17-Feb-2014 to 23-Feb-2014
Finally, with regard to the top 10 international routes operated, the Pacific influence is again evident as only two of them are in an eastbound direction.
Los Angeles International Airport top ten international routes by seats,17-Feb-2014 to 23-Feb-2014
LAWA is not only LAX and the area includes four other smaller airports
There are two other airports in the group: Van Nuys, in the San Fernando Valley to the north of the city, which operates as a general aviation facility, and Ontario International Airport, in San Bernardino County in the Inland Empire as it is known, a vast collection of often gated communities totalling around four million people, to the east of the metropolitan conurbation.
Contrary to popular misconception LAWA has no control over the area's other airports, which include the Bob Hope Airport at Burbank, Long Beach Airport in an industrial blue collar section of the urban area, John Wayne Airport at Santa Ana and the Santa Monica Municipal Airport, another GA/reliever facility just six miles north of LAX.
Table of Los Angeles region airports passenger numbers 2013 and variation over 2012
Airport

Passengers 2013

Change
vs. 2012 %

Burbank/Bob Hope 1

3,844,000

-5.26

2,943.000

-8.23

LAX

66,727,000

+4.7

LA/Ontario

3,966,500

-7.8

Santa Ana/John Wayne 2

9,232,800

+4.33
Ontario Airport municipalities continue their bid for self determination
If there is one issue LAWA would no doubt prefer to be speedily resolved it is that of LA/Ontario Airport, where for several years now local municipal and business interests have been attempting to wrest control of the facility from LAWA on the charge that the airport has been inadequately marketed. Passenger traffic has fallen from seven million ppa to four million ppa in 2013 as routes were discarded and airlines pulled out, and there are even fears it could fall to unsustainable levels such as two million ppa or less.
The City of Ontario commenced a lawsuit against the City of Los Angeles in Feb-2013, having put it on hold the previous month while talks were held but they failed to resolve the issues. It appears the matter may now go to trial later this year.
LAWA has gone on record in Feb-2014 to say that it is willing to consider a transfer of Ontario Airport to a "qualified entity representing the cities and counties in the service area of the airport". LAWA will, however, only consider such a transfer in exchange for fair compensation for assets transferred and reasonable protections for airport workers, including City of Los Angeles employees.
It could be argued that an amicable split might be the best resolution for both parties. The city (3.7 million population) and county (9.8 million) are but a part of the huge metropolitan area, which counts 18.2 million people and there is plenty of room for a little extra airport competition with LAWA left to focus on LAX's growing international ambitions and the GA/business flights at Van Nuys while a locally-controlled Ontario Airport can do what is best for the Inland Empire.
That is unlikely to include A380s or B747-8s. ONT's seat capacity is split roughly 66%:33% in favour of domestic LCCs and the only international routes are to Mexico.
Ontario Airport's little Metro of the Gold and the Green
But one complicating factor is the potential USD950 million connection of the LA Metro (urban rail) system's Gold Line to Ontario Airport. A USD1.5 million environmental study to examine how to link the rail line to the airport commenced in Jan-2014.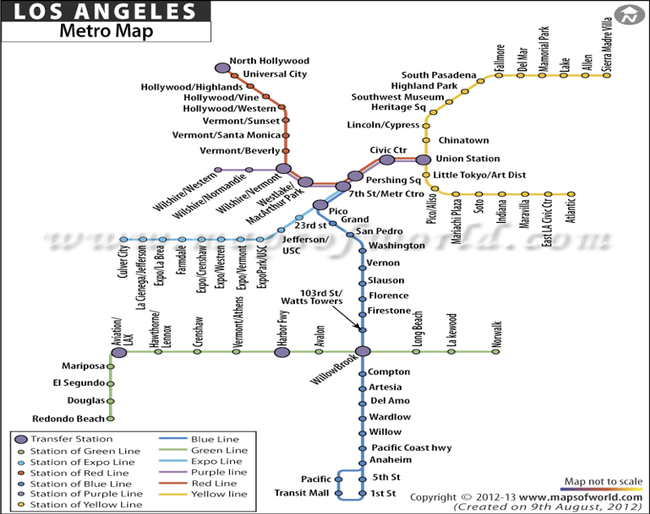 LAX should have been on the Metro's Green Line, at least that the plan but budgetary restraint and objections from car park operators scuppered it. The long term master plan for LAX does call for an extension of the Green Line within the airport grounds, or on a proposed Crenshaw (suburb)/LAX Transit Corridor in conjunction with a people mover system that would avoid the need for a shuttle bus.
For now though passengers wishing to use passenger rail transport to LAX have to get off at the Aviation/LAX station some distance away and take a shuttle bus.
It does seem anomalous that in a city where a conscious effort has been made during the last decade or so to entice commuters away from their cars and on to what has now become quite a comprehensive urban rail system that none of the city-region's airports are directly accessible by that mode of transport.