Long haul narrowbody operations are coming – with important implications for route networks
Analysis
Until very recently, the concept of long haul, low cost international service with narrowbody aircraft was merely an intriguing thought as the specifications of new generation aircraft in development by Airbus and Boeing began to materialise.
Ryanair had for years toyed on and off with the idea of trans-Atlantic low cost flights, but never solidified those ambitions; meanwhile airlines focused solely on the premium market in the North Atlantic experienced a short shelf life.
The status quo persisted, with joint ventures created by the three large global network alliances accounting for more than 80% of seat capacity on North Atlantic routes. 


Norwegian's trans-Atlantic plans become reality
Now in 2017, Norwegian Air International's (NAI) bold plans to inject true low cost competition into the trans-Atlantic market have become a reality. The company has used classic LCC strategies – operating from secondary airports and offering markedly lower fares – to create disruption in one of the most mature air travel markets initially using Boeing 737 MAX 8 narrwobodies.
The range of Airbus A321neoLR jets will create even more route opportunities for Norwegian, who clawed its way into the trans-Atlantic market despite a three year struggle to gain approval for new US service. Remarkably, Norwegian already operates more trans-Atlantic routes than any other airline (although not more seats).


While Norwegian's long haul, narrowbody business model is built on passenger stimulation, larger rivals including American and Delta are not resting on their laurels. Those airlines plan to use their new raft of tiered pricing to remain relevant in the low cost, long-haul passenger segment.
For now, new low cost upstarts operating in the trans-Atlantic are focused solely on leisure customers.
But if US LCC jetBlue ultimately decides to deploy its premium Mint product onto trans-Atlantic routes, the competitive stakes for full service airlines in the trans-Atlantic could shift dramatically.
Norwegian finally wins approval to enter the "mature" trans-Atlantic market
It took Norwegian three years to gain approval from the US DoT for its Irish subsidiary Norwegian Air International to launch flights from Ireland and Scotland to the US. Usually, approval for similar operations takes roughly 60 days, but Norwegian faced fierce opposition, mostly from US labour unions who accused the company of using a flag of convenience to utilise crews with lower wages. In face of this barrage, the US Departments of Transportation and Justice prevaricated in an unseemly way for many months.


This was reported in CAPA's Norwegian Air's NAI at last gets final approval of US rights in boost to long haul growth (centreforaviation.com).

 Presently, Norwegian Air Shuttle operates service to several US destinations with Boeing 787 widebodies from Copenhagen and London Gatwick including Boston, Fort Lauderdale, Los Angeles, New York JFK, Oakland and Orlando. 


But the new service with 186-seat, single class Boeing 737 MAX 8 jets makes NAI a pioneer in the current LCC generation. New flights begin in Jul-2017 from Cork, Dublin Belfast and Shannon, Ireland to Providence, Rhode Island, which is a 90 minute drive from Boston.
NAI is operating flights from Edinburgh, Belfast, Dublin and Shannon to Stewart International airport, a 90 minute drive to New York City. Additionally, NAI is also operating new flights from Edinburgh to Hartford Connecticut, which is roughly a 2 hour drive to New York and Boston.
None of the US airports have extensive international operations. Condor operates seasonal service from Frankfurt to Providence, and Aer Lingus operates flights from Hartford to Dublin.
Norwegian's new narrowbody trans-Atlantic routes and frequencies summer 2017
(See CAPA's related report: Norwegian Air: 10 new North Atlantic routes enabled by new narrowbody aircraft and competition)
NAI expects a six to 12 month spool up period for new US routes
The rationale for serving those markets is straightforward – lower airport costs combined with the operating efficiency of placing low density narrowbody equipment on the routes allows for significantly lower fares. Those lower fares are designed for passenger stimulation. 


NAI announced its fares with a headline grabbing EUR69 unbundled, one-way fare. Norwegian SVP sales Lars Sande told CAPA's Americas Summit in Apr-2017 that 7,000 to 10,000 fares were available at that at that price point, and sold within two hours.
Mr Sande stressed the importance of using very low fares to gain traction given NAI does not spend heavily on marketing. He expects a six to 12 month spool up period for the new routes.
Despite LCC growth, full service airlines remain dominant in the trans-Atlantic market
Obviously NAI's non promotional price points for bundled fares are higher for the new narrowbody flying, ranging from EUR160 to EUR340 depending on route and date of travel. Still, those are markedly lower than traditional fares from full service airlines. 


Although Norwegian's total seat share between the US and Europe remains low at 3% for the summer 2017 time period, the company is growing its total seats (including widebody operations) by 67.3%.
Norwegian is rising to join the top 10 airlines in the North Atlantic market measured by seat share for the summer 2017 time frame – taking the number 10 spot, compared with its ranking as the 12th largest airline measured by seats for the year prior.
Europe to North America: Top 10 airline groups share of scheduled seats: Summer 2017
But members of the three large global alliances – oneworld, Star and SkyTeam – represent roughly 70% of the seats deployed onto the North Atlantic for the summer 2017 time period, which still leaves little room for competition in the market.
Alliance seat share in the Europe to North America market: Summer 2017
(See CAPA's related report: Europe summer 2017 airline capacity outlook: fifth successive summer of above trend seat growth) 


Norwegian sees a ripe opportunity for passenger stimulation from the lack of competition to apply the traditional passenger stimulation methodology inherent in low cost airline logic.
Key for Norwegian is the catchment area for the secondary airports served and if easy access exists for passengers to those facilities. Norwegian is planning to offer a shuttle bus to New York City from Stewart to provide incentives for customers to try the new low fare service.
Tiered pricing gives full service airlines a tool chest for new LCC competitors
Larger full service global network airlines cannot turn a blind eye to Norwegian's low cost, long-haul expansion. Although NAI's flights to secondary airports do not directly overlap with larger competitors, American and Delta are using new tiered pricing structures to offer a comparable product to the passenger base NAI is attempting to stimulate. 


During the Apr-2017 CAPA Americas Summit, American VP of alliances and partnerships Joe Mohan stated low cost airlines operating in the trans-Atlantic market have roughly a 30% cost advantage to more traditional airlines. He concluded there is a niche to be tapped if low cost airlines can successfully stimulate demand.
Mr Mohan outlined several tools American has to compete with new low cost trans-Atlantic competitors: become more competitive on costs, highlighting its varying products including basic economy fares and leverage numerous improvements American has made to its premium product.
IAG's LEVEL will join the JV
LEVEL, the new trans-Atlantic low cost arm of American's joint venture partner IAG, will also participate in the immunised grouping, which gives LEVEL and the members of the joint venture the advantage of network breadth not enjoyed by low cost competitors. Norwegian is holding talks with Ryanair about a potential partnership, and Mr Sande stated the company should determine by the end of Jun-2017, "where we are going with that". However, the tie-up will not resemble traditional interline or joint venture partnerships. 


Basic economy, first introduced by Delta in the US domestic market and followed by American and United, is easily transferable to international routes. Mr Mohan concluded a customer segment exists with a sole focus on price, and American does not view basic economy offerings as a defensive move. Instead, the bare bones offering is a way to offer a product that is comparable to any other LCC. 


Delta and American are in the midst of rolling out premium economy on some of their international widebodies, and United is evaluating improvements to its premium economy product. The blanket network coverage offered by those airlines, combined with a price point a notch above LCCs that serve secondary airports could be a viable competitive response to the new low cost trans-Atlantic competition.
jetBlue's Mint could post a further challenge to major airlines in the trans-Atlantic market
The corporate segment is not a target for Norwegian with its new trans-Atlantic service operated by narrowbodies, but if jetBlue opts to launch service to Europe from its Boston base, its Mint premium product could be a game changer in low cost trans-Atlantic travel. 


jetBlue's lie flat premium product – Mint – was initially designed to shore up revenue on tough competitive US transcontinental flights from New York.
But the product's success has surprised the airline, and jetBlue has expanded its Mint offering to Boston, the Caribbean and Fort Lauderdale. 


Mint has helped jetBlue capture considerable corporate share in Boston. The airline has stated it has forged corporate contracts with every company of reasonable size located in Boston, with only one exception. 


In 2016, jetBlue reached a deal with Airbus for 30 incremental A321 narrowbodies, 15 of which can be optioned for the A321neoLR featuring a range of up to 4,000nm.
jetBlue has singled out Boston as a potential launch pad for new trans-Atlantic service. The airline holds a 31% domestic seat share at Boston Logan, and the airport is its second largest base measured by seat deployment.
Boston Logan International Airport domestic capacity by airline (% of seats): 17-Apr-2017 to 23-Apr-2017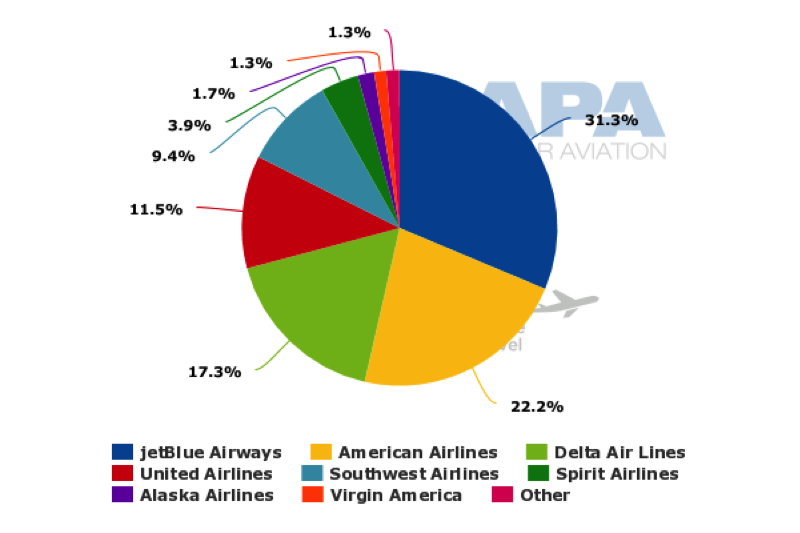 jetBlue has concluded some of the same characteristics in the trans-Atlantic market as in US transcontinental routes – limited competition and higher fares. Its executives have highlighted several important business markets across the Atlantic from Boston that feature high fares.
The A321neoLR can reach several destinations on the edge of Western Europe from the US East Coast, including London, Manchester, Bristol, Belfast and Dublin. jetBlue has cited the capacity concentration of the large three global alliances across the Atlantic as one possible driver of the lack of lower fares in those markets.
It is not far-fetched to conclude that Mint's success could be replicated in the trans-Atlantic space, since jetBlue could position its product between the higher-priced offerings of more traditional airlines and the lower-end offerings of the current low cost operators in the market.
jetBlue's premium product would go head to head against larger airlines, and it price points would be attractive to smaller corporate clients as well as larger businesses. jetBlue expects to render a decision about optioning the A321neoLR for trans-Atlantic service by YE2017.
(See CAPA's related report: jetBlue Airways, armed with its premium product Mint, is poised to disrupt the trans-Atlantic market)
The long range A321neo offers even route variety for LCCs in the Americas
The A321LR neo also offers more route flexibility for the low cost, long-haul model. Norwegian has an order for 30 of the aircraft representing 54% of the total on order. The airline plans to operate the aircraft with 220 economy class seats.
Airbus A321neoLR orders as of 16-Ap-2017
Norwegian's Mr Sande observed that the longer range Airbus narrowbody would allow Norwegian to target many more US markets with low cost service, citing Europe to Seattle as an example. 


Airbus' long range A321neo variant also would allow for penetration deep into South America from Florida, which is a strategic region in jetBlue's network. Fort Lauderdale in South Florida is the headquarters of US ULCC Spirit Airlines. 


Miami is American's third largest hub by seat deployment and it major gateway to Latin America.
The airline is also the largest operator between the US and Latin America, and Mr Mohan concluded it goes without saying American would compete vigorously with new low cost competitors.
Norwegian is thus setting the stage for a large scale test of long haul LCC longevity
Norwegian's new US service debuting this northern summer will put the low cost model to the test in long haul markets on a large scale. Its performance in those markets will be closely watched by competitors and potential copycats alike.
The prospects seem favourable; but the coming months will show if theories about passenger stimulation will become a reality – and whether the full service airlines are able to react effectively. 


Over the longer term, longer range narrowbodies are likely to draw more competitors into the low cost, long-haul space - further altering the dynamics in markets that could use a significant shake-up.