London's peripheral airports: part one – Stansted celebrates 10th MAG birthday
Analysis
London has more commercial airports than probably any other city in the world – six in total – and it needs them because those airports host more passengers than anywhere else.
Most people are familiar with Heathrow and Gatwick, but there are three comparatively peripheral airports to the north and east, all more than 30 miles (48km) from the central district and each with a catchment area that includes non-London areas.
Two of them – Stansted and Luton have carved a niche for themselves in the low cost domain.
The third, Southend, was once a major airport in its own right, and had undergone a resurrection under new ownership. Now Southend will likely be put up for sale by those owners, which is another test of market sentiment for the industry.
Part one of this report considers developments at Stansted, while part two will focus on Luton and Southend.
Summary
London has six commercial airports, each under different ownership.
Of the three airports to the north and east of London, Stansted and Luton are prospering, whereas Southend is closed to commercial flights.
Stansted celebrates 10 years under MAG (Manchester Airports Group) ownership, with a COVID-19 rebound, but it needs additional capacity.
Increasing terminal capacity at Stansted is the objective, but a major piece of infrastructure remains on hold.
London has six commercial airports, each under different ownership
There are mixed fortunes for the primary and secondary level airports to the north and east of London: namely London Luton, London Stansted and London Southend airports, going west to east. All those airports officially carry the 'London' prefix as designated commercial airports for the UK capital.
The city's two main airports are of course London Heathrow, approximately 15 miles (24 km) due west of the West End (downtown) of London, and London Gatwick, some 28 miles (45 km) to the south.
London City Airport is six miles east of the original financial centre (the City of London) and close to the new financial district.
London Oxford Airport, 40 miles (64 km) to the northwest, is also so designated, but does not handle commercial traffic presently, having attempted to do so unsustainably.
Uniquely for any large city, all the six commercial airports are under different ownership.
Each has taken on a primary role over the years, and even more so since BAA plc – which owned Heathrow, Gatwick and Stansted airports as well as Southampton on the English south coast and Glasgow in Scotland – began to be broken up in 2009.
Stansted and Luton are archetypal low cost airports
In the case of Luton, Stansted and Southend, situated respectively in Bedfordshire (Luton) and Essex (Stansted and Southend), they have taken on the mantle mainly of leisure, low cost airports, leaving Heathrow and City to full service carriers and Gatwick to a mix of models – although in the case of Southend, 'had'; it is closed to commercial flights right now.
The catchment areas of these airports are usually a little 'poorer' than those of Heathrow, Gatwick and City, but that is purely a relative term.
Location map for Luton, Stansted and Southend airports (all signified by red dots) relative to central London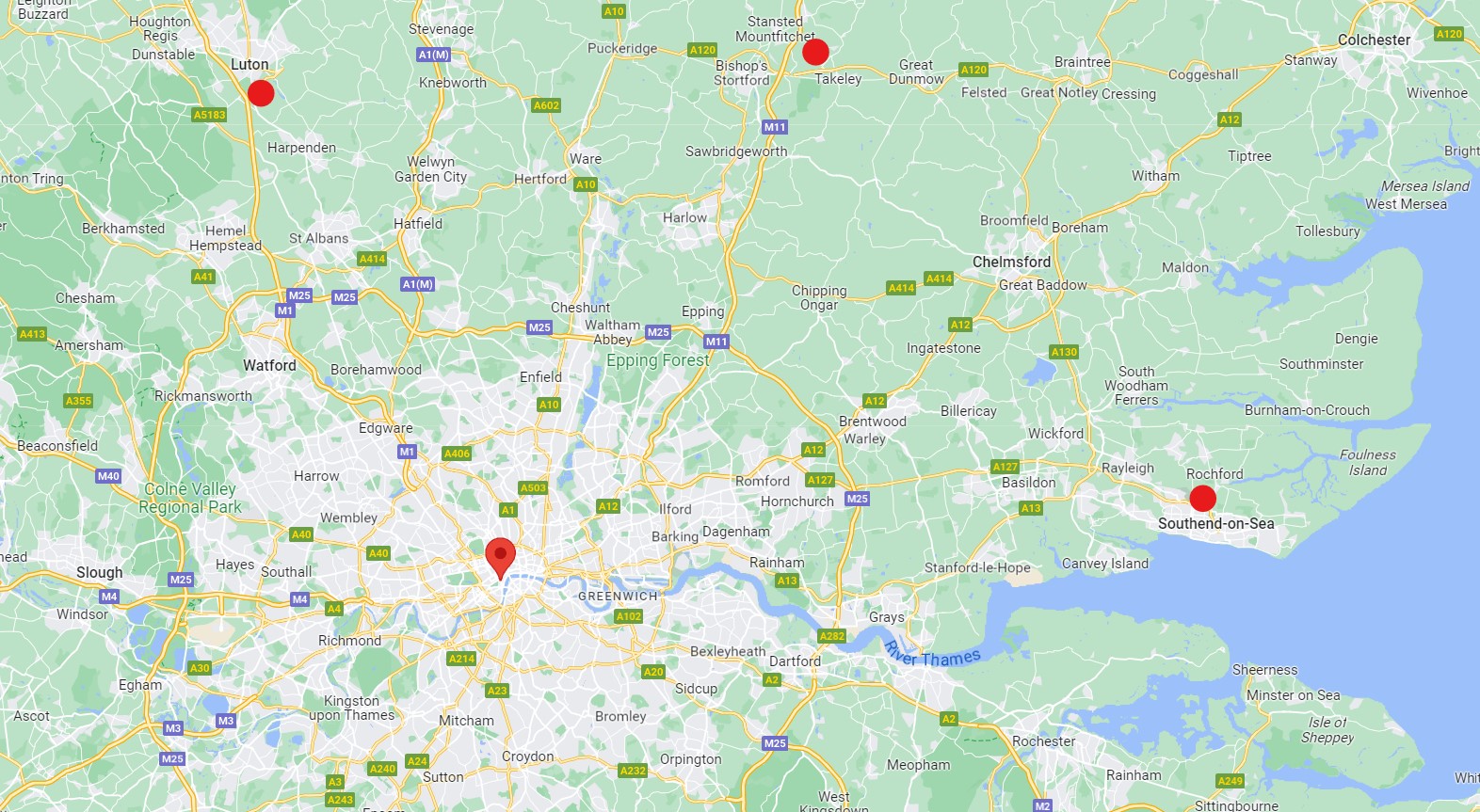 Airport

Percentage of low-cost capacity

in the week commencing 06-Mar-2023

Owner

96.7%

98.6%

0% (closed)

Esken plc

0.3%

FGP Topco/Heathrow Airport Holdings

(Majority shareholder Ferrovial)

71.1%

Ivy Holdco Limited/Gatwick Airport Ltd

(Majority shareholder VINCI)

0%

AIMCo consortium (of funds)
Stansted has handled 200 million passengers under MAG ownership
On 28-Feb-2023 London Stansted Airport marked the 10th anniversary of its acquisition by Manchester Airports Group (MAG), for GBP1.5 billion (USD1.77 billion). The airport has handled more than 200 million passengers on 1.3 million flights to and from almost 300 airports in 52 countries, operated by 85 airlines, in that time.
The airport's runway, 80 years old, is still in place, the airport having started life as a World War Two base in 1943.
During MAG's ownership the terminal has been revamped and new airlines have been added, including Jet2 and Emirates Airline; and the airport secured planning permission to handle 43 million passengers a year.
Long term growth deals with airlines have been signed by Stansted, including one arrangement with its biggest carrier, Ryanair, which has more than three quarters of average capacity at the airport.
Low cost services are today the reason for Stansted's existence, and it is heavily focused on Europe
The airport, which even today does not really have a top class rail travel link, originally struggled to attract scheduled airlines when it became a commercial facility – even under BAA plc – and it relied heavily on charter flights. It was the introduction of low cost services which made the airport's fortune; more so probably than any other airport in the world.
It is thoroughly Europe-focused.
There are just nine long haul destinations on its route map presently, and three of those are Chinese cargo routes.
Stansted claims, though, that it has become "the UK's number one gateway to Europe", which seemingly refers to the number and diversity of direct services into Europe.
Stansted airport's European route network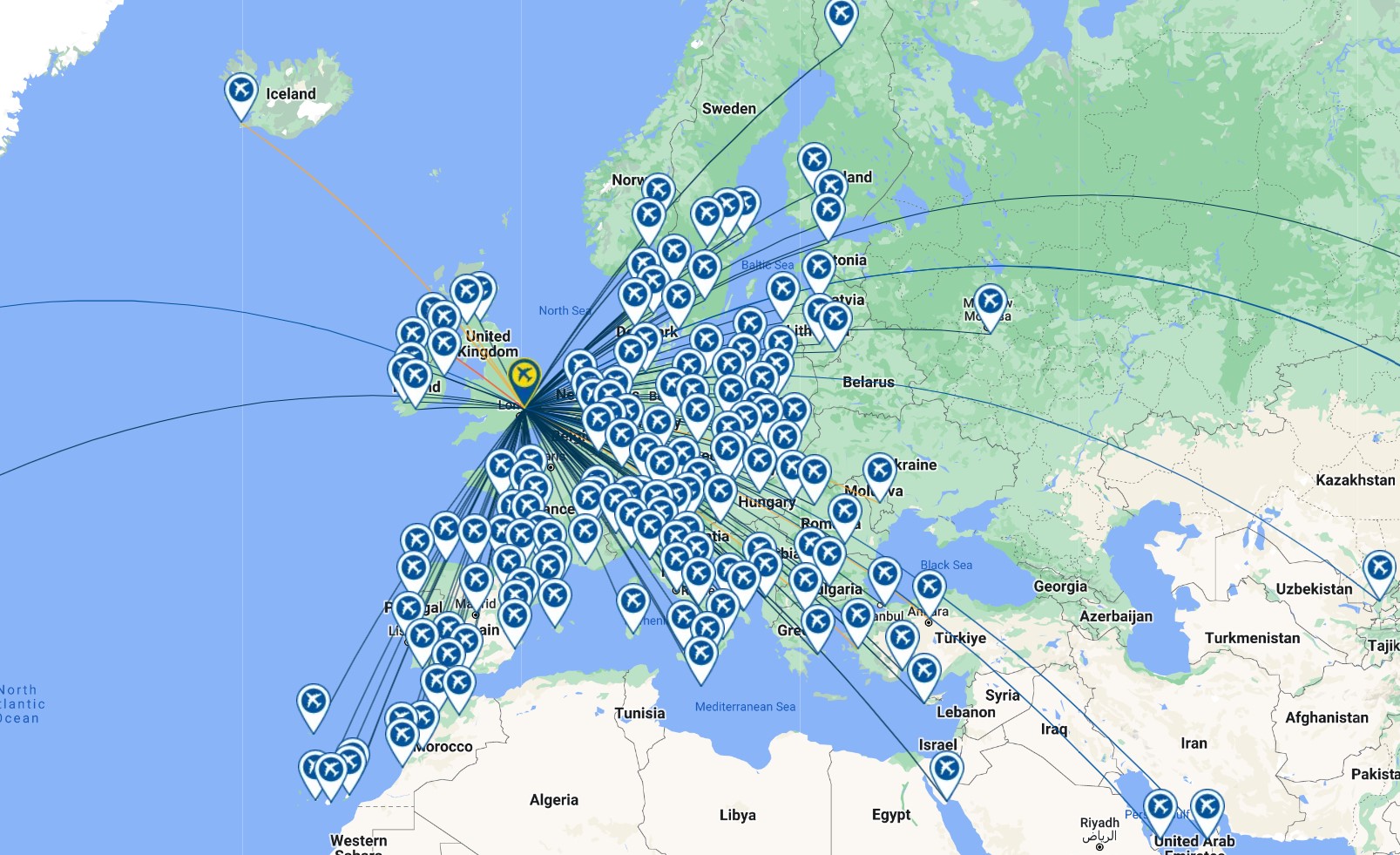 Increasing terminal capacity is the objective, but a major piece of infrastructure remains on hold
The airport management says that as passenger numbers are expected to return to pre-pandemic levels this year, its focus now is on increasing terminal capacity "in order to meet the demands of the future".
With passenger numbers growing consistently since 2013, low level tinkering with the existing terminal can only be a temporary measure.
A new arrivals terminal should have opened in 2020 but was delayed by the COVID pandemic, and was even on hold before the pandemic, on the basis of economic and political uncertainty, fresh demands from airlines, and delays in approval for further expansion.
With 2022 passenger numbers back above 2015 levels, additional infrastructure will be needed sooner rather than later.
London Stansted Airport: annual traffic, passenger numbers/growth, 2012-2023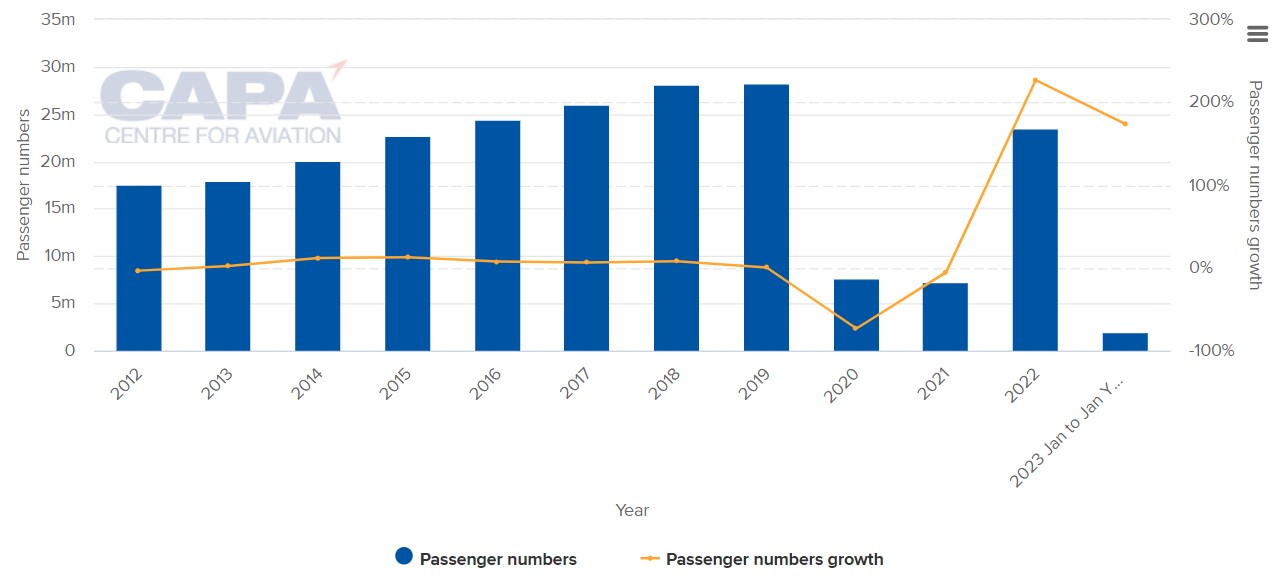 Passenger totals for 2023 are expected to be close to pre-pandemic levels, and Stansted claims to be one of the UK's fastest-recovering airports.
Net carbon zero by 2038 is the goal
Stansted has a target of being Net Zero carbon by 2038 – 12 years ahead of the national target for the aviation sector and two years ahead of the target set for UK airports in the Government's Jet Zero Strategy – and has developed a comprehensive sustainability strategy.
As part of that work, carbon neutrality was achieved in 2016 and a solar farm, which will help meet the airport's existing and anticipated electricity needs, was recently approved.
In part two of this report, CAPA will consider latest developments and future opportunities at Luton and Southend airports.