Lion Group and Turkish Airlines could fill the void in Australia-Bali market as AirAsia X withdraws
Analysis
Competition could again intensify on Australia-Bali routes, despite the upcoming withdrawal of AirAsia X. The long haul low cost group drove 7% growth in the Australia-Bali market in 2015 but is suspending services to Bali from Melbourne and Sydney at the end of Aug-2016.
The Lion Group and Turkish Airlines are both looking to launch services between Bali and Australia, which could potentially fill the void left by AirAsia X in the Bali to Melbourne and Sydney markets. The Lion Group could also fill the void in the Bali-Brisbane market left by Garuda Indonesia, which suspended services to Brisbane in early 2015.
The Australia-Bali market has grown steadily and nearly quadrupled in size over the last decade. However competition is intense, making it difficult for any new entrant – as AirAsia X discovered.
Australia-Bali market has grown rapidly over the last several years
Bali is the sixth largest international destination from Australia based on nonstop passenger movements. In 2015 there were 2.4 million nonstop passengers and 3.1 million seats between Australia and Bali, according to Australia BITRE data.
Passenger movements were up 7% in 2015 – an impressive figure given that Australia-Bali flights were impacted for several weeks by an ash cloud.
The total Australia-Bali market has nearly quadrupled in size over the last 10 years from slightly more than 600,000 passengers in 2005. However the rate of growth has varied considerably – and in 2006 it contracted – due to various external factors, including terrorist attacks and ash clouds in Indonesia, and economic downturns in Australia.
Australia-Bali annual nonstop passenger traffic and year over year growth: 2005 to 2015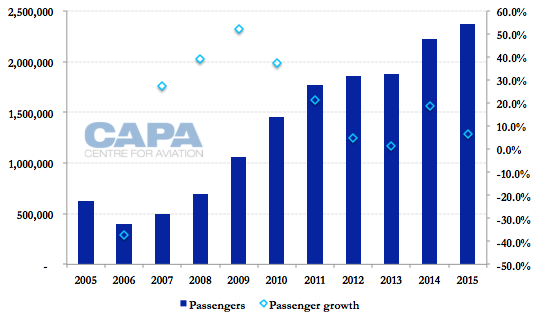 AirAsia X was responsible for most of the growth in 2015. The group's Indonesian affiliate launched services from its Bali base to Melbourne in Mar-2015 and to Sydney in Oct-2015. Indonesia AirAsia X (IAAX) currently operates five to seven weekly flights on each route – depending on the time of year – with 377-seat two-class A330-300s.
IAAX carried 118,000 passengers to and from Australia in 2015, according to BITRE data. Through the first four months of 2016 IAAX carried nearly 130,000 passengers on its two Australian routes.
Without AAX, the Australia-Bali market would have only grown by approximately 30,000 passengers in 2015, or just 1%. Of the four other airlines serving the Australia-Bali market, only one recorded growth in 2015 – Jetstar Airways.
Jetstar Airways grew rapidly while other Australia-Bali incumbents shrank
Jetstar's Australia-Bali passenger traffic was up approximately 15% in 2015 to nearly 1 million, an indication that the largest airline in the Australia-Bali market was not impacted by IAAX's entrance. Garuda Indonesia, Virgin Australia, and AirAsia Group's short haul affiliate Indonesia AirAsia (IAA) all recorded declines in their Australia-Bali passenger traffic.
IAA, which operates from Bali to Darwin and Perth, experienced the largest decline, at 18%, followed by Virgin Australia with an 8% drop. An exact Australia-Bali figure for Garuda is not available but Garuda's total Australia traffic was lower by 2% and its Australia-Jakarta traffic was up slightly.
IAA was likely impacted by weakening demand in Darwin and Perth, its two Australian markets. IAA also reduced capacity to Australia as part of an overall restructuring.
Garuda and Virgin Australia were probably impacted by IAAX's entrance on the Melbourne and Sydney to Bali routes. It is often more difficult for full service airlines than for an existing LCC to compete when a new LCC enters a market, driving down fares.
This is particularly the case in a predominantly leisure market such as Bali.
Virgin Australia decided in Aug-2015, five months after IAAX entered the Australian market, to transfer some its Bali routes to its LCC subsidiary Tigerair Australia. In Mar-2016 Tigerair Australia took over in the group's Adelaide, Melbourne and Perth to Bali routes. Virgin Australia – at least for now – continues to operate from Brisbane, Port Hedland and Sydney to Bali (Port Hedland is served with only one weekly flight.)
See related report: Tigerair Australia goes international with 737-800s as Virgin Australia's group strategy evolves
AirAsia's share of Australia-Bali market will drop to 16%
Jetstar Airways has a leading 38% share of seat capacity in the Bali-Australia market, followed by 27% for AirAsia according to CAPA and OAG data for the week commencing 4-Jul-2016. Garuda Indonesia currently accounts for approximately 17%, with 9% each for Virgin Australia and Tigerair.
The AirAsia share includes 14% for IAA and 13% for IAAX. Following the suspension of services by IAAX the AirAsia share will reduce to only 16%, while all the other competitors will all experience slight increases.
There are currently approximately 37,000 weekly one-way seats in the Australia-Bali market. Capacity has increased significantly in recent years, although it fluctuates depending on the time of year. Jetstar has been the largest contributor to the increase with its weekly capacity to Bali doubling over the last three years.
Bali-Australia seat capacity by airline (one-way seats per week): Jun-2013 to Dec-2016
IAAX's withdrawal will result in a significant reduction in seat capacity in both the Melbourne-Bali and Sydney-Bali markets. IAAX currently has a 25% capacity share on Melbourne-Bali and a 31% share on Sydney-Bali.
Garuda, Jetstar and the Virgin Australia Group will obviously benefit from IAAX's withdrawal. Jetstar currently has a leading 37% share of capacity on Melbourne-Bali followed by 25% for IAAX, 23% for Garuda and 15% for Tigerair Australia. IAAX is the leader on Sydney-Bali (based on OAG schedules for the week commencing 4-Jul-2016) with a 31% share of seat capacity, followed by 28% for Jetstar, 25% for Garuda and 17% for Virgin Australia.
AirAsia X stimulated the Melbourne and Sydney to Bali markets
IAAX struggled to make a profit in the Australia-Bali market but did succeed in stimulating demand. Total Melbourne-Bali traffic was up 23% in 2015 to approximately 560,000 passengers, while Sydney-Bali traffic was up 12% to nearly 430,000 passengers, according to BITRE data. The Melbourne figure is more indicative as IAAX launched Sydney five months later.
Traffic in the two other main Australia-Bali markets fell in 2015, including a 6% reduction for Perth and 10% reduction for Brisbane. The Bali-Brisbane market was impacted by the suspension of services by Garuda in Feb-2015, leaving Jetstar and Virgin Australia as the only competitors.
There was also a 19% reduction in 2015 in the much smaller Darwin-Bali market, while traffic between Adelaide and Bali was up 10%. Adelaide is the fifth largest Australian gateway for Bali traffic; Perth is the largest followed by Melbourne, Sydney and Brisbane.
Australia-Bali traffic share (% of passengers) based on gateway: 2015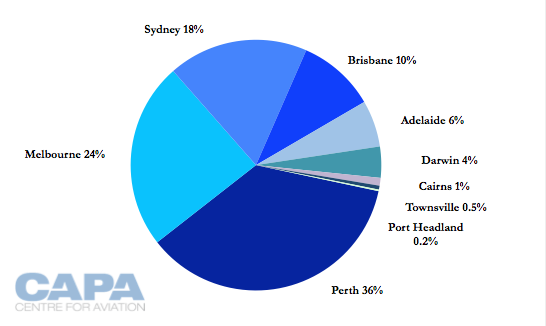 IAAX struggled with low load factors on Australia routes
Although IAAX succeeded at stimulating demand, its load factor and yield were very low. IAAX's average seat load factor on Australia-Bali routes was only 63% in 2015, according to BITRE data. This compares with an overall average seat load factor of 77% in the Australia-Bali market.
IAAX's load factor has not shown signs of improvement so far in 2016 – a discouraging sign given that its two Australia routes are now more mature. Through the first four months of 2016 IAAX's Australia operation had an average load factor of 61.5%. (BITRE data is not yet available for May-2016 or Jun-2016).
Interestingly, the Australia-Bali market had an overall load factor improvement in 2015 of 5.4ppts, despite the intensifying competition. The overall 77% load factor for 2015 was the highest figure for the Australia-Bali market since 2008.
Australia-Bali average annual seat load factor: 2008 to 2015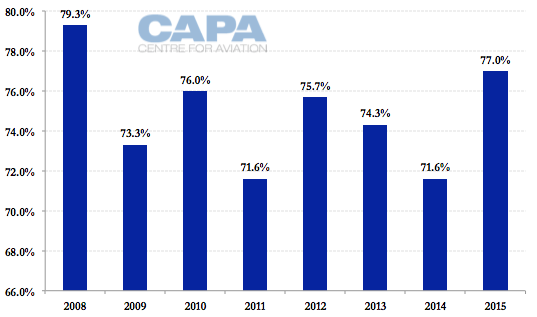 Bali typically has lower average year-round load factors than most of Australia's other main international markets as it is highly seasonal and directionally imbalanced during certain periods. The relatively higher load factor for 2015 indicates that IAAX competitors were able to increase loads to offset yield declines. Competition was particularly intense on IAAX's two routes, leading to fare wars.
IAAX struggled in Australia from the beginning
IAAX has struggled to fill its A330s despite deep discounting. The airline was clearly impacted by negative publicity in Australia at the end of 2014 and early 2015, when it had to postpone the launch of Bali-Melbourne at the last minute, after failing to secure all the required regulatory approvals. AirAsia was criticised in Australia for its handling of the delay, particularly the time it took to process refunds and the way it treated passengers who had already made bookings.
See related report: Indonesia AirAsia X faces regulatory hurdles & delays but is finally cleared to launch Melbourne
The fact that IAAX's Australia load factor remains low over a year later is perhaps an indication that it has still not been able to recover from its troubled start.
The AirAsia X Group had high expectations for the Australia-Bali market and was also considering serving the Brisbane-Bali route. IAAX's initial setback and continued struggles in Australia had a significant impact on its overall outlook. The decision to suspend the Melbourne and Sydney routes was made in parallel with a Jun-2016 decision to no longer to operate any scheduled services, focusing entirely on the charter market.
Melbourne and Sydney are IAAX's only current scheduled routes (based on OAG data for the week commencing 4-Jul-2016). IAAX also briefly operated scheduled services to Taipei and Jeddah but was mainly focused on Australia.
With the prospects in Australia relatively bleak the decision to pull the plug on scheduled operations is sensible. IAAX only operates two A330s and its plans for fleet expansion were earlier put on hold. IAAX lacked the scale to compete effectively and is better off withdrawing from Melbourne and Sydney, which will still be served by its sister airline Malaysia AirAsia X from Kuala Lumpur.
Australia-Bali, however, remains an attractive market to new entrants. While competition is intense, the market continues to grow and potentially can support more capacity.
Indonesia-based Lion Group has been considering serving Australia with potential services from Bali and Jakarta. Bali is the more likely initial gateway as Australia-Bali is a much larger market than Australia-Jakarta. In 2015 there were less than 300,000 nonstop passengers in the Australia-Jakarta market, compared with the 2.3 million previously mentioned for the Australia-Bali market. (Bali and Jakarta are the only Indonesian destinations with nonstop service from Australia following the 2014 suspension of services by Jetstar on the Perth-Lombok route.)
The Lion Group full service subsidiary Batik Air is now going through the process of securing authorisation from Australia's regulator CASA. Batik has been considering serving Perth initially – from both Bali and Jakarta – and will likely add services to other Australian destinations subsequently, particularly after it takes delivery of longer-range A320neo/A321neo aircraft.
The LCC subsidiary Lion Air will also likely seek CASA approval once Batik is approved and launches services to Australia. Lion Group's Malaysian JV affiliate Malindo was the first Lion Group airline to enter the Australian market with the launch of services from Kuala Lumpur to Perth in late 2015.
Malindo plans to launch services to Brisbane and Melbourne via Bali, potentially as soon as 2H2016. As CAPA highlighted in a Mar-2016 analysis report:
Malindo already serves Bali with 13 weekly flights from Kuala Lumpur. Malindo would be unable to serve Brisbane and Melbourne nonstop with its current 737 fleet or the 737 MAX 9. A one-stop product is therefore its only option for the short to medium term unless it acquires widebody aircraft. Malindo has considered A330s but, at least for now, has decided to stick with an all narrowbody fleet. If it launches services from Bali to Australia, Malindo will be able to leverage the network of its Indonesian sister Lion Air, which has a hub in Bali.
See related report: Malaysia's Malindo Air to pursue faster expansion following rebranding and fully embracing FSC model
Turkish Airlines is also now considering the use of fifth freedom rights to enter the Bali to Melbourne and Sydney markets. Turkish CEO Temel Kotil recently told CAPA that Turkish is considering the Istanbul-Bali-Melbourne and Istanbul-Bali-Sydney routes.
Over the past few years Turkish has evaluated several options for entering the Australia market – which remains a white spot in its gigantic and fast-growing global network. Services via Singapore and Jakarta were some of the earlier options for Australia stopovers, but Turkish is now favouring Bali. Turkish could eventually establish a mini-hub in Bali, with multiple daily flights from Istanbul to Australia via Bali.
Bali has the advantage of strong local traffic with Australia which Turkish can pursue. Turkish will likely experience strong demand for Istanbul-Bali given the success that the Gulf airlines have had in Bali in recent years. In 2015 Emirates launched services to Bali and Qatar Airways introduced a second daily flight.
On its Bali-Australia routes Turkish would have an opportunity to carry a combination of passengers originating in Istanbul or other European destinations, as well as local Bali-Australia traffic.
Australia-Bali can be a challenging market for non-Australian competitors
However, competing in the Australia-Bali market will not be easy for Turkish, Lion Group or any other new entrant.
As AirAsia X learned, Australia-Bali is a challenging market, with strong incumbent competitors and large seasonal fluctuations in demand.
It is also almost entirely an outbound market from Australia, making it easier from a marketing, sales and distribution perspective for Australia-based airlines.
Malindo recently forged an interline partnership with Turkish. As the Lion Group almost irresistibly turns its attention to Australia, a broader partnership with Turkish could bear fruit. The Lion Group currently has 251 aircraft (with an average age of only a little over 3 years) according to CAPA's Fleet Database, but has 490 on order; every route in the region is a potential target.