LCC stocks mixed: SpiceJet up, AirTran slips, Ryanair down, easyJet, Air Berlin and Southwest steady
Analysis
LCC stocks were mixed yesterday (18-Jun-09). In the Asia Pacific region, AirAsia's shares were down 3.4%, almost negating the previous day's 3.5% gain, while in Europe, Ryanair's shares remained in negative territory, down 3.0%, with easyJet down 0.6% and Air Berlin stable, despite a slight improvement in European stock markets on 18-Jun-09.
For daily updates on American aviation stock prices and a complete wrap of the day's breaking news, sign up now for a complimentary subscription to America Airline Daily.
Selected LCCs daily share price movements (% change): 18-Jun-09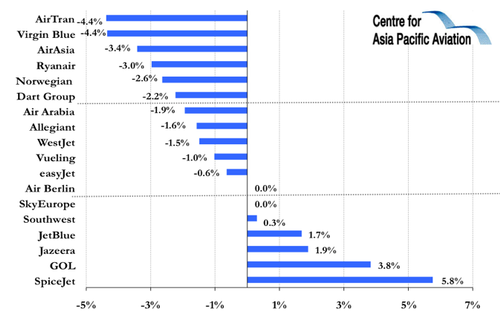 Among the North American LCCs, Southwest and JetBlue reported gains, of 0.3% and 1.7%, respectively, while Allegiant and WestJet reported share price reductions of 1.6% and 1.5%.
NB: All these carriers all feature prominently in The Centre's forthcoming LCC Outlook 2009 report.
WestJet CEO, Sean Durfy, recently stated that the carrier is forecasting "short term pain" in 2Q2009 and 3Q2009, due to weak demand resulting from the global financial downturn and the swine flu outbreak, and lower fares as competition intensifies. The LCC, which has been closing the gap on its major competitor, Air Canada, for months, is also expecting this "difficult" second half before a recovery in 2010.
WestJet's shares are currently trading at slightly under CAD11, the lowest level since early Mar-2009.
Westjet share price growth: Jan-2009 to Jun-2009