Latin America still strong for US airlines, while growth slows. Delta maximises equity investments
Despite forecasts of relatively tepid economic growth of 1.3% in Latin America for 2015, US airlines in particular believe that some of the headwinds that dragged down their performance in the region during 2014 will start to subside in 2H2015.
This should create an opportunity to regain some revenue footing in a region that by IATA's calculations still recorded a healthy 5.8% gain in international traffic during 2014.
American dominates in terms of market share, but Delta has expanded rapidly in recent months and profits from its Aeromexico and Gol equity-based partnerships.
United has the smallest share of the big three, but grew its Latin America capacity by over 16% in 4Q2014. JetBlue too is making aggressive inroads, off a smaller base, with nearly 20% growth into upper South America. Spirit is launching an array of new service and Southwest will begin international operations from Houston Hobby Airport in late 2015.
Overall seat counts between the US and upper South America were down 2% year-on-year at the beginning of Mar-2015
They had fallen by 5.4% to lower South America, reflecting in part Argentina's continuing economic weakness.
The overcapacity that some regions experienced in 2014 should also wane as Delta Air Lines has concluded that it is reaching the necessary investment in its Latin American network and seeks to maximise the equity stakes and commercial partnerships it has with Aeromexico and Gol.
During the second half of 2015 US airlines will begin to lap some of the significant capacity reductions they initiated in 2014 as Venezuela's economy crumbled and the country froze funds owed to airlines worldwide.
The 5% growth in seats between the US and Central America is driven by countries whose economic prospects are more favourable in 2015, including Panama's approximately 6% GDP growth and signs that Mexico's economy is slowly gaining momentum.
Seats from the US to the Caribbean had increased by 6% year-on-year, driven partially by seasonality and likely by strong point of sale in the US, whose economy is a bright spot in the global macroeconomic environment.
American Airlines still has the largest seat share from the US to upper South America at around 30%
American estimated that its overall ASMs during 1Q2015 would decrease by 7% to Latin America. Its seat count from the US to lower South America fell by about 15% year-on-year at the beginning of Mar-2015; however American remains the market leader in that region with an approximately 44% seat share.
Between the US and Central America, American's seats were down 2.3% and its overall share was 18%, and from the US to the Caribbean, American's seats had fallen by 2% year-on-year as it held a roughly 22% seat share. US Airways, which in the process of merging with American, recorded a 2.6% seat decline from the US to the Caribbean, held an overall seat share of 11%. Between the US and Central America, US Airways grew its seat numbers 1% year-on-year and represented a 5.6% seat share.
Seat counts from the US to Venezuela were down 41% year-on-year in early Mar-2015, with American's falling nearly 63% year-on-year. As Venezuela moved to freeze funds owed to airlines and attempted to initiate various currency schemes, all US airlines opted to drastically reduce their capacity to the country, and as of YE2014 roughly USD656 million of American's unrestricted cash balance was held in VEF. The airline's overall cash and short term investment balance at the end of 2014 was USD8.1 billion, of which USD774 million was restricted.
The pressure stemming from both rapid and significant service reductions to Venezuela resulted in American's passenger unit revenues to Latin America falling by 6.7% in 2014 as yields declined 2.3%. The airline's traffic was essentially flat on 3.7% capacity growth, and load factors fell 3.1ppts year-on-year to 77.2%.
At the beginning of 1Q2015, American concluded that capacity growth was still high in most of its international geographical entities; however as the airline moves into 3Q2015 and 4Q2015 and starts to lap the pull-down in Venezuela, together with pressure created by weak economies in Argentina and Brazil, it should see some relief from the challenges dominant in the Latin America to US market during the past year.
American has estimated that absent the headwinds created by Venezuelan service reductions, its Latin American revenues in 4Q2014 would have dropped by 2% rather than sinking 11%. Venezuela will only represent roughly 0.5ppt of American's Latin American unit revenue performance in 1Q2015, "and then it is essentially nothing in the third and fourth quarter", airline president Scott Kirby has stated.
Delta Air Lines also reduced its capacity to Venezuela during 2014, cutting daily Atlanta-Caracas service to a single weekly service
But the airline grew its overall ASMs to Latin America in the mid to high double digits in both 3Q2014 and 4Q2014, posting increases of 16% and 13%, respectively. Delta's yields in Latin America fell by 3.2% in 3Q2014 and 1.2% in 4Q2014 as unit revenues dropped by 5.1% and 4.2% in each period.
Although Delta has much less exposure to Venezuela and Argentina than American, the airline estimated that the economic weakness and volatility in those markets represented approximately half of its unit revenue decline in Latin America during 3Q2014.
Delta's double digit capacity growth to Latin America should taper off in 2015 to the low single digits. "As we mature and lap a significant amount of the Latin investment that we've made and as we lap the Venezuelan capacity reduction, we should see the Latin unit revenue progression start to improve by the second half of the year," airline president Ed Bastian concluded at the beginning of 2015.
Delta has built up its Latin network through equity stakes in Aeromexico and Brazilian airline Gol
This has helped greatly to strengthen its position in Latin America's largest markets. Delta has estimated that during 3Q2014 Aeromexico contributed more than 20% of its traffic into key Mexican markets, while Gol contributed roughly 30% of the traffic from the US to Brazil.
Combined, that traffic generated roughly USD40 million in incremental revenues during the quarter. During 4Q2014 Delta estimates those two airlines generated USD35 million in incremental revenue.
Citing those results Mr Bastian declared: "Our investments in Latin America are paying off...our commercial partnerships with Aeromexico and Gol are driving higher yielding traffic onto our core business markets."
CAPA's Americas Aviation Summit, 27/28 April, Las Vegas:
"The outlook for aviation in Latin America"
A distinguished panel will discuss the profile of this market, with a particular view of the US airlines' plans

After an explosive period of growth, an uncertain economic environment has settled over much of South America. With the combination of LAN and TAM, the region now has an airline of global scale in LATAM. In Central America, there is steep competition in the LCC markets, and relatively higher growth. Meanwhile, airport infrastructure (often like other surface infrastructure) does not lend itself to high growth rates.

What is the economic outlook for the region? Revising forecasts in light of new economic realities

Do Latin America's cross border mergers offer a model for North America? : How likely is further airline consolidation in South and Central America?

Infrastructure constraints and the politics of airport and airways. Is privatisation the solution?

What strategies can Latin American airlines adopt to claim a larger part of the international market expansion?

Partnerships with foreign airlines and within Global Alliances are a vital part of the long haul air service fabric. Will equity be a feature of future partnerships?

What strategies are US airlines using to maximise their presence in the region?
The Gulf airlines are still relatively minor players in Latin America. How will they affect the competitive equilibrium?
United represented a roughly 11% seat share between the US and upper South America during early Mar-2015
The airline has decreased its seats on offer by approximately 3.4% in those markets. Although United represented just 9% of the seats on offer from the US to lower South America, its seats were up 100% year-on-year at the beginning of Mar-2015 driven by new flights from Houston to Santiago launched in Dec-2014.
United's seat capacity was flat between the US and Central America, where it represented a 21% seat share and up 11% to the Caribbean. United's overall seat share from the US to the Caribbean was 10%.
United grew its capacity to Latin America by 16.4% in 4Q2014, the largest increase among the three big US global network airlines. The airline previously explained it aimed to grow seasonal capacity by double digits during that time period, largely to beach markets. The company concluded that the fourth quarter presented opportunities for it to re-deploy marginal capacity from elsewhere in its network.
However, United did warn that the capacity additions would create passenger unit revenue pressure during 4Q2014.
Those warnings materialised in a 4.4% unit revenue decline in its Latin American entity year-on-year during the quarter. But United stressed that those capacity additions would be profit maximising to its overall network.
In addition to the new service from Houston to Santiago, United also launched new flights from Denver to Panama in Dec-2014. During May-2015 it aims to introduce service from its Chicago O'Hare hub to Belize. Outside of those route launches, which will obviously affect United's capacity comparisons to Latin America year-on-year for 2015, the airline appears to be strategically adding capacity in beach markets that are showing stronger demand.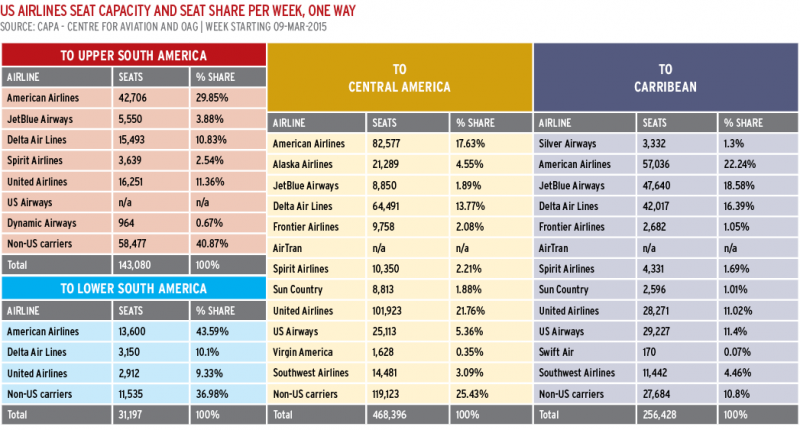 JetBlue's seats from the US to upper South America rose 19.4% year-on-year in early Mar-2015
The growth has been fuelled by new service JetBlue launched from its Fort Lauderdale focus city to Lima, Medellin and Cartagena during the previous year. The Caribbean and Latin America have been key to JetBlue's growth strategy during the last few years, and it plans to launch new flights from JFK to Grenada and from Boston to Port-au-Prince in Jun-2015.
But JetBlue did not escape the capacity pressure other airlines felt in the Caribbean and Latin America in 2014. During 3Q2014 the airline estimated its ASMs to the Caribbean and Latin America grew 17% year-on-year while competitive capacity increased roughly 7%.
The overall increases pressured JetBlue's unit revenue performance. However, the airline was quick to point out that it had no problems stimulating demand in those markets, and it was more of an issue of waiting for some of the overall capacity growth to ease so that unit fare volumes could strengthen.
By 4Q2014 JetBlue was citing improving unit revenues in Latin America as some of the capacity growth in the region slowed. The airline estimates that during 2015 the Caribbean and Latin America will represent some 30% of its capacity.
As JetBlue has heightened competition with Spirit in many Latin American and Caribbean markets during the last two-to-three years from Fort Lauderdale (Spirit's headquarters) that include Lima, Bogota, Medellin and Cartagena, Spirit is planning a new international push into Central America from Houston during 2015.
Spirit Airlines is planning to launch an array of new services from Houston Intercontinental
The new services are to Mexico City Toluca, Los Cabos, Managua, San Jose and San Pedro Sula. Once the service starts, Houston becomes Spirit's second largest market for international service after Fort Lauderdale.
Spirit serves many of those international markets from elsewhere in its network, and has stated the growth on those routes from Houston is fairly low risk. Spirit has likened its growth in Houston (it also planning domestic expansion from Intercontinental in 2015) to Dallas, where it has quickly expanded during the last couple of years.
Most of Spirit's service from Dallas is to domestic markets, and it appears that Spirit sees more local demand for international markets in Houston. Airline CEO Ben Baldanza has remarked that Houston is 250 miles (402km) closer to Central America and Mexico then Dallas, stating "it's just geographic reality", which might indicate Spirit could be eyeing other international routes from Houston even as Southwest readies to debut new international service from Houston Hobby in late 2015.
In addition to some US airlines aiming to pursue growth in the Caribbean and Latin America in 2015, non-US airlines are also expanding into the US
After adding new service from its Panama City hub to Fort Lauderdale in Jul-2014, Copa is introducing new service to New Orleans in Jun-2015 while LAN plans new service from its Lima hub to Orlando in Jun-2015. Mexico's airlines are also making a transborder push as Aeromexico plans to launch new flights from Mexico City Juarez to Boston in Jun-2015.
Mexican LCC VivaAerobus made a significant transborder push in 2014, adding new service from Houston Intercontinental to Guadalajara and Cancun and from Monterrey to San Antonio and Las Vegas. During 2015 it is adding flights from Monterrey and Guadalajara to Dallas/Fort Worth.
Although Latin America still faces macroeconomic challenges in 2015, US airlines should start to see some improvement in their performance in the region later in the year. Despite the short-term obstacles created by weak economies within the region, Latin America remains a strategic area for US airlines as a growing middle class will continue to expand and have discretionary income to spend on long-haul travel for exploration and visiting friends and relatives.
US airlines recognise the latent demand that resides within Latin America for both leisure and business travellers, evidenced by their service reductions to Venezuela versus a complete pull-down to the oil-rich country.
With some easing of the pressure from capacity reductions in Venezuela and perhaps more rational capacity deployment to the region, 2015 could lay the groundwork for US airlines to enjoy a favourable performance in Latin America during 2016.
(This report first appeared in Airline Leader, Mar-Apr-2015)