20-Jan-2017 9:19 PM
LATAM Airlines Group: encouraging signs emerge in Latin America - but caution prevails
LATAM Airlines Group is forecasting higher system capacity growth in 2017, but also slightly higher margins as a slow economic recovery in Latin America sets in. The company has significantly cut its domestic capacity in Brazil during the past couple of years, but decreases for 2017 are less intense as LATAM balances rightsizing capacity with maintaining a certain level of market share.
Despite the tough conditions in Latin America that persisted throughout much of 2016 LATAM continued building its network utility for the long term, launching several new flights from its hub in Lima and new long haul service to Johannesburg. The company's international expansion continues into 2017 with new long haul flights to Melbourne, as well as additional intra Latin America service.
One big strategy shift LATAM is beginning to undertake in 2017 is the launch of a new pricing structure to compete more effectively with low cost airlines operating in the region. Key to successfully executing that strategy is keeping its cost in line, in order to adapt its pricing models to new competitive realities within the Latin American market.
Other large Latin American airline groups cited encouraging trends at YE2016.......
LATAM Airlines Group posted a 0.6% rise in system ASKs during 2016, in line with its forecast of 1% decline to a 1% increase. The company's capacity in the Brazilian domestic market fell 11.5% year-on-year after dropping 10% in 2015. Its projected ASK decline for Brazil in 2016 was within a range of 10% to 12%.
In its domestic Spanish speaking markets – Argentina, Chile, Ecuador, Colombia and Peru – LATAM grew its capacity by 8% in 2016, which was at the top end of its guidance of a 6% to 8% increase. On regional and long haul international routes LATAM expanded supply by 5.6% in 2016, which is slightly higher than previous guidance of a 3% to 5% rise.
For 2017, LATAM's projected system capacity ranges from flat to 2% growth, while Brazil's planned capacity range is a 2% decline to flat growth. Its supply growth in Spanish speaking countries will shrink to a 4% to 6% increase in 2017, and projected international capacity growth of flat to 2%, also reduced from 2016.
The company is forecasting an uptick in its operating margins to 6% to 8%, from 5.5% to 6.5%, in 2016. LATAM's operating margin in 2015 was 5%.
Most of Latin America's largest airline groups have cited general improving trends in the region after economic contractions in both 2015 and 2016. Avianca has cited stronger load factors on long haul routes from Colombia to the US and Europe, and a pick up in demand in South America. Healthy load factors helped Copa Holdings return to positive unit revenue in 3Q2016, and the company revised its operating margin forecast for 2016 upwards to 12%, versus previous guidance of 11% to 13%.
See related reports:
.....but LATAM is a bit more cautious, given unpredictability in Brazil
LATAM embarked on 2017 striking a cautious tone regarding conditions in its largest domestic market, Brazil, where LATAM Airlines Brazil holds 29% share of domestic seats on offer for the week of 16-Jan-2017.
Brazil international capacity by airline (% of seats): 16-Jan-2017 to 22-Jan-2017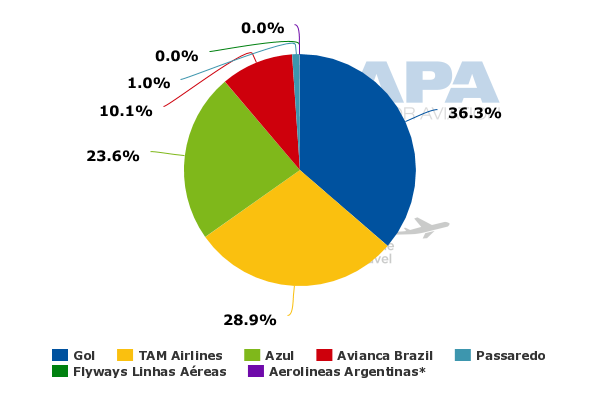 In Nov-2016 LATAM executives concluded that the decreases were decelerating, after 14 months of a consistent drop off in Brazilian traffic, but a pick up in demand had yet to materialise.
The company also cited some lingering excess capacity in the Brazilian market. Although LATAM Airlines Brazil and Gol have sharply curtailed their domestic capacity growth, overall capacity in the Brazilian market has outpaced demand.
In late 2016 Gol executives noted that seat kilometres in Brazil were growing ahead of GDP, which was estimated to contract broadly 3.8% in 2016. Data from CAPA and OAG show that Brazil's domestic ASKs fell 7% year-on-year in 2016, but given the evaporation of demand and commentary from the country's two largest airlines, those decreases did not fully compensate for the uneven supply demand balance.
Brazil domestic ASKs year-on-year: 2012 to early 2017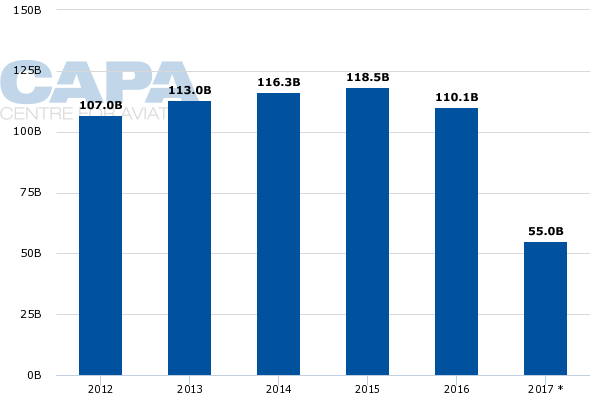 See related report: LATAM and GOL: Excess capacity could threaten the arrival of crucial recovery in Brazil domestic market
Although LATAM cited some stabilisation in decreasing demand within Brazil, the company has stated that it is tough to discern any concrete improvement in the country's pricing trends.
After two years of significant capacity cuts in the Brazilian market, LATAM is slowing its decreases in 2017. Some of the likely logic for LATAM moderating capacity reductions is in ensuring it maintains a proper market share on its Brazilian domestic routes as other rivals continue to grow. For the 10M ending Oct-2016, LATAM Airlines Brazil's market share fell 5ppt year-on-year.
Near the end of 2016 LATAM also cited some weakness in demand within its Spanish speaking countries, driven by still lingering economic weakness, which is likely part of the company's decision to pare back capacity growth in those markets during 2017.
LATAM capitalises on its strength in Peru as the country's economic status rises
During the past couple of years LATAM and all airlines operating within, to, and from Latin America have had to balance keeping capacity in check while continuing to build out their respective networks to compete effectively over the long term.
LATAM's Lima hub played a key role for the company in 2016 with the launch of eight new routes – Montevideo, Antofagasta, Salta, Rosario, Washington Dulles, Mendoza, Barcelona and Cartagena.
Peru is rising as a bright spot in Latin America. Its projected GDP growth for 2016 was 3.9%, and 4% for 2017. The country's international passengers increased 8.3% year-on-year to 7.4 million, and LATAM Airlines Peru held an approximately 30% share of international passengers. LATAM represents 42% of Peru's international seat capacity.
Peru international capacity by airline (% of seats): 16-Jan-2017 to 22-Jan-2017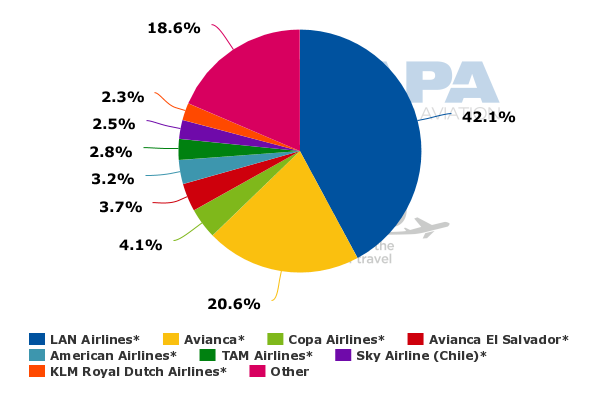 Although competition in the country's domestic market is heating up with the launch of Viva Airlines Peru in 1H2017, LATAM is capitalising on its position of strength in Peru with the launch of several new international markets in 2016 that should reach full maturity in 2017.
See related report: The Viva Group settles on Peru amid changing competitive dynamics in Latin America
LATAM bolsters long haul routes to maintain a certain level of network competitiveness
LATAM also bolstered its long haul network in 2016 with the launch of service from São Paulo to Johannesburg – the first market in Africa for the company. In late 2017 LATAM plans to introduce flights from its Santiago hub to Melbourne.
LATAM currently operates service to Sydney from Santiago via Auckland. LATAM's oneworld partner Qantas offers direct service from Santiago to Sydney.
Those two routes illustrate the advantage that LATAM, in conjunction with its oneworld partners, has over some its larger Latin rivals. It is the only Latin American airline group serving Africa, Australia and New Zealand, creating blanket global coverage to create a competitive network advantage. The Boeing 787-9 widebodies LATAM plans to operate to Melbourne fit the aircraft's mission profile of making long, thinner routes viable.
LATAM's intra regional and long haul international networks play a key role in its financial performance. For the 12M ending Sep-2016 the company's international network represented 47% of its revenue, followed by domestic Brazil at 22%, the 18% share of Spanish speaking countries, cargo 12% and other 5%.
LATAM is working to bolster its international strength through proposed immunised joint ventures with its oneworld partners American and IAG. The company is still awaiting regulatory approval for those new partnerships, which – given the general pace of gaining regulatory nods in Latin America – could take some time.
LATAM's new fare segmentation will be closely watched as the roll out begins in 2017
As it works to flesh out its long haul network LATAM is also taking steps to ensure that it remains competitive in its domestic Latin markets, through the introduction of a new lower fare structure in those countries. The move is designed to compete more effectively with the spread of low cost competition and existing low cost competitors, including Viva Colombia, Viva Peru, Gol and Sky Airline.
The roll out of the unbundled fare structure begins in 2017 and continues through 2020, and LATAM has estimated that the new fares will be 20% lower.
See related report: LATAM Airlines Group is the latest in the region to build an arsenal to combat the LCC threat
At the same time, LATAM is working to cut costs in order to maintain lower fares that compete effectively with the offers of low cost airlines. It is planning to cut its costs through higher aircraft utilisation, lower airport costs through self bag check, and check in and more direct distribution.
LATAM's efforts at product unbundling will be closely watched as some of its larger global network peers in North America adopt similar strategies. Delta has already been offering a lower tier structure and United is in the process of rolling it out. American is expected to follow suit in the not too distant future.
Key to the execution of new fare structures by LATAM and its North American counterparts is ensuring that passengers understand the product attributes, or lack thereof, associated with tiered fares.
Caution is the overarching theme for LATAM, but some optimism underlies 2017 forecast
Caution seems to be the prevailing theme for LATAM Airlines Group as it descends on 2017, and the sentiment is easily understood given the effect Brazil's economic turmoil has inflicted on Latin America.
But LATAM's current outlook for 2017 reflects some optimism, as system capacity could grow up to 2% and margins are also showing some slight improvement. It is too early to declare the onset of a full economic recovery for Latin America, but LATAM's forecast appears to take into account the favourable trends that started to emerge in late 2016.