LATAM Airlines Group 3Q2014 loss follows World Cup woes and currency challenges
Analysis
Previous warnings by LATAM Airlines Group that reduced corporate demand during the FIFA World Cup soccer tournament would pressure 3Q2014 results came to fruition as the company posted net loss for the quarter.

Other more familiar factors also dragged down the company's results including an overall weak macroeconomic environment and currency devaluations that are eroding LATAM's pricing traction.

Even as the macroeconomic weakness seems likely to persist into 2015, LATAM for now plans a system wide capacity growth of 2%-4%, which is an increase over its overall capacity projections for CY2014. LATAM's planned expansion of supply next year is raising some eyebrows given the sluggish conditions it continues to face.
LATAM's revenue and yield headwinds due to weak demand driven by the World Cup
LATAM recorded a USD108 million loss in 3Q2014 compared with a USD52 million profit the year prior. Its revenues declined 6.5% to USD3.1 billion as operating income tumbled 54% to USD118 million.
LATAM Airlines Group select financial results: 3Q2014 vs 3Q2013 and 9M2014 vs 9M2013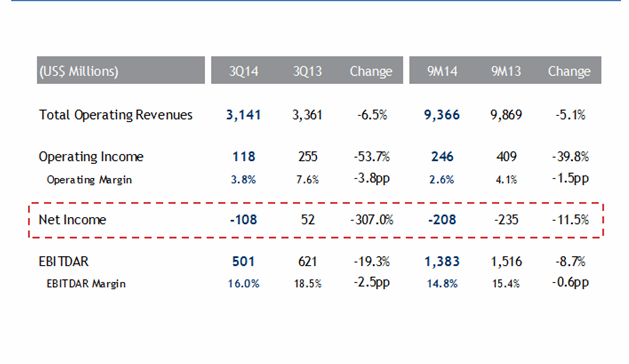 The company's passenger revenues fell 7% and on a unit basis fell 6.5% driven by a 7.7% drop off in yields year-on-year in 3Q2014. Among LATAM's geographical entities, Brazil was LATAM's worst performing region, recording an 11.5% drop in unit revenues.
LATAM Airlines Group performance by geographic region: 3Q2014 vs 3Q2013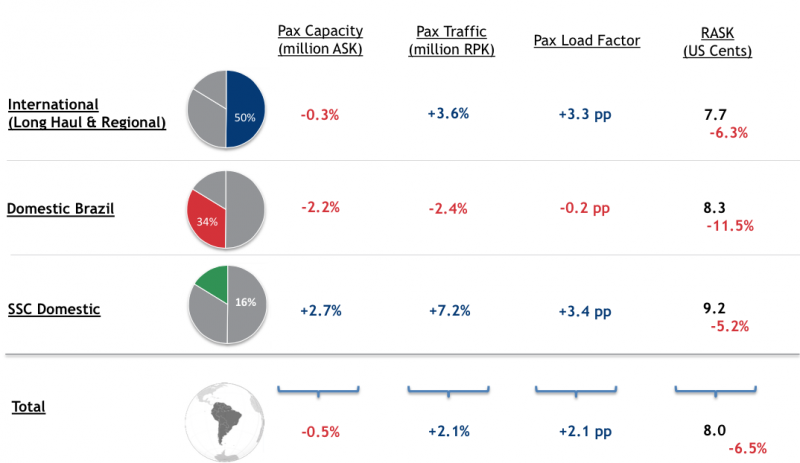 Previously, LATAM warned that a fall-off in corporate traffic during the World Cup held in Brazil in Jun-2014 and Jul-2014 would create headwinds in 3Q2014, and the company estimates the weaker demand impacted its revenues during the quarter by USD130 million.

See related report: Macroeconomic weakness drags down LATAM Airlines Group's 2Q2014 results and could linger into 2015

LATAM executives explained that during the World Cup corporate travel dropped to levels that "we haven't seen in a very, very long time". During Aug-2014 and Sep-2014 the company cited a significant pick-up in corporate demand in Brazil, but also saw some softening in Oct-2014 driven by the country's presidential elections. Some demand – in both actual bookings and discussions with corporate clients – has rebounded since the election, the company recently explained to analysts and investors.

LATAM's Brazilian rival Gol recently made a similar assessment about weak corporate demand during the World Cup, and indicated that business travel could start to pick up in late 2014.

See related report: Gol's 3Q2014 losses widen even as the airline continues working to improve its financial leverage
Tepid GDP growth and falling currency put LATAM in an unattractive position
LATAM also faced continuing macroeconomic headwinds in its Spanish speaking countries in 3Q2014, as currency devaluation and competitive capacity diluted pricing traction. During the quarter Chile's currency depreciated nearly 14% against the USD and the decline in Argentina's currency was almost 49%.

Even as load factors in the Spanish speaking countries – Chile, Peru, Argentina, Colombia and Ecuador – increased 3.4ppt year-on-year, unit revenues dropped 5.2%, reflecting the currency devaluation's effect on pricing. Colombia was a bright spot during 3Q2014 as LATAM declared it was the best performing market in the region.

Colombia is one of the stronger economies in Latin America, which is recording overall economic weakness. LATAM estimates 1.3% GDP growth in Latin America during CY2014 and a slight improvement to 2.2% in CY2015.
Latin American GDP and currency depreciation rates: CY2011 to CY2015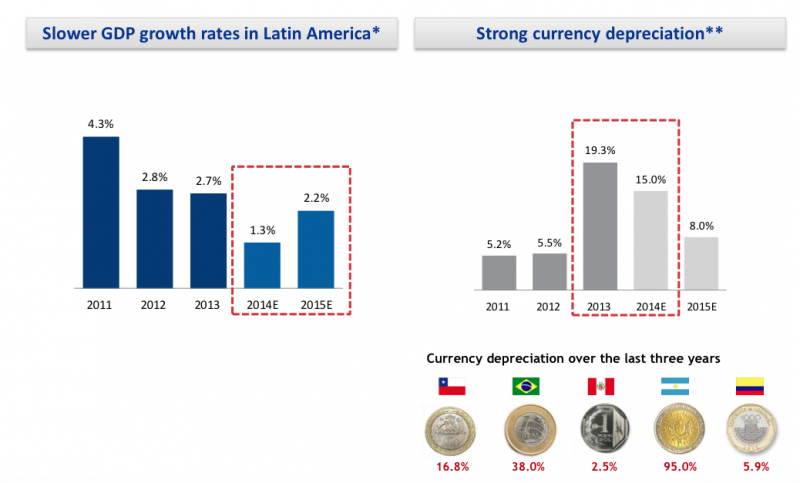 LATAM's competitors add ample capacity even during tough economic times
LATAM has also faced pressure from competitive capacity additions within South America and to the continent, which is also affecting its ability to gain pricing traction and dragging down its performance in those markets.

The company outlined the increase in ASK growth from CY2011 to CY2014 within South America and by other airlines to countries within its borders. Avianca has recorded the largest increase within South America of 27%, and American has had the largest growth from the US to South America of 42%. Air Europa recorded the largest expansion from Europe of 75% while both Emirates and Etihad have also added significant capacity, off much smaller bases. The Gulf airlines have only started making a concerted push into South America during the last few years.
Competitive capacity increases in LATAM Airlines Group markets: CY2011 to CY2014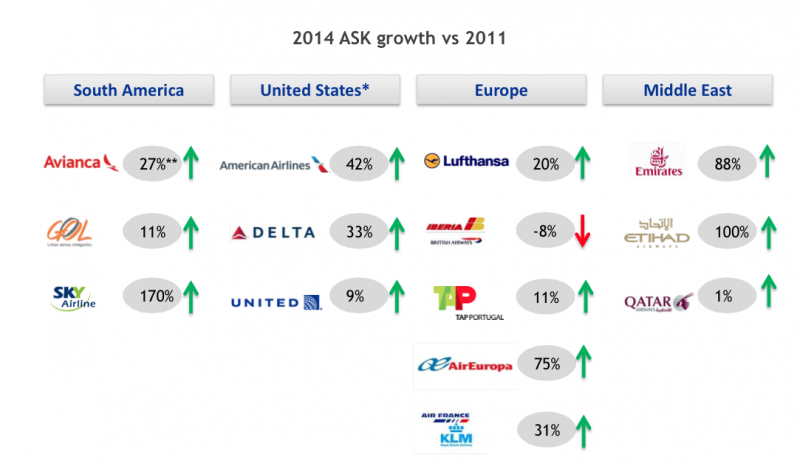 LATAM has refined its capacity growth for its Spanish speaking markets in CY2014 to 3% to 5% from previous projections of an increase ranging from 5% to 7% to combat some of the continuing currency weakness.

Another short-term challenge for LATAM is airlines moving significant capacity from Venezuela to other markets as the country still has cash frozen that is owed to airlines, and its economy also remains weak.
LATAM aims to shed USD650 million costs by 2018
As its profitability faded year-on-year in 3Q2014, LATAM's top-line operating expenses fell 2.6% to USD3 billion, and unit costs excluding fuel decreased 1%. LATAM recorded the largest decline in agent commissions of 15.7% due to lower overall sales during the World Cup. Its expense from wages and benefits also fell 2.7% as total headcount declined by 0.3%.

LATAM is undertaking a USD650 million cost reduction scheme it aims to complete in 2018. The company estimates it can achieve 25% to 30% of that target in CY2015; however, LATAM warned that 2015 is the year "when we will have the most one-time costs related to these savings initiatives" of roughly USD70 million to USD80 million.

The company has identified several areas for cost reduction including operational expense, procurement, fuel costs and fleet renewal, distribution and overhead. The two areas where it anticipates the largest cost savings are overhead – 15% – and other areas outside those specific functions, where it projects a 20% decline in expense.
LATAM plans up to 4% capacity growth in CY2014 despite lingering weak conditions
LATAM's planned system-wide capacity increase of 2% to 4% in CY2015 compared with flat to a decline of 2% in CY2014 is somewhat puzzling given the lingering economic weakness in Latin America.
LATAM Airlines Group's capacity projections: CY2014 and CY2014

Similar to its North American large network airline counterparts, LATAM reasons that the expansion will be carried out in part through aircraft upgauging. The company stated that it is taking delivery of seven Boeing 787-9 aircraft in CY2015 that have roughly 50 more seats that the 787-8 widebodies in its fleet. It also adding 15 larger gauge Airbus A321s to its narrowbody fleet.
LATAM's fleet is actually shrinking by three aircraft year-on-year from CY2014 to CY2015, and the company stresses that its planned capacity expansion is a "smart way of growing", as few new markets are scheduled for introduction in CY2015 with the exception of some new narrowbody routes to the Caribbean, said LATAM. The growth may be deemed efficient, but LATAM likely will not see a significant rise in yields over the course of the next year, as it could continue trading yields for loads in the weak economic environment.
LATAM Airlines Group' fleet projections: CY2014 to CY2015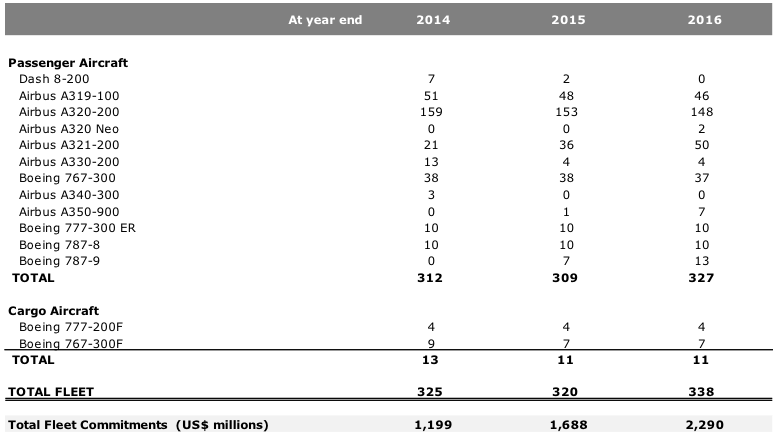 LATAM also believes it has fleet flexibility with aircraft on operating lease and the timing of certain expirations if it needs to refine its current capacity targets for CY2015.
The logic for LATAM's merger remains sound; but short term challenges loom large
Throughout the last couple of years of economic weakness spreading over much of Latin America, LATAM has maintained that the logic for its merger remains intact, and still holds that belief.
Its concludes the scale created by combining LAN and TAM is key to facing the continued short to medium term challenges in the operating environment within and to Latin America.

LATAM also believes it can regain the investment grade status held by legacy LAN in 2018; but the weak conditions it faces show no signs of abating as CY2014 comes to a close and CY2015 gets underway. There is no reason to doubt the merger's long-term resonance within the market place. But in the short term profitability may need to become the company's ultimate goal.