Korean LCCs Air Busan and Jin Air succeed in different niches but must adapt to greater competition
Analysis
South Korea was once the heartland – and limit – of LCCs in North Asia, but with the LCC movement gaining pace the country now risks stagnation. That is represented in Air Busan and Jin Air, the respective LCC subsidiaries of full-service carriers Asiana and Korean Air.
Air Busan is the larger of the two and advantaged with a base in its namesake city, a second-tier one that like elsewhere in the region often gets overlooked for service. But inefficiencies have creeped in with an Airbus A321 and Boeing 737 fleet and domestic services competing with high speed rail. Its profits are lower than Jin Air, which has the much larger Seoul and Incheon areas to call home but whose network still plays second fiddle to Korean Air, which will see foreign LCCs further erode its network.
Jin Air, like Air Busan, must be allowed a larger role. Jin Air's advantages will be narrowed as other LCCs make Seoul their first point of call of Korea. Air Busan and Jin Air can maintain the status quo in the short-term, but soon need the shackles taken off.
LCCs in Korea: a dynamic but embryonic start
The birthing of LCCs in Korea was uncharacteristically loud. The culture dictates that admission of failure be kept quiet, so it was some surprise how blunt Korean Air was in Jun-2007 when announcing the establishment of its LCC subsidiary, saying the national carrier "will no longer remain indifferent to the invasion of low cost carriers from China and Southeast Asia into the Korean market".
As is often the case with subsidiary LCCs, Jin Air was launched under duress, a response to independent carrier Jeju Air and competitor Asiana's Air Busan. Yet Jin Air, like the other new carriers, was embryonic. In hindsight, it was ahead of its time and that prematurity is posing the biggest challenge.
Launching a no-frills LCC in 2008, executives argued, would have been cardiac arrest for service-focused Koreans. So instead they settled on a hybrid model – "Korean-style LCC" – offering checked luggage but limited food and snacks, pushing online distribution, and having a high density configuration as well as productivity and utilisation. Compared to the inefficient legacies, the so-called LCCs did have a better cost base, but not comparable with global peers. Air Busan targets its fare to be 15% cheaper than legacies.
In the early days of the South Korean LCC movement in 2009, executives were quick to tell the story of US retailer Wal-Mart failing in Korea, one of only two countries where the behemoth pulled out. Koreans still associated cheap with poor quality, and so the executives reckoned their carriers could not be too cheap. Yet by Korean Air's own admission the market was familiarising itself with no-frills LCCs.
Jin Air estimated that in 2007 8% of the outbound Korean market at some point in a trip flew on a Southeast Asian LCC. Holding the Korean carriers back from being fully LCC was lack of experience with the model, further hindered by being a young aviation nation; Koreans were free to travel abroad only in 1989, and Asiana was founded just the year prior. Also to blame was inertia.
That is where the carriers find themselves today. The big threat of LCCs from China and Southeast Asia did not materialise, but in their place are hybrids and no-frills LCCs from Japan – a larger market today than China – as well as a greater push from Chinese legacy carriers with a cost base comparable to the Korean LCCs, which have made strides in the country's LCC penetration rate, which shot up domestically in 2009 after the launch of three carriers.
The domestic LCC penetration rate in South Korea remains around 30%, according to OAG, although South Korea reports some months see a figure closer to 40%. The LCCs have a much smaller but growing presence in the international market. All the more impressive is how quickly the market changed, a warning for how quickly it can change again with international competition.
LCC capacity share (%) of total seats in domestic South Korean market: 2001 to 2012*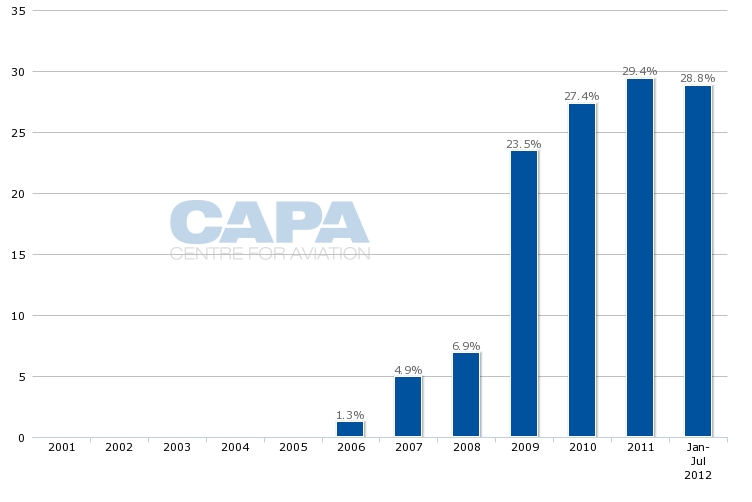 LCC capacity share (%) of total seats in international South Korean market: 2001 to 2012*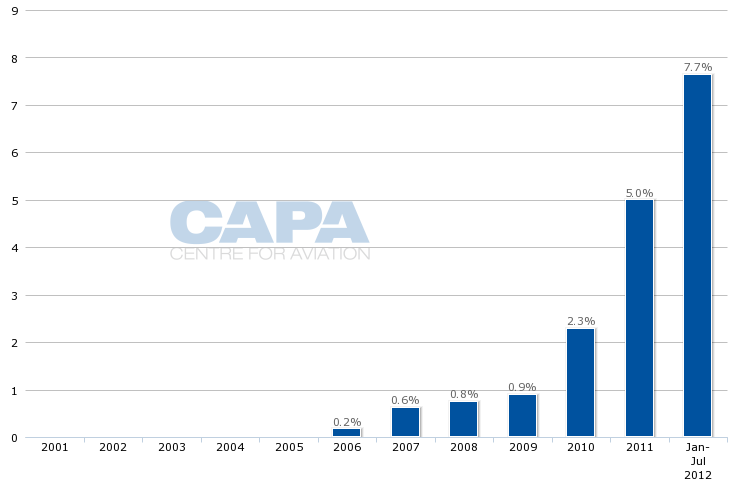 With time the Korean LCCs stood a better chance of realising the benefits of LCC tactics and the market's acceptance. Now they face the challenge, seldom achieved, of taking costs out and going down-market to be competitive and profitable. The status quo in all likelihood will remain but within a year the blunt of new North Asian LCCs will be felt. Asiana and Korean Air will once again be under duress. What they have created in Air Busan and Jin Air is credible, but keeping it will be challenging.
One-third of Air Busan's capacity is on highly competitive Busan-Seoul route
Leading the LCC charge was independent and more nimble Asiana rather than flag carrier Korean Air. (This would be repeated in Japan, with All Nippon Airways launching a LCC before flag carrier Japan Airlines.) Yet credit does not fully rest with Asiana. The government of Busan, Korea's second-largest city, combined with 12 local investors to establish Busan International Air in Aug-2007. They were replicating Jeju Air, the carrier that in 2006 broke the Asiana and Korean Air duopoly and had the Jeju government and a local company as an investor. Jeju's objective was to end the high fares to the province, an island dependent on air travel or length ferry and car rides owing to the lack of train access. Likewise, Busan wanted greater air links, ending Seoul-centricity.
Asiana took a controlling stake in the Busan carrier in Feb-2008, after which it re-branded to Air Busan and launched services in Oct-2008 on the Busan-Seoul Gimpo route. The route had been loss-making for Asiana and the carrier handed all services over to Air Busan, which now operates upwards of 15 return services a day. Asiana's sole service between the cities is a daily flight between Busan and Seoul Incheon, the country's main international airport.
Air Busan's Busan-Seoul Gimpo services account for 38% of all of the carrier's seats while Busan-Jeju accounts for 29% and Seoul Gimpo-Jeju 7%. The remaining 26% is operated via international services, no single route of which has more services than Seoul Gimpo-Jeju.
Air Busan's three domestic routes ranked based on capacity (seats): 23-Jul-2012 to 29-Jul-2012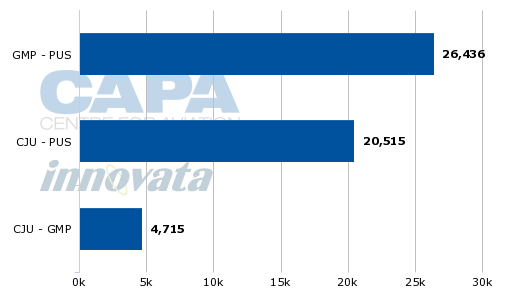 Prices on the Busan-Seoul Gimpo shuttle are dictated by competition with the KTX, Korea's high-speed rail system that offers trains upwards of four times an hour between Busan and Seoul. Travel time on the KTX is between 2-2.5 hours compared to the 55 minute block time for Busan-Seoul Gimpo, but once boarding time and travel to and from airports is included, the KTX offers an as fast or faster door-to-door journey time.
KTX fares have limited revenue management, with one-way fares typically KRW46,000-61,000 (USD40-53). Air Busan's one-way fares are typically listed at KRW52,000-70,000 (USD45-61) but expensive fares typically have 5-10% discounts, making the actual ticket price typically in the range of KRW52,000-64,000 (USD45-56). Same day fares are typically available in the upper corners of that scale. One-way prices are inclusive of KRW4000 (USD3.50) in taxes.
Initial lack of awareness of Air Busan saw poor load factors and there was a notable period in which the carrier's future was uncertain. Performance has improved but the route is seldom profitable, although from a group perspective Asiana likely has lower losses as Korean Air still operates all services between Seoul and Busan (30,000 weekly seats compared to Air Busan's 26,000) rather than passing them to Jin Air. Asiana codeshares on Air Busan's Seoul-Busan services, amongst others (although the Weihai codeshare ended in Jul-2011 for unspecified reasons), ensuring Asiana's corporate passengers can accrue frequent flier points.
Air Busan's move into international markets confined to North Asia
The real market in Korea of course is international services. Air Busan's launch of domestic services in Oct-2008 was followed with international flights in Mar-2010, initially to Japan's Fukuoka from Busan and then Osaka (also from Busan) in Apr-2010. Charter flights between Busan and Tokyo Narita commenced in Jul-2010 and then charter flights to Cebu in Dec-2010.
2011 saw new flights to Hong Kong and Taipei as well as Cebu and Tokyo Narita being converted to regularly scheduled services. Air Busan expanded to China in Feb-2012 with a service to Qingdao (the largest city in Shandong province) followed by a charter service to Xian while Jul-2012 saw the launch of Busan-Macau flights.
Air Busan international capacity (seats) by region: 23-Jul-2012 to 29-Jul-2012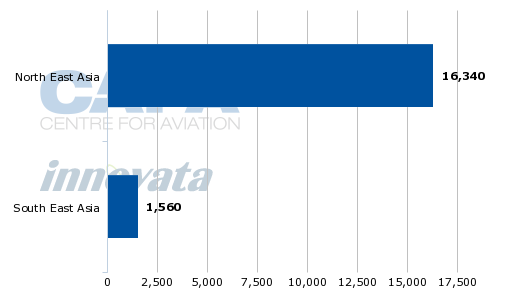 In terms of future expansion, Air Busan hopes to offer a charter service and later scheduled service to China's Huangshan. It has expressed interest to operate to Taiwan's Kaohsiung and the Philippines' Davao.
All of Air Busan's services are from Busan, bringing access to a secondary city, a key theme for the next few years as carriers, especially young ones, open new city points as they seek less competitive markets. Asiana serves all of Air Busan's international destinations, with the exception of Macau, but mainly from Seoul, reducing chances of cannibalisation.
Asiana's capacity on Air Busan's international cities is typically at least double. Asiana also serves the more convenient Tokyo Haneda airport in addition to Narita, the only Tokyo point for Air Busan. Asiana's capacity at Haneda is is greater than at Narita.
Asiana services on Air Busan's international destinations: 23-Jul-2012 to 29-Jul-2012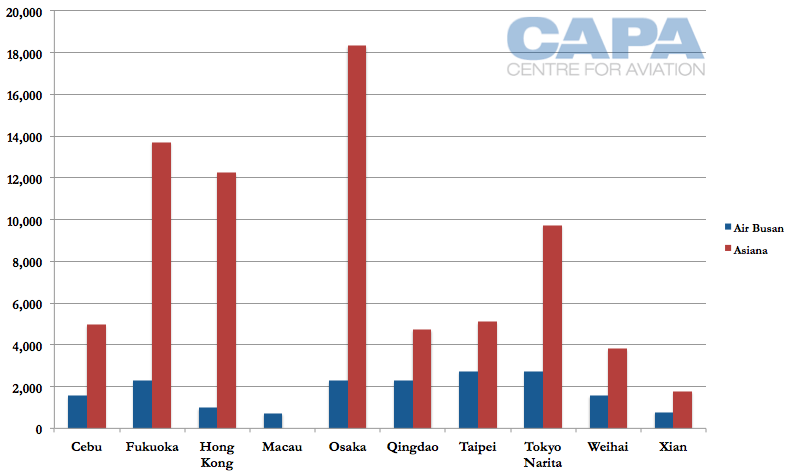 Air Busan also brought some relief on fare pricing, which is some of the highest in North Asia. Air Busan's status quo is mixed with a thriving if small international network being dragged down by the Busan-Seoul Gimpo shuttle.
The near future poses worries for Air Busan's model, which internationally has relied on Japan. Air Busan's three Japanese cities – Fukuoka, Osaka (Kansai) and Tokyo – account for 40% of its international network. Japan is the second-largest market for South Korea, just behind mainland China, while South Korea is the largest market for Japan. But mighty changes are afoot in Japan.
South Korea top 10 international departures by country: 23-Jul-2012 to 29-Jul-2012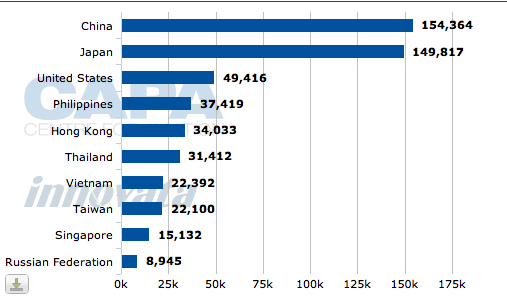 Japan top 10 international departures by country: 23-Jul-2012 to 29-Jul-2012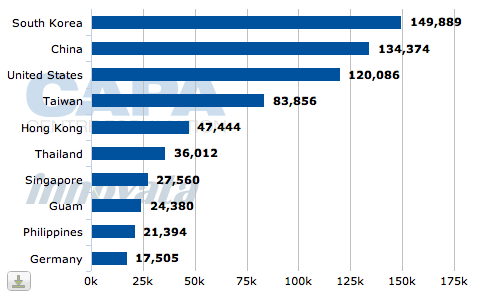 South Korea is unsurprisingly the prime target for Japan's new wave of carriers. Osaka Kansai-Seoul Incheon was Peach's first international route and from 01-Jul-2012 saw three daily services. AirAsia Japan has filed schedules to serve Busan and Seoul from Tokyo Narita from Oct-2012, although launch dates are yet to be finalised. Qantas Group CEO Alan Joyce says South Korea will be a big market for affiliate Jetstar Japan, based in Tokyo Narita with a hub also in Osaka Kansai.
Japan's incumbent smaller carriers are growing internationally as well, with boutique carrier Starflyer in Jul-2012 starting double daily Kitakyushu-Busan services. Already Japan-Korea fares have fallen, and legacy carriers have responded to Peach.
Once AirAsia Japan and Jetstar Japan enter Korea, the yield pressure will be immense. Margins at full-service carriers will decrease, but they have a buffer owing to a premium product that can afford higher yields. Air Busan and Jin Air are not in that position. Their offering is one based on cost, and they will be competing against the Japanese LCCs based on cost, and are currently disadvantage.
The international LCC growth is not just from Japan but rather will encircle Korea. Filipino LCCs Cebu Pacific and Zest Airways are making a large push in the Philippine-Korea market with capacity rivaling Korean Air's. South Koreans are the Philippines' largest market.
Cebu Pacific in Apr-2012 applied for 4000 additional one-way seats after the two countries expanded their air services agreement, which was approaching capacity. Cebu Pacific serves Busan and Seoul Incheon from both Cebu and Manila. Air Busan is already a minority player in the market, although it could find a niche for limited services catering to Koreans who do not want to take a no-frills LCC like Cebu or Zest. But there is no doubt it will lose passengers based on its higher cost base and could have a larger position in the market if it was able to lower its cost base and fares.
Ranking of carriers based on seats between the Philippines and South Korea: 23-Jul-2012 to 29-Jul-2012
Jetstar Hong Kong is due to launch in 2013, Taiwanese carriers are evaluating the LCC market and Chinese carriers – short on LCCs but rich on full-service carriers with competitive cost bases – see North Asia as a more profitable market than Southeast Asia. Korea's protectionist stance means bilateral restrictions in some markets remain a buffer, but to the detriment of Korea. They will be lifted with time and as Korea feels pressure, one origin of which may prove to be the country's flagship airport, Incheon, which wants to have a greater share of transfer traffic. It cannot achieve that without more traffic. When markets are opened, Air Busan and its peers must be more competitive.
After a troubled birth, Air Busan takes the greatest market share but not the most profits
Financial information on the Korean LCCs is not complete, but in 2010, one year Air Busan and Jin Air both reported results, Jin Air was significantly ahead of Air Busan with a KRW7500 million (USD6.8 million) profit compared to Air Busan's KRW3700 million (USD3.3 million) profit. Revenue and margin information were not disclosed, but Jin Air is expected to be stronger owing to not being exposed on the Seoul-Busan route, which boosts Air Busan's capacity to make it larger than Jin Air.
South Korea system capacity (seats) by carrier: 23-Jul-2012 to 29-Jul-2012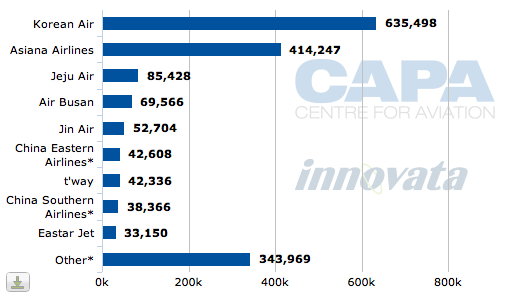 This performance is a large turnaround from the serious losses all four carriers experienced in 2009, the second year of operations for Air Busan and Jin Air, first year for Eastar Jet and fourth year for Jeju Air.
Financial performance for Korean LCCs (USD): 2009
| Carrier | Revenue | Operating loss | Operating margin |
| --- | --- | --- | --- |
| Air Busan | 63.4 million | 7.3 million | -11.5% |
| Eastar Jet | 38.7 million | 15.3 million | -39.5% |
| Jeju Air | 77.3 million | 24.0 million | -31% |
| Jin Air | Not supplied | 8.7 million | n/a |
Air Busan's revenue in 1H2012 was up 33.5% year-on-year to USD92.7 million and the carrier expects to report its third consecutive annual profit, although it did not disclose a target or its 1H2012 results. Jin Air reported 1H2012 revenue up 63.9% to USD104.9 million. It did disclose its 1H2012 profit, USD6.8 million, but warned second-half profits would be half of 1H2012.
Jin Air is the more successful LCC subsidiary, but with untapped potential
Jin Air joins Air Busan in being a legacy carrier's spin-off and the two share similarities but also have significant differences. Jin Air's only domestic services are to Jeju, avoiding competition with the KTX, it has the larger Seoul area as home, and has gone great lengths to attract Korea's young population. Jin Air has also maintained a simplified and more fuel efficient fleet, only operating 189-seat 737-800s.
It has worked the hardest of the LCCs on a brand. Targeting Koreans under 30, crew – nicknamed "genies" – wear jeans, sneakers, polo shirts and caps, a radical departure from the very formal but impersonal crew-passenger experience in Korea. Likewise Jin Air's butterfly logo is supposed to give a more relaxed image.
From the beginning Jin Air also has been subservient to its parent, Korean Air. "Jin Air is creating new market share. We do not want to take Korean Air market share. We will not touch it," CEO Jae Jun Kim, a 20-year veteran of Korean Air, said in Jun-2009, a year after its Jun-2008 launch.
Jin Air like Air Busan has the Macau market to call as its own, and for services to large cities, Jin Air's capacity is a fraction of Korean Air's, mirroring the Air Busan-Asiana relationship. The disparity is greatest in Hong Kong, where Jin Air has 1800 weekly seats to Korean Air's 19,600. Jin Air's schedule encompasses less than daily service. The result is high fares but not as high as Korean Air; Jin Air aims to offer a 20% discount from Korean Air. The arrangement, like at Air Busan, leads to a capping of the market.
Korean Air services on Jin Air's international destinations: 23-Jul-2012 to 29-Jul-2012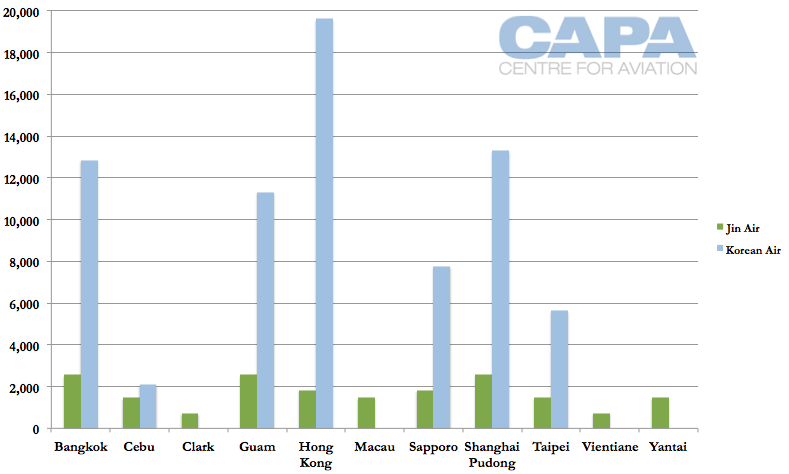 Or in some instances, Jin Air has not entered markets: Air Busan serves Tokyo Narita from Busan but Jin Air has no service to Tokyo, Japan's top business destination and its largest international route by seats and one of the largest in the world. It is called the "Golden Route" by Korean carriers. Demand would be high, but Korean Air may be too concerned about losing Seoul-Tokyo passengers whereas Asiana would have been less concerned about the smaller Busan market. Korean Air like Asiana has multiple services to Tokyo's far more convenient and preferred short-haul airport, Haneda, but even relatively far-flung Narita seems to be too sensitive.
The stunting of growth hurts the market as a whole, but it can be challenging for airlines to evaluate the larger picture and place themselves in it (let alone claim rightful credit for achievements). While Korean Air may not think it feels the affect of Jin Air's limited growth profile, it will receive a direct hit when AirAsia Japan and Jetstar Japan do the inevitable and what Jin Air has not: enter the Seoul-Tokyo market. Korean Air may choose to finally send Jin Air in, but any early advantage will be lost, and with a cost base higher than the Japanese LCCs its financial performance will be limited. Some cannibalisation would occur.
Jin Air brings new Chinese and SE Asian destinations to Korean Air
Jin Air's strategy is running ahead of schedule since its launch days, when it planned to serve five international destinations in Jan-2010 and typically open two new points a year through 2015 with the addition of one 737 a year from 2011 to 2015, bringing its total fleet by that time to 10 737s. In 2H2012 Jin Air will take delivery of its ninth 737. Its international network as of Jul-2012 numbers 11 cities, and Jin Air has been used to open smaller and leisure-oriented destinations: Vientiane in Laos and Yantai in China (as well as Macau).
Jin Air has previously served the Philippines' Kalibo and China's Nanning and Ningbo and has charter services to Guiyang and Lanzhou. Jin Air is also interested in having scheduled services to China's Shijiazhuang. Guiyang, Lanzhou, Nanning, Ningbo and Shijiazhuang are not currently served by Korean Air, giving Jin Air scope to open new destinations to the Korean Air group.
Jin Air is also unique in serving Clark, but this is an alternative airport to Manila's Ninoy Aquino. Air Busan only serves one city – Macau – that Asiana does not.
Jin Air has reached the furthest into Southeast Asia of the Korean LCCs, fulfilling Korean Air's start-up pledge to not remain indifferent to carriers from the region. Its four Southeast Asian destinations compares to one for Air Busan, two for Eastar Jet and three for Jeju Air. For Air Busan, the range of its 737 classics and A321s starts to become an issue on routes to Southeast Asia. Air Busan launched with 737s and received its first A321 in Jan-2011. As of Jul-2012 it operates two A321s, three 737-400s and three 737-500s.
The Southeast Asian threat Korean Air spoke of was arguably at its largest then and has since subsided. At the time Tiger Airways was planning to establish a subsidiary with the city of Incheon while the establishment of a widebody LCC in the form of AirAsia X created a rushed feeling of who's next. The Tiger-Incheon deal was called off in late 2008 after government resistance, and AirAsia X entered Korea but so far is only in Seoul, its attention better captured it seems by Australia, China and Japan.
Southeast Asian LCCs for their part have not shown an inclination to push the operating range of their narrowbodies, preferring a four hour flight radius, largely cutting Korea off (except from the Philippines). The threat has moved to North Asia, where all of the Korean LCCs deploy most of their international capacity, but not at free will.
Jin Air international capacity (seats) by region: 23-Jul-2012 to 29-Jul-2012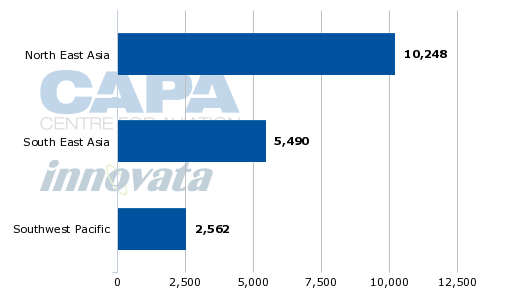 Jin Air's focus is on the Korean leisure traveller, with international marketing being limited. Despite this, Korean Air still maintains more capacity to Guam, a traditional leisure destination with almost no business traffic. While Korean Air may be profitable in the Guam market, it could grow the market or be more profitable by handing routes over to Jin Air, a full subsidiary of Korean Air.
But from the legacy carrier there is still resistance to LCCs and giving them full reign is seen as being simply out of the question. Jin Air was created under duress – Air Busan was already in the works – and given specific threats to respond to. Even in the wholly-leisure market Jin Air's full potential never seems to have been a consideration – a very different thought than what is occurring in Japan in leisure and business markets with AirAsia Japan (affiliated with ANA) and Jetstar Japan (JAL) having relative free reign while Peach, whose only airline affiliation is with ANA, is in the middle.
The leisure market has traditionally been the focus for LCC subsidiaries, and in some instances all flights are transferred to it. Past North American LCC subsidiaries like Song, Tango and Ted had a focus on sun destinations while Qantas' Jetstar was given all routes at the tourism hotspot of the Gold Coast as well as most services to Japan.
Changes along the way: pulling off domestic flights, adding a call centre
Jin Air's time in the market has not been without bumps. After two months on Busan-Seoul, Jin Air's second route, it withdrew, citing a lack of passengers.
After its first year, when load factors were around 70%, Jin Air added a call centre, having gone without one to reduce costs. While Korea is one of the most connected countries in the world, online ticket purchasing outside of younger generations is low.
Outlook: Will the potential be unlocked?
Jin Air operates more efficiently than Air Busan and is not tied to operating from Busan, a challenge for potential international passengers. Having the full-service parent restrict the network and potential of a low-cost subsidiary was to be expected in past years, but not now with the LCC movement underfoot in North Asia.
Limited relaxation from Asiana and Korean Air is expected to occur – opening a few routes but with limited capacity ­– but any unshackling will be done under duress, by which time any early advantage will be gone. The LCC game is cut throat and room for new entrants becomes harder by the day. Asiana and Korean Air are not yet on paths to win.