Korea-Taiwan: LCCs drive growth, new city pairs. FSCs pull back
Analysis
The market between Korea and Taiwan is woefully small; the total size from all airlines, LCCs and full service, equals the amount of LCC capacity between Japan and Korea.
This is the result of the lack of liberalisation between Korea and Taiwan for the main Seoul-Taipei route. In the face of restrictions, smaller airports are partnering with LCCs to generate new city pairs that are not subject to bilateral restrictions. The number of city pairs between Korea and Taiwan is expanding, and so too is the overall market – but mostly because of LCCs.
Since 2016, full service airlines have slightly decreased capacity between Korea and Taiwan, whereas LCCs have expanded and grown the overall market. LCCs have amassed a 37% market share between Korea and Taiwan. CAPA's LCCs in Northeast Asia summit in Seoul in Jun-2018 will explore these markets, as well as airline-airport partnerships and growth opportunities for Korea's existing LCCs and the large list of start-ups.
Summary
Since 2016, full service airline capacity has decreased, whereas LCCs have expanded and grown the market.
Korea-Taiwan market is significantly underpenetrated due to lack of liberalisation, a position owed to Korea's concerns about optics with China.
Korea-Taiwan market has doubled since 2013
Available seats between Korea and Taiwan have doubled since 2013. LCCs have driven growth, especially in recent years.
Comparing 2018 with 2012: of the additional 1.2 million annual seats between Korea and Taiwan, approximately 555,000 have been generated by full service airlines and LCCs have added 762,000. Further, since 2016 full service capacity has slightly decreased, from 1.57 million seats to 1.53 million, whereas LCCs have expanded, from 517,000 in 2016 to 891,000 in 2018.
The faster LCC growth in recent years has resulted in LCC market share expanding from 25% in 2016 to 37% in 2018.
Despite this growth, the overall market and LCCs are still underrepresented. LCCs have an average of 13 daily return flights between Korea and Taiwan, compared to 103 daily between Korea and Japan.
Although Japan is a larger market than Taiwan, the Korea-Taiwan market should be closer in size to the Korea-Japan market than it actually is today.
Korea-Taiwan available seat capacity by airline type (left axis) and LCC market share (right axis): 2008-2018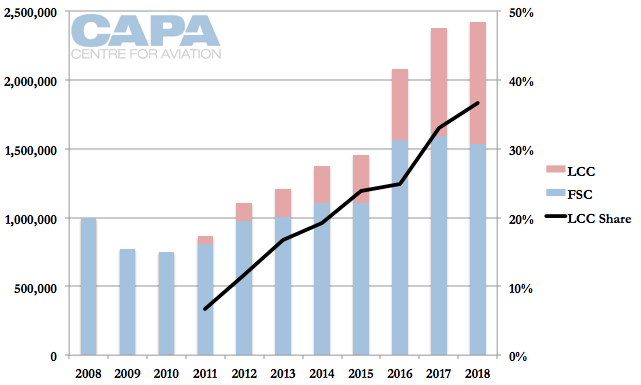 Lack of Korea-Taiwan open skies has restricted the market
The market between Korea-Taiwan measured in available seat capacity is pitifully small. The entire Korea-Taiwan market is about the size of the LCC market between Taiwan and Japan, a market where LCCs have a 31% share.
LCC and FSC seat capacity (left axis) and LCC market share (right axis): week commencing 21-May-2018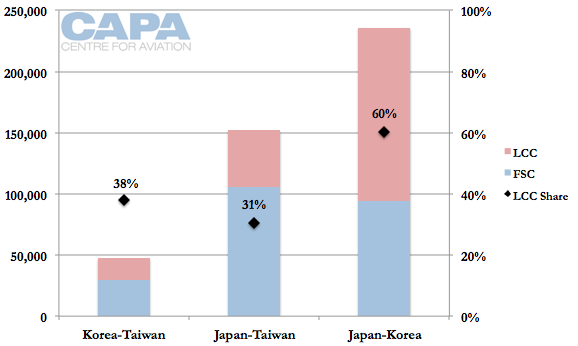 What is holding back the Korea-Taiwan market is lack of liberalisation. Both sides are broadly in agreement to expand their air service agreement, or even to liberalise. What is holding back progress is understood to be concerns from Korea about how China will view liberalisation with Taiwan.
China often pressures foreign airlines to restrict their flights to Taiwan. Some airlines will quietly add a flight to Taiwan only after making a bigger celebration of more PRC flights. Some airlines are not serving Taiwan at all, for fear China will not grant them more traffic rights.
Korea fears liberalisation with Taiwan will prevent developments in the Korea-China market, which naturally has far bigger opportunities.
There is a contrast with Japan, which signed an open skies agreement with Taiwan. There are broadly two key differences: first, Japanese airlines are not as reliant on service to China as Korean airlines are; second, Japan had larger diplomatic clout to liberalise with Taiwan and stand by its decision.
LCCs drive airport pair growth. Full service airlines have no exclusive routes
For the second consecutive year, the Korea-Taiwan market has no airport pairs exclusively served by full service airlines. This reflects LCCs entering downtown airports (Seoul Gimpo and Taipei Songshan) despite operating restrictions and protectionism. Although not an exact comparison, this is in contrast to some markets (London Heathrow-Paris CDG, Tokyo Haneda-Seoul Gimpo) that for various reasons are not served by LCCs at all.
Of the nine airport pairs in the Korea-Taiwan market in 2018, four are served exclusively by LCCs while at the remaining five there is overlapping service from both LCCs and full service airlines.
As recently as 2012, full service airlines had four airport pairs entirely to themselves. LCCs first entered the Korea-Taiwan market in 2011.
Korea-Taiwan airport pairs by type of airline service: 2008-2018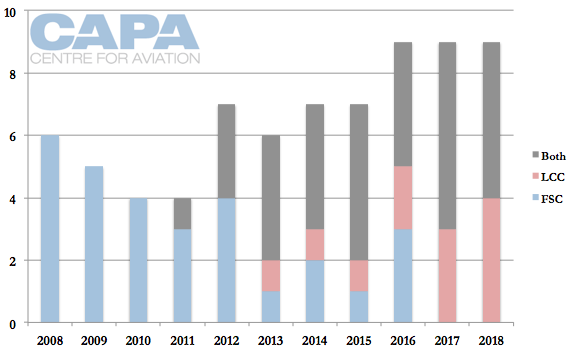 It is through the growth of LCCs that airport pairs in the Korea-Taiwan market are expanding. This brings more consumer choice and greater economic contribution, but also spreads the impact of aviation across more communities.
In Northeast Asia there has historically been a high concentration of flights in a handful of cities. The LCC expansion wave in Europe, and to some extent in Southeast Asia, has enabled airport pair growth and spread aviation's benefit.
LCC impacts are genuine but also practical
Smaller airports in Korea and Taiwan are becoming more savvy at attracting airlines and new services – and not just because of incentives and subsidies, although these help. Airports have been able to break the inertia at many airlines, which meant that small airlines focused on large and often overcompetitive (or inaccessible) markets.
It is true that if there was greater capacity (let alone open skies) for the Taipei-Seoul route in the Korea-Taiwan air service agreement, LCCs in both Korea and Taiwan would have larger presence in the trunk Taipei-Seoul market than they currently do. Some secondary Korea-Taiwan services may not be offered as a result, but this market would still eventually develop. LCCs are usually constrained more by aeropolitics and infrastructure than they are by aircraft availability, although pilot costs are a growing expense.
With Korea-Taiwan liberalisation, airlines would not shift secondary city services to trunk routes; rather, the overall market will grow.
Trunk routes still dominate the Korea-Taiwan market. Of the routes operated, 61% of seat capacity is in the Seoul-Taipei market and 19% is in the Busan-Taipei market. The fourth largest city pair includes a secondary city: Korea's Daegu, with service to Taipei.
Korea-Taiwan city pair seat capacity share: 2018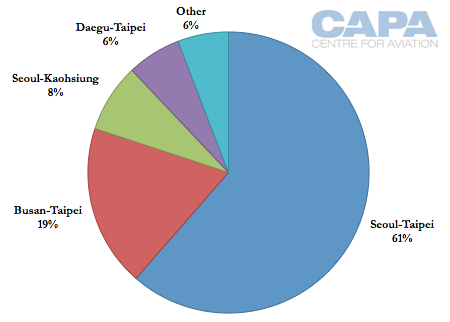 A few years ago Busan, Korea's second largest city, worked to developed more LCC service, attracting Seoul-based Jin Air as well as Jeju Air, which mostly flies from Seoul.
In more recent times, Daegu has taken the initiative. Daegu has benefitted from congestion in both Seoul and Busan. Daegu has used its geography – located approximately between Seoul and Busan – to capture traffic that would have travelled on land to another airport.
Daegu Airport's services to Taiwan: week commencing 21-May-2018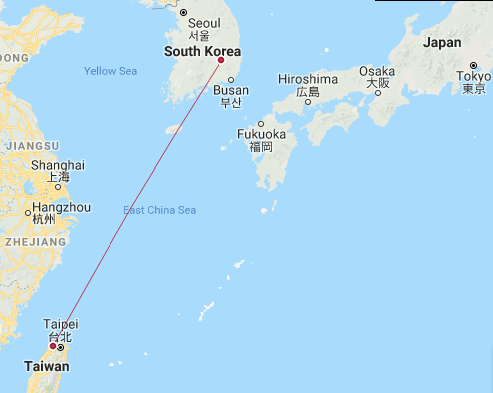 CAPA LCCs in Northeast Asia Summit
CAPA gathers aviation leaders in Seoul on 11/12-Jun-2018 to discuss LCC developments in Northeast Asia. Session two on 11-Jun-2018 discusses partnerships between airports and airlines to establish new hubs and focused cities and to grow services.

Panel: Matchmaking for further growth – what are LCCs looking for in establishing new bases and what greater role is in store for alternative and secondary airports?
There's been a surge in new airline-airport partnerships in recent times. Korean LCCs are expanding beyond their primary bases, with t'way and Jin Air setting up additional bases in Daegu and Busan respectively.
At the same time, Japan's secondary airports are aggressively targeting international flights, particularly Korean LCCs, as well as LCCs (and full service airlines) from elsewhere in North Asia, including China.
Also, the new Hong Kong-Zhuhai-Macau bridge will provide a crucial (fast) road link between the three Pearl River Delta cities, and presents an opportunity for Macau to capitalise on Hong Kong's growth constraints and to attract more services.
Will North Asia's alternative airports increase their share of LCC seats as capacity and slot constraints at primary gateways inhibit growth?
How can non slot constrained airports promote themselves as attractive second bases and achieve growth through tactical partnerships?
What can secondary airports offer to attract the region's LCCs? And how can they coordinate efforts with local tourism authorities and other regional bodies to stimulate the market?
Moderator: Aviation Cooperation Program, Program Director, Sandeep Bahl
Panel:

Eastar Jet, Vice President, Pil Je Cho
Ibaraki Prefectural Government, Executive Director, Transportation Bureau, Naoki Morizumi
Korea Airports Corporation, Vice President, Market Development, Commercial & Global Business Division, Soon-Cheon Park
Sendai International Airport, Chief Commercial Officer, Katsuhiko Okazaki
t'way Airline, Executive VP, Hyung Yi Kim