JetBlue holds its ground as other US airlines ramp up capacity to the Caribbean
Analysis
US airlines are bolstering their service to the Caribbean as macroeconomic conditions in Latin American remain tenuous for the short term. With the current service and planned additions to the Caribbean, airlines may need to brace themselves for some pressure on yields due to oversupply.

Even with increases in industry capacity, two airlines that have recorded ample increases in their respective supply from the US to the Caribbean – JetBlue and United – feel reasonably confident however that the region will generate a performance that will make a positive contribution to each airline's respective bottom lines.

JetBlue in particular stresses that it is prepared to weather the ebb and flows of industry capacity to the Caribbean since the region remains a key element in its overall network, reflected in its plans to open between three and five destinations from the US to Latin America and the Caribbean in CY2015.
This is Part 2 of a report on JetBlue's strategy.
For Part 1 of this report on JetBlue, see:
JetBlue outlines strategy to appease investors, but still offer customers a differentiated product
| | |
| --- | --- |
| | CAPA's first Americas Aviation Summit will he held at the Hilton Lake Las Vegas Resort & Spa on 27/28 April 2015. To experience CAPA's unique aviation conference format and to meet the movers and shakers in the Americas and worldwide with 20+ airline CEOs, click here: CAPA Americas Aviation Summit |
United opts to redeploy underperforming capacity to the Caribbean
Data from CAPA and OAG show that for the week of 17-Nov-2014 overall seat deployment between the US and the Caribbean has grown 11.3% year-on-year. Among US airlines, United has posted the largest increase at 50%; however, United only retains an 8% share of the approximately 214,000 one-way seats deployed between the two regions, well behind market leaders American and JetBlue.
United States of America to Caribbean (seats per week, one way): 19-Sep-2011 to 3-May-2015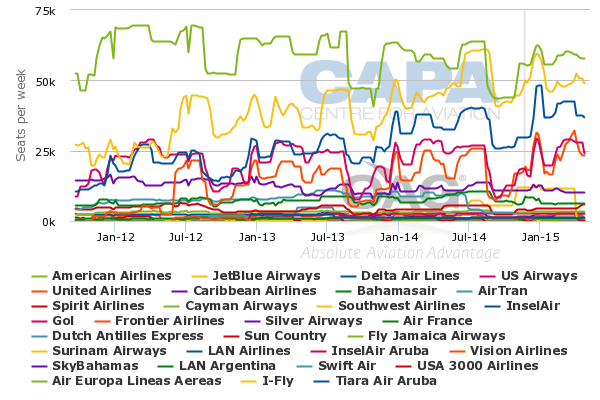 During the last year United has added service from Chicago O'Hare to Belize, Newark Liberty to Santo Domingo and between Washington Dulles and Nassau. During Dec-2014 United is launching service from Dulles to San Jose, Costa Rica and between Houston and Punta Cana.

Overall, United is planning double digit capacity growth in its Latin American network during 4Q2014, mainly targeted to beach markets. The growth is supported by United redeploying marginal capacity from elsewhere in its markets to leisure routes that should produce decent demand during the winter 2014/2015 time period.

See related report: United Airlines continues its efforts to close the gap with peers after posting solid 3Q2014 results

United has acknowledged that its capacity increases into Latin America would create some unit revenue pressure in 4Q2014; but also concluded that overall the additions are profit maximising for its network as some of the changes are generating incremental capacity that should be margin accretive.
United is facing new competition on some of its existing transborder routes from Houston in 2015 as Spirit Airlines makes a new push from United's hub at Houston Intercontinental. Spirit has operated domestic service from Intercontinental for a couple of years; but in 2015 the airline is adding seven new international markets, the largest international offering outside its main base and headquarters in Fort Lauderdale.

Beginning in May-2015 and continuing through Jun-2015 Spirit is adding daily service from Houston to Cancun, four weekly flight to Los Cabos and three weekly trip to Mexico City Toluca airport. The airline is also adding three weekly flights to Managua, four to San Jose, three to San Pedro Sula and four to San Salavador.

United serves all of those markets from Houston (in the Mexico city market it operates to Mexico City Juarez). Spirit's less than daily service in the new markets may not be a huge threat, but the ULCC's entry could put a bit of pressure on fares, which ultimately be a boon for travellers.

Spirit is also somewhat shrewdly launching international flights ahead of Southwest's big debut from a new international terminal at Houston Hobby in late 2015. As previously reported by CAPA, it looks as if Spirit was moving to gain access to some of the large Mexican markets ahead of Southwest's launch of international operations from Houston. Southwest already serves Los Cabos from Denver and Orange County and Cancun from Austin, Baltimore/Washington, Chicago Midway, Atlanta, and Milwaukee. It also serves Mexico City from San Antonio and Orange County. For the week of 17-Nov-2014 to 23-Nov-2014, roughly 33% of Southwest's international seats on offer are deployed to Mexico.

See related reports:
Spirit Airlines' possible transborder flights from Houston could dampen Southwest's ambitions
Southwest Airlines projects 6% capacity growth in CY2015 as long haul from Dallas ramps up
JetBlue's seats deployed from the US to the Caribbean for the week of 17-Nov-2014 are up 34% year-on-year, and it holds 22% of the total seats on offer between the two regions, second behind American's 26% share. American's seats deployed to the Caribbean are roughly flat year-on-year and US Airways' are down 4%. American and US Airways merged in late 2013, and are in the process of integrating operations.

Data from CAPA and OAG show that for the week of 17-Nov-2014 to 23-Nov-2014 the the Caribbean represents approximately 49% of JetBlue's international seat deployment. During the last year it has added service from Chicago O'Hare to San Juan and between its Fort Lauderdale base and Montego Bay, Port of Spain, Cartagena and Punta Cana.
It has also introduced new flights between JFK and Port of Spain and seasonal service from its Boston base to Liberia, Pureto Plata and St Lucia.
JetBlue Airways international capacity by region (% of seats): 17-Nov-2014 to 23-Nov-2014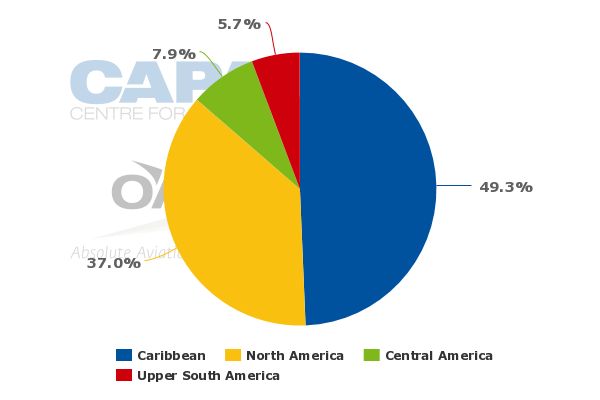 During 3Q2014 JetBlue estimated that its ASMs to the Caribbean increased 17%, and competitive capacity between the US and the Caribbean grew 7% year-on-year. Previously, JetBlue has stated that its yields in the Caribbean and Latin America were pressured during 3Q2014, but it still turned a profit in those regions.

Airline president Robin Hayes remarked that industry capacity additions put pressure on close-in fares. However, he remarked the added capacity was driven by all the airlines sharing the same fare data, "so when when an area starts to perform well, you do tend to see capacity then go in; when it starts to perform less well, capacity will move".

See related report: JetBlue's 3Q2014 results dampened by excess capacity in the Caribbean and Latin America

Recently JetBlue VP of network and partnerships Scott Laurence remarked that Latin America remains profitable for the airline, and the company aims to continue its expansion into Latin American and the Caribbean. It has applied to launch service from Fort Lauderdale and Orlando to Mexico City, and Mr Laurence indicated that JetBlue could open three to five new markets in Latin American during CY2015.

JetBlue forecasts that Latin America will represent 28% of its total capacity in CY2015, and its supply to the region will grow in a range of 4% to 6%
Delta also grows its seats on offer between the US and the Caribbean
Delta Air Lines' seats deployed from the US to the Caribbean have grown nearly 14% year-on-year for the week of 17-Nov-2014. The airline is making a push into the Caribbean and Latin America during the winter 2014/2015 time period with new service from Los Angeles to Monterrey, Atlanta to Georgetown and Nassau, Seattle to Puerto Vallarta, Los Angeles to Guadalajara, Salt Lake City to Mexico City, San Diego to Los Cabos and Minneapolis to St Maarten.
In the spring of 2015 it is launching one weekly flight from New Orleans to Cancun. Some of the services are fairly low frequency, and Delta could be simply adopting moves similar to United by redeploying capacity that was turning a marginal performance elsewhere in its network.

The new service to Mexico should perform well given that Delta's SkyTeam partner Aeromexico has a leading presence in both Monterrey and Mexico City. Connecting passengers from Delta onto Aeromexico's flights from those two markets should also benefit Mexico's largest airline as Mexican domestic demand has been tepid due to a sagging economy.
JetBlue is committed to the Caribbean for the long term
Most of the capacity additions from the US to the Caribbean seem to be driven by weaker demand elsewhere (for JetBlue the strategy is seemingly not merely a convenience, but is more focused on the perceived attractiveness of the market). Recently, LATAM Airlines Group forecast GDP growth for Latin America of just 1.3% in CY2014. With US demand relatively strong, the country's airlines may be opting to leverage strong origin traffic for the winter time period instead of making significant capacity additions to countries in Latin America that are experiencing economic weakness.

The most obvious likely short term effects of the expansion in supply are weaker yields; but it seems that loads could be high enough to offset some of the price dilution from higher capacity.
It could be a logical trade-off for the short term for airlines like JetBlue, which has no intention of diminishing the Caribbean's role in its long-term network strategy.