jetBlue Airways works to reverse negative unit revenues as investors continue pressure for rewards
Analysis
jetBlue Airways is adopting some of the language used by its competitors in 2015 as the passenger unit revenue performance of most US airlines during that time was negative. jetBlue was an industry stand-out in that metric for most of the year but posted a decline in 1Q2016, and is guiding to another decrease in 2Q2016.

jetBlue's message to investors is that it is managing profits, margins and ROIC. But it is also trimming capacity in weaker markets, and stressing that its 2H2016 capacity growth is not a pronounced change, which should allow unit revenues to trend in the right direction.

Although jetBlue is steering investors to look at its top-line profits and ROIC performance, there is at least a degree of pushback over shareholder returns. But the company remains focused on building balance sheet strength before undertaking a significant shareholder reward programme.
jetBlue's unit revenue performance will remain negative through 1H2016
jetBlue's passenger unit revenue fell 7% year-on-year in 1Q2016 and yields dropped 8%. Total unit revenue fell 7% year-on-year. It is a reversal of the positive PRASM performance that jetBlue recorded in 2015.
Drivers of the1Q2016 PRASM decline included higher capacity growth by both jetBlue and its competitors and a better completion factor due to warmer weather in the US northeast (which also softened demand to sun destinations); further, there are difficulties with year-on-year comparisons. jetBlue's PRASM performance in 1Q2015 was roughly five points better than the industry average, company executives recently stated.

In 2Q2016 the company expects a unit revenue decline similar to the 7% decrease it posted in 1Q2016. Apr-2016 unit revenues are projected to drop 12.5%, driven by Easter occurring in Mar-2016. Timing of the Easter and Passover holidays moved roughly 3ppt of unit revenue from Apr-2016 to Mar-2016.
jetBlue's capacity grew 14% in 1Q2016 and is forecast to increase by 9.5% to 11.5% in 2Q2016. The company is stressing that its ASM growth is slowing to 6.5% in 2H2016, which should provide a tailwind for unit revenues.

The airline is making some minor capacity adjustments in late 2016, reducing capacity to Colombia by 25% in the summer period, and it plans to reallocate some capacity from San Juan to US domestic markets. Data from CAPA and OAG show that in late Aug-2016 Puerto Rico will represent roughly 41% of jetBlue's international ASMs and Colombia will account for 5.4%.
jetBlue Airways international capacity by country (% of ASMs): 15-Aug-2016 to 21-Aug-2016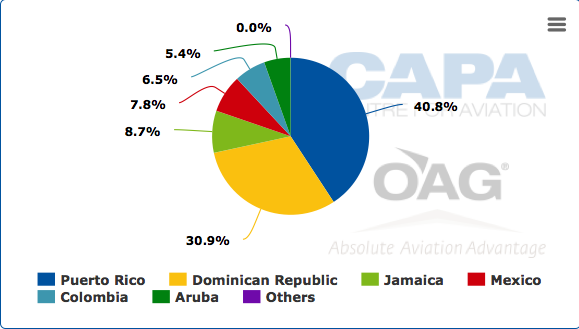 jetBlue concluded that there are structural economic challenges in Colombia and in Bogota. Company executives have explained that the majority of its revenue on flights to Bogota is from point of sale in the Colombian capital. The airline operates service from Orlando International and Fort Lauderdale to Bogota. Seats in Cartagena and Medellin will be pulled down to a lesser extent, said jetBlue. Cartagena is largely US point of sale, so it is not experiencing the same pressures as Bogotá. jetBlue serves Cartagena from New York JFK and Fort Lauderdale, and Medellín from Fort Lauderdale.

jetBlue cited the challenge of competitive capacity during 2016 in Puerto Rico, and in response the airline has opted to pull down some of its own capacity in the market. jetBlue is the largest operator between the US and Puerto Rico, holding a 37% share of one-way seats for the week of 25-Apr-2016. Total seats between the two regions are up nearly 13%.
Top five airlines holding the highest percentage of one-way seats between the US and Puerto Rico for the week of 9-May-2016
jetBlue believes cutting too much capacity could produce negative effects for margins
Given some anxiety about overcapacity in the US and some of the international markets, jetBlue is fielding questions about opting not to make deeper capacity cuts. Its FY2016 capacity guidance remains unchanged at growth of 8.5% to 10.5%.

The jetBlue CEO, Robin Hayes, has explained that the company is managing to margin (which on a pre-tax basis was 20% in 1Q2016, a 5.4ppt increase) and ROIC. The capacity that jetBlue is removing later in 2016 was negative to margin, said Mr Hayes.

Removing more capacity could negatively impact margins, said Mr Hayes. As an example, he explained that if jetBlue had reduced capacity by one to two points in 1Q2016 the negative effect on the company's net income would have been USD10 million.
jetBlue continues its balance sheet clean-up as investors press for returns
jetBlue executives are also facing queries about shareholder rewards, particularly given its stock valuation, which was trading at USD20.6 in late Apr-2016, versus a high of USD26.91 in Sep-2015.
jetBlue Airways share price: late-Apr-2015 to late-Apr-2016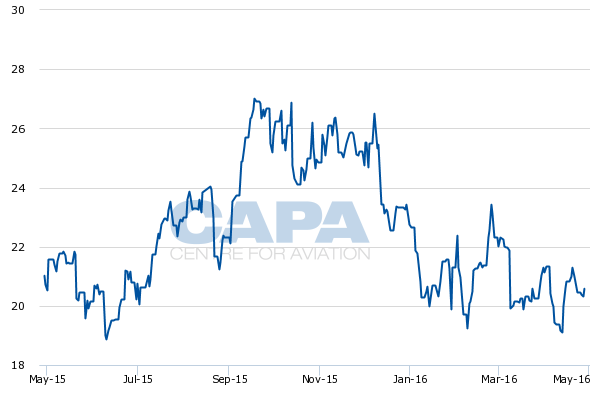 Mr Hayes stated that jetBlue is making favourable progress in improving its ROIC, which on a 12M rolling basis was 14.5% at the end of 1Q2016, a 5ppt increase year-on-year. He also said that jetBlue's stock provides great value at present. He cited jetBlue's margin performance, its tight handle on costs and its movement toward a positive unit revenue trend later in 2016. Excluding fuel and profit sharing, jetBlue's unit costs dropped 3.6% in 1Q2016.

That performance – coupled with jetBlue's being in the early stages of a number of revenue initiatives including a branded credit card and a cabin restyling – drives shareholder wealth creation, said Mr Hayes. jetBlue's branded fares should generate USD200 million in revenue during 2016. The company has estimated steady-state benefits of USD60 million from the credit card agreement.

In Mr Hayes' view, improving margins, growing net income (which increased 46% year-on-year in 1Q2016 to USD199 million) and delivering a strong ROIC performance will deliver the most value to shareholders in the medium to long term.

JetBlue's larger rival American pushed a similar message to shareholders in 2015 in order to steer investors from shorter-term performance metrics such as PRASM. But American has now joined Delta and United in acknowledging investor concern over PRASM, and the airline has an explicit goal of returning to positive PRASM.

See related report: The US Big 3 airlines ramp up efforts to improve PRASM. Anxious investors hold back for real results

Mr Hayes also recognises that "there is a lot of focus at the moment on unit revenue and investors are looking for an inflection point". Historically jetBlue has not offered forward-looking unit revenue guidance, but it has opted to provide some specifics at the end of 1Q2016.

Even as jetBlue also recognises investor trepidation over unit revenues, one difference between the airline and its competitors is the issue of shareholder returns. Concluding that its stock has been undervalued, American bought back USD1.6 billion of its stock in 1Q2016 and the company's board of directors has authorised a further USD2 billion for repurchase.

Obviously jetBlue's scale is much smaller than American's and it considers itself as a young growth company. As such, the airline is focused on deploying cash to balance sheet improvement in 2016. It seems like a logical course of action, but with the stock of many airlines seemingly undervalued, generating shareholder returns is becoming a competitive lever many that US airlines are starting to pull.
jetBlue will likely reward shareholders in 2017 as it builds up financial foundation in 2016
jetBlue has made important strides during the last couple of years in strengthening its balance sheet and growing its ROIC. Unfortunately it is not escaping the pricing pressure that some markets have created through access to lower fuel prices and by growing capacity. Its profitability is not in danger, but investors seem to be growing impatient about getting some form of return from the company.

jetBlue's management is no doubt hearing those concerns, and after another year of bolstering its balance sheet in 2016, it is likely that it will issue some form of rewards to its shareholders in 2017.