JetBlue Airways starts 2015 on solid footing as unit cost creep slows and domestic strategy works
Analysis
Similar to other US airlines JetBlue Airways enjoyed a favourable financial performance in 4Q2014 and CY2014 driven in part by lower fuel prices that should continue in the short term. JetBlue is also joining the chorus of airlines that are stressing the lower fuel prices are in no way altering their business model planning or growth estimates.

As 2015 gets under way JetBlue characterises its outlook as stable, after the domestic market outperformed airline's international route network in CY2014. The airline is also seeing some easing of pressure created by capacity additions in the Caribbean and Latin America during the back half of 2014.

After years of cost creep, JetBlue is finally projecting favourable unit cost trends for 2015 excluding fuel as it estimates flat growth to a 2% rise, which is welcome change from the roughly 3.8% increase it recorded in CY2013 and the 3.2% growth for CY2014.
JetBlue charts solid revenue growth in 4Q2014 and CY2014
JetBlue's GAAP net income in 4Q2014 was USD87 million excluding special items and factoring out the sale of its LiveTV subsidiary, the company recorded a USD232 million profit for CY2014. Including proceeds from the sale, JetBlue's total profit in CY2014 was USD401 million.

The airline's top-line revenues increased by 5.9% in 4Q2014 to USD1.4 billion and nearly 7% for CY2014 to USD5.8 billion. The 7% growth is quite a bit lower than the 19% growth recorded in CY2011, the 10.6% increase in CY2012 and the 9.2% growth in 2013, but still a solid showing as JetBlue's CY2014 capacity increased 5.5%.
JetBlue Airways operating revenue: 2011 to 2013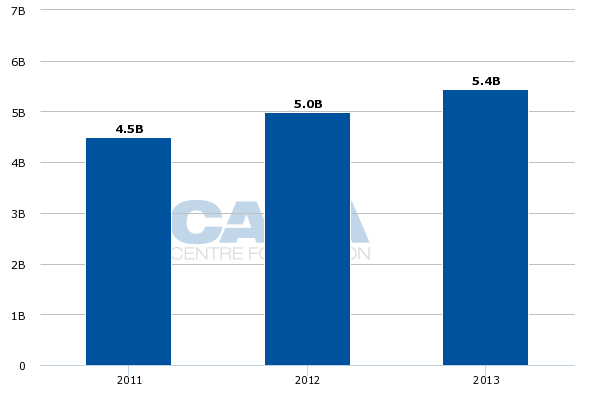 JetBlue Airways growth in operating revenue: 2011 to 2013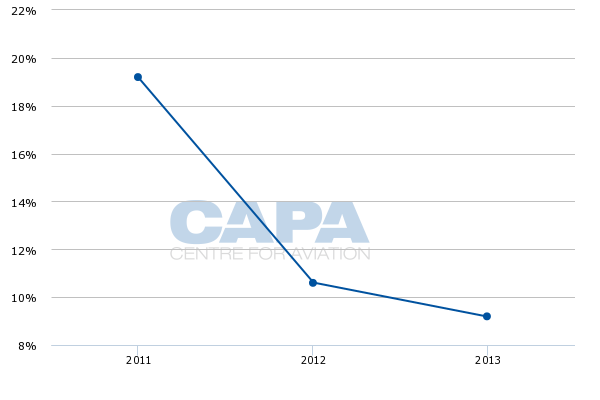 JetBlue estimates that its ancillary revenue grew by 11% in CY2014 to USD745 million as the Even More product suite generated revenues of slightly more than USD200 million - that includes extra legroom, priority boarding and expedited security screening at some airports .

The airline should record more expansion of ancillary revenue in CY2015 as it plans to debut its new fare families in 2Q2015 and anticipates sales from the new segmented fares should generate USD65 million in incremental operating income in CY2015 and USD200 million annually by 2017.
JetBlue slows growth in its operating expenses
JetBlue's expenses increased 2.1% year-on-year in 4Q2014 to USD1.3 billion and 5.7% for CY2014 to USD5.3 billion. The largest growth during 4Q2014 was in maintenance and salaries, wages and benefits, which increased 15% and 13%, respectively, year-on-year.

The airline has slowed its growth in operating expenses considerably since CY2011 when it recorded a jump of roughly 21%. It is also an improvement over the roughly 10% increase in CY2012 and the 8.8% rise in CY2013.
JetBlue Airways operating costs: 2011 to 2013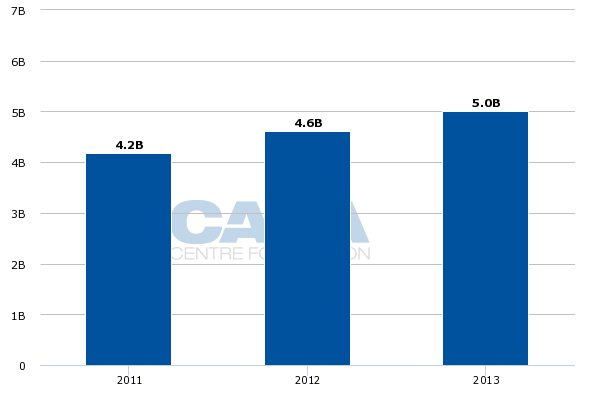 JetBlue Airways growth in operating costs: 2011 to 2013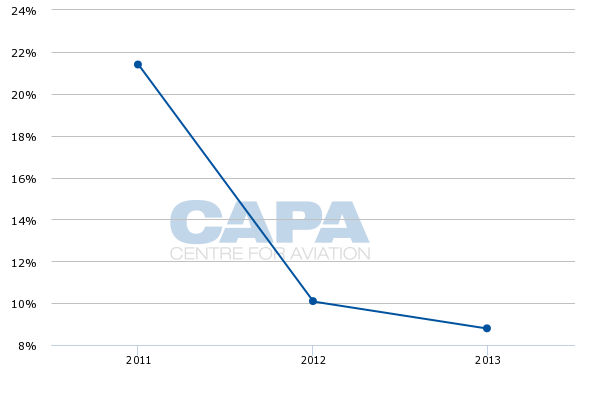 JetBlue sees some relief in capacity additions in Latin America and the Caribbean
On a unit basis, JetBlue's yields fell 1.6% in 4Q2014, driving essentially flat passenger unit revenue growth. Its average fare during 4Q2014 fell 1.6% to USD166.17.

For CY2014 the airline's yields increased 1.9%, which helped lift yields by 2.3%. JetBlue's average fare for CY2015 increased 2.1% to USD163.19.

The airline indicated that all six of its focus cities – New York JFK, San Juan, Boston, Fort Lauderdale, Orlando and Los Angeles continue to be profitable and recorded margin expansion year-on-year during 4Q2014. Domestic markets outperformed JetBlue's routes to the Caribbean and Latin America.

During 3Q2015 JetBlue stated that yields in both the Caribbean and Latin America were pressured by additional capacity from JetBlue and its competitors, but declared its routes to those regions were profitable during the quarter. JetBlue's own ASMs to those regions increased by 17% and competitive capacity grew by 7% year-on-year in 3Q2-14.

See related report: JetBlue Airways' 3Q2014 results dampened by excess capacity in the Caribbean and Latin America

The airline has concluded that capacity growth to those regions is slowing, and projects the bulk of its 2015 capacity – 30% to be deployed in the Caribbean and Latin America. JetBlue is allotting 28% of its capacity to transcontinental routes and 29% to its Florida markets. Data from CAPA and OAG show that for the week of 26-Jan-2015 to 1-Feb-2015, roughly 30% of JetBlue's ASMs are deployed into international markets. Nearly 50% of its international ASMs are allotted to the Caribbean.
JetBlue is forecasting capacity growth of 11% to 13% for 1Q2015 and 7% to 9% growth for CY2015. None of its new planned route additions starting in Apr-2015 and ending in Jun-2015 are in the Caribbean and Latin America. Two of its new routes are from Fort Lauderdale to Cleveland and Detroit.
It also adding new service from Boston to Cleveland, New York JFK to Reno and Portland, Oregon to Anchorage.
JetBlue Airways international capacity % of ASMs by region: 26-Jan-2015 to 1-Feb-2015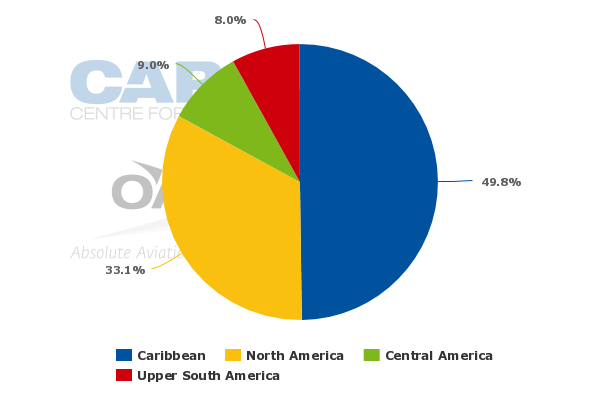 Offering a broad assessment of the current industry landscape, JetBlue president Robin Hayes observed that "the revenue environment that we saw at the end of last year and we're seeing at the beginning of this quarter, I would describe as stable". He singled out Fort Lauderdale in particular, noting that it was JetBlue's fastest growing focus city in the back end of CY2014, and the market that has recorded the highest year-on-year margin improvement.
JetBlue finally sees some unit costs relief
JetBlue's unit costs excluding fuel and profit sharing in 4Q2014 fell 0.9%, which was more favourable than its original forecast of 1% to 3% growth. The better than expected performance was driven by lower sales and marketing expense and the effects of higher completion factors. For CY2014 JetBlue's unit costs grew 3.2%, which was slight improvement over the 3.8% rise in CY2013, and a marked change from the nearly 7% growth JetBlue recorded in CY2012.

The airline is forecasting a 1.5% to 3.5% drop in unit costs excluding fuel for 1Q2015 and projects flat unit costs to 2% growth for CY2015. It is no doubt a welcome relief from the cost pressure JetBlue has faced during the last couple of years. However, the airline has warned that one of the drivers of its cost creep during the last couple of years – maintenance costs – will continue to create some pressure for the airline in 2015. "Compared to 2014 we expect more heavy maintenance visits and landing gear overhauls," concluded airline CFO Mark Powers. Areas where JetBlue expects lower unit costs in CY2015 include salaries and wages and aircraft rent.
JetBlue's fleet age is gradually edging upwards, with its A320s on average nearing 9 years old.
JetBlue Airways average fleet age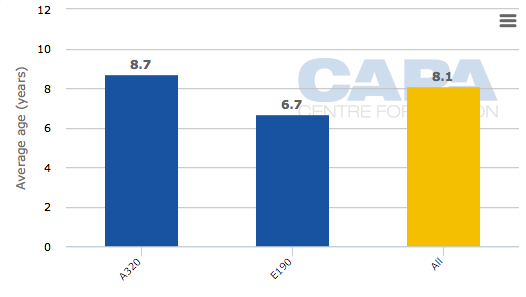 Lower fuel costs do not change JetBlue's long term business strategy
JetBlue joined its US rivals in enjoying lower fuel costs in 4Q2014, reflected in its 6.5% drop in top-line fuel expense in 4Q2014 and a 0.7% fall in CY2014.

The airline stated 26% of its fuel needs during 4Q2014 were hedged using swaps and caps, and an additional 7% was hedged using fixed forward price agreements for an all-in fuel price per gallon of USD2.70 compared with USD3.10 the year prior.

The airline has hedged 17% of its projected fuel consumption for CY2015 based on the forward curve on 16-Jan-2015, projects an all-in price including hedges and taxes of USD1.97 for 1Q2015. JetBlue is refraining from offering a CY2015 fuel price estimate, but did note that it anticipates an all-in cost of below USD2.00 per gallon.

In an investor update, JetBlue stated that it is 20% hedged in 1Q2015 – 10% at swaps with an average price of USD2.80 per gallon and 10% in collars with an average cap at USD2.74 per gallon and the average put at USD2.54 per gallon.

In 1Q2014, JetBlue hedged 16% of its fuel consumption – 8% in swaps with an average of USD2.89 per gallon and 8% in call options with an average cap of USD3.03.

JetBlue has echoed sentiments of other airlines stressing that the recent sharp fuel price decline has not altered their overall strategy. "Our business plan assumes much higher prices with Brent at about [USD]90 per barrel range," said Mr Powers. "We haven't and will not reshape our business strategy based upon a drop in fuel prices which after all could prove to be very short term."
This is stock thinking in board rooms at present. But a sustained low price will accelerate pressure to review plans, quite apart from considering whether to lock in longer term hedges at the current low prices.
JetBlue is starting 2015 on solid footing, but shareholders are likely looking for higher returns
Lower fuel costs, slowing unit costs growth and diminishing competitive capacity in some of its markets bode well for JetBlue as 2015 gets underway.

Although those factors are creating positive momentum, investors are likely looking for indications of stronger growth in JetBlue's return on invested capital (ROIC). It has stated a 10% or greater ROIC in 2017, but its shareholders may want to see JetBlue meet or exceed that target earlier.
JetBlue is certainly positioning itself to deliver consistent double digit returns.