Jet fuel prices take off - airline gloom worsens
Analysis
Jet fuel spot prices have soared in the past week, reflecting higher crude prices as the rally in global equity markets continued on the back of some more positive economic data in the US.
Underlying crude prices gathered momentum in the week to 24-Mar-09 (WTI +9.0% over the week).(Overnight, crude prices climbed to their 2009 highs above USD54 per barrel).
Jet fuel prices soared by 17.2% over the past week in New York, +19.4% at the US Gulf Coast, +17.5% in Los Angeles, +15.1% in Amsterdam and by a staggering +23.5% in Singapore.
However, over the past 12 months, jet fuel prices are still down by around 50%, whereas the spot price of oil (WTI) has fallen by 47.6%.
For daily updates on American aviation stock prices and a complete wrap of the day's breaking news, sign up now for a complimentary subscription to America Airline Daily.
Daily jet fuel prices (kerosene, cents per gallon) at New York, US Gulf Coast, Los Angeles, Amsterdam, Singapore vs Crude Spot price (WTI, USD per barrel): 17-Mar-09 to 24-Mar-09
17-Mar-09

18-Mar-09

19-Mar-09

20-Mar-09

23-Mar-09

24-Mar-09

one week
Change

12 month
Change

New York Harbor

131

133.69

139

143.17

152

153.47

17.2%

-51.6%

U.S. Gulf Coast

122.5

124.94

130.5

134.17

144.75

146.22

19.4%

-50.8%

Los Angeles

128.5

131.94

137

142.17

151.5

150.97

17.5%

-50.6%

129.92

129.62

134.99

138.39

147.75

149.56

15.1%

-50.3%

119.17

127.14

129.05

137.62

141.79

147.21

23.5%

-50.3%

WTI Spot

48.97

48.12

51.46

51.55

53.05

53.36

9.0%

-47.6%
Daily jet fuel prices (kerosene, cents per gallon) at New York, US Gulf Coast, Los Angeles, Amsterdam, Singapore: 25-Nov-08 to 24-Mar-09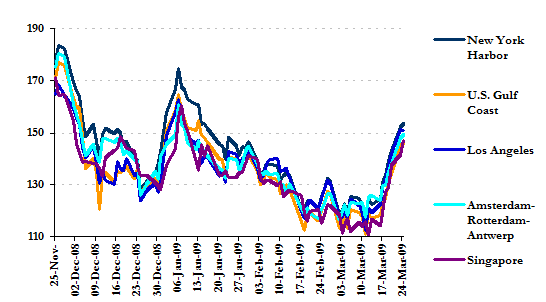 Fuel hike a double whammy for crisis-ridden airlines
The increase in fuel prices is rubbing salt into the wound of airline earnings. IATA this week almost doubled its industry net loss forecast for 2009 to USD4.7 billion.
IATA's revised forecast is based on an average of USD50 per barrel for oil (Brent). At that level, the industry fuel bill will be USD116 billion. This represents 25% of costs in 2009 compared to 32% in 2008 and is a USD52 billion drop compared to last year. This is partly related to the price and partly related to the reduction in capacity.
However, industry revenues are expected to fall by USD62 billion this year. If oil prices continue to march higher, the gap between falling airline revenues and fuel costs could widen significantly more than the USD10 billion IATA is predicting, potentially blowing a massive hole in airline finances.