Jet Airways in negotiations with SkyTeam airlines for trans-Atlantic JV
Analysis
Air France-KLM, Alitalia and Delta Air Lines are reportedly in talks with Jet Airways over plans for the Indian carrier to join their trans-Atlantic JV according to reports in La Tribune. The carriers are reportedly in negotiations with Jet for its entry into the JV in 2012, ahead of its proposed integration into the broader SkyTeam alliance, possibly involving a switch of its European hub.
If confirmed, the move would complete the alignment of the big three Indian carriers into global alliances groupings: Air India-Star Alliance (from late 2011), Kingfisher-oneworld (also from late 2011), and Jet-SkyTeam.
Could involve transfer of hub from Brussels to Amsterdam
The venture between the four SkyTeam airlines would include codesharing, cooperation on FFP programmes, as well as cost and revenue sharing on the trans-Atlantic route.
Air France-KLM is also reportedly negotiating for Jet Airways to transfer its European hub from Brussels, which is dominated by Star, to Amsterdam, firmly a SkyTeam hub. There is reportedly the intention to allow Jet to take over flight operations from KLM on "one specific route" between Amsterdam and a US destination. An alternative location for Jet Airways' European hub is Milan Malpensa, a secondary hub for Alitalia, in which Air France-KLM owns 25%. (In 2010, Jet commenced New Delhi-Milan Malpensa service in codeshare with Alitalia, fuelling speculation that it could move its European hub to Malpensa.)
At present, Jet Airways operates services from Mumbai, Chennai and Delhi, connecting through Brussels, to New York JFK, Newark and Toronto Pearson.
As noted above, Star dominates Brussels Airport.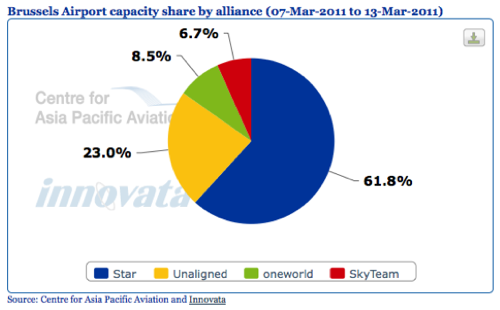 Skyteam has an even more dominant share of Amsterdam Schiphol.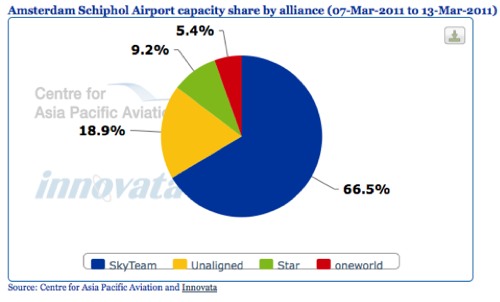 But Milan Malpensa is up for grabs, with unaligned carriers accounting for a majority share of the airport's capacity.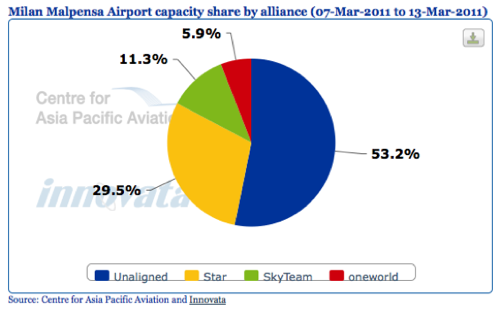 Airport alliance shares are freely available for every airport worldwide – live and constantly updated – at the CAPA Airport Profiles page.
Jet Airways has a strong mix of bilateral codeshare partners – a strength it might seek to maintain for as long as possible. However, transferring the hub to Amsterdam would reportedly result in all the contracts Jet Airways has with oneworld's American Airlines being transferred to KLM. An agreement is reportedly expected to be signed in Mar-2011 or Apr-2011, but could be postponed due to likely delays to Indian Government approvals.
The carrier's largest codeshare partner, based on the number of routes covered, is United Airlines. Jet Airways has 156 interline partners of which 86 are interline eTicketing partners. The Indian carrier has codeshare agreements with the following carriers.
Jet Airways' codeshare partners: As at Mar-2011
| Airline | Alliance |
| --- | --- |
| | Star |
| | |
| | |
| ANA | Star |
| | Star |
| | Unaligned |
| | Unaligned |
| | Unaligned |
| | Unaligned |
| | |
| | Unaligned |
| | |
| | Star |
| | Unaligned |
Jet Airways last week announced a reciprocal frequent flyer partnership with Star Alliance member US Airways, following the signature of a similar agreement with another Star member Air Canada a few weeks earlier.
Jet operates services to 24 international and 47 domestic destinations. Its European destinations are limited to Brussels, London Heathrow and Milan at present.
Jet Airways network map: Mar-2011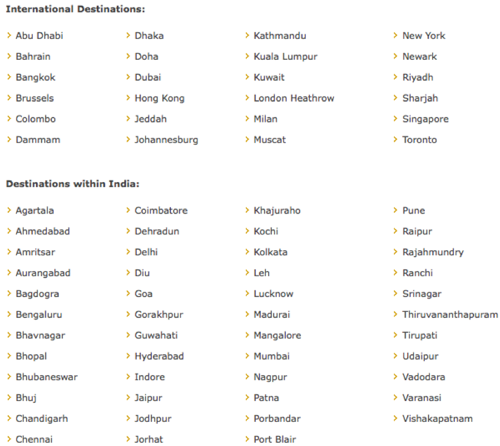 Ministry in favour of Jet joining SkyTeam as opposed to Star
Upon the signature of the Alitalia-Jet Airways codeshare agreement in Nov-2010, Alitalia CEO Rocco Sabelli stated Alitalia wanted Jet to join the alliance. At the time, Jet Airways Chairman Naresh Goyal said: "We're studying their proposal. We haven't decided yet."
In Feb-2011, Jet Airways was reported to have stated it was planning to join SkyTeam or Star Alliance – holding out hope that its long-established relationships with Star carriers could bear fruit.
But the Indian aviation ministry has expressed opposition to having another major Indian airline in the same alliance as Air India is (slowly) reforming itself and integrating into Star. Lufthansa, which does not codeshare with Jet, is reported to prefer Air India as a local partner in India as it could wield greater influence over the relationship with the state-owned carrier than the independent and more commercially focussed Jet.
It looks like the pieces have finally fallen into place in India: three major carriers; three alliances. Now to sort out the mess in Latin America and China.