JAL-China Eastern plan short haul JV: a small step towards cooperation
Analysis
Japan Airlines and China Eastern plan to implement a short haul Japan-China joint venture in 2019. This will be the first JV between airlines of the two countries and one of a small number of short haul JVs in Asia. The longstanding partners already have extensive international and domestic codesharing. They appear to be pitching their JV with the usual litany of benefits, but for now the agreement presents a small step change.
JAL has a strong corporate Japan travel profile that is sticky to Japanese service and does not want to travel on another airline. A JV would need to share financials and coordinate growth, yet China Eastern typically has to meet government growth targets. JAL has high costs and high yields, whereas China Eastern has comparatively low costs and low yields.
Connections are less important in short haul JVs than in long haul ones, and JAL and China Eastern would potentially have to transfer passengers using their high-yielding Shanghai-Tokyo flights.
Summary
A JV would "cross alliance lines" but China Eastern and JAL are longstanding partners. Japan has no SkyTeam partner, and mainland China has no oneworld member.
Potentially a JAL-China Eastern JV would have a 33% market share. A potential Air China-ANA JV could be similar in size, or larger.
Most of China Eastern and JAL's flying will be between Tokyo and Shanghai.
JAL could risk revenue dilution and coordinating capacity could be difficult.
The JV has modest goals at this stage.
A joint venture is the next logical step in the long-running relationship between JAL and China Eastern. The two have codeshared since 2002, and since 2011 have codeshared on all of their flights between Japan and China. The announcement did not specify if the JV will include Shanghai Airlines, which is wholly owned by China Eastern, but presumably it will be. Shanghai Airlines' limited China-Japan network carries the China Eastern codeshare but not JAL's.
This is yet another JV that crosses alliance lines, but this is not significant. The JAL-China Eastern relationship is historical (even before their 2002 codeshare) and predates their respective alliance membership.
JAL joined oneworld in 2007, and China Eastern joined SkyTeam in 2011. There is no SkyTeam partner in Japan, and there is no oneworld partner in mainland China. These dynamics are also present in the Japan-Korea market, where JAL and Korean Air have a partnership.
ANA and Air China already codeshare on every Japan-China flight of theirs. On three Japan-China flights ANA carries the code of Shenzhen Airlines, which is also part of Star Alliance and is partially owned by Air China. ANA has one codeshare from Sichuan Airlines (which effectively has ownership from all three of China's main airlines).
ANA also carries the Juneyao Airlines code on five flights. Juneyao is a Star Connecting Partner, but in Jul-2018 announced that it would take a minority stake in China Eastern.
The JV would combine the Japan-China market's largest airline (China Eastern, 22%), fifth largest (JAL, 9%) and ninth largest (Shanghai Airlines, 2%) and give them a 33% share. Second largest is ANA with 17%, and third largest is Air China with 16%. China Southern is slightly larger than JAL and also holds a 9% share.
The JAL-China Eastern JV would be comfortably larger than either ANA or Air China, but a theoretical ANA-Air China JV would be the same size as JAL-China Eastern (or larger, if Shenzhen Airlines is included).
Japan-China seat capacity share by airline: week commencing 23-Jul-2018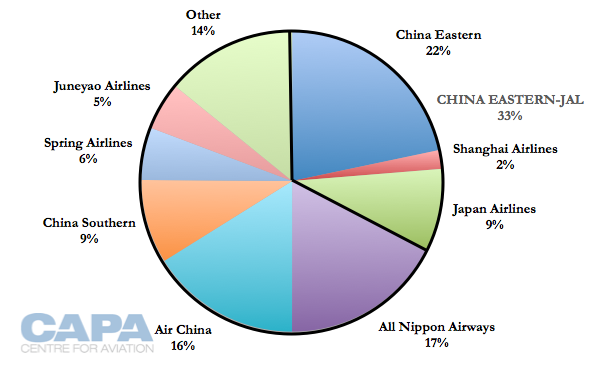 JV flying will be heavily concentrated
In a possible China Eastern-Shanghai Airlines-JAL JV, 52% of their combined seats in the China-Japan market will be on overlapping routes. 32% of their total flying, and 60% of their overlapping flying, is solely in the Tokyo-Shanghai city pair. The airlines will also overlap on Shanghai-Osaka and Shanghai-Nagoya.
JAL brings the potential JV two key trunk routes: Tokyo Haneda from both Beijing and Guangzhou. China Eastern has flights from Beijing to Nagoya and Osaka Kansai, but otherwise Air China has kept a firm hold on the Beijing market. JAL's only other city pairs are Nagoya-Tianjin and Tokyo-Dalian.
China Eastern brings a far wider range of routes, but often more leisure focused. JAL has a higher concentration of its network on trunk routes. Of JAL's China network, 63% is on flights from Tokyo to Beijing and Shanghai.
JAL's other routes may not be prime trunk routes but can still be high-yielding, such as from Japanese corporates visiting Chinese factories (for example, JAL's Nagoya-Tianjin route). At China Eastern and Shanghai Airlines, 28% of seat capacity will be on Tokyo-Shanghai airlines.
JV mechanism unstated; JAL risks revenue dilution
The announcement did not specify whether the JV would be revenue share, profit share, or have another mechanism. Japan's airlines in general are characterised by cautious capacity, high costs and high yields, whereas China Eastern grows faster and has lower costs than JAL, but also lower yields. JAL's concentration of capacity on trunk routes would further push up its average yields. A risk to avoid is that a financial arrangement between the two may dilute JAL's performance.
Flights from secondary cities in both China and Japan can be funded by subsidies. It is unknown how many, if any, routes under the JV receive subsidies and how that financial impact has been included in JV planning.
Coordination details could be difficult
A JV's benefits include coordination, which typically is not permitted without regulatory approval. However, a JAL statement from 2004 implies that JAL and China Eastern used their codeshare relationship to coordinate flight times: JAL and China Eastern, the statement says, "will provide an enhanced flight schedule for passengers on these busy routes by spreading the departure times of the flights".
In a JV the parties typically make business decisions as a single entity. This includes coordinating and allocating capacity growth or contractions. There are a growing number of JVs with Chinese airlines and foreign airlines are finding capacity management difficult, since Chinese airlines have to meet growth targets from the government. These targets can be system-wide but also for specific markets. This can result in overcapacity and resulting impacts to yields and revenue/profit share.
However, airlines are finding this is the nature of the Chinese market and that this type of JV is better than having no JV. Airlines expect that, with time, Chinese airlines will cool capacity growth and also be more in control of their businesses.
In recent years, China Eastern's China-Japan growth has outpaced JAL, and in 2015 even well outpaced average market growth.
China-Japan annual seat capacity growth for JAL, China Eastern and market average: 2012-2018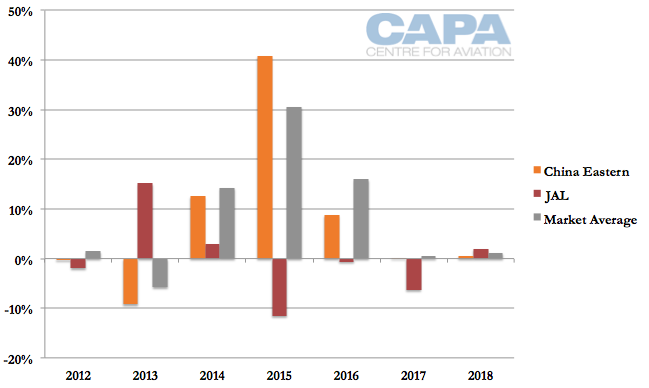 A metal neutral JV, but passengers may not see it the same way
An academic exercise of this JV could result in calibration and a number of interesting changes. For example, JAL could do more flying into hubs that China Eastern cannot get approval from, while China Eastern, with its lower cost base, could take thinner markets from JAL.
Airlines follow the principle of metal neutrality, but passengers do not always. The Japanese market is highly sticky, and will pay a strong yield premium for a Japanese-operated flight.
JAL's high cost, low-density flying perhaps makes it unsuitable to expand in the more heavily leisure markets that China Eastern wants to be in.
The JV may not be harmful, but also presents limited benefits
The overlap between China Eastern and JAL may make for an uncompetitive combination in markets, including Tokyo-Shanghai, but on the whole the JV should not undermine competition to any measurable extent. It will be watched to see whether Japanese and Chinese authorities take action to improve Tokyo-Shanghai competitiveness, such as through slot and traffic right allocation.
At the same time, the benefits may be relatively limited. China Eastern has good business traffic but is defined by a more outbound Chinese leisure focus. JAL carries more outbound Japanese corporate traffic.
The Japan-China market was historically exceptionally high yielding, but that profile has been diluted with volume growth.
JAL's smaller position than China Eastern contrasts to ANA and Air China being similar in size, should the Star alliance partners form their own JV.
A later evolution could be that JAL and China Eastern include their respective LCCs. JAL has a minority stake in Tokyo-based Jetstar Japan, while China Eastern wholly owns China United Airlines in Beijing – a lucrative geographic positioning.
Short haul JVs are gradually becoming more common; Delta has a JV with AeroMexico and a proposed one with WestJet. But at this stage of their evolution short haul JVs tend to have lower impact. Long haul JVs have strengths in hubs and connections, whereas short haul travel tends to be more point-to-point.