Iran CAPA Aviation Summit – hope turns to frustration, but optimism remains as growth abounds
Analysis
When CAPA – Centre for Aviation held its first conference in Iran at the end of Jan-2016 the atmosphere was primarily one of optimism. Immediately preceding the conference the expectation was that Iran and the West would move to rapidly reverse decades of estrangement. The first round of sanctions against Iran had come down – in line with the historic 2015 Joint Comprehensive Plan of Action (JCPOA) nuclear agreement reached between Iran and the '5+1' powers – and major airlines and aircraft manufacturers were coming to the table.
While it was acknowledged that progress on major deals was not going to happen overnight, the hope was that as layers of sanctions came down, Iran would be embraced by the rest of the world. In return, Iran was expected to open itself up progressively to foreign trade and investment, and to travel.
The road ahead was perceived to be one that was both a very different, and far easier, one than the one Iran had already travelled. Aviation in particular was a sector that was expected to shine and lead the way for a new era for the country.
A slow road to a more open market, as money markets remain cautious
Eight months after the first Iran conference CAPA returned to Iran with the Iran Aviation Finance Summit. Not all has gone as expected, and much has changed, in the interval between CAPA's two Iranian aviation events.
On the positive side, deals for new aircraft were announced, making global headlines in the process. This was accompanied by a stream of foreign airlines entering the Iranian market, along with Iranian carriers starting to add more international routes themselves.
Iran achieved traffic growth of 22% over the first five months of 2016, according to the Iran Civil Aviation Organisation, and the rate of development is projected to go higher as Iran's aviation sector unleashes its pent-up demand.
Iran arrivals/departure growth: 2011 to 2015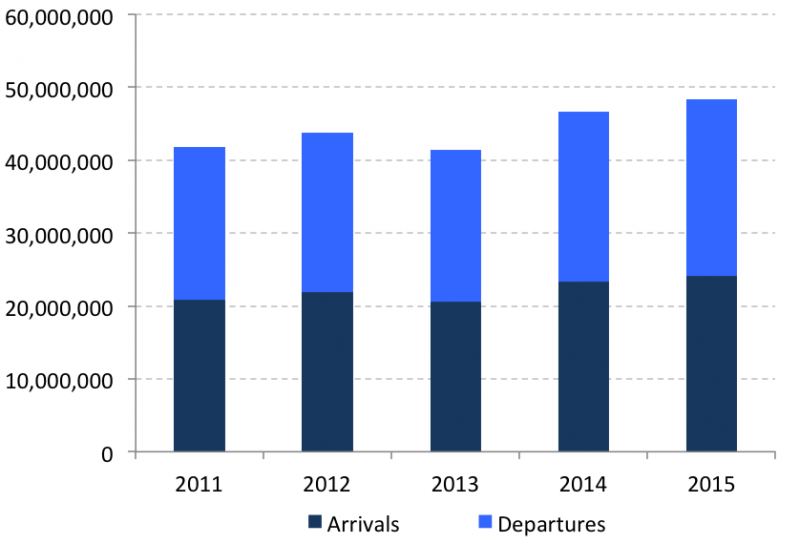 However, not all avenues of progress have been free of blockages. While there has been growth and change, some of the optimism about the immediate future for aviation in Iran has been eroded. What has replaced it is largely frustration.
As the first CAPA Iran conference got under way, the first new deals for aircraft in better than three decades were announced. These, perhaps above all else, were a clear signal that the talk and political deal-making over the preceding 18 months could translate into concrete action.
Frustration over the perception the West is dragging its feet
The second CAPA Iran summit included addresses by multiple representatives from the Iranian government, including Minister of Roads & Urban Development Dr Abbas Akhoundi and the Deputy Minister Dr Asghar Fakhrieh Kashan, along with several members of the Iranian Parliament. As discussion progressed over the two-day event, a common theme emerged from these Iranian lawmakers: the wind-down of sanctions by the West has not been as rapid in practice as hoped for, or expected, and inaction from the US has created an atmosphere of uncertainty, making progress difficult.
The perception on the Iranian side is that the West has not fully lived up to its side of the JCPOA agreement, and is dragging its feet in its commitments to Iran. Deputy Minister Dr Kashan, in particular, noted that the Iranian people feel that they are yet to see the progress that was expected to accompany the end of sanctions. He explained that prior to the nuclear agreement being reached the expectation in Iran was there would be a distinct before-and-after difference once the sanctions came down.
While there has been progress in some areas – including deals in the automotive and oil sectors – this is "not enough considering the expectations of the Iranian people and the government", noted Dr Kashan. He explained that there was a growing feeling that EU governments and the US had not fully followed the provisions of the agreement – particularly as large aircraft deals have yet to be finalised.
Iran Air member of board and CCO Mohammed Reza Khoshnevisan noted that "changes are happening very slowly since the end of sanctions", and suppliers still don't feel confident in dealing with Iran Air. There is ongoing uncertainty – both in Iran and internationally – about whether there will be penalties from the US in dealing with Iranian companies and organisations.
Mr Khoshnevisan also outlined some of the airline's post-sanctions development plan. Under the initial, four-year phase Iran Air will not add any new destinations, preferring instead to "recapture lost markets" that were abandoned during the sanction period. Mr Khoshnevisan stated that during this phase Iran Air "won't have any problems" with its fleet, but will also restructure itself in this period. Once this is completed and the carrier is comfortable with the new aircraft it plans to bed in, it will start to add large numbers of international destinations.
New aircraft deals are tantalisingly close, but financing remains an open question
One of the key talking points at the second CAPA Summit was the delay in finalising the new aircraft deals for Iran Air. In Feb-2016 Airbus signed an MoA for 118 aircraft – reportedly now cut to 112 – and ATR initialled a tentative agreement for 20 in Feb-2016. The US manufacturer Boeing followed in Jun-2016, with a deal for 80 new-order aircraft and leases for another 29.
When the aircraft deals were announced, expectations were that deliveries would commence during 2H2016. However deliveries have so far failed to materialise, due to the necessity of securing final licences from the US Treasury Department Office of Foreign Asset Control (OFAC).
Under the remaining US sanctions, deals with Iranian partners that involve at least 10 per cent US manufacturing content – such as all large civil transport category aircraft – require OFAC approvals. These have been limited to date. At the time of the CAPA Summit no approvals for aircraft deals had been granted. However, in the immediate post-Summit period OFAC signed off on a license for Airbus to sell 17 aircraft to Iran and also granted a license to Boeing, allowing it to complete negotiations for its order and lease deal.
In addition to the concern about the delay in finalising orders, it was clear at the CAPA Summit that frustration is mounting on the Iranian side that international financial institutions and businesses have taken a risk-averse approach to doing business.
US financial institutions remain prohibited from clearing US dollar-denominated transactions involving Iranian entities.
As the US dollar is the key currency for aircraft transactions, this remains a sticking point for manufacturers, leasing companies, banks and other lenders.
Iran is making plans to sign the Cape Town Convention and its Protocol to cover rights in aircraft
Iran is also yet to sign up to the Cape Town Convention – which guarantees certain rights to owners of assets such as aircraft – making leasing deals in Iran of higher risk than in other jurisdictions.
The Iranian government indicated at the CAPA Summit that it is considering joining the Convention, but such a complex diplomatic effort could take months to complete.
European and Australian Ambassadors note the concerns about slow progress
In a panel session involving the Australian Ambassador to Iran, H.E. Ian Biggs, British Ambassador to Iran, H.E. Nicholas Hopton, and French Ambassador to Iran, H.E. Francois Senemaud, it was suggested that while Europe and most other western nations have rolled back or eliminated the majority of their sanctions, the remaining US sanctions are still an obstacle to progress. Given uncertainties in the environment and past US penalties imposed on banks doing business in Iran, European and Asian financial institutions remain reluctant to become involved with Iranian parties.
According to the British Ambassador, changes are slowly becoming evident in the willingness of institutions and business players to take a risk in the market and invest, but only provided they have done their due diligence. Mr Biggs noted that the private sector had displayed more willingness to join the government-to-government political engagement effort.
This point was reinforced by the presence of the British Prime Minister's Trade Envoy to Iran Lord Lamont, who spoke of "expanding and deepening the relationship between the two countries". Lord Lamont acknowledged there are frustrations that progress on opening up financing access has been slow, noting that resolving the banking situation is a priority for the British Government.
He also noted that it is extremely important that each party to the JCOPA live up to the spirit of the agreement, respecting and maintaining its integrity.
Even with the frustrations of re-equipping the aged Iranian commercial aircraft fleet dominating the discussions, Iranian politicians and airline leaders acknowledged at the Summit that progress is continually being slowly made.
Areas such as air navigation, workforce training, access to documentation and foreign maintenance inventories have been more forthcoming, and Iranian speakers and delegates at the Summit acknowledged that agreements are being negotiated and relationships are being built, and this takes time.
Iran wants to invite the world in, but lacks the infrastructure to do so.
Outside commercial aircraft negotiations, much of the discussion at the second CAPA summit concentrated on how to invite the rest of the world, particularly tourists, into Iran. Despite its proximity to wealthy states in Europe, Asia and the Middle East, Iran struggles to draw tourists due to a combination of poor infrastructure, along with issues concerning visas, and lingering questions regarding sanctions.
The limited number of tourists currently coming to Iran are primarily religious tourists, for which there is a long history and a sufficient infrastructure base. However, leisure travellers are a very different market proposition and have a different set of requirements.
At the CAPA Summit Safiran Air Tours CEO Dr. Mohammad Nahvi outlined potential for "millions of tourists" in the Iranian outbound and inbound travel market, but noted that the lack of infrastructure, and the ongoing difficulties in investing in Iran, mean that this potential is being squandered. Dr Navi also commented that the Iranian tourism industry had inertia to overcome, and needs to upgrade itself to meet international standards. He noted that tourism could create 8 million jobs for Iran; that the government is "very keen" and is advocating for tourism investment.
The private sector is expected to fill this investment gap, but issues relating to the remaining sanctions, and risk aversion from the banking sector, remain as impediments. According to Iran Air's Mr Khoshnevisan there is very little inbound tourism in Iran and what leisure tourism there is in the region is going to neighbouring countries like Turkey.
Iran remains aviation's greatest untapped market opportunity
While some of the optimism has temporarily gone from the initial outlook, the CAPA Summit showed that the future for Iranian aviation is undoubtedly bright. The country is one of the world's historical trade and travel crossroads and its aviation market has been stunted for decades. It has a young, educated and hungry-to-travel population of close to 80 million. As such, Iran remains one of aviation's great untapped opportunities.
As the sanctions continue to come down, and relationships are built and expanded on, the growth that Iran desires will come. The path has not been as smooth as hoped, and issues such as access to certain international travel markets, finance, and western-manufactured goods remain difficult sticking points. However, the issue of the first OFAC licences on 21-Sep-2016 for some of the Airbus and Boeing aircraft orders was a very important and positive milestone.
There is nothing here that is insoluble, though. The historic JCPOA agreement, as well as the major new aircraft deals and route additions, show that the major hurdles can be overcome. There is willingness from both sides to engage with each other.
What is required now is a little patience and perspective to help commercial aviation in Iran take its next step.