International Airlines Group builds momentum: FY2013 guidance raise makes IAG a standout
Analysis
In 3Q2013, IAG continued the turnaround in its operating result that began in 2Q2013. All three of its main brands – British Airways, Iberia and Vueling – saw an increase in their result from the same quarter of 2012. The improvement was mainly driven by healthy unit revenues, although these were diluted by currency effects, and the addition of LCC Vueling in the full quarter for the first time.
It seems that IAG's prediction that Iberia's restructuring programme would start to bear fruit in the second half of the year is being proven correct.
Moreover, new FY2013 guidance, for an operating result of around EUR740 million, is ahead of IAG's previous target, even allowing for the Vueling acquisition. After its 2Q2013 results, we asked if that was a turning point for IAG? At the moment, it would seem that the answer is yes.
IAG's operating profit up more than 2.5 times in 3Q2013
IAG increased its operating profit before exceptional items by more than two and a half times in 3Q2013 to reach EUR690 million, from EUR270 million in the same period last year. This beat the EUR651 million average forecast of analysts surveyed by Bloomberg.
EUR139 million of the improvement came from the acquisition of Vueling on 26-Apr-2013, but the underlying figure for the combination of British Airways and Iberia still more than doubled.
Group revenues grew by 6.9% to EUR5,406 billion. Net profit rose by 164% to EUR577 million.
For the first nine months, the group's operating profit before exceptional items increased from EUR17 million in 2012 to EUR657 million in 2013. Exceptional costs, mainly relating to restructuring provisions in connection with Iberia's Transformation Plan, amounted to EUR309 million. Almost all of these exceptional costs were in 1Q2013.
IAG financial highlights 3Q2013
| EUR million | 3Q2013 | 3Q2012 | Change |
| --- | --- | --- | --- |
| Revenue | 5,406 | 5,056 | 6.9% |
| Operating profit* | 690 | 270 | 155.6% |
| Profit after tax | 577 | 219 | 163.5% |
IAG financial highlights: first nine months 2013

ASK growth of 9.1% was driven by the Vueling acquisition; down 3.6% without this
Group ASKs increased by 9.1% in 3Q2013, with RPKs up 9.0% and passenger load factor stable at 84.7%, with the capacity growth almost entirely due to the acquisition of Vueling. Excluding Vueling, ASKs were cut by 3.6% due to lower capacity at Iberia. Group passenger revenue per ASK increased by 1.2%, but would have been up 6.7% at constant exchange rates. Vueling only had a minor impact on passenger unit revenues: the ex-Vueling, constant currency performance was up 7.4%.
Unit costs (CASK) decreased by 9.6% and, just as currency movements lowered unit revenues, unit costs would have been down by a lesser 5.0% at constant currency. Vueling had a more significant impact on unit costs: the ex-Vueling, constant currency performance was down 0.5% year-on-year in the quarter.
Excluding fuel, CASK was down 9.0%; at constant currency down 4.3%; and at constant currency ex-Vueling it was up by 0.6%.
IAG operating figures: 3Q2013
The cut of 3.6% in capacity excluding Vueling was most keenly felt in domestic markets (-16.6%), Latin America (-11.1%) and Africa, Middle East and South Asia ('AMESA', -6.3%). Capacity to North America was up 0.7% and in Europe was flat (-0.1%), while it grew by 3.1% in Asia Pacific.
The group's traffic figures for Oct-2013 show a broadly similar trend to 3Q. ASKs were up 8.0%, with passenger load factor up 0.9ppts to 81.2%.
IAG ASK growth by region: 3Q2013
The domestic cut particularly reflects Iberia's reduction of capacity in Spain, while LatAm cuts also reflect withdrawals by Iberia. Meanwhile, Spanish rival Air Europa is pursuing growth to LatAm. CEO Willie Walsh appears not to be disturbed by this. "I wish Air Europa well, but they need to recognise we are going to be coming at them once we've restructure our business", he told analysts on a conference call to discuss the 3Q results. IAG is talking to partner LATAM about developing an immunised JV on the South Atlantic.
See related report: Iberia vs Air Europa in Latin America: two to tango, as Air Europa expands, Iberia contracts
With respect to North America, Mr Walsh is comfortable with capacity growth in the market, by IAG, its partner American Airlines and by competitors. Referring to Norwegian Air Shuttle's planned new trans-Atlantic services from London Gatwick, with prices starting at GBP149, he said that this represented a very small level of additional capacity and that BA would not change anything in relation to pricing or capacity. He added: "I hope they sell all their tickets at GBP149, because they will lose a lot of money... I don't see it as a game changer".
See related report: Norwegian Air Shuttle: Asia's longhaul LCC model comes to the N Atlantic (but watch falling profits)
RASK strength in all regions ex currency impacts
Passenger RASK growth of 1.2% (excluding Vueling) was strongest in Europe (+4.6%) and North America (+2.3%) and weakest in Asia Pacific (-1.5%) and AMESA (-0.6%). However, this passenger RASK performance was significantly depressed by currency affects, particularly in Asia Pacific and AMESA.
At constant currency, passenger RASK was up by 5% to 10% in all regions and this continues a strengthening trend seen over the past four quarters.
IAG passenger RASK growth by region: 3Q2013
Cargo weakness continues
Group revenue growth of 6.9% in 3Q2013 was driven by passenger revenues, which were up 10.4%. Cargo revenues fell by 14.1% and other revenues dropped by 14.5%. The air freight business remains weak: cargo tonne kilometres fell 7.7% and cargo yield per CTK fell 7.0%.
IAG CEO Willie Walsh believes that cargo is suffering from structural issues, in particular the growth of new passenger belly cargo space more than offsetting reductions in freighter capacity and a switch to sea freight. He points out that IAG's freighters are leased and so the group has flexibility to adapt its capacity.
Given continued declines in cargo load factors and revenues, perhaps IAG should now be more aggressive in accelerating the downward adaptation of its capacity.
See related report: Air cargo: structural reform urgently needed where capacity exceeds demand by over 100%
IAG revenues: 3Q2013
Operating costs fall despite a substantial ASK increase
IAG 3Q2013 operating costs before exceptional items fell by 1.5% in 3Q2013 versus a year earlier. This performance compared very favourably with the 6.9% increase in revenues and the 9.1% increase in ASKs. Cost reduction was assisted by a 3.0% fall in fuel costs, which are the largest single cost category.
Employee costs, the second largest category, fell by 7.5% with average headcount down 1.6%. As anticipated by IAG, employee headcount and cost reduction are having an impact in 2H2013. In the first half of the year, employee costs were flat (before restructuring provisions) and headcount grew by 3.6%.
In spite of employee cost reduction, ex-fuel unit costs pre-Vueling were up slightly (+0.6%) as price increases in connection with landing fees and handling/catering/other costs added to the cost base. Some of this increase related to the growth of BA Holidays, which does not involve ASK growth and so has the effect of increasing unit costs.
IAG operating costs: 3Q2013

Operating results in the 3Q improved versus last year for all three of IAG's principal operating companies. BA's result was GBP191 million ahead of last year's 3Q at GBP407 million; Iberia's up EUR73 million to EUR74 million; and Vueling's doubled to EUR139 million. While Iberia cut capacity (ASK) by almost 15%, BA's production was stable (+0.9%) and Vueling continued its rapid growth, with ASK up 22%. All three enjoyed increased RASK.
Iberia and Vueling managed to cut unit costs (CASK), but BA's CASK increased slightly (+0.8%). Iberia's restructuring is starting to show itself in employee costs per ASK, which fell 7.2% in spite of capacity cuts. Vueling's reduction in employee costs per ASK reflects strong capacity growth.
IAG results by brand: 3Q2013
The IAG group balance sheet is healthy
The group's balance sheet continues to look quite healthy, with gearing (net debt as a percentage of total capital employed) down from 27% in Dec-2012 to 15% in Sep-2013. With the addition of capitalised operating leases, adjusted gearing fell from 51% to 49% over this period. Gross cash increased from EUR2.9 billion to EUR3.7 billion, EUR591 million of which was due to the acquisition of Vueling. BA's cash increased by around EUR300 million, while Iberia's reduced by around EUR100 million.
IAG summary balance sheet details: Sep-2013 vs Dec-2012
2013 capacity plans are unchanged: group ASK growth of 5.2%
For the full year 2013, IAG plans group ASK capacity growth of 5.2%, with an increase of 9.1% planned for 4Q. Without Vueling, the like-for-like change will be a cut of 2.4%. This is the same plan as indicated with the 2Q results in Aug-2013.
Strong growth is set to continue at Vueling in 4Q (+26.1%), modest growth at BA (+5.5%) and further cuts at Iberia (-14.9%). BA's capacity growth in 4Q will mainly be driven by increased frequencies, but new routes such as Chengdu and Colombo, in addition to London Heathrow leisure destinations, will also make a contribution. Iberia's capacity cuts will mainly come from cancelled routes, but also from some frequency reductions.
IAG group ASK capacity growth plan: 2013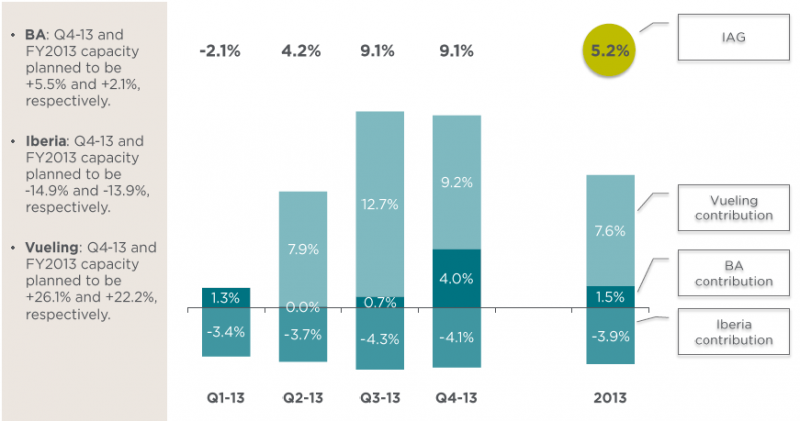 British Airways and Iberia 4Q2013 capacity plans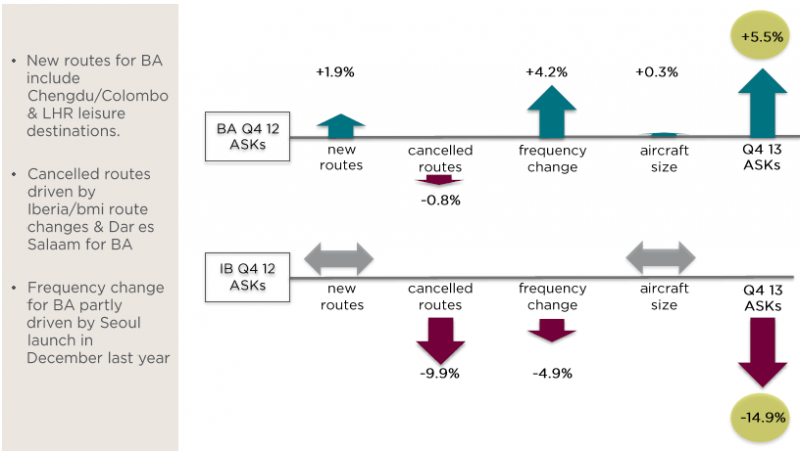 2013 earnings guidance has been raised
For much of this year, IAG suspended the provision of FY2013 earnings guidance pending shareholder approval of its aircraft orders. These orders were approved in Sep-2013, with 787s and A350s for BA and A320s for Vueling.
See related report: IAG's aircraft orders are like waiting for a bus. Three arrive at the same time.
Now that the restriction on guidance has been lifted, IAG says that it expects FY2013 operating profit of around EUR740 million. This compares with last year's loss of EUR23 million and with IAG's guidance given earlier in the year, before the Vueling acquisition, for the operating result to beat 2011's EUR485 million.
Even allowing for the impact of Vueling, which has contributed EUR166 million to the group result so far this year, this outlook is better than earlier this year.
Challenges remain, notably with Iberia…
There remain challenges for IAG. Iberia's restructuring is making progress, but, as Willie Walsh says, it "must continue to implement its restructuring plan and reach agreement on productivity changes to bring about long term sustainable profits and growth". The message to the workforce is clear: Iberia will only grow when working practices and productivity demonstrate sustainable improvement.
In addition, BA will need to continue to maintain its focus on cost control, an approach that should benefit from the influence of Vueling's CEO Alex Cruz in the IAG management team. The Vueling acquisition looks to have been a shrewd move, but it is early days and it will be important to allow it the independence to develop its own strategy without cannibalising Iberia and BA sales and without being infected by legacy cost structures. The signs are positive in both these respects so far.
In 2014, IAG says that it expects "the driver of revenue growth to shift from yield to volume due to new British Airways route launches and the strong growth of Vueling." While Mr Walsh is confident that the group's revenue management systems can manage this process, he will be hoping that fragile economic recovery in Europe does not stall at a time when volume growth accelerates.
… but the momentum is with IAG
Nevertheless, many of the pieces are falling into place to move IAG closer to its 2015 operating result target, set at EUR1.6 billion (pre-Vueling). The group will hold a capital markets day for investors and analysts on 15-Nov-2013 and there must now be an expectation that it could raise this target.
In recent 3Q announcements, neither Lufthansa nor Air France-KLM gave such a positive outlook, either for 2013 or for the medium term.
Among Europe's Big Three legacy groups, IAG clearly has the momentum with it at the moment.