India's aviation starts to sparkle again – and it could be for real this time! CAPA Outlook 2015
Analysis
India's beleaguered aviation industry is starting to show signs that could mark the beginning of a structural turnaround in its fortunes. The sharp decline in fuel prices is a major source of relief in a market where aviation turbine fuel (ATF) is subject to some of the highest taxes in the world.
But other key contributors to the more positive outlook include an improving economic environment, firm yields due to moderate capacity growth, and recent actions by the Ministry of Civil Aviation suggest it is seeking to create a more enabling environment for the industry.
Overall the outlook for India's aviation industry is more positive than it has been for many years.
This CAPA Outlook 2015 is based on the global report contained in Airline Leader, Issue 26. This 92 page report embraces detailed outlooks for every world region, prepared by CAPA's world leading analysis team.
To read the full CAPA Outlook 2015, please see:
Airline Leader Issue 26
The decline in fuel prices has contributed significantly to the improved outlook
ATF in India is subject to a multiplicity of taxes and fees, the end result of which is that domestic carriers pay up to 50% more for fuel than in Dubai or Singapore. Between Sep-2014 and Jan-2015, into-wing ATF prices in India declined by 24%.
With fuel accounting for about half of operating expenditure for Indian carriers, this represents a 12% reduction in costs. India's oil companies have yet to pass on the full extent of the decline in global fuel prices, so further reductions are expected in Feb-2015. The decline in oil prices is perhaps the greatest single reason for the improved sentiment in the industry.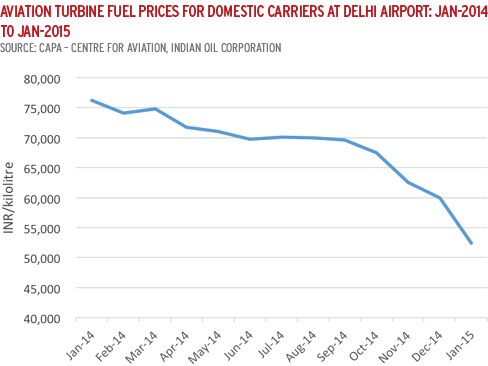 Following the election of a new administration in May-2014, voted in with an agenda of kick-starting economic growth, business and consumer confidence has been steadily improving. A
nd the Central government budget in Feb-2015 is expected to introduce some bold measures aimed at setting a long-term direction for India's economic growth story.
GDP is expected to expand by 5.5% in the 12 months ending 31-Mar-2015, increasing to 6.0% in FY2016. The World Bank is projecting Indian GDP growth of 7% in 2017, which exceeds its China forecast. With inflation coming under control, a small cut in interest rates was announced in Jan-2015.
Investor sentiment is improving, which could result in numerous stalled projects resuming. Travel management companies report that business travel is picking up, which is reflected in the increased focus by Air India, Jet Airways and Vistara on the full service market.
Aviation in India is highly regulated. Government decisions play a significant role in the health and direction of the industry
The sector has lacked a clear policy vision and has historically been subject to numerous distortionary, and often unnecessary, regulations. However, recent actions by the Ministry of Civil Aviation suggest that the government is keen to play a more positive role and to work with the private sector to create a more viable industry.
For example, the Ministry played a decisive role in facilitating the rescue of SpiceJet in a transparent manner by encouraging creditors to provide some breathing space for the airline to secure an investor. This approach avoided the closure of the airline and the potential loss of jobs and confidence.
In the case of Vistara, the Ministry agreed to provide a waiver on Route Dispersal Guideline obligations for the first six months in recognition of the impracticalities of this whilst operating just a couple of aircraft. The Central Government has also been aggressively pushing the states to reduce sales tax on fuel. There appears to be a strong intent to abolish the 5 year/20 aircraft rule, while misguided proposals such as the regulation of fares have been dropped.
There has also been decisive progress in the past six months on issuing No-Objection Certificates for long pending airline license applications, while tenders have been launched for PPP concessions for four airports at Chennai, Kolkata, Ahmedabad and Jaipur.
Market dynamics are favourable as supply and demand eases downward pressure on yields
Capacity growth in the last quarter of 2014 was moderate due to significant but gradual reduction in capacity by SpiceJet, which offset much of the expansion by other carriers. SpiceJet's challenges in Nov/Dec-2014 also led to many passengers choosing to book on other airlines. This resulted in improved yields for SpiceJet's competitors which should drive better than expected financial results in 3Q2015.
SpiceJet's operating fleet is expected to stabilise at around 20 Boeing 737s. India's carriers could add 12 aircraft in 4Q2015 and more than 30 aircraft in FY2016.
Pegasus may shortly launch as a small regional operator, but other airline start-ups are likely to be delayed due to the tightening - and consequent lengthening - of the regulatory process involved in securing an Air Operator's Certificate. Of the six ventures that obtained a No-Objection Certificate in Aug-2014, Premier Airways is the most active but its launch may also be deferred.
India should end the current financial year with double digit traffic growth
At the beginning of FY2015, CAPA projected domestic traffic would grow at 6% to 8% while international would expand by 10%. The actual domestic result for the 12 months ending 31-Mar-2015 is now on track to be in the range of 10% to 12%, while international traffic will likely be as forecast. The stronger than expected domestic growth is largely due to the stimulatory impact of lower fares arising from the reduction in fuel prices.
International traffic will receive a boost going forward from the introduction of electronic visas for key source markets. India received just under 7.5 million foreign visitors in 2014, a surprisingly small number for a country that has a large diaspora and a wealth of historical, cultural and natural attractions. Cumbersome visa restrictions have been one of the deterrents to visitors, which the government is trying to address.
In Nov-2014, India made electronic visas available to 43 nationalities accounting for approximately 40% of visitor arrivals. This is expected to be rolled out to 180 countries over the next couple of years and has the potential to transform inbound tourism flows. Tourism has been identified as a priority industry by the government and the sector is expected to see increased funding.
If tourism is to grow, India needs a bilateral policy strategy aligned with its growth targets
The encouraging response to electronic visas in the first few weeks has led the Ministry of Tourism to develop some very ambitious internal targets for visitor arrivals growth. But if these are to be achieved, there needs to be sufficient air capacity to carry these passengers.
However, there is no clarity on what approach the government plans to take in terms of assessing requests for increased seat entitlements from markets such as Dubai, Sharjah, Qatar, Turkey, Singapore, Malaysia and Hong Kong.
Not only are several foreign operators constrained from increasing international services to India, but similarly so are several Indian carriers due to the 5 year/20 aircraft rule.
Strong yields in Q3 and lower fuel prices should bring down industry losses in FY2015
At the start of the financial year, CAPA had estimated that India's airlines would post a combined loss of USD1.3-1.4 billion for the 12 months ending 31-Mar-2015. However, as a result of the improved operating environment, this is now likely to decline to close to USD1 billion. IndiGo and GoAir are expected to post record profits.
The outlook is more optimistic than it has been for several years, but challenges remain
Despite the government's more positive role in recent times, a clear long-term policy roadmap which is aligned to the industry's requirements is yet to emerge. And the new Route Dispersal Guidelines (RDG) to encourage regional connectivity may be impractical and require excess capacity to be deployed on routes that are not commercially viable. Airlines may need to induct around 30 aircraft just to meet their route dispersal obligations. Regional connectivity is an important issue but the RDG as it stands is not the best solution, and plans to encourage general aviation operators to launch commuter services are not well directed.
Meanwhile the proposed Domestic Credit Formula which is intended to determine how much international capacity carriers can operate is unnecessarily complex and not clearly thought through. Domestic and international operations are subject to distinct and often unrelated market dynamics. Linking capacity on international routes to capacity on domestic routes is not logical and may force airlines into making poor commercial decisions in order to meet an arbitrary regulatory requirement.
The purpose of regulation should be to ensure that the industry is viable and competitive, subject to meeting safety standards and achieving certain regional connectivity objectives. Ease of business should be the objective. Instead India's regulatory framework sometimes seems to go out of its way to make life difficult.