Icelandair's model has withstood the test of time but 757 replacement dilemma poses a challenge
Analysis
Iceland's de facto national carrier is operating the largest schedule and the largest fleet in its 75-year history after increasing frequencies on existing routes, adding a ninth North American gateway and placing into service additional Boeing 757s. Icelandair commenced a four times weekly service from Reykjavik's Keflavik International Airport to Denver in Colorado on 11-May-2012, expanding its network in North America to nine destinations (two in Canada and seven in the US). The new route to Denver is an extension of Icelandair's expansion strategy which builds on the country's geographical location mid-way between North America and northern Europe.
The airline's predecessor Loftleidir pioneered sixth freedom rights and low-fare trans-Atlantic travel via Iceland in 1953 and in 1990 Icelandair was the first airline to offer scheduled trans-Atlantic flights on a 757. Icelandair now operates a single fleet of 757s aircraft across its entire international network, spanning 22 destinations in Europe and North America. The single-type fleet creates significant cost efficiency in terms of maintenance and training for crew and engineers.
Icelandair network: Jul-2012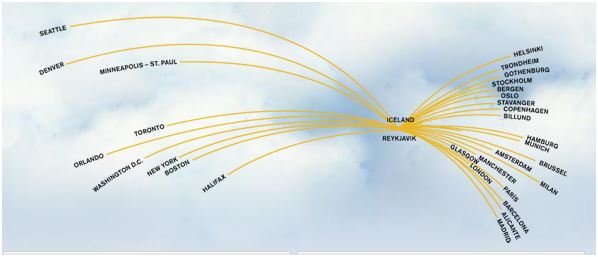 Need to refleet will challenge the Icelandair's streamlined 757 hub-and-spoke operations
Icelandair has faced a challenge in replacing its 757s since Boeing ceased production of the type in 2004. The company has been working on a refleeting project and analysing the different options for several years. Icelandair is now expected to decide on a 757 replacement by the end of 2012.
The carrier has said it is looking at the Boeing 737MAX, Airbus A320neo or A321neo. But these re-engined narrowbodies do not have sufficient range to serve Icelandair's longer routes such as Denver and Seattle. Icelandair is looking at the 767 to operate its longest routes, although extending the operation of some 757s is also an option. Icelandair believes low cycle 757s could operate until 2030 but that is not an ideal option and 767s, which are still in production, is a potentially a more appealing alternative.
Icelandair has dismissed speculation that the airline might be interested in deploying Boeing 787 Dreamliners and has said that it would be unlikely the carrier would operate the aircraft as it did not fit its network and seat capacity requirements. The 767 is a smaller aircraft than the 787 and would be a better fit for Icelandair.
The 787-8 is designed to seat about 230 passengers whereas Icelandair's 757-200s are configured with 176 seats, according to SeatGuru. Icelandair Group's leasing subsidiary, Icelease, had purchase rights for four Trent 1000 powered 787-8s, but Scandinavian budget carrier Norwegian Air Shuttle acquired three of the purchase rights in May-2011.
Icelandair currently operates 16 757 passenger aircraft, including 15 -200s and one -300. It also operates four 757-200 freighters.
The carrier needs to make a decision soon on 757 replacements in order to secure delivery slots. The 737MAX is scheduled to enter service in 2017. The A320neo is slated to enter service in late 2015 although all early delivery slots are believed to have been sold. Icelandair will likely begin taking delivery of new-generation narrowbody aircraft in 2017 and complete its refleeting project by 2020.
Icelandair fleet as of 30-Jun-2012
The 757 dilemma confronting Icelandair is somewhat similar to the challenges US carriers now face for replacing their 757 trans-Atlantic fleets. While 757s used on domestic or short or medium-haul international routes can be replaced with 737MAX and A320neo family aircraft, which offer improved range over the current generation 737s and A320s, there is no aircraft available to replace 757s operating long-haul trans-Atlantic routes. Icelandair is unique in that most of its trans-Atlantic 757s can be replaced with the 737MAX or A320neo as unlike the US carriers a majority of its trans-Atlantic routes are short enough for the re-engined narrowbodies.
See related article: United orders 737s while trans-Atlantic narrowbody replacement elusive
After a difficult 2008, when its parent company briefly flirted with bankruptcy owing to the collapse of the Icelandic banking system, Icelandair has expanded the scope of its route network with new destinations in the US and Europe while simultaneously increasing the frequency of flights on existing routes. It added Seattle in Jul-2009, launched a seasonal service to Washington Dulles in May-2011 and commenced flights to Denver in May-2012.
Icelandair is the first new carrier to initiate trans-Atlantic service to Denver International in nearly 10 years, according to airport officials. Only three European airlines operate to the Colorado airport: British Airways (daily flights from London Heathrow), Lufthansa (daily flights from Frankfurt) and Icelandair, making the latter the only airline in northern Europe to fly to Denver.
The airline now offers year-round service from Iceland to Boston, New York JFK, Seattle, and Denver with seasonal service to Washington Dulles, Minneapolis-St. Paul, Orlando Sanford, Halifax and Toronto Pearson. Icelandair's North American network is far more extensive than any other scheduled carrier in northern Europe. Finnair operates from Helsinki to just two destinations, Toronto and New York JFK. SAS serves three gateways in the US - Washington Dulles, Chicago O'Hare and Newark and will launch a six times weekly service from Copenhaghen to San Francisco on 8-Apr-2013 using Airbus A340-300s.
SAS presently operates a daily flight to Newark from its three Nordic hubs at Copenhagen, Oslo and Stockholm Arlanda aboard Airbus A330-300s, and operates a daily service to Chicago from Copenhagen and Stockholm aboard A340-300s. The carrier also operates a daily flight to Washington Dulles from Copenhagen. SAS also served Seattle from Copenhagen until 2009. Icelandair quickly entered the market after SAS withdrew, targeting the large Seattle-Denmark/Norway/Sweden market with a one-stop product that is quicker than the one-stop products offered by other carriers.
Icelandair and SAS both currently offer approximately 10,800 one-way seats to North America and Finnair offers about 3,000 seats, according to schedules in Innovata. All three US major carriers also operate to the Nordic region, but their weekly capacity is lower than the capacity offered by Icelandair and SAS.
Icelandair routes and capacity to North America (seats per week, one way): 16-Jul-2012 to 22-Jul-2012
| Origin | Destination |
| --- | --- |
| | |
| | |
| | Seattle |
| | |
| | |
| | Minneapolis-St. Paul |
| | |
| | |
| | |
| Total one-way seats | 10,741 |
SAS routes and capacity to North America (seats per week, one way): 16-Jul-2012 to 22-Jul-2012
| Origin | Destination |
| --- | --- |
| Copenhagen Kastrup | |
| | |
| Oslo | |
| Total one-way seats | 10,784 |
Finnair routes and capacity to North America (seats per week, one way): 16-Jul-2012 to 22-Jul-2012
Origin

Destination

New York JFK

Toronto Pearson

Total

2955
Reykjavik's Keflavik Airport offers the largest network and the most seats to North America than any other airport in Europe's Nordic region.
Scandinavia to North America capacity by airport (seats per week, one way): 16-Jul-2012 to 22-Jul-2012
Airport

Total seats

Carriers

Seats per carrier

11,636

10,741

895

Copenhagen Kastrup

9622

5240

1603

1526

1253

6662

3696

1602

1253

4530

2955

1575

Oslo

3101

1848

1253
Icelandair crafts a three-pillar network strategy
Icelandair has built up an international route network built around its Iceland hub. Its route network is based on three markets: travel from Iceland, travel to Iceland and travel via Iceland between Europe and North America. The same aircraft are used on all routes and its hub-and-spoke is on a 24 hour rotation with aircraft departing Iceland early morning for Europe, returning in the late afternoon and then leaving for Canada and the US in the early evening. The aircraft then arrive back in Iceland early the following morning and the process is repeated.
The strategy has worked well for the airline with management adeptly applying the wisdom that "small is beautiful" allowing for a high flexibility. Management promptly put Icelandair on a strict cost cutting diet following the downturn resulting from the financial crisis, but growth resumed in 2009 and has been strong since then.
See related article: Icelandair Group sees strong organic growth in profitable second quarter
From 2009 to 2012, Icelandair has grown its scheduled flights by 52%. It has also expanded its passenger numbers from 1.3 million in 2009 to about 1.7 million in 2011. Enplanements rose 18% during 2011, which is well above the average 7% increase recorded by the members of the Association of European Airlines. Icelandair expects to carry 2 million passengers during 2012.
Icelandair selected operating data: 2007 to 2011
| | 2007 | 2008 | 2009 | 2010 | 2011 |
| --- | --- | --- | --- | --- | --- |
| Passengers | 1.6 million | 1.4 million | 1.3 million | 1.5 million | 1.7 million |
| ASKs (000) | 5,713,230 | 5,028,700 | 4,553,456 | 5,220,066 | 6,169,070 |
| Load factor | 75.2% | 75.1% | 75% | 78.4% | 79.3% |
It is likely that the airline will repeat the strong growth of last year. In 1H2012 Icelandair's passenger numbers rose 18% on the year-ago period on a 14% hike in ASKs to 3 billion. Seat load factor gained 3.4ppt in 1H2012 to 80%, demonstrating a better utilisation of seat capacity.
Traffic increased in all three of its markets, with a striking 31% increase in passenger numbers in its "To Iceland" market in 1Q2012, which is traditionally its weakest quarter. Icelandair has been implementing a strategy to reduce the seasonal fluctuations in traffic and specifically Icelandic inbound with the aim of increasing further the number of travelers outside the peak summer season. The strong first quarter traffic data are an indication to Icelandair that its strategy to stimulate inbound traffic to Iceland is working while concurrently resisting the increased competition of LCCs in this market.
Icelandair passenger mix: 1Q2009 to 1Q1012
The airline deploys about 70% of its seat capacity on routes to Europe and the increased capacity in 1H2012 includes frequency increases on routes to Olso, Trondheim, Stavanger and Bergen in Norway; to Billund and Copenhagen in Denmark; to Helsinki in Finland; to Stockholm in Sweden; to Munich, Amsterdam, Brussels and Paris in continental Europe and to Manchester and Glasgow in the United Kingdom. These routes feed Icelandair's trans-Atlantic flights but have a large share of point-to-point traffic.
Icelandair top 10 international routes by capacity (seats): 16-Jul-2012 to 22-Jul-2012
Icelandair presently faces direct or indirect LCC competition on three of its eight largest European routes. It competes with Iceland Express, easyJet and WOW air in the Keflavik-London market; with Iceland Express, Norwegian Air Shuttle and WOW air on Keflavik-Copenhagen and with Iceland Express, Transavia.com France and WOW air on Keflavik-Paris.
WOW air is a new low-fare Icelandic airline that started operations on 1-Jun-2012 with two A320s equipped with 168 seats. The aircraft are leased from Avion Express. According to WOW air's website, the airline operates between Iceland and 13 destinations around Europe including Alicante, Basel, Berlin, Cologne, Copenhagen, Kaunas, Krakow, London, Lyon, Paris, Stuttgart, Warsaw and Zurich.
See related article: WOW air confirms Iceland is one of Europe's emerging LCC markets
Planned summer routes for WOW air
WOW air (IATA code is X9) is the second LCC to be based in Iceland after Iceland Express, which began operations in Feb-2003 and uses two wet-leased A320s from CSA Holidays, a subsidiary of CSA Czech Airlines. Iceland Express also tried to challenge Icelandair's North American operations in 2010, but the venture was unsuccessful and abandoned. Iceland Express, whose flights are marketed by FlexFlight, during its summer 2012 schedule connects the Icelandic capital of Reykjavík with 16 destinations in Europe.
Summer routes of Iceland Express
Iceland Express is operating roughly 13,000 seats to/from Reykjavik Keflavik International Airport, according to schedules in Innovata for the week of 16-Jul-2012 to 22-Jul-2012. Icelandair is still the dominant airline at the airport, with almost a 70% capacity share. This summer about 16 airlines operate at Keflavik.
Icelandair follows low-Fare with frills hybrid model
Icelandair has used the geographical position of Iceland to capture a large share of the trans-Atlantic market between northern European and North America. Its one-stop, low-fare trans-Atlantic flights offer a real alternative to the non-stop services of its Scandinavian full-service-counterparts.
While remaining consciously low-fare, Icelandair has upped comfort levels. Its aircraft are configured with a business class (four abreast seating with a 39in seat pitch but are not lie-flat), a premium economy class (four abreast with 33in seat pitch) and economy (32in seat pitch). Seat-back IFE is complimentary to all passengers, as well as blankets and pillows and a free checked baggage allowance.
In a further move to increase its competitive edge, Icelandair in May-2012 signed a contract with the American company Row 44 to equip its entire fleet with high-speed Wi-fi. Installation is expected to begin in 4Q2012 and to be completed in autumn 2013.
Icelandair's model has withstood the test of time, and its management has proven it has the flexibility to adapt to rapidly changing competitive landscape. Its next test will be competition from LCC Norwegian, which has announced plans to expand in the long-haul market including trans-Atlantic routes with 787s.
See related article: Norwegian's orders makes it a candidate for first LCC to join a global alliance - or a Gulf carrier
Icelandair's competitively priced North America-Europe one-stop product, which accounts for about one-quarter of its total traffic, is now benefitting from continued capacity cuts by other carriers in the non-stop North America-Europe market. Norwegian's entry in the Scandinavia-North America market with a new trans-Atlantic low-fare product will pose a new challenge in some of Icelandair's largest city pairs connecting Denmark, Finland, Norway and Sweden with North America.