Icelandair: Atlantic niche drives strong growth in 2014, but 2015 profit growth relies on lower fuel
Analysis
Icelandair Group grew rapidly again in 2014. International passenger numbers were up 15%, hotel bookings were up 8%, revenue grew by 9% and net profit grew by 18%. Traffic growth was driven by a disproportionate increase in connecting passengers travelling between Europe and North America via its Reykjavik hub.
Icelandair's success in this niche has lifted the number of trans-Atlantic transfer passengers it carries from 1.4% of total AEA North Atlantic traffic in 2009 to 4.2% in 2014. With two new destinations (Birmingham and Portland) and 14% international capacity growth planned for 2015, the airline is sticking to this strategic course. Moreover, it anticipates further profit growth this year.
However, the main reason for higher expected profits in 2015 is lower fuel prices. This is fortunate, given higher wages and the costs of additional capacity. Transfer traffic is typically attracted by discount pricing and growing LCC competition on routes to Iceland, particularly from Europe, will increase downward yield pressure. Icelandair will be hoping that fuel prices do not jump upwards once more.
In 2014, Icelandair Group reported an 18% increase in net profit to USD66 million. This result was boosted by lower net finance costs and a lower effective tax rate. The underlying performance of the group is better reflected in the operating profit, or EBIT, which grew at the lower rate of 8%, to USD79 million.
The group's EBIT margin of 7.1% was the same as in 2013, but higher than any other year since 2010. Group revenue increased by 9% to USD1,113 million in 2014. Icelandair Group has now been profitable every year since its last net loss in 2009, when the net result was a loss of USD87 million.
See related report: Icelandair: a successful niche strategy provides profits and growth
Icelandair Group financial results (USD million)L 4Q and FY 2013 and 2014
Icelandair Group EBITDA and net profit (USD million): 2010 to 2014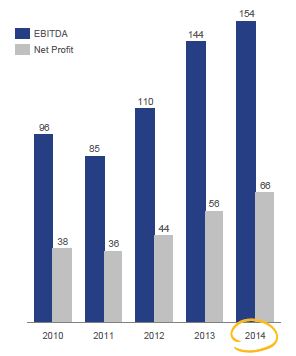 Icelandair's impressive growth since 2009
From 2009 to 2014, growth has been impressive: revenues increased by 70% and passenger numbers on the international route network doubled, with ASKs growing by 112%. The number of destinations in the route network increased by 81% from 21 to 38 over the same period and Icelandair's fleet grew by 42% from 28 aircraft to 37.
Passenger load factor on its international network increased from 75.0% in 2009 to 80.4% in 2014, broadly in line with AEA and slightly ahead of global average levels. In 2014, load factor increased by 1.1ppts from 2013, but did not quite regain the 80.6% level achieved in 2012 and it appears to have reached a plateau over the past two years.
Icelandair ASK (million, left hand axis) and load factor (%, right hand axis)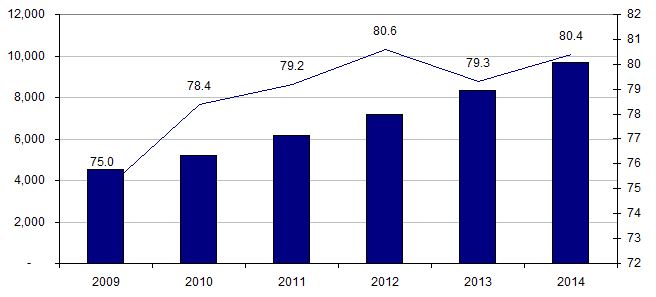 International passenger numbers up 15% in 2014, driven by connecting traffic
Icelandair passenger numbers on the international route network increased by 15% to 2.6 million in 2014, the fifth straight year of double digit growth. In 2015, Icelandair expects around 3 million passengers on its international network. On the regional and Greenland network, operated by subsidiary Air Iceland, passenger numbers fell by 5% to 293,000 and load factor was broadly stable (up 0.4ppts to 71.5%) in 2014.
International passenger growth was driven by travellers transiting via Iceland en route between Europe and North America. This passenger segment grew by 23% to account for almost half (48%) of the group's international passenger numbers. This continued the aggressive growth in recent years that has seen Icelandair increase passenger numbers in this segment by more than three times since 2009.
Passengers originating in Iceland grew by 9% in 2014, but their share of the group's total number of international passengers fell from 17% in 2013 to 16%. Passengers with Iceland as their destination also grew by 9%, but their share of the total fell from 38% to 36%.
Icelandair international passenger numbers by segment* ('000): 2009 to 2014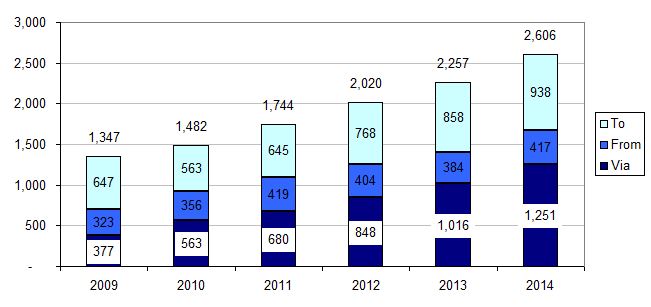 Icelandair's growth in recent years has been the result of its positioning its Reykjavik hub as a transfer point in the North Atlantic market, in competition with direct flights between Europe and North America. The 938,000 passengers that travelled via Icelandair's hub in 2014 represented 4.2% of the passenger numbers carried across the North Atlantic on non-stop routes by members of the Association of European Airlines, up from 1.4% in 2009.
Icelandair's transfer passengers as a percentage of AEA North Atlantic passengers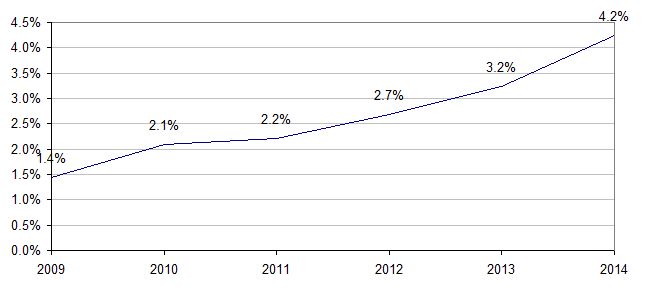 Europe-Iceland: Icelandair is the leader, but its market share is falling
Icelandair's trans-Atlantic niche relies on two sectors: between Iceland and Europe; and between Iceland and North America. Both of these markets are highly seasonal: from low to high season, Icelandair more than doubles its seat capacity on Iceland-Europe and more than trebles it on Iceland-North America.
The larger of these two sectors is Iceland-Europe, which is more than three times the size of Iceland-North America in the winter schedule and more than twice the size in the summer schedule (by total number of seats). Icelandair operates to 13 destinations: Amsterdam, Birmingham, Copenhagen, Frankfurt, Glasgow, Helsinki, London Gatwick, London Heathrow, Manchester, Munich, Oslo, Paris CDG and Stockholm Arlanda. Icelandair's Birmingham service is new in Feb-2015, while Flybe will discontinue its Birmingham-Reykjavik operation in Mar-2015.
With a seat share of 61% (week of 2-Feb-2015, source: OAG), Icelandair leads the Iceland-Europe market by some distance from second ranked easyJet on 17% and Icelandic LCC WOW air on 15%.
However, Icelandair's share has fallen from 83% in the equivalent week three years ago, in spite of its increasing its seat capacity by more than 50% since then. In terms of Icelandair's market share, the entry and growth of both WOW air and easyJet has more than offset the exit of FlexFlight. WOW air commenced operations in Jun-2012 and now operates to five destinations in Europe: Berlin Schoenefeld, Copenhagen, London Gatwick, Paris CDG and Salzburg (three in direct competition with Icelandair).
Iceland to Western Europe seasonality: airlines by number of weekly one way seats: 19-Sep-2011 to 19-Jul-2015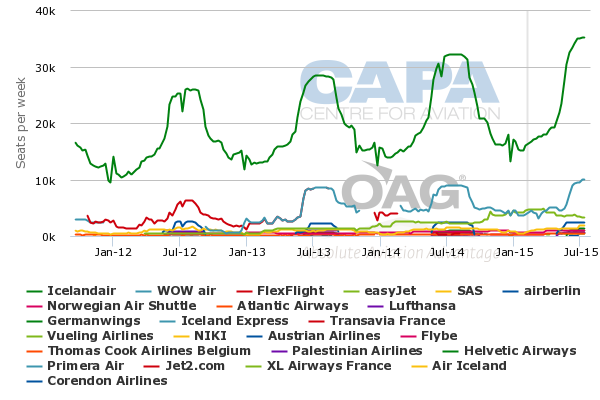 Iceland to Western Europe: airlines by share of weekly one way seats: 19-Sep-2011 to 19-Jul-2015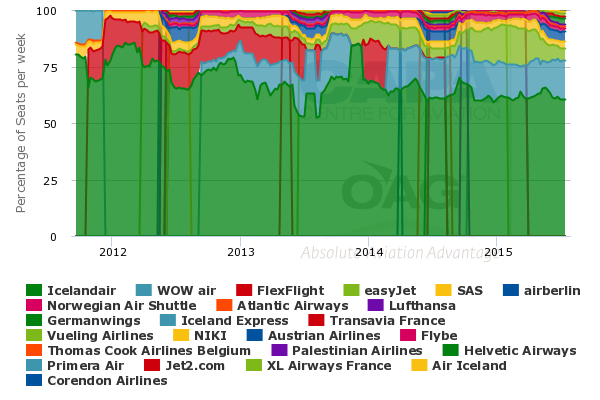 On Iceland-North America, Icelandair is the sole scheduled operator in the winter schedule (according to OAG data for the week of 2-Feb-2015 and excluding Air Iceland capacity to Greenland, which is categorised as North America in the schedules data). Icelandair operates to nine destinations in North America: Boston, Denver, Edmonton, New York JFK, Orlando Sanford, Seattle/Tacoma, Toronto, Washington Dulles and Vancouver (summer only). It will launch a service to Portland in May-2015 and also plans to increase frequencies on many US routes this summer.
Seasonal capacity operated by Delta and WOW air, each with roughly 6%-7% of seats, will reduce Icelandair's market share to around 87% in summer 2015. This will be down from a share of 92% last summer, in spite of capacity growth by Icelandair, as this year will be the first for WOW air on Iceland-North America (it will commence Reykjavik to Baltimore/Washington and Boston at end Mar-2015).
Delta operates a New York-Reykjavik service in the peak summer season.
Iceland to North America: airlines by number of weekly one way seats: 19-Sep-2011 to 19-Jul-2015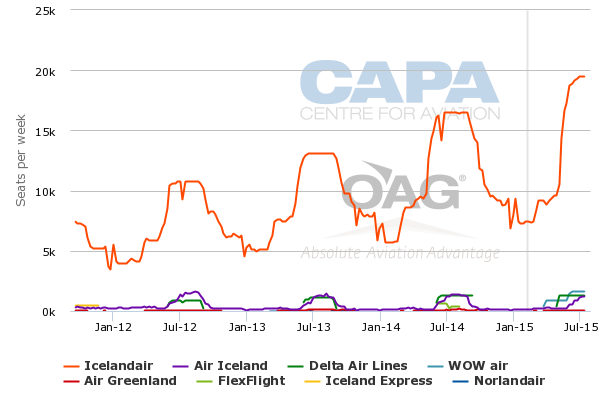 Europe-Iceland LCC competition has grown dramatically since 2011
Icelandair has been aggressive in pursuing its niche in the North Atlantic market, offering a one-stop connection in competition with direct flights, while also growing in the O&D markets between Iceland and Europe and between Iceland and North America.
However, these O&D markets have experienced increased competition from LCCs in recent years. Overall penetration of LCCs on international capacity to/from Iceland has increased from 1% in 2011 to 19% in 2014 and 26% in the first two months of 2015 (source: CAPA and OAG).
On Europe-Iceland, in addition to year-round services from LCCs easyJet, WOW air and Norwegian Air Shuttle, summer services are operated by LCCs Germanwings, Vueling, NIKI, Transavia. Moreover, WOW air's new summer route to Baltimore/Washington will mean that there is another airline, in addition to Icelandair, that can offer a Europe to North America service via Iceland (albeit to a limited extent).
A strategy based on transfer traffic must anyway rely on lower fares than a non-stop alternative strategy. The growing presence of LCCs on both sides of Icelandair's trans-Atlantic connecting network will add to downward pressure on yields.
LCC capacity share (%) of total seats: 2003 to 2015 Jan-Feb*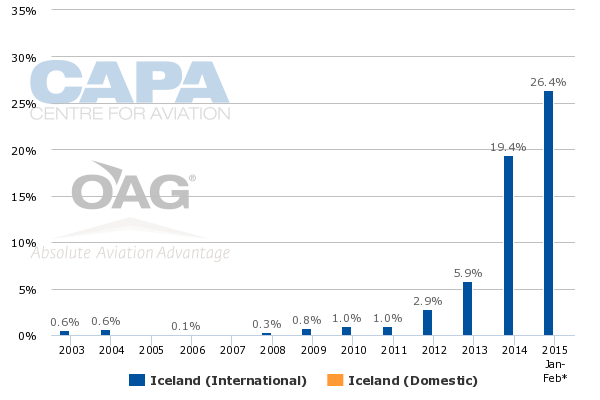 2015: Icelandair plans further profit growth, but only thanks to lower fuel prices
In view of this likely yield pressure, further earnings growth in 2015 will require further unit cost reduction. Fortunately for Icelandair, as for many other airlines, lower fuel prices should make this possible. The group has hedged 47% of its fuel needs for the coming 12 months, but will therefore benefit from lower prices for more than half its fuel requirement.
Indeed, the company's financial guidance for 2015 is for EBITDA to increase to USD160 million to USD165 million from USD154 million in 2014. The forecast EBITDA margin is 15.0% to 15.5%, compared with 13.9% in 2014. Icelandair says that the main reason for the EBITDA increase is lower fuel prices.
It cautions that fluctuations in fuel prices and the outcome of labour agreements "can affect the company's performance significantly". Pilots, cabin crew and maintenance workers all approved new three year collective bargaining agreements during 2014, but Icelandair suffered from industrial disputes in 2Q2014.
See related report: European airlines face overcapacity & resurgent labour. Recent profit warnings make alarm bells ring
Icelandair also cautions that 1Q2015 EBITDA will be negative and lower than 1Q2014 due to increased costs ahead of peak season capacity growth (a 14% increase in the international flight schedule is planned for 2015). The strong seasonality of its business means that 3Q will generate the majority of its annual profit.
Icelandair is fairly rare among European national airlines of smaller nations in that it has developed a consistently profitable track record in recent years. However, these notes of caution in its outlook for 2015 further highlight the importance of lower fuel prices to the forecast increase in the EBITDA margin.
Without the good fortune of this windfall, the limitations of its price-based connecting strategy may have started to be more apparent.