Iberia to launch Tokyo & Shanghai in Asia return after many years. Another sign of approval from IAG
Analysis
Iberia is planning two Asian route launches, Tokyo and Shanghai, for winter 2016/2017. No other airlines currently operate directly between Spain and either city. Nevertheless, they are both important destinations for travellers from Spain, who are currently making indirect flights.
Iberia plans to launch a three times weekly A330-200 service from Madrid to Tokyo Narita in Oct-2016. The planned Shanghai service still awaits confirmation of traffic rights and slots at Pudong, but is also expected to be three times weekly, to commence in Oct-2016 and use A330-200 equipment.
Iberia has not served Asia for many years. Since the formation of IAG in 2011 it has continued to concentrate its long haul operations on Latin America. IAG only operates to Asia through British Airways, and is a lightweight in the region compared with its main European rivals. CAPA estimates that the two new routes would add only around 6% to IAG's current weekly ASKs to Asia Pacific. Nevertheless, they set Iberia back on the path to a more globally balanced network. They are also a further sign of IAG's confidence in the Spanish national airline.
Iberia's long haul network focuses on LATAM, with some North American and African destinations
Iberia currently has no non-stop Asia Pacific destinations, focusing its long haul network on Latin America, where it has 19 destinations (week of 25-Jan-2016, source: OAG). It also currently has three North American destinations (Chicago, Miami and New York), with two summer-only routes (Boston and Los Angeles), and five in sub-Saharan Africa (Accra, Dakar, Lagos, Luanda and Malabo).
Iberia's Latin American destinations include five in Central America (Guatemala City, Mexico City, Panama City, San Jose, San Salvador), nine in Upper South America (Bogotá, Cali, Caracas, Guayaquil, Lima, Medellin, Quito, Rio de Janeiro and São Paulo), three in Lower South America (Buenos Aires, Montevideo and Santiago) and two in the Caribbean (Havana and Santo Domingo). In addition to these 19 routes, Iberia will return to San Juan, Puerto Rico, in May-2016.
Overall, Latin America accounts for 65% of Iberia's international ASKs, North America 8% and sub-Saharan Africa 2%. Europe accounts for around 23% of its international ASKs and Middle East 1%.
Iberia international ASK split by region 25-Jan-2016 to 31-Jan-2016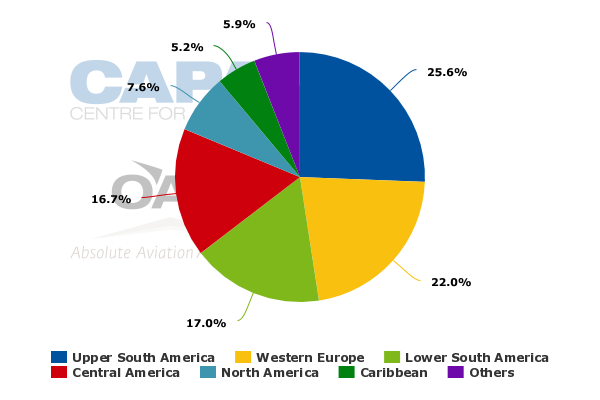 British Airways provides all of IAG's current Asia capacity
Iberia's sister company British Airways currently provides IAG with its only Asian routes. BA has 17 destinations in the region, including Shanghai and Tokyo (both Haneda and Narita), which accounts for around 20% of its ASKs.
BA's most important region by ASKs is North America, which represents 37% of its international capacity. By contrast with Iberia, Latin America accounts for only 8% of BA's international ASKs (around half of this to the Caribbean).
British Airways international ASK split by region 25-Jan-2016 to 31-Jan-2016
IAG is underweight in Asia
For IAG as a whole, Asia Pacific accounts for around 14% of international ASKs. By comparison with the other major European legacy airline groups, IAG is underweight in the region. Asia Pacific accounts for 23% of Air France-KLM's international ASKs and 25% of the Lufthansa Group's. In absolute terms, IAG's total ASKs to Asia Pacific are only a little more than half the level of its two major European rival groups (data source: OAG, week of 25-Jan-2016).
Top 10 Airline Groups ranked by ASKs, Europe to Asia Pacific 25-Jan-2016 to 31-Jan-2016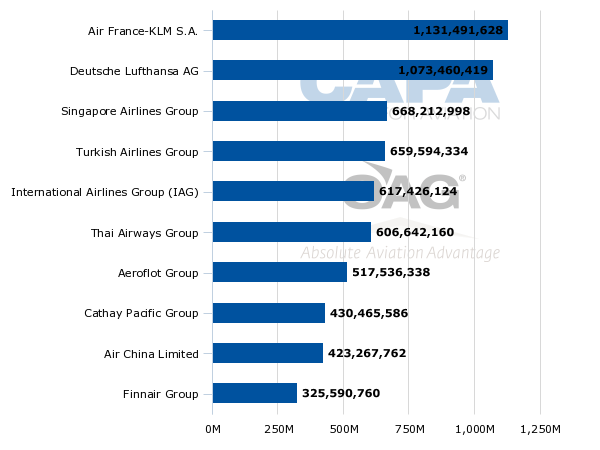 Asia Pacific was IAG's fastest growing long haul region in 2015
Although IAG is relatively small in Asia Pacific compared with its main European rivals, BA's recent expansion in the region (for example, opening routes to Kuala Lumpur and Seoul) meant that it was the group's fastest growing destination area outside Europe in 2015, by both ASKs and RPKs.
The group increased total ASKs by 5.1% on a proforma basis (adjusting for the Aer Lingus acquisition in Aug-2015), but Asia Pacific ASKs were up by 9.0%. This was faster than the 7.6% ASK growth achieved by IAG in Latin America, but slower than its 12.5% proforma growth in Europe (driven largely by Vueling, which does not operate long haul routes). Iberia itself grew total ASKs by 10.2%, but has not yet reported the regional split of this growth.
IAG's RPK growth in Asia Pacific was 10.4%, so that load factor gained 1.1 ppts to reach 83.2% in the region in 2015. Among IAG's network regions, this figure was second only to its North American load factor of 84.0% and suggests that it has scope for further increases in capacity to Asia Pacific.
Iberia's capacity growth is accelerating, led by long haul
Iberia's restructuring programme and recovery from its loss-making years have led to a resurgence of network growth. Much of this growth has been driven by its long haul network, in particular the resumption of a number of Latin American routes that were suspended during the restructuring period.
For the period 2015 to 2020, IAG plans ASK growth for Iberia at a compound average growth rate of 7.0% pa. In a sign of IAG's growing confidence in Iberia's turnaround, this growth rate was increased in Jul-2015 from its previous plan of 6.5% pa. Much of Iberia's capacity growth to 2020 will be driven by higher growth on its long haul network.
See related report: Iberia: the Futuro looks bright for IAG's star pupil as its confidence and growth are transformed
One of Iberia's rewards from its parent company was the resumption of widebody aircraft orders to enable it to achieve long haul expansion, while also replacing some of its older equipment. On 28-Dec-2015, Iberia took delivery of the first of 13 Airbus A330-200s ordered for it by IAG. The remaining 12 aircraft are due for delivery in 2016 and 2017. In addition, Iberia has 16 A350-900 orders, due between 2017 and 2021.
Tokyo and Shanghai are both among top O&D destinations from Europe
Latin America will remain the backbone of Iberia's long haul network, but its growth plans also allow for new markets. Iberia's absence from Asia Pacific, and IAG's underrepresentation there, make this region an obvious candidate for additional destinations.
The two Asian destinations targeted by Iberia are significant in terms of demand from Europe. According to data from OAG Traffic Analyser on O&D bookings for 2015, Tokyo was the number two destination in Asia from Western Europe, and Shanghai was number six (this takes into account indirect traffic).
The largest Asian destination from Western Europe was Bangkok, which had around twice as many bookings as Tokyo. Delhi was number three, followed by Seoul at four, Hong Kong at five and Singapore at six. BA currently operates from London to all of these top five Asian destinations.
Top 20 O&D destinations in Asia from Europe ranked by bookings 2015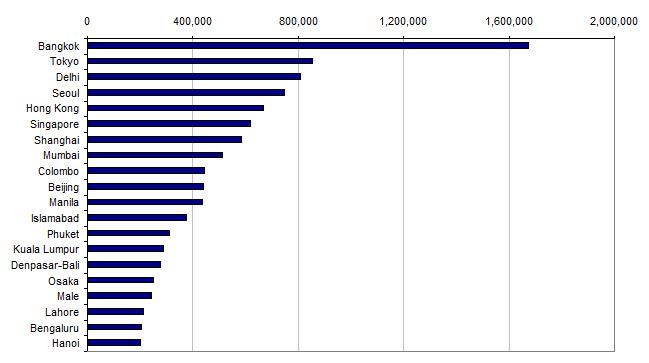 Both are in the top four destinations from Spain (via other hubs)
From Spain, Tokyo was number three and Shanghai number four O&D destination by bookings in 2015, according to OAG Traffic Analyser. As the chart below shows, both Seoul and Bangkok were bigger markets from Spain than Tokyo and Shanghai in 2015 (and Delhi was not far behind Shanghai). With no direct flights from Spain, this traffic is all travelling via hubs elsewhere. There is still good potential for further direct route launches between Spain and cities in Asia.
Top 20 O&D destinations in Asia from Spain ranked by bookings 2015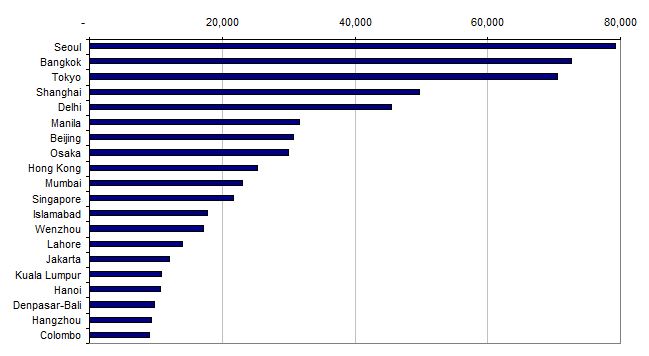 Data from OAG Traffic Analyser indicate that the leading airline by 2015 bookings from Spain to Tokyo was Gulf-based Qatar Airways, a oneworld partner and 10% shareholder in IAG. It was closely followed by Lufthansa and Air France, with Emirates in fourth place. Two other airlines that also target Europe-Asia connecting flows, Aeroflot and Turkish Airlines, were in fifth and sixth places respectively. The Air France-KLM group's position was further boosted by KLM's number seven ranking, while IAG's BA came in at number eight, with only 5% of bookings.
The biggest Japanese airline on Spain-Tokyo in 2015 was JAL (in partnership with Iberia and BA via London, and with Finnair via Helsinki), but its 4% share of bookings placed only in ninth position. ANA had a share of just 3% (operating with Lufthansa via Frankfurt).
Iberia has not operated to Tokyo since 1998, when it operated via an operational stop in Moscow. In terms of what it can offer to its passengers planning to travel to Tokyo with partners (rather than via the hubs of rival alliance members), its current options include connecting over London Heathrow with BA or JAL, over Doha with Qatar Airways and over Helsinki with Finnair. The new direct Iberia service from Madrid will be a far more attractive option.
Top ten airlines Spain to Tokyo ranked by share of bookings 2015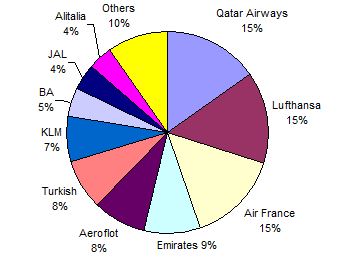 Air France is the leading Spain-Shanghai airline
On Spain to Shanghai IAG's position was even weaker, with BA taking only 3% of bookings and ranking in tenth place in 2015. OAG data show that Air France was the largest airline on Spain-Shanghai, followed closely by the biggest Gulf-based super connector, Emirates. Aeroflot was third, Lufthansa fourth and Swiss was fifth. KLM's sixth place again enhanced the Air France-KLM group's position on this route.
Air China, at number seven, was the largest Chinese airline on Spain-Shanghai (operating via Beijing, and in codeshare with European partners via other European hubs), while super connectors Qatar Airways and Turkish were eighth and ninth respectively (data source: OAG Traffic Analyser).
As with Tokyo, currently Iberia can offer Shanghai passengers a connection over London Heathrow with BA, travel via Doha with Qatar Airways, or a connection over Helsinki with Finnair. A non-stop service from Madrid will be preferable to all of these.
Top ten airlines Spain to Shanghai ranked by share of bookings 2015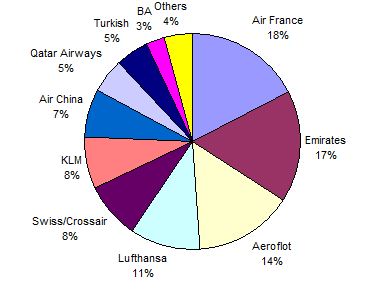 Iberia's Asian launches leave room for further growth in the region
Iberia's planned three times weekly services to both Tokyo and Shanghai leave some scope for further capacity growth, whether through increased frequencies or (eventually) upgauging to larger aircraft.
With the 288 seat A320-200 configuration (269 economy and 19 business class, according to the CAPA Fleet Database), and assuming a load factor of 80%, a calculated estimate is that Iberia could carry around 35,000 one way passengers annually on each of these two routes. This figure represents roughly half of the traffic between Spain and Tokyo that is currently flying on indirect routes via other hubs in Europe and the Middle East. It is around 70% of current Spain-Shanghai traffic.
A direct service should have greater appeal than existing connecting services in terms of reduced journey time (and Iberia will be expecting this to be supported by its long haul cabin upgrades).
Furthermore, the impact of new direct services is often to grow the total market. Such services not only attract passengers between the cities directly connected, but also open up new connection options. In particular, travellers between North East Asia and Latin America will find Iberia's new services attractive.
Iberia's initial plans on its two new Asian routes should allow it to increase capacity over time. There is also scope for further direct routes from Madrid to other Asian cities that are only connected via other airlines' hubs.