Iberia: a new hammer can crack an old nut, but sometimes the new ones taste better
Analysis
Following Luis Gallego's promotion in Mar-2013 from CEO of Iberia Express to be CEO of Iberia, changes to Iberia's management structure had been anticipated. On 10-May-2012, Iberia announced changes aimed at better implementing its Transformation Plan and restoring competitiveness and profitability to the carrier. While it is often worth taking a new hammer to crack an old nut, IAG has simultaneously been squirreling away some tastier new ones.
Based on comments at CAPA's Airlines in Transition conference by Willie Walsh, CEO of Iberia's parent IAG, that Iberia Express has ex fuel unit costs 40% lower than Iberia's, we estimate that its CASK is similar to those of easyJet and Vueling. Mr Walsh also said that it is better to restructure what you have than to start something new. However, given fierce resistance to change at Iberia, he has given himself a good deal more leverage by establishing Iberia Express and also by taking over Vueling. Iberia Express has even helped the group to grow its passenger share in Madrid this year.
Iberia changes its management structure
The changes to Iberia's management structure included reducing the number of managers directly reporting to the CEO from 11 to nine, including five people recruited from within the company and four from outside and removing the 'general management' units.
A new unit encompassing human resources, safety and corporate social responsibility has been created, with a key objective of reaching labour agreements that ensure the company's future. This emphasises the importance to Iberia management of securing agreed changes to working practices that will improve productivity (it also reflects the difficulty so far in achieving such agreements).
The status of the Network and Alliances Development Division is upgraded, reflecting "Iberia's intention to grow once its cost structure can assure its competitiveness". This seems to suggest that management is keen to offer its workforce the carrot of the promise of future growth and not just the stick of headcount and pay cuts.
It has also been reported that Fernando Candela Perez has been appointed CEO of Iberia Express, in succession to Luis Gallego (EFE/Europa Press, 10-May-2013). Mr Candela Pérez was formerly Air Nostrum's director of planning and management control.
Iberia has seen falling passenger traffic since before the BA merger
From 2010, the year before Iberia merged with British Airways to form IAG, to 2012, Iberia's passenger numbers fell from 20 million to 17 million in 2012, a 15% decline. Over this period, BA's passenger numbers grew by 23% to almost 39 million.
In terms of ASKs, Iberia's fall has only been 2%, since cuts have focused on short-haul routes, but BA grew ASKs by 16%. In 2013, a further 14% capacity cut is planned for Iberia, while BA grows by almost 3%.
IAG passenger numbers (000): 2010 to 2012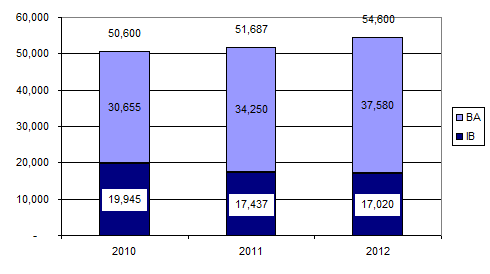 IAG capacity by ASK (million): 2010 to 2013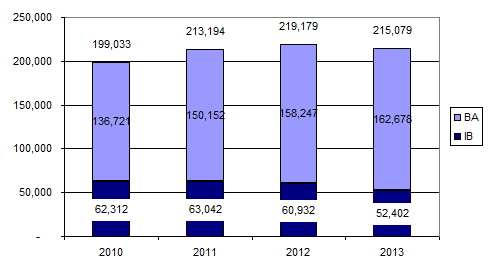 Given that Iberia's traffic figures include those of Iberia Express, which reported more than two million passengers by Dec-2012 and 2.8 million passengers in its first 12 months to Mar-2013, the 'core' Iberia business has seen traffic fall even more dramatically. At the same time, Vueling, now being fully consolidated into IAG's accounts from May-2013, has seen rapid growth in recent years. IAG's three Spanish carriers are on very different traffic trajectories.
It is likely that Vueling will carry more passengers than the core Iberia in 2013. Vueling has said it expects ASK growth of 10% to 15% in 2013, although seat growth will likely be in the mid single digit region as sector lengths grow.
Iberia 'core', Iberia Express and Vueling passenger numbers (000): 2010 to 2012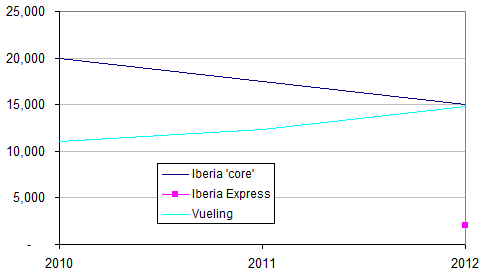 Iberia Group has lost share in Spain, but Iberia Express is now helping it to resist
Iberia's capacity cuts have meant that its share of passengers in Spain fell to 8% in the first four months of 2013, down from 12% in the first four months of 2012 (source: AENA, adjusting for the double counting of domestic passengers). Iberia Express took a share of 2% in Jan to Apr-2013 (from less than one third of one percent in the first four months of last year) and Vueling's share grew from 8% to 9%, but the combined share of what are now IAG's Spanish airlines (including the share of Iberia franchisee Air Nostrum) fell from 24% to 23%.
Although this made IAG the leading group in Spain, Ryanair remained the leading individual airline with 17% of passengers (even after a capacity cut that led to its passenger numbers falling 6% year on year, in line with the total market).
Share of passengers in Spain: Jan-2012 to Apr-2012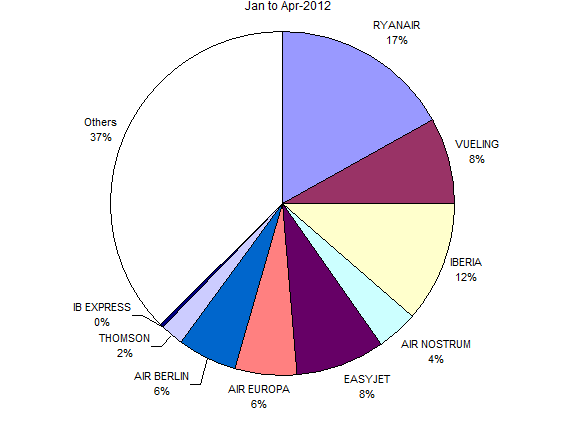 Share of passengers in Spain: Jan-2013 to Apr-2013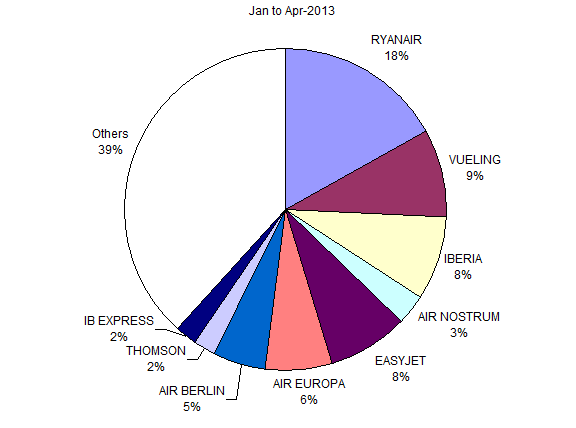 In the domestic market, the combined share of Iberia, Air Nostrum and Iberia Express was 29% in the first four months of 2012, while in the same period of 2013 it fell to 26%. For Iberia Express, the share climbed from 1% to 8%.
Analysis of AENA data also show that Iberia Express passenger numbers have been overwhelmingly domestic so far; this is not surprising, given that it operated 15 domestic routes and just nine international routes in 2012 (which did not start when the airline started). In the first four months of 2013, 79% of Iberia Express' passenger numbers were on domestic flights.
Iberia's Madrid share grew in 2012 for the first time in years (with Iberia Express)
Iberia Express was set up to provide Iberia's Madrid hub with a lower cost feeder operation than it had been able to provide previously. Although Iberia still has a higher share at its main hub than in Spain as a whole, strong price-based competition provided by LCCs in Madrid eroded Iberia's share of passengers in Madrid from 51% in 2005 to 42% in 2011 (note: Iberia's share including franchisee Air Nostrum).
In 2012, Iberia's share fell further to 40%, but Iberia Express claimed a 5% share of the year's passenger numbers in only nine months of operation, so it has helped the Iberia group to increase its share of passengers at Madrid for the first time in several years. Clearly, Iberia Express, which launched in Mar-2012, was helped by the demise of Spanair in Feb-2012. Spanair had a 6% share of passenger numbers in Madrid in 2011 (down from 12% in 2005), although its network was very different from that of Iberia Express.
Iberia Express should also benefit to some extent from the capacity cuts of major LCCs Ryanair and easyJet in the Spanish market in 2013. In addition to Ryanair's capacity cut noted above, easyJet has withdrawn from Madrid as a base, cutting 24 routes from the airport in summer 2013 versus summer 2012. The reason for LCC capacity cuts – increases in airport charges – is not in itself such good news for Iberia Express, although it will hope that its yield premium will help to offset this. Notably, the carrier has said it was profitable over its first year of operation.
Madrid Barajas airport share of passengers by airline (%): 2005 to 2012
In the first four months of 2013, Iberia Express' share at Madrid has moved up to 7-8%, helped by capacity cuts by almost all the main competitors. The development of its share over the summer months will be more telling, since the LCCs' business is highly seasonal and they typically put much more capacity in during this peak season.
Iberia Express had 14 aircraft at the end of 2012 and CAPA's fleet database records 17 aircraft at 13-May-2013. When it launched in Mar-2012, it had plans to reach 40 aircraft within four years, which should take it comfortably into the double digit millions of annual passenger numbers.
IAG now has three Spanish airlines
Each of IAG's Spanish carriers has a different role to play in the group and has different characteristics.
IAG CEO Willie Walsh told CAPA's Airlines in Transition Conference in Dublin in Apr-2013 that Vueling will continue to operate as a stand-alone, separate brand and there will only be co-operation with other IAG companies if it enhances value to shareholders. The roles of the two short-haul carriers Iberia Express and Vueling are clearly different from the long-haul business of Iberia and to each other, with the former a Madrid hub feeder at a lower cost than Iberia and the latter a point-to-point pan-European, Barcelona-based no-frills operator that also code-shares with BA and Iberia.
Comparing the short/medium haul fleet and network of Iberia's core operation with those of Iberia Express and Vueling
| | Aircraft | Fleet size at 14-May-2013 | Cabin configuration | Number of seats | Destinations Spain | International short/medium-haul destinations |
| --- | --- | --- | --- | --- | --- | --- |
| Iberia 'core' short/medium-haul | A321-200 | 19 | 2 class | 172-200 | 34 | 33 |
| | A320-200 | 20 | 2 class | 136-171 | | |
| | A319-100 | 15 | 2 class | 141 | | |
| | A320-200 | 17 | 2 class | 177 | 14 | 7 |
| | A320-200 | 61 | 1 class* | 180 | 24 | 67** |
| | A319-100 | 4 | | 144 | | |
The large majority of Iberia Express routes are also still operated by Iberia and the product is essentially the same, albeit with shorter seat pitch. Vueling is more of a true LCC, but with some hybrid features. Iberia was prevented by union agreements from pursuing all the growth it would like through codeshares with Vueling.
This may change over time, especially now that Vueling is a subsidiary of IAG, but its business model is not a ready made solution today for Iberia's problems (for example, Vueling's hub, brand and corporate relationships do not totally fit with Iberia's needs).
Iberia Express route map: 2012 and 2013

Vueling route map: 2012 and 2013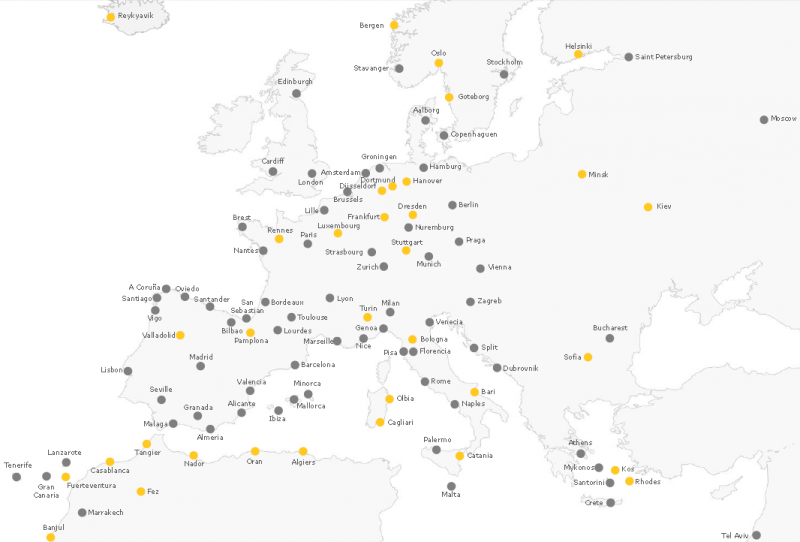 IAG's Mr Walsh has said that Iberia Express is not low-cost but lower-cost. He also told CAPA's Airlines in Transition conference that its ex fuel unit costs (CASK) are 40% below Iberia's. A direct comparison of unit costs is tricky without knowing the average sector length of Iberia Express, but it must be considerably shorter than that of Iberia. Given that CASK unit costs are typically lower as sector length increases, this suggests a very creditable improvement on the cost base of the core Iberia operation.
Assuming that Mr Walsh's comment referred to Iberia Express' CASK calculated from operating costs at the EBIT level and that its fuel unit cost is the same as for Iberia (a shorter sector length would lead to higher fuel unit costs, but greater seat density would mitigate this), then we can calculate estimates of its unit costs as shown in the chart below.
2012 unit costs (EUR cent per ASK)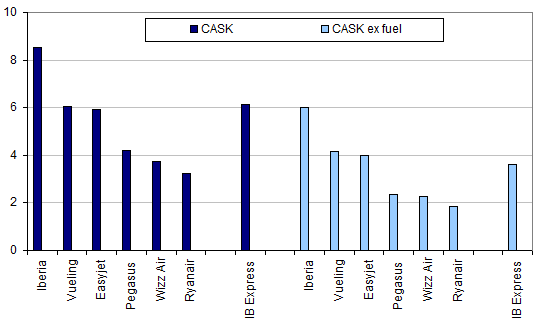 This would put Iberia Express in similar unit cost territory to Vueling and easyJet, but higher than Wizz Air and Ryanair. Given a similar level of service, the same airports and the same aircraft as the core Iberia sort/medium-haul product, the cost advantage mainly comes from more competitive labour terms and conditions and higher seat density (177 seats in its A320s versus typically 162 for Iberia).
Whether or not these estimates of Iberia Express' unit costs are accurate, it is certainly a good deal more competitive than the loss-making Iberia. Moreover, it has been profitable in its first year, while Iberia has continued to add to its losses and struggled to convince all of its workforce of the need to restructure.
Iberia Express does not solve all of Iberia's problems, but it appears to provide an increasingly credible and current alternative to the core Iberia operation on short/medium-haul hub feed, while the consolidation of Vueling into the IAG group gives a further option for the group in the medium to longer term.
Operating result of British Airways, Iberia, Vueling and Iberia Express 2010 to 2012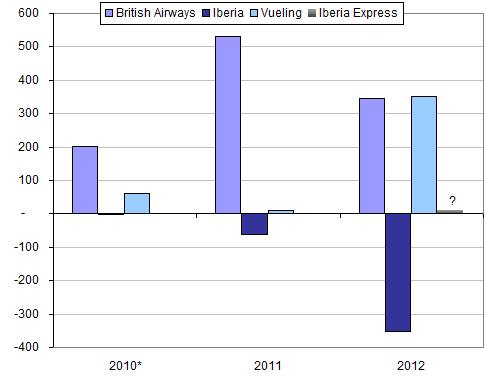 See related reports: