IAG Group: Vueling is stalling, but Aer Lingus helps to grow 2Q profits. 2016 outlook lowered
Analysis
IAG increased its 2Q2016 operating profit modestly, but only because Aer Lingus boosted this year's numbers (it was not in the group in 2Q2015). The quarter was affected by externalities: negative currency impacts and softer demand conditions resulting from terrorism, the Brexit vote, macroeconomic weakness in Latin America and air traffic control strikes in Europe. The resultant deteriorating unit revenue trend was offset by lower unit costs, mainly due to lower fuel prices.
Three of IAG's four operating airlines improved their margin in 1H2016 but Vueling's declined, since the external disruption affected it the most. Vueling's operating margin has been on a downward trend since its acquisition by IAG in 2013. Its capacity growth plans for FY2016 have now been trimmed, also scaling back the group's growth for the year.
IAG now expects 2016 operating profit growth of a low single-digit percentage, much less than the 40% increase previously anticipated but still an increase. This outlook is more positive than that given recently by Lufthansa, which expects a fall in profit this year. Moreover, IAG remains a higher margin group than either of Lufthansa or Air France-KLM, and should be better placed if there is to be a full-scale downturn.
2Q2016 operating profit up 5%, thanks to Aer Lingus
IAG's 2Q2016 profit after tax grew by 10.6% to EUR450 million, excluding EUR54 million of net exceptional items. Its pre-exceptional operating profit increased by 4.7% to EUR555 million, from EUR530 million last year.
Without Aer Lingus, acquired in 3Q2015, the operating result would have been EUR487 million, below last year's result (but there was a net negative currency impact of EUR148 million on the 2Q2016 result).
Revenue increased by 0.9% to EUR5,708 million and the operating margin gained 0.3ppts to 9.7%. IAG's operating margin compares favourably with those of the other two of Europe's big three legacy airline groups.
Air France-KLM reported an operating margin of 5.1% for the quarter, although its year-on-year improvement by 2.4ppts was better than IAG's 0.3ppts gain. The Lufthansa Group's preliminary figure for adjusted EBIT indicates an operating margin towards 7.0% or just below, with a small year-on-year decline. The margins of all three were well short of Ryanair's 18.2% and Wizz Air's 12.0% for the quarter.
See related report: Air France-KLM: margin grows, but performance and profit below IAG & Lufthansa airline groups.
For 1H2016 IAG's operating profit increased by 27.9% from EUR555 million to EUR710 million (without Aer Lingus, this would be EUR668 million), with revenue up by 4.1%.
Its 1H operating margin gained 1.2ppts to 6.6%, so the 2Q result represents a significant slowing of momentum from the 2.5ppt margin gain of 1Q.
See related report: IAG keeps FY2016 guidance in spite of weak unit revenue as 1Q2016 results benefit from low fuel
Nevertheless, IAG's 1H operating margin was significantly better than Air France-KLM's 1.8% and Lufthansa's margin of 3.5%.
IAG income statement 2Q2016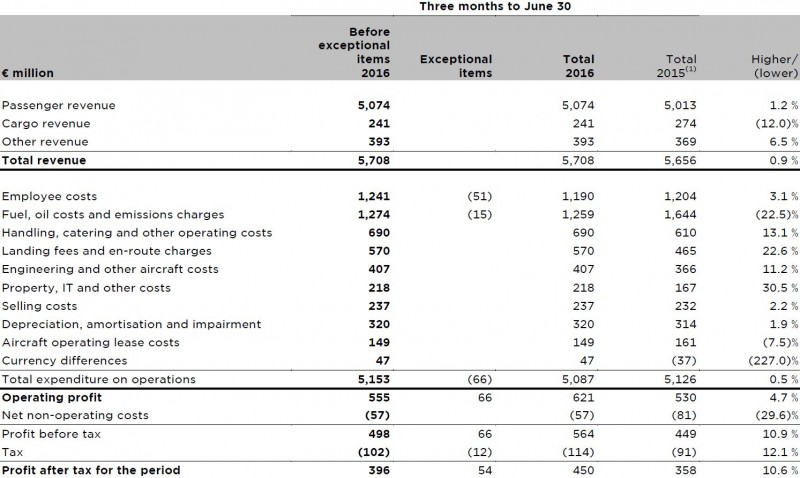 British Airways is IAG's most profitable airline; Aer Lingus has highest margin momentum
Among IAG's operating airline companies British Airways achieved the strongest operating margin in 1H2016, with a 2.8ppt improvement to 9.1%. BA's margin improvement owed much to lower fuel prices, since its ex fuel CASK increased by 2.5%. Note that IAG did not provide quarterly results for the individual airlines; only half-year figures.
Aer Lingus' operating margin improved by 4.8ppts to 5.4% in 1H2016, helped by lower ex fuel CASK, and Iberia narrowed its margin of operating loss by 0.5ppts to -0.3%.
IAG 2Q2016 headline figures by operating company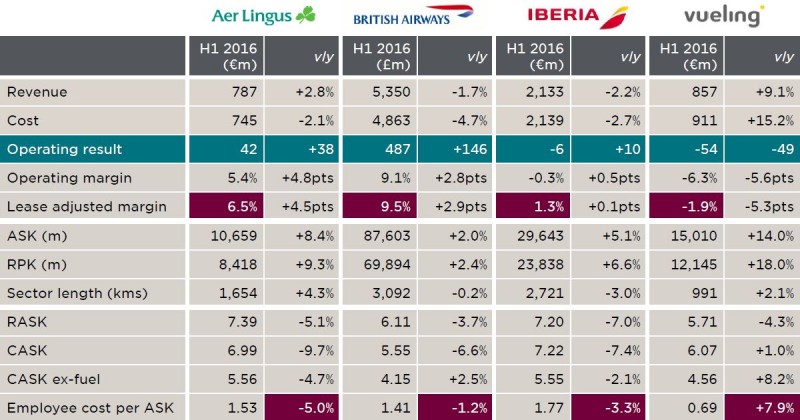 Vueling: the falling operating margin trend continues
Only Vueling suffered a decline in operating margin, with a 5.6ppt fall to -6.3% in 1H2016. Vueling's margin was lower than those of the leading independent European LCCs for the six-month period (13.3% for Ryanair, 7.0% for Wizz Air, 1.5% for Norwegian, 0.6% for easyJet at the level of pre-tax profit).
See related report: Ryanair: profits are still growing, up 12%, "prepared for signs of a market slowdown or recession"
At least Vueling performed better than Air France-KLM's LCC subsidiary Transavia, whose operating margin was -15.5% in 1H2016.
Vueling reported a significant increase in ex fuel CASK, with employee cost per ASK up 7.9% and headcount up 22.5%. It was particularly adversely affected by disruption in its markets during the half year – most notably from air traffic control strikes and the impact of terrorist attacks.
Nevertheless, its full year operating margin has been on a downward trend since FY2013, when it was acquired by IAG. Although IAG has been more successful with its LCC subsidiary than have Lufthansa or Air France-KLM with theirs, this suggests that it needs to refocus on costs, as integration continues.
See related report: Vueling's new CEO only needs to stay ahead of rival LCCs on service quality. And keep cutting costs
Vueling operating margin (% of revenue) trend since 2013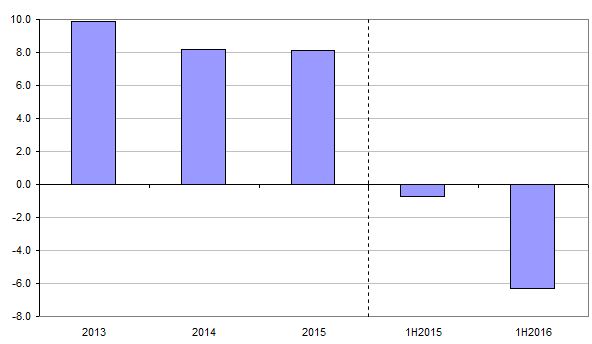 IAG ASK growth of 12.7% (3.5% with Aer Lingus in the base); load factor up 0.2ppts
IAG's reported ASKs increased by 12.7% year-on-year in 2Q2016, but this was boosted significantly by the inclusion of Aer Lingus, which was not part of the group in 2Q2015. With Aer Lingus in the prior year numbers, ASK growth was a more modest 3.5%. Load factor was just above flat (0.2ppts) at 80.9%.
For 1H2016 ASK growth was 12.3% and load factor was up 0.8ppts to 80.0%. On a pro forma basis, which includes Aer Lingus in the base figures, ASKs were up by 4.3% in 1H2016.
By airline, Vueling continued to grow the fastest, with an ASK increase of 14.0% (RPK +18.0%), followed by Aer Lingus, with an 8.4% increase in ASKs (RPK +9.3%). Iberia's capacity grew by 5.1% (RPK +6.6%) and BA remained the most cautious on capacity growth, with ASKs up just 2.0% (RPK +2.4%) in 1H2016.
IAG operating statistics 2Q2016

2016 capacity growth plans trimmed again, led by Vueling
In the light of external factors affecting IAG's markets, the group has again lowered its capacity growth plans for 2016. On a pro forma basis (Aer Lingus in the base figures), ASK growth is now planned to be 4.5%, which compares with 4.9% announced with the 1Q2016 results in May-2016 and 5.3% announced with the FY2015 results in Feb-2016.
By individual airline, the biggest reduction in planned capacity growth rates is at Vueling, whose ASK growth in FY2016 is now planned to be 11.9% (15.4% previously). BA's ASKs will grow by 2.7% (2.6% at the last revision), Iberia's by 4.2% (4.4% previously), and Aer Lingus' by 10.2% (10.8% previously).
IAG planned capacity (ASK) changes by quarter 2016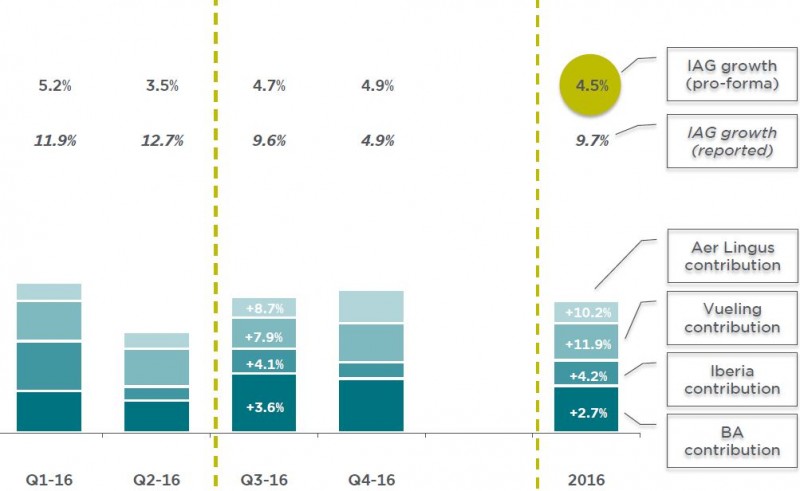 Aer Lingus to be fastest-growing IAG airline in 3Q2016
Vueling's capacity growth will slow considerably in 3Q2016, when its ASKs are planned to increase by 7.9%. Growth on new routes from its bases at Rome Fiumicino, Paris CDG and Amsterdam will be partly offset by discontinued routes elsewhere.
Aer Lingus will be the group's fastest-growing airline in 3Q2016 with ASKs up 8.7%, driven mainly by its new Los Angeles service. Iberia will grow ASKs by 4.1% in 3Q2016, driven by new a service to Shanghai and restored services to Johannesburg (last operated in 2012) and San Juan, Puerto Rico (last operated in 2013). Iberia is also growing frequencies to Los Angeles and Montevideo.
BA will grow its 3Q2016 capacity by 3.6%, driven by new routes from Heathrow to San Jose, California, and from Gatwick to New York JFK, Lima and San Jose, Costa Rica. BA is also increasing frequencies to Las Vegas, Shanghai and Dubai.
IAG planned year-on-year growth in capacity by airline brand (ASK): 3Q2016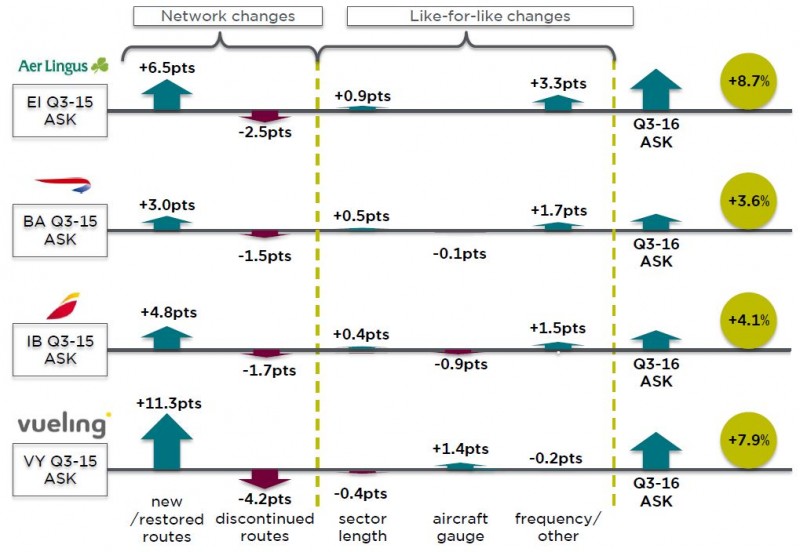 RASK declines in all geographic markets
Excluding currency movements and Aer Lingus, passenger revenue per ASK fell by 6.5% in 2Q2016 – a further deterioration after a fall of 5.2% in 1Q2016 and a 3.7% decline in 4Q2015. This was also a bigger fall than the 4.1% decline reported by Air France-KLM for the quarter.
The biggest decline in 2Q2016 was in Latin America, where ex currency passenger RASK fell by 13.1% mainly reflecting economic weakness in Brazil, but this measure also dropped in every geographic region. It fell by 8.8% in Asia Pacific, reflecting new capacity to Kuala Lumpur and a post-Brexit weakening of demand from Japan; it fell by 6.4% in North America and by 4.5% in Africa, Middle East and South Asia.
Ex currency passenger RASK was also lower on short haul routes, falling by 3.4% in IAG's domestic markets and by 6.5% in international markets in Europe.
IAG passenger capacity and passenger unit revenue by region: 2Q2016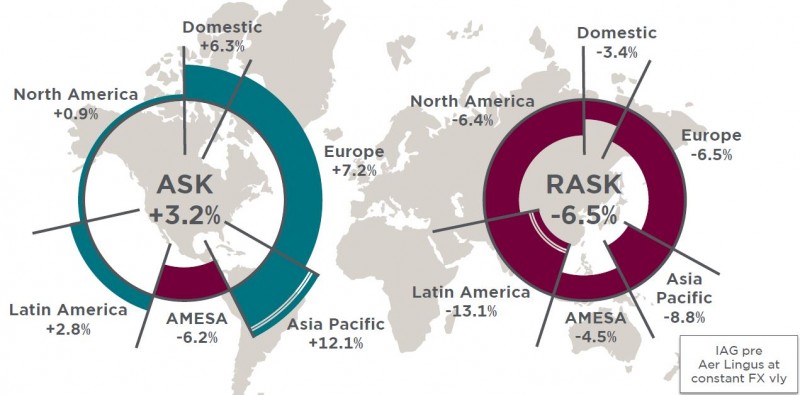 Falling RASK offset by lower CASK, thanks to lower fuel prices
Total unit revenue (total revenue per ASK) fell by 10.4% in 2Q2016, including a negative EUR257 million foreign exchange impact. At constant currency it fell by 6.4%.
Total unit cost (operating cost per ASK) fell at the slightly faster rate of 10.8% (including a EUR109 million foreign exchange benefit) and this led to IAG's modest margin improvement in the quarter. At constant currency it fell by 8.9%.
The unit cost reduction was largely due to lower fuel prices, although ex fuel unit cost still fell by 1.1% (but increased by 0.8% at constant exchange rates).
IAG's new 2016 guidance: lower profit growth, but still growth
Turning to the outlook, IAG cautions over a weaker trading environment in its UK point of sale operation, representing one third of revenue. Weaker GBP would also translate GBP profits into lower reported EUR figures. In 2H2016 it expects at least EUR80 million of disruption costs, affected by severe weather and ATC strikes, hitting Vueling more than the other airlines in the group.
Immediately after the UK's Brexit vote in the final week of Jun-2016 IAG withdrew its FY2016 guidance, but did not then provide a new target. It had previously expected its absolute operating result to increase by a similar amount to the EUR945 million improvement achieved in 2015, implying 40% growth to almost EUR3.3 billion. IAG talked of the adverse impact of uncertainty on trading in the lead up to the vote and foreign exchange movements, but does not expect a significant impact on its business from Brexit in regulatory terms.
It now says that it expects low double-digit percentage growth in pre-exceptional operating profit in 2016. This is clearly significantly below its previous guidance, but still an increase on 2015. Moreover, with revenue likely to grow at a lower rate, this implies that IAG still expects an improved operating margin in 2016.
IAG's new guidance is more positive than that of Lufthansa, whose recent profit warning said that it now expects a lower adjusted EBIT in 2016 versus 2015. Air France-KLM has not given a profit target; its recently revised outlook implies that it expects profit growth in 2016, but, as with IAG, this will be below its previous expectations.
IAG remains ahead of it main peers and is still pushing forward in terms of margin improvement this year, from 2015's 10.2%. However, it now seems unlikely to reach its medium term goal of an operating margin in the range of 12%-15%.
The more challenging outlook for IAG is another reminder of the harsh realities of the airline cycle.