Hong Kong-Seoul becomes Asia's 9th largest international airline route as LCCs capture 21% share
Analysis
Cultural interest in Korea has helped the Hong Kong-Seoul route grow 65% over the years, pushing the route from being Asia's 13th largest based on international seats to ninth largest. LCCs have amassed a 21% market share, mostly at the expense of Cathay Pacific and Korean Air even though they have increased capacity. Asiana has slightly increased market share due to its very large growth, albeit from a smaller base. HK Express in Feb-2015 will operate 18 weekly flights. Jin Air will grow beyond a daily flight, which Jeju Air did earlier in 2014. The route also sees fifth freedom operators that aggressively compete on price.
Airline expansion has helped the number of Korean visitors to Hong Kong grow 22% while Hong Kong visitors to Korea have grown a faster 40% but from a lower base. Overall tourism expansion is lower than air capacity growth, suggesting local full-service airlines are growing to increase transfer traffic while fifth freedom operators have low load factors and limited demand between Hong Kong and Seoul.
Hong Kong-Seoul market has grown 65% in three years
The Hong Kong to Seoul market is projected to grow 65% between Mar-2012 and Mar-2015.
In Mar-2012 there were about 26,600 weekly one-way seats, and in Mar-2015 there will be about 42,200. The market will peak over Christmas 2014 with 46,300 weekly one-way seats. Between Mar-2014 and Mar-2015, the market is projected to grow about 30%.
Seoul Incheon International Airport to Hong Kong International Airport (seats per week, one way): 19-Sep-2011 to 17-May-2015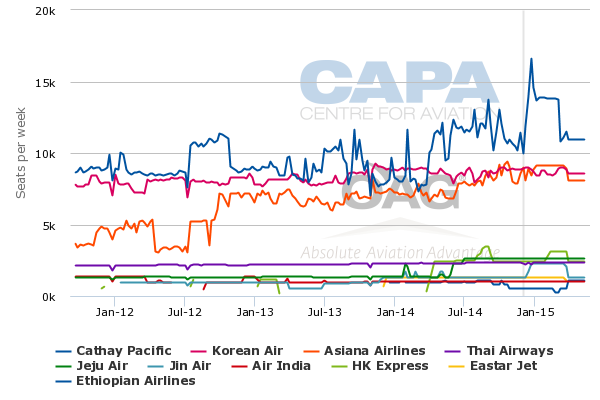 Asiana and Cathay have made large capacity increases with Asiana growing 75% in Mar-2015 compared to Mar-2012. Cathay has grown about 28% capacity. Korean Air has grown about 22% based on Mar-2014 figures but these are distorted as Korean Air had an abnormally low Mar-2012. Korean Air for much of 2012 had about 8,000 weekly one-way seats between Hong Kong and Seoul, and in early 2015 will have about 8,500.
Asiana's market share has grown from about 19% in Mar-2012 to a projected 21% in Mar-2015 while Cathay's market share has fallen from 32% to a projected 29% in Mar-2015. The largest decrease will be at Korean Air, falling from a 27% market share to 22%. However, this is slightly offset by LCC unit Jin Air increasing its marketshare from 3% to 5%. Asiana's LCC unit, Air Busan, does not fly to Hong Kong from Seoul (or indeed, any international route from Seoul).
Seoul Incheon International Airport to Hong Kong International Airport (share of seats per week, one way): 19-Sep-2011 to 17-May-2015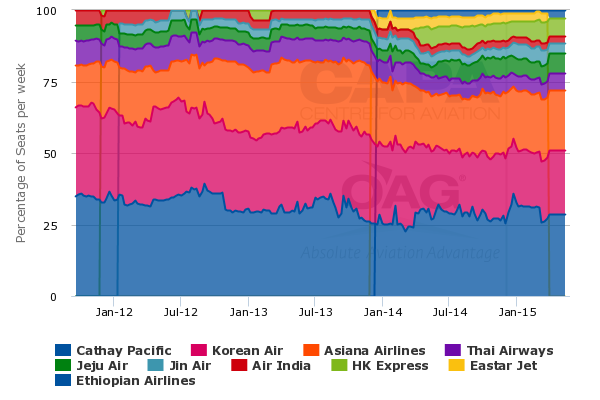 The fast growth in the Hong Kong-Seoul market will make the route Asia's ninth largest international one in Mar-2015. In 2011, Hong Kong-Seoul was Asia's 13th largest international route.
Low-cost airlines account for 21% of seats
Low-cost carriers have had a slower build-up on the Hong Kong-Seoul market compared to Hong Kong-Tokyo. In the space of about 18 months, LCCs went from having a zero to 20% share of the Hong Kong-Tokyo market based on seat capacity. Growth was driven by HK Express and the entry of Vanilla Air.
See related report: Vanilla Air and All Nippon Airways deploy dual-brand strategy on Tokyo-Hong Kong route
In Feb-2015, LCCs are projected to account for 21% of seats between Hong Kong and Seoul, up from 8.5% in Mar-2012%. Whereas the first LCC entered the Hong Kong-Tokyo market in only late-2013, Jeju Air was the first LCC between Hong Kong and Seoul when it entered in 2010.
HK Express and Jin Air increase frequency, joining Jeju Air with multiple daily flights
HK Express launched LCC service to Seoul Incheon in Mar-2014 with seven weekly flights, quickly increasing to double daily in Apr-2014. From 05-Feb-2015 it will increase frequency from 14 to 18 weekly, making Seoul HK Express' largest route. HK Express' additional four weekly flights will operate at four different times, reflecting the difficulty the carrier is having in securing slots at constrained Hong Kong airport.
The four new flights will depart at 10:55, 11:15, 16:50 and 17:15. HK Express deputy CEO Andrew Cowen highlighted the slot challenge in a recent interview with CAPA TV.
Jin Air is also growing its presence, increasing its presence from daily to 12 weekly commencing 19-Dec-2014. Four of Jin Air's five new frequencies will have the same time; the fifth will be 35 minutes later. Jin Air was likely able to achieve greater schedule integrity since it is using midnight hour slots at Hong Kong whereas HK Express is adding frequency in the middle of the day. Jin Air had planned to deploy newly acquired 777-200s on the Hong Kong-Seoul route, but this appears delayed.
Jeju Air already operates double daily flights. Jeju increased from daily to 12 weekly in Jun-2014 and to double daily in Jun-2014, with some prior periods having seen limited frequency increases. Eastar Jet, the last LCC in the market, retains a daily offering. On most days in Feb-2015, the Hong Kong-Seoul market will see seven daily flights from LCCs – a frequency greater than any individual full-service airline, although seat count is lower and times are not as spread out throughout the day.
Despite the market occupying four LCCs, the dynamic is not especially competitive. HK Express and Jeju Air have been working to gain appeal in foreign markets, while Jin Air started a push in Jun-2014. Eastar Jet's website does not permit bookings ex-Hong Kong while Jin Air's website shows little sign of revenue management for ex-Hong Kong bookings. This reflects that the Korean LCCs are mainly catering to the Korean market.
In addition to the three local full-service airlines on the Hong Kong-Seoul route, and four LCCs, there are also three fifth freedom operators, giving the Hong Kong-Seoul route 10 airlines – one of the largest in the world based on non-stop operators. Thai Airways operates daily with a 777-200 while Air India operates four times a week with a 787-8. Ethiopian Airlines has operated four times a week but from 26-Oct-2014 to 28-Mar-2015 is reducing frequency to twice weekly, ostensibly due to decline in demand from Ebola concerns.
Air India and Ethiopian Airlines are aggressive on pricing, sometimes undercutting LCC fares. Their fares include a full luggage allowance, meals and entertainment, amongst other perks. This sees them attain notable volumes of traffic, although seldom enough to make up for the limited demand to/from Ethiopia and India. Ironically, HK Express' sister airline Hong Kong Airlines codeshares with Air India, and the codeshare rate can be below that offered by HK Express.
Visitor growth has mostly been from the smaller outbound Hong Kong market
The 65% growth of capacity between Hong Kong and Seoul over three years (Mar-2012 to Mar-2015) is far faster than the 24% growth Seoul Incheon airport has recorded for international passengers in the full years 2010 to 2013 (latest data available).
Seoul Incheon International Airport annual international passenger numbers: 2008-2013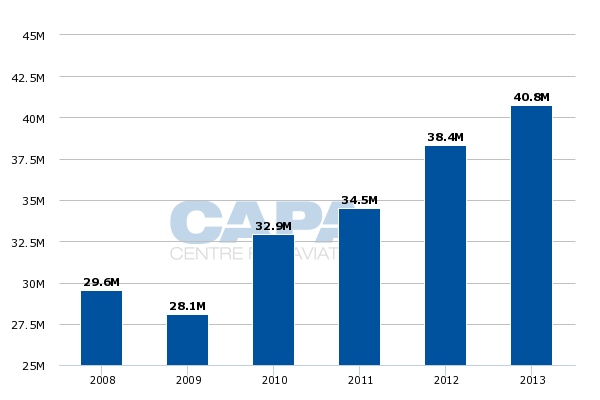 Korean visitor numbers to Hong Kong are not growing as fast, with Korean visitors up 21.6% in 2013 compared to 2010. (These figures are for tourists from all of Korea, and not just Seoul, but Seoul-Hong Kong comprises the vast majority of Korea-Hong Kong flights.) Nonetheless, this growth combined with decreasing Japanese arrivals has made Korean visitors Hong Kong's largest source market after mainland China and Taiwan.
The faster growing segment is in Hong Kong visitors to Korea, which grew 75% from 2010 to 2013. In the 10 months to Oct-2014, Hong Kong visitors to Korea are up 40.3% from the same period in 2013 compared to 18.8% growth of Korean visitors to Hong Kong.
Hong Kong's growth is from a much lower base: there were approximately 400,000 Hong Kong visitors to Korea in 2013 compared to 1.1 million Korean visitors to Hong Kong in 2013. Hong Kong saw an additional 193,000 Korean visitors in 2013 compared to 2010 while Korea saw an additional 172,000 visitors from Hong Kong in 2013 compared to 2010.
Korean and Japanese visitors to Hong Kong, and Hong Kong visitors to Korea: 2004-2013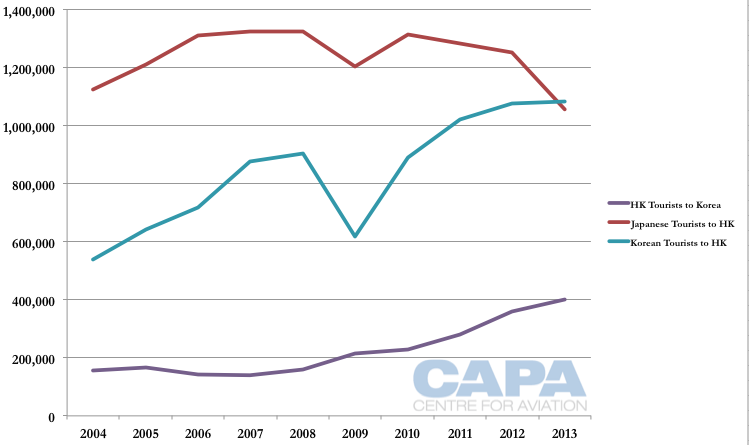 Although the visitor numbers show large growth rates, they are slower than the growth in seat capacity. Total visitors from Hong Kong to Korea and from Korea to Hong Kong increased 33% in 2013 compared to 2010, half the 65% growth rate in available seats between Hong Kong and Seoul. This is likely the result of local full-service airlines adding capacity for sixth freedom rather than point-to-point traffic, while the fifth freedom operators have overall low load factors and limited point-to-point traffic between Hong Kong and Seoul.
Demand between Hong Kong and Seoul continues to be strong. Unlike Japan, there is lower interest in Korea's secondary cities, which are fewer and smaller. There are limited flights from Hong Kong to Busan and Jeju, and secondary services could grow, but Seoul remains the focal point. Incheon airport has slots but the limiting factor is Hong Kong's slot constraints, which airlines are already too well aware of.
The growth in Seoul as a destination changes airlines' network plans as point to point competes with transfer traffic
Growing demand for Seoul as a destination could see the network players adjust the balance between local and connecting traffic. The Korean carriers have already made this adjustment to the mainland China market in order to carry more passengers to Seoul rather than connecting through Seoul, often to North America. While this has boosted their China-Korea flights, Korea-North America flights (the most common connection from China for them) have dipped.
Airlines are looking to ride the much-celebrated "Korean wave", but they will need to maintain a balance across their networks if they shift strategy to push Korea strongly in the long term. There is undoubtedly further growth potential, but Seoul destination capacity needs to be monitored for its impact on transfer capacity.