Hong Kong-London: Hong Kong Airlines entering largest Asia-Europe market, and a potential JV
Analysis
Hong Kong to London is the largest market between Asia and Europe for total passengers and premium passengers. It is a logical destination for HNA's Hong Kong Airlines, which is embarking on long haul expansion and in Aug-2017 receives its first A350.
The Hong Kong-London market has nearly returned to its 2007 size, when Oasis Hong Kong briefly served the cities. Unlike Oasis, Hong Kong Airlines is a full service and network airline; Oasis only served London and Vancouver. Hong Kong Airlines will have a normal economy and business offering, unlike its all premium A330 Hong Kong-London Gatwick service in 2012.
In the last five years since its all premium folly Hong Kong Airlines has grown significantly and matured, although it still lacks a strong home market perception. Hong Kong Airlines can be expected to form a JV on the route, although it is unclear whether it will be able to command a yield premium.
Hong Kong Airlines is expected to re-enter the Hong Kong-London market as a flagship A350 service, when Hong Kong Airlines receives its first A350 in Aug-2017 and continues its long haul expansion. The growth is notable, as Hong Kong Airlines is transforming from a regional to a long haul operator and is the only non-LCC new long haul operator in Asia outside mainland China. Hong Kong Airlines gives Hong Kong a second intercontinental home airline after Cathay Pacific.
For intercontinental destinations, Hong Kong Airlines serves Australia's Gold Coast and Cairns, New Zealand's Auckland, and by the end of Jun-2017 – Vancouver. Vancouver will be Hong Kong Airlines' first destination in North America, which (with time) will be Hong Kong Airlines' major intercontinental focus.
Hong Kong Airlines is expected to receive at least 17 A350s (and more A330s) but, as always with the airline, details are opaque. The airline is expected to receive more aircraft than it publicly acknowledges. (Hong Kong Airlines is not listed.)
Hong Kong Airlines is receiving A350s earlier than planned as it is taking the aircraft originally ordered by the Brazilian airline Azul. HNA's shareholding in Azul and Hong Kong Airlines has allowed the aircraft to be sent to Hong Kong Airlines instead of Azul.
The Hong Kong-London market is served broadly six times daily by Cathay Pacific (five to Heathrow and one to Gatwick), twice by British Airways (Heathrow) and once by Virgin Atlantic (Heathrow). Cathay also serves Manchester in the UK.
Hong Kong Airlines will serve London with a typical economy and business class product. In 2012 Hong Kong Airlines operated all-business class A330 services between Hong Kong and London Gatwick. The flight was poorly conceived, and before its launch the forward bookings were low. Hong Kong Airlines is now larger and maturer, with a wider network and some recognition, but the airline will not consider once again operating an all-business service.
The all-business service operated for less than a year, five years ago, but Hong Kong Airlines will have to distance itself from the inevitable memories of its that folly.
London service comes with the usual question of which airport and how to get slots. Chinese airlines have been acquiring Heathrow slots, including most recently China Southern for a second daily Guangzhou-Heathrow service. Hainan Airlines, a sister airline to Hong Kong Airlines, has planned a Changsha-Heathrow service. Other HNA units are using Gatwick. HNA, which has been on an ambitious acquisition spree, appears able to afford Heathrow slots.
Gatwick is not as easy to reach as it once was, since it too is congested, especially at peak hours. A Heathrow service for Hong Kong Airlines is higher profile and should be more competitive and higher yielding. A Heathrow service would especially benefit a partnership with Virgin Atlantic, which serves Hong Kong from Heathrow. Virgin might also be able to help Hong Kong Airlines with Heathrow slots.
Hong Kong-London is growing but nonstop capacity has declined
O&D traffic between Hong Kong and London is growing once again. According to UK CAA data, travel peaked in 2007 – the only full year of operation of Oasis Hong Kong, which flew between Hong Kong and London Gatwick.
Traffic fell in 2008, 2009 and 2010 before broadly flatlining through 2014. During this period Air New Zealand and Qantas exited their fifth freedom Hong Kong-London sectors. There was sharp growth in 2015 and further growth in 2016, when annual traffic (1.58 million passengers) was 95% the size of 2007's record traffic (1.66 million passengers).
Despite passenger volumes in 2016 being 95% as large as in 2007, nonstop seat capacity in 2016 is 67% the size of 2007. The year 2007 stands out due to the presence of Oasis Hong Kong (which did stimulate new point to point demand), but passengers also flew Oasis nonstop, instead of making a transit. The exit of Air New Zealand and Qantas from Hong Kong-London reduced the nonstop seat supply, but their services carried only some Hong Kong-London fifth freedom passengers. (Hong Kong allowed Air New Zealand to carry no more than 50% local traffic to protect the third and fourth freedom airlines.)
Available nonstop seat figure shown also includes capacity used for sixth freedom connections – mostly on Cathay Pacific, but also on British Airways.
Hong Kong-London O&D passengers and available nonstop seats: 2002 to 2016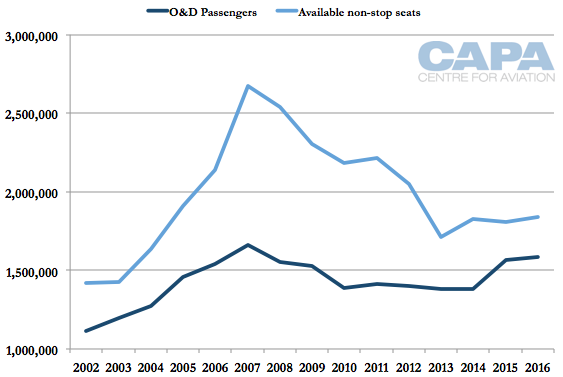 Of local operators: Cathay Pacific added frequency but downgauged from 747-400s to 777-300ERs (capacity per movement will grow as 777s are retrofitted from nine to 10 abreast in economy); British Airways grew as it transitioned from two daily 747-400s to A380 and 777-300ER (under its old Qantas partnership, BA had upwards of three daily flights); and Virgin Atlantic downgauged from A340-600 to 787-9.
Hong Kong to London nonstop seat capacity and frequency: 2007-2017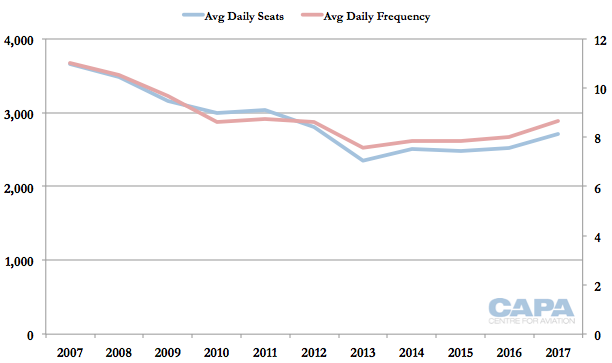 The strong growth in passenger traffic since 2014 has occurred despite relatively flat nonstop capacity.
A major factor is that intermediate airlines have grown and reduced fares, stimulating new demand. This is led by airlines in the Gulf, which have also been growing in London through new services and upgauges. Southeast Asian airlines that used to have a tidy business in Australia-Europe traffic, such as Malaysia Airlines, have been affected as that business has diverted to Gulf operators. Southeast Asian airlines have as a result become more aggressive on transfer traffic to replace that lost to the Gulf airlines.
Hong Kong to London nonstop seat capacity by airline: 2012-2017
Likely launching with a daily service, Hong Kong Airlines can be expected to partner and, ideally, form a joint venture.
Virgin Atlantic is the most likely candidate. Virgin has one daily London-Hong Kong flight and combined they would have a greater presence. After a successful Delta JV for its core US market, Virgin has, like its parent, been seeking partnerships to fill out the rest of its network and enlarge its virtual footprint. In the Asia Pacific region, Virgin Atlantic has withdrawn from Tokyo and Sydney.
Although strategically Hong Kong Airlines and Virgin could be a fit, they are very different airlines. Virgin has lustre, whereas Hong Kong Airlines comes across as saccharine, with its "Sweeten You Up" tagline and heavy red and gold Chinese branding. Then again – Delta and Virgin were also different bedfellows.
What Delta has that Hong Kong Airlines is still growing is a strong local market perception, as well as a strong loyalty programme and onboard experience.
Through Virgin's Delta JV the airline partnered with a very capable and experienced airline (Delta's merger partner Northwest formed a JV with KLM, the industry's first JV). For Virgin's next partnership, it will be doing the teaching. A potential Hong Kong Airlines-Virgin Atlantic JV is notable, since neither of its participants are members of a global alliance.
The only other nonstop Hong Kong-London operators are Cathay Pacific and British Airways. Both are members of oneworld and have an existing partnership, but this is not as sticky as it may seem. The two are seemingly planning for life after the relationship: Cathay has been diversifying around Europe, while BA has partnered with China Eastern in Shanghai. Despite the widening gap, it is unlikely Hong Kong Airlines is enough to woo BA away from Cathay.
O&D traffic will be core, with limited beyond opportunities
A Hong Kong-London partnership for Hong Kong Airlines and its prospective partner will mean that O&D traffic will be core. This is partially from opportunity: Hong Kong-London is the largest O&D pair between Europe and Asia (16% larger than the second largest, London-Bangkok), and is also the most premium Europe-Asia city pair.
Focusing on Hong Kong-London traffic is also out of necessity. Assuming Virgin Atlantic is Hong Kong Airlines' partner, Virgin offers no domestic UK or EU services. Hong Kong Airlines is unlikely to need Virgin's North America or Africa networks.
On the other end of the route is Hong Kong Airlines and its Hong Kong hub. Virgin Atlantic is eager to expand its virtual network around Southeast Asia, a market it did not serve while Singapore Airlines owned 49% of the airline. It was thought that Singapore was a missing destination for Virgin Atlantic after Singapore Airlines sold its Virgin stake to Delta, but Virgin doubled down on North America. (Norwegian's intent to launch London-Singapore nonstop service surely ends whatever small prospects there could have been for Virgin in Singapore.)
Hong Kong Airlines' Southeast Asian footprint is not as large as in Northeast Asia. Bangkok and Denpasar, Bali, are its largest destinations in the region. Bangkok entails significant backtracking over Hong Kong, is low-yielding and competitive. Denpasar is experiencing strong Gulf airline growth, and Hong Kong Airlines generally has strong enough yields to Denpasar that it would not want to take a low-yielding transfer passenger. Hong Kong Airlines does not serve Singapore, the one destination Virgin is most eager to have better access to in Southeast Asia.
In Northeast Asia Hong Kong Airlines has an extensive mainland China network, and indeed, this is Hong Kong Airlines' key source market for transfer traffic. Although there are network opportunities for Virgin Atlantic, China-UK is becoming more competitive, with a number of new nonstop services from mainland China to the UK following an expanded air service agreement.
There are lesser opportunities elsewhere in Northeast Asia – even in Japan, where Hong Kong Airlines grew significantly in 2016. Cathay Pacific has notable Japan-Europe transfer traffic through Hong Kong.
Hong Kong Airlines' Australia/New Zealand services could also feed the Hong Kong-London JV. Virgin Australia's entry to Hong Kong could also feed the JV. Although Kangaroo Route traffic is highly competitive, it can be useful transfer traffic in low seasons.
Cathay Pacific and British Airways will retain a strong advantage connecting non-London UK traffic to Hong Kong. British Airways has its domestic UK network, to which Cathay has partner access and, as noted, Cathay also serves Manchester itself. In time, Hong Kong Airlines could consider nonstop services to other UK cities.
When non-London O&D traffic is included, the total Hong Kong-UK market in 2015 surpassed the previous peak in 2007. In 2016 there was approximately 3% more Hong Kong-UK traffic than in 2007.
Hong Kong-UK O&D passengers: 2002 to 2016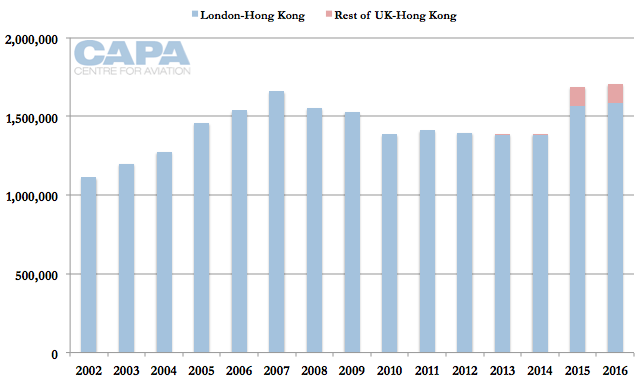 The underlying competitive question for Hong Kong Airlines' London re-entry, and possible JV with Virgin Atlantic, is what yield quality Hong Kong Airlines attracts. It will be easy for Hong Kong Airlines to sell Hong Kong-London nonstop at the discounted fares that one stop airlines offer.
However, Hong Kong Airlines needs to attain a yield premium. Although Hong Kong Airlines has a regional network and service to Cairns, Gold Coast, Auckland and soon Vancouver, London is its first major international business/corporate market – and a significant market London is.
Hong Kong Airlines, even with a combined Virgin Atlantic, does not have the presence in the UK or Hong Kong that British Airways and Cathay do. Hong Kong Airlines is also disadvantaged by having limited connecting markets. A stronger identity, branding and loyalty programme will help Hong Kong Airlines gain relevance – not only for a London service but its entire network.
Partnership benefits will hinge on how Hong Kong Airlines implements a deal and JV. Hong Kong Airlines has a codeshare with Virgin Australia and an alliance pending final approval.
A London service marks an important development for Hong Kong Airlines.
As much as a London service adds relevance to Hong Kong Airlines in its home market, the airline will need to continue balancing its strong capacity growth with expansion of strategic projects to increase yield quality.