Holidays: no rest for Europe's LCCs
Analysis
European tour operators have always sold integrated package holidays, combining flights, hotel rooms (or cruise berths) and extras such as car hire, excursions and events. This has offered not only convenience, but typically value for money compared with assembling all the elements separately. Moreover, in the pre-internet era, it was almost impossible to do it all without a travel agent.
Then LCCs came along and things changed. Their core product was flight seats, which they offered very cheaply, but they also started to offer third-party travel services, such as hotels and car hire, through their websites. This gave consumers the opportunity to self-assemble their own package holiday.
In response, the integrated tour operators started to unbundle their package holidays. Their charter airlines began to increase their seat-only offer and to grow scheduled services.
Now, a number of leading low cost airlines, in partnership with third party suppliers, are bundling up the distinct elements of a holiday (that they have long sold) to offer package holidays. Recent comments from easyJet about growing its share in this market and Ryanair's ongoing plan to be the 'Amazon of travel' demonstrate LCC ambitions in holiday sales.
Summary
Charter flights have declined in Europe
The rise in LCC sales of holiday packages in Europe has coincided with a decline in charter flights, which were historically the main focus of the airlines owned by tour operators.
According to Eurocontrol Statfor, charter flights accounted for only 3.4% of total flights in Europe in 2016. This was well under half of the 7.7% share taken by charter flights in 2005. At the same time, LCCs increased their share of flights to 30.1% in 2016, from 13.3% in 2005.
In the UK, non-scheduled air services accounted for 7% of passengers on UK airlines in 2016, a drop from 33% in 2001. LCCs' share of passengers carried by UK airlines grew to almost 55% in 2016, from just less than 7%.
See related reports:
In itself, a decline in charter flights does not equate to a decline in the tour operator business, but it reflects a change in the way in which tour operators approach their activities.
For example, Thomas Cook Group's airlines still rely on in-house tour operators for approximately 50% of their passengers, but have grown their scheduled operations. Their tour operator sister companies now buy scheduled seats from the airlines, rather than dedicated charter capacity, but the airlines can also sell to external customers.
Flights in Europe by category of airline (% of the total): 2005 to 2016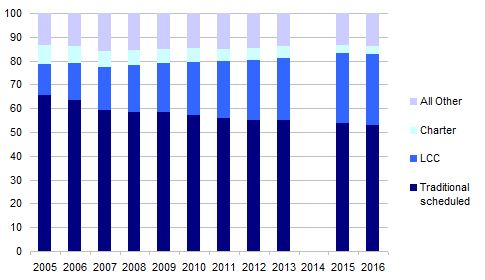 Ryanair: holiday sales help it towards 'Amazon of travel' goal
For Ryanair, accommodation and holiday sales are an opportunity to capitalise on its growing digital capabilities in order to increase ancillary revenue and to achieve its goal of becoming the 'Amazon of travel'. These propositions make use of third-party partnerships, and the fees generated are high margin to Ryanair.
Ryanair launched an accommodation service, Ryanair Rooms, in 2016 (although it had long sold hotel rooms on its website). It recently added its Travel Credit feature to this service, worth 10% of the accommodation booking, to be used for Ryanair flights. In Dec-2016 Ryanair launched a package holiday service, Ryanair Holidays, offering flights, hotels and transfers.
In its financial year to Mar-2018, Ryanair grew ancillaries to 28% of its revenue (from 27% the previous year) and was on track to achieve its target of 30%. However, only approximately 5% of its ancillary revenue comes from the sale of third-party travel services (including hotels) through its website.
See related report: Ryanair: four years of getting better, but beware of turbulence
EasyJet: new CEO has new ambitions for holiday sales
EasyJet derives close to 20% of its revenue from ancillary sales, but does not break these down by product/service.
In its 1H2018 results statement, easyJet announced that it was planning to invest in an enhanced holidays proposition. It already has easyJet Holidays, which offers integrated vacation packages, but new CEO Johan Lundgren aims to increase its share of the market.
Mr Lundgren knows this market well. His previous business experience was in the tour and travel industry, including serving as deputy chief executive of TUI Group from 2011 to 2015.
Currently, out of what the airline calls an "addressable market" of 20 million, only 500,000 passengers book a hotel with easyJet, which is a penetration rate of 2.5%. EasyJet does not define 'addressable market', but this presumably relates to that portion of its more than 82 million annual passengers that are travelling for a holiday.
It claims a cost advantage of at least 20% over the leading operators and now plans to develop closer relationships with selected hotel operators.
The holidays proposition will be supported and enhanced by easyJet's digital capabilities, which it believes will increase conversion rates and allow improved customisation.
Neither Ryanair nor easyJet separately discloses any results from its holiday sales operations, which are part of the broader ancillary revenue line. However, some other LCCs have distinct tour operator business segments, including Wizz Air and Jet2.com.
In 2015 the Wizz Air Group launched Wizz Tours, which sells travel packages covering the Wizz Air network to external customers. It began separate disclosure of Wizz Tours revenue and expenses in FY2017, when the business unit increased its revenue by a factor of four.
Nevertheless, in the year to Mar-2018, Wizz Tours' revenue remained flat at only EUR18 million, or just less than 1% of group revenue.
Wizz Air also generates revenue from hotel bookings and other travel services sold by the airline as ancillaries, and the group overall derived EUR816 million, or 42% of revenue, from ancillaries (which also include core airline revenues such as fees for baggage, payment, airport check-in and seat reservation and onboard sales).
Jet2.com's growth has all come from its holiday company over the past five years
Jet2.com has been increasingly reliant on Jet2holidays, its sister company also owned by Dart Group PLC. In the five years to FY2017 (the year to Mar-2017, the latest financial year for which results are available), the group's in-house tour operator drove all of the airline's incremental traffic.
In FY2012, Jet2holidays accounted for 0.4 million of the airline's 4.2 million passengers, or less than 10% of the total. In FY2017, the holiday company provided Jet2.com with 3.5 million out of its 7.1 million passengers, a share of 49%. In the half year to Sep-2017, this share rose to 51%.
Dart Group manages the holiday company and the low cost airline as one business within its leisure travel segment, which is, in effect, a tour operator.
Jet2.com: proportion of passengers travelling on package holidays with Jet2holidays.com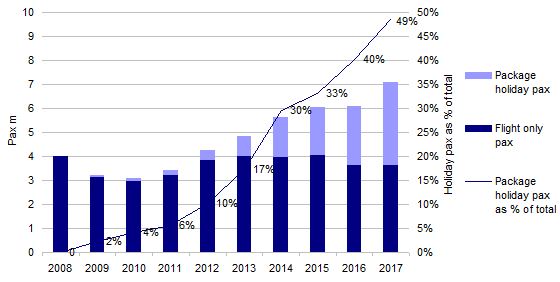 Monarch reduced its reliance on its in-house tour operator
Monarch Airlines, which went bankrupt and ceased operations in Oct-2017, was reducing its dependence on its in-house tour operator in its final years. Monarch had origins as a charter airline and still carried 52% of its passengers on charter flights as recently as 2005, but became a 100% scheduled operator in 2016.
The Monarch Group's tour operator division sold package holidays, which bought scheduled seat capacity from the airline. That division accounted for 22% of group revenue in the year to Oct-2016, although this had been as much as 35% two years earlier.
British Airways Holidays accounts for 6% of BA revenue
Package holidays are not only sold by LCCs. Full service airlines, including British Airways and Virgin Atlantic, have long operated their own holidays businesses.
British Airways Holidays was incorporated as long ago as 1955. According to accounts filed with the UK's Companies House, BA Holidays sold 1.6 million products and generated GBP726 million in revenue, 6% of BA's total, in 2016 (the most recent year for which accounts are available).
Virgin Holidays accounts for 23% of Virgin Atlantic revenue
In 2017 Virgin Holidays had 397,000 customers and generated GBP612 million in revenue, or 23% of Virgin Atlantic's revenue.
This was the same share of Virgin Atlantic revenue for the holiday company as in 2016. The focus for this business is long haul, reflecting the Virgin Atlantic network, taking it out of the realm of most of Europe's LCCs.
Package holiday sales are a significant opportunity for leading LCCs
Norwegian, the only European LCC with a long haul network, also has a package holidays business: Norwegian Holidays. Its revenues are not separately disclosed and account for only a small share of group sales.
For the integrated tour operators, competition from LCCs has encouraged changes to their operations. They have increased the share of seat-only capacity offered on their airlines and have skewed their growth towards long haul markets, where LCC competition has so far been less fierce.
Leading LCCs such as Ryanair, easyJet and Wizz Air have extensive networks across Europe that connect a large number of leisure destinations with a large number of high population origin airports.
For them, the opportunity to grow their sales of package holidays from current low levels appears significant.