HNA's Lucky Air seeks permission to expand out of domestic China market to HK/Taiwan/Macau
Analysis
Lucky Air would become China's 13th scheduled international airline
China has 23 scheduled airlines filing services through Innovata, but only 12 of them serve routes outside of the domestic market. If and when Lucky Air commences flights outside of the domestic market, it will become the 13th airline to do so.
Chinese airlines with international services ranked on seat capacity: 20-May-2013 to 26-May-2013
Rank

Airline

Total Seats

1

277,606

2

238,604

3

210,330

4

35,368

5

35,006

6

28,578

7

26,796

8

19,906

9

19,090

10

16,432

11

8,016

12

3,480
Lucky is part of the expansive HNA network of carriers but has its assets fully injected in HNA to limit competition amongst HNA-affiliated carriers. Amid the complex of HNA airlines, there may be future route trade-offs, such as Kunming-Fuzhou going to forthcoming HNA carrier Fuzhou Airlines.
The Chinese market is still heavily domestic, accounting for approximately 79% of seats to/from/within mainland China. Even among China's large carriers, international services still play a minor role.
International flights are typically loss-making for Chinese carriers. Exceptions are to the high-yielding Taiwan market (where tight capacity controls ensure yields are the highest in the system) and some short-haul markets like Japan and Korea. Southeast Asia is more challenging for Chinese carriers given their inability to compete – on cost and efficiency – with low-cost carriers.
For these and other reasons, domestic services typically have a higher yield than international routes, but carriers are nonetheless expanding, primarily for strategic reasons: Chinese carriers are engaged in market share battles, not wanting to surrender routes to foreign airlines. In some markets foreign airlines account for the majority of capacity rather than Chinese carriers or near equal market share.
Chinese carriers are also fiercely competitive with each other. They respond to capacity increases from peers, which in turn prompts responses from other Chinese carriers, creating a circle (perhaps unwelcome) of expansion. International growth is also occurring at the direction of the Chinese government, which wants to boost China's international presence but also sees international services as a way to take pressure off its already over-burdened airspace and slot restrictions.
The government easily exerts influence on state-owned carriers – including Air China, China Eastern and China Southern – but also readily exerts influence on privately-owned airlines by giving route authority to only specific city-pairs and/or making it clear which routes it would like to see a carrier operate.
Lucky Air is the third-largest airline at Kunming
Lucky Air is the third-largest carrier at Kunming, the capital of Yunnan province in China's south. China Eastern airlines, the largest carrier at Kunming, operates a branch at Kunming as part of its hub strategy that also sees hubs at Shanghai (main base) and Xi'an.
Largest carriers at Kunming airport ranked on domestic seat capacity: 20-May-2013 to 26-May-2013
International capacity out of Kunming is led by China Eastern far and wide but foreign carriers largely comprise the remaining international capacity. Air China is the only other Chinese carrier to have notable international capacity from Kunming. Lucky Air would surpass Air China with only two international flights a day, but will fall far short of surpassing China Eastern – at least for the foreseeable future.
Largest carriers at Kunming airport ranked on domestic seat capacity: 20-May-2013 to 26-May-2013
Kunming opened a new airport in 2012 but slots are already heavily constrained, somewhat to the puzzlement of airlines.
See related report: Kunming Airport star of China's southwest, but already demand is outstripping slots
Lucky's route map heavily features destinations around Yunnan province. In Dec-2012 Lucky significantly increased its intra-Yunnan capacity with the following capacity additions:
Kunming-Jinghong: Increase from six to 11 times daily;
Kunming-Luxi Mangshi: Increase from two to four times daily;
Lucky Air's route map also covers destinations across China, including to Urumqi in the Northwest and Harbin in the Northeast.
Lucky Air route map: May-2013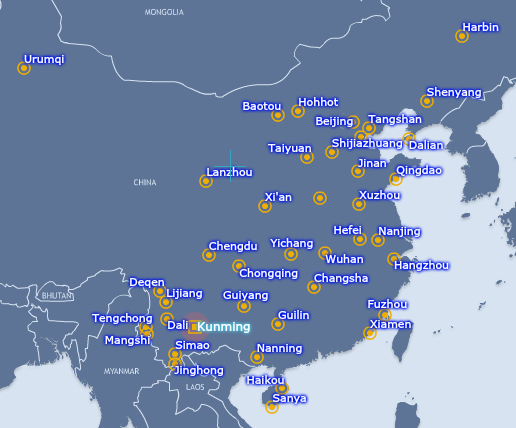 Lucky Air is part of the web of carriers affiliated with privately-owned HNA Group. This portfolio strategy is common at Chinese airlines as provinces favour having their own local carrier and airlines receive benefits for being locally-established rather than having a base or hub at a city. The strong power of provinces has resulted in a number of affiliated carriers.
Their relationship with their parent airline varies with regards to the extent of cooperation, but HNA generally sees the loosest affiliation, to its detriment as it looses potential synergies.
See related report: Hainan Airlines to launch three new airlines as part of portfolio strategy
Cross-ownership/partnership amongst Chinese carriers: Mar-2013
Kunming is an ideal international gateway to Southeast/South Asia
Kunming's geography in southern China lends itself to being a gateway for Southeast and South Asia. 52% of international seats are deployed to Southeast Asia while South Asia accounts for a further 14% and the Middle East – also geographically convenient – 2%.
Kunming international seat capacity by region: 20-May-2013 to 26-May-2013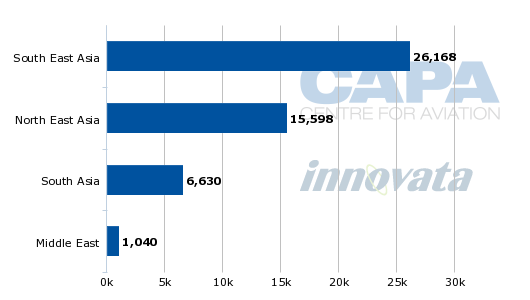 Hong Kong is the largest international route from Kunming, reflecting the presence of Hong Kong Airlines and Dragonair, but the remaining international routes from Kunming are almost exclusively to Southeast Asia.
Top 10 international routes from Kunming ranked on seat capacity: 20-May-2013 to 26-May-2013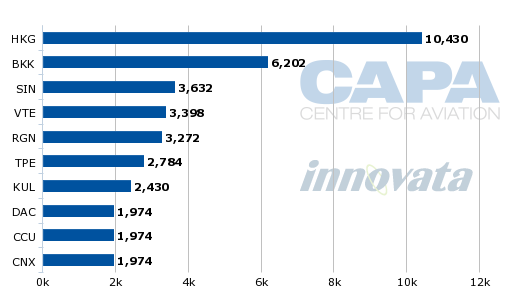 China Eastern overwhelmingly deploys its international capacity to Southeast Asian destinations.
China Eastern largest international destinations from Kunming ranked on seat capacity: 20-May-2013 to 26-May-2013
Kunming has about 13% of international seats supplied by AirAsia, the sole LCC with international capacity at the airport – for now. This is likely to change as the airport's network achieves critical mass.
The largest international destination from Kunming, Hong Kong, sees service from China Eastern, Dragonair and Hong Kong Airlines. Drsgonair accounts for 40% of capacity while China Eastern holds 19% and Hong Kong Airlines 41%. China Eastern and Hong Kong Airlines have a mainland China-Hong Kong partnership that sees them codeshare in an effort to gain scale over the Air China-Cathay Pacific stronghold.
See related report: China Eastern-Hong Kong Airlines partnership bolsters them in a market dominated by Air China-Cathay
Kunming-Hong Kong one-way seat capacity by carrier: 19-Sep-2011 to 3-Nov-2013
Should Lucky wish to enter the Kunming-Hong Kong market, there will be some issues for HNA to resolve in how it would or could work with other group carriers and with larger competitors: Lucky is affiliated with Hong Kong Airlines, which is partnering with China Eastern, but China Eastern would consider Lucky a domestic competitor. There could perhaps be a carve-out in this market to allow the carriers to work together against their larger competitor, Dragonair. It also remains to be seen what cooperation could exist between Lucky and Hong Kong Airlines; HNA group carriers are not reaching their full potential for synergies.
Kunming is linked to Taiwan's Taipei and secondary city of Kaohsiung. Prime routes between mainland the Chinese mainland and Taiwan are lucrative and have some of the highest yields. But growth lately in the mainland China-Taiwan market has been occurring around secondary points where achieving profitability is a challenge. Airlines often operate them in hopes of receiving better route designations the next time the market is expanded. However, private carriers are not given preference for Cross-Strait routes to Taiwan.
China Eastern and Sichuan Airlines (affiliated with China Southern) operate from Kunming to Taipei while only Uni Airways, a subsidiary of Taiwan's EVA, operates from Kunming to Kaohsiung.
Kunming-Taipei one-way seat capacity by carrier: 19-Sep-2011 to 3-Nov-2013
Kunming-Kaohsiung one-way seat capacity by carrier: 19-Sep-2011 to 3-Nov-2013
Outlook: Regional flights stepping stone to international services
There are, for now, perhaps more questions than answers in Lucky's plan to move into regional international markets. Taiwan is appealing but challenging to obtain rights to. Macau is under-served but still building its network and attraction as a destination, especially to cities like Kunming that do not have the wealth of eastern China.
Yields are high on the Kunming-Hong Kong route, but there would need to be coordination to ensure toes are not being stepped on or synergies lost with respect to Hong Kong Airlines. But these are not insurmountable challenges.
On smaller regional routes, there are undoubted opportunities for expansion, but the combination of lingering regulation (capacity controls, slot "shortages" and government preferential treatment) and limited experience at airline level in revenue management on new routes, makes these still unattractive.
Meanwhile, exposure in non-mainland China will further prepare Lucky – and the larger HNA, with its very explicit international aspirations – for eventual international services around Southeast Asia and beyond.