Hawaiian Airlines' long-haul routes deliver weak results, challenging rapid expansion strategy
Analysis
Questions are being raised over exactly when numerous long-haul markets introduced by Hawaiian Airlines during the last three years will reach maturity and cease being a drag on the carrier's network.

The airline's tempered capacity growth during FY2014 is a welcome sign. But other metrics are not as encouraging. Hawaiian has refined unit costs guidance upwards for 2014, citing several factors including the launch of its new inter-island turboprop operator Ohana, aircraft reconfigurations to support a new extra-legroom product and a rise in labour costs resulting from the hiring of additional pilots to comply with new US flight and duty time rules.

Hawaiian is beginning to field requests about when it will be in a position to consider shareholder returns. The carrier doesn't expect to generate positive free cash flow until 2015, which can be an eternity for investors eager to see some return on their investment. The company assures that it is ending a period of heavy investment that will pay off over the long term. But in the short term Hawaiian may find itself having to defend its strategy to impatient shareholders.
Weak performance on long-haul routes is fortunately offset by improvements in North America
Despite a continuing weak performance on its Pacific long-haul routes, Hawaiian kept its FY2013 profits essentially intact. It recorded FY2013 net income of USD52 million compared with a US53 million profit the year prior.

Although passenger unit revenues plunged 10.6% in 4Q2013 on Hawaiian's long-haul routes to Asia and Australia, unit revenue growth of 13% on both North American and inter-island markets helped lift overall passenger unit revenues 3.7% for 4Q2013. But the pressure Hawaiian faced on long-haul markets during FY2013 drove passenger unit revenues down nearly 4% for the year.
Hawaiian's unit revenue and cost performance: 4Q2013 vs 4Q2012 and FY2013 vs FY2012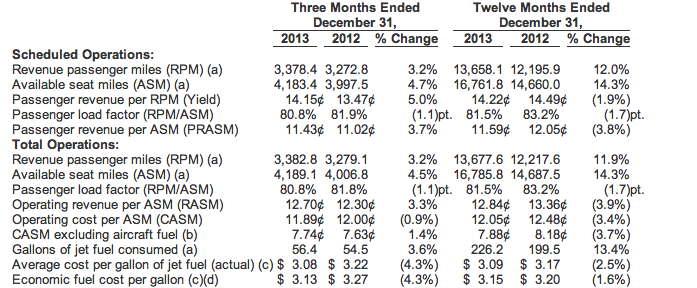 Hawaiian remains encouraged that moderating capacity on routes to North America, primarily the US mainland, is continuing into 1Q2014. Industry capacity in those markets declined 3% year-on-year during 4Q2013 and Hawaiian projects a 1% drop in 1Q2014.
Even as Hawaiian has taken significant steps to diversify its operations outside North America, the region still represented 47% of its revenues during 4Q2013, so the moderation in domestic industry capacity should help Hawaiian to continue producing favourable results in its North American markets.

Hawaiian Airlines believes it has good supply-demand balance in its inter-island markets, and highlights that on a two-year basis, it has grown capacity without diluting unit revenues in those markets. The carrier tempered growth from a hub it established in Maui during 2012 after initially expanding its inter-island supply by 25% in the market. It made capacity adjustments in Maui, and also implemented a new revenue management system in 2013 that expands the number of fare options on those routes.

See related report: Hawaiian Airlines preps for a new phase of slower growth after rapid international expansion
Hawaiian explains its approach to rapid-fire long-haul growth
Hawaiian continues to stress that it has plans for only a single new route launch in 2014, with new service to Beijing. It is a tapering of growth that included 10 long-haul market launches in the last three years.
Hawaiian's new route introductions: 2010 to 2014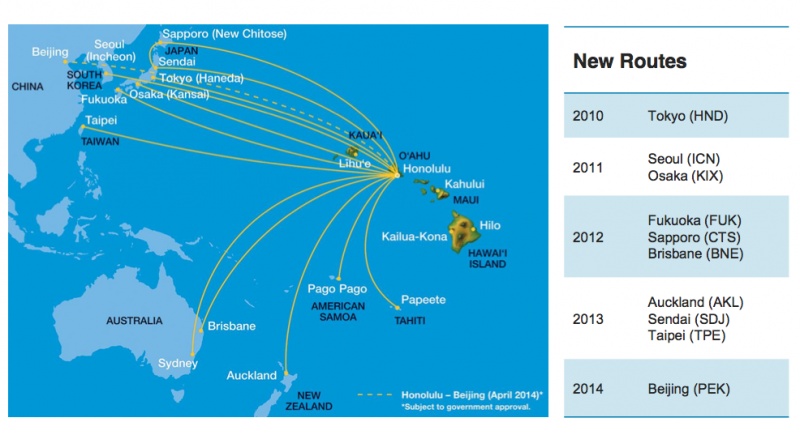 During that time the bulk of new service has been introduced to Japan. The typical spool-up period, which can take upwards of three years, combined with the weakening yen during the past year has taken its toll on the performance of some of those routes. Hawaiian also faced competitive capacity increases in those markets, as Korean Air added service from Tokyo Narita to Honolulu and Japan Airlines placed additional seats in the Honolulu-Osaka market.

As Hawaiian works to mature its long-haul markets in 2014, the carrier is explaining its approach to dealing with the challenges it faces in ensuring those routes reach profitability. "Some of it is about gaining a better appreciation for the seasonality of the market, some of it is gaining a better understanding of who is likely to travel to Hawaii, some of it is encouraging our tourism authority to focus on certain travel segments in some of those markets," Hawaiian CEO Mark Dunkerley recently explained. He also stated in some markets the carrier needs to work with local airport authorities and local carriers to provide better connections.

Adding more colour to Hawaiian's rapid long-haul international expansion during the past few years, Mr Dunkerley stated that "coming out of the global financial crisis in 2008, we saw a window of opportunity to develop a network, and then we thought that window would be open for a while and start to close, and we very deliberately accelerated plans that had previously existed to try and get in that window while it was still open. And that's why we grew so quickly from 2010 to 2013".

Hawaiian's CEO also emphasised the carrier has no apprehension about "making the decision to change our network" if the spate of new routes do not mature in the way the carrier anticipated.
Hawaiian faces some cost pressure while still generating negative cash flow
Hawaiian plans capacity growth of 5% to 8% in 2014 after a high of 22% in 2012. The slowdown in its supply is now intended to allow Hawaiian to catch its breath and presumably hunker down to make the necessary adjustments in order to bring its long-haul network to profitability.
Hawaiian's annual capacity growth: 2010 to 2014

After a unit cost decline excluding fuel of 3.7% in 2013, Hawaiian has revised in unit cost increase for 2014 from flat year-on-year performance to an increase in the low single-digit range. Hawaiian says many of the projects causing its cost creep – wage increases, aircraft configurations and the launch of Ohana – are front-end loaded into 1H2014, and believes cost pressure will recede in 2H2014. While the cost increases are not drastic, any cost pressure is unwelcome as Hawaiian works to improve its long-haul operations and anticipates a USD465 million capex outlay.

Hawaiian's outstanding debt and capital lease commitments stand at roughly USD806 million, nearly double the carrier's cash balance of USD423 million. Previously Hawaiian has said it does not expect to generate free cash flow until 2015, and during 2013 its estimated negative free cash flow was USD300 to USD310 million.
Hawaiian needs to assure investors long-term rewards will materialise
Still, Hawaiian remains outwardly bullish that the heavy investment in aircraft and long-haul expansion it has made to its business during the past few years; Mr Dunkerley stressed that throughout that time the carrier has never lost sight of generating returns for shareholders.

"We made a eyes-wide-open decision to make those investments against a long-term picture, which we continue to believe is a better long-term picture than our existing performance," said Mr Dunkerley.

But shareholders often have a hard time taking the long-term view, especially in the current airline industry environment where there is growing sentiment among investors that the improving health of the business warrants some type of reward – or at least a formal framework of how and when carriers plan to deliver returns.

Hawaiian's capturing a window of opportunity to diversify its network was seemingly a sound move at the time, and warranted the necessary investment to make those long-haul networks viable.
But now it is time for the airline to aggressively start maturing those markets to give the industry and investors some assurance that the short-term pain it continues to experience is in fact necessary for long-term rewards. Otherwise they will soon be looking for more significant adjustments to Hawaiian's strategy.