Hawaiian Airlines: cost creep casts a slight shadow over a favourable PRASM performance
Analysis
Hawaiian Airlines' geography has been a boon for the airline throughout 2016 as the company's unit revenue performance has outpaced that of its peers. Hawaiian has benefitted from immunity to the lack of pricing traction in many domestic markets on the US mainland, and rational capacity deployment on is largest North American routes.

The company expects to continue posting a unit revenue outperformance for the remainder of 2016, driven by still favourable capacity trends in its markets. Hawaiian's own capacity growth is expected to fall between 3% and 4% for 2016, and remain in the low- to mid- single-digit range for the foreseeable future.

Although Hawaiian continues to outperform the industry in unit revenue, the company is facing inflated unit costs in 2016 driven by several factors, including increased compensation and technology investments. The airline is also in the middle of pilot negotiations, and has acknowledged additional cost headwinds once a new collective bargaining agreement is reached.
Hawaiian enjoys rational industry capacity behaviour on its routes to North America
While the greater US airline industry continues to look for an inflection point for negative unit revenues, Hawaiian enjoyed passenger unit revenue growth (PRASM) of 0.7% (scheduled operations) for the 9M ending 30-Sep-2016, and a 1.3% increase for 3Q2016.

See related report: Hawaiian Airlines emerges as the unit revenue champion among US airlines in 1H2016

Hawaiian's geography has created a shield for the airline against the lack of pricing traction on the US mainland, which has been driven – in part – by capacity creep stemming from lower fuel prices. Most airlines are attempting to achieve a more rational supply-demand balance in order to reach an inflection point for unit revenue declines.

Hawaiian executives recently reported that the airline's domestic PRASM (including inter-island flights and service to the mainland) had grown 2.3% year-on-year in 3Q2016, driven by solid demand and rational capacity behaviour by the industry.

Company chief commercial officer Peter Ingram stated that for the past two quarters preceding 3Q2016 industry capacity on Hawaiian's routes to North America had been minimal. Looking forward, Hawaiian expects flat industry capacity in 4Q2016 and 1Q2017.

Data from CAPA and OAG for the week of 17-Oct-2016 to 23-Oct-2016 show that total seats are flat, or have dropped, year-on-year on seven of Hawaiian's top ten domestic routes measured by ASM deployment.
Hawaiian Airlines top ten domestic routes measured by ASMs: 17-Oct-2016 to 23-Oct-2016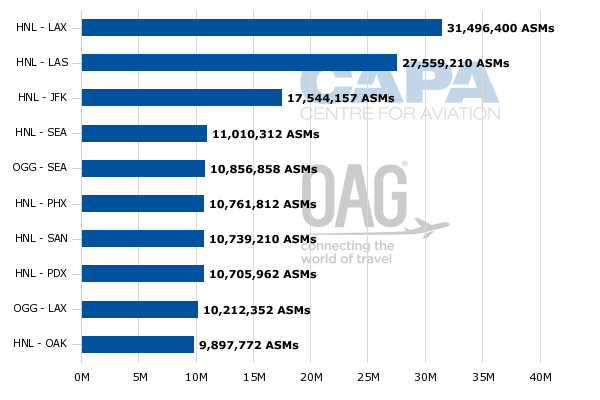 The largest decrease is Honolulu to Seattle, at 10%. Alaska's seats on that route have reduced by 15% year-on-year. However, Alaska's seats between Honolulu and Oakland are up nearly 12%, and total seats on that pairing have increased 2%.
Year-on-year seat capacity change in Hawaiian Airlines top ten domestic routes by ASMs: 17-Oct-2016 to 23-Oct-2016
Hawaiian takes steps to ease revenue pressure in its inter-island markets
Hawaiian's PRASM fell a couple of points year-on-year in 3Q2016 in its inter-island markets, driven by the lapping of increased competition from Island Air in the Lihue and Kona markets.
Beginning in the US autumn Hawaiian began trimming off-peak flights in its inter-island network, and Mr Ingram stated that the company expects the pull down the number of flights, along with other initiatives to yield positive benefits in the inter-island market.

During 2017 Hawaiian plans to add two additional Boeing 717s into its inter-island operation for a total of 20 aircraft. Previously, the company has stressed that additional aircraft are not proportionally increasing capacity on those routes; rather, their function is to allow Hawaiian to flex its schedule up on peak midday connections and higher-demand days, while offsetting reductions outside the peak.
Hawaiian cites positive revenue momentum on long haul routes. Braces for capacity uptick
On its long haul international routes Hawaiian has "turned a corner" with PRASM, said Mr Ingram, with its results "swinging positive by about 1ppt year-over-year" during 3Q2016. In 3Q2015 Hawaiian recorded a mid-teen percentage decline on its international routes, all attributable to foreign exchange rates and the reduction in fuel surcharges.

Mr Ingram stated that, net of hedge losses and excluding effects of f/x, Hawaiian's PRASM in international markets would have grown 8% year-on-year. He remarked that Hawaiian's new route from Honolulu to Tokyo Narita – launched in late Jul-2016 – was immediately accretive to PRASM.

Industry capacity should grow moderately in Hawaiian's international markets, Mr Ingram explained. The growth is driven by Air New Zealand upgauging its aircraft on service to the Boeing 787-9 between Honolulu and Auckland in May-2016, and the lapping of Jin Air's entry on the Honolulu-Seoul route in Mar-2016. Hawaiian expects some offset of the increased capacity from Jetstar's exit of service between Honolulu and Brisbane.

Overall, given the mostly rational capacity movements in its network, Hawaiian expects its positive PRASM momentum to continue throughout the remainder of 2016.
Hawaiian aims to keep its capacity growth capped at the mid-single-digit range
Hawaiian expects its total system capacity to increase 3% to 4% year-on-year in 2016, and data from CAPA and OAG show projected ASK growth of 3.3% for the airline for the year.
Hawaiian Airlines ASKs year-on-year: 2012 to early 2017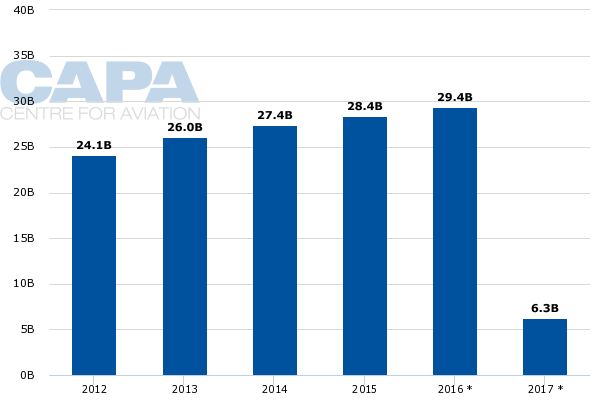 Company CEO Mark Dunkerley has explained that Hawaiian is contemplating adjustments to its current fleet that could bring forward some minor increases in capacity. A benefit of those adjustments would be to allow Hawaiian to accelerate the retirement of its Boeing 767 widebodies. Some of the 767s are leased, with expirations occurring late in the decade.
Hawaiian is attempting to smooth out "lumpiness" in its capacity due to deliveries of Airbus A321neos beginning in Jul-2016, and some scheduled C checks on the 767 widebodies, said Mr Dunkerley.
Hawaiian Airlines fleet summary as of 20-Oct-2016
Even with the fleet changes Hawaiian is considering, the company's CEO remarked that Hawaiian's system capacity growth for the foreseeable future would grow in the low- to mid- single-digit range for the foreseeable future.
Hawaiian faces cost inflation, even without an impending rise in pilot expense
Hawaiian is bracing for some cost inflation for 3Q2016 and the full year 2016 after posting a 3.3% increase in cost per available seat mile (CASM), excluding fuel, in 3Q2016. Unlike many airlines Hawaiian does not exclude profit sharing in its unit costs projections, holding the view that sharing profits with employees is a normal cost of doing business.

The company's forecast unit cost increase for 4Q2016 is 2.5% to 5.5%. Hawaiian broke down 4ppt of the increase across the following line items:
- one point from increased wages and benefits
- one point from aircraft rent from an A330 delivered in Jun-2016 and two 717s arriving under lease in Nov-2016
- one point from rate increases in airports in Hawaii and Los Angeles
- a half point from a heavy maintenance check on an A330
- a half point from investments in IT
Hawaiian's unit cost projections excluding fuel for the full year 2016 are growth of 3.5% to 4.5%. The company is in the middle of negotiations with its pilots, so its cost guidance for 2016 could change if a deal is reached before the year end, and its costs in 2017 will certainly be affected by a new collective bargaining agreement.

The airline has acknowledged that the US market has moved with respect to pilot pay rates, and expects a CASM increase of some magnitude associated with concluding a new deal with pilots.

See related report: Pilots aim to join the profit party; Hawaiian Airlines is in tough pilot talks as profits improve
Hawaiian understands the importance of balancing investments and cost containment
Hawaiian's outperformance in PRASM during 2016 is a welcome reprieve from other US airlines working to find an inflection point for their respective negative performances. Hawaiian's outperformance should continue into early 2017 as rational capacity behaviour by its competitors remains in place.

The company is facing some cost creep for the foreseeable future as it seeks to invest in its business to ensure it remains competitive over the long term.
It is a tough balance to strike with investments in people and infrastructure, but necessary for Hawaiian's long-term competitiveness. However, the airline seems to understand that prolonged cost inflation does not sit well with investors, and stresses its target of flat to low single digits in its unit costs excluding fuel.