Hawaiian Airlines: a positive cargo outlook as inter-island ops start
Analysis
Hawaiian Airlines has recently marked a milestone, launching dedicated freighter service in the inter-island market with turboprop aircraft. Although the operation is small, and likely won't drastically alter the company's inter-island cargo market share, it is a unique opportunity for Hawaiian to bolster its cargo revenue. It is also a line of business that Hawaiian aims to grow, now that the operation is up and running.

The company's expansion into the inter-island cargo market occurs as Hawaiian's outlook for its long haul cargo remains solid, driven by high yields on inbound US goods.
Summary
Hawaiian's small, dedicated cargo operation in the inter-island market gets off the ground.
Inter-island cargo presents a solid revenue opportunity for Hawaiian.
For Hawaiian there is an opportunity to grow beyond the two turboprop freighters currently dedicated to the inter-island cargo market.
Similarly to other US airlines, Hawaiian holds a positive outlook for its overall cargo revenue performance for the remainder of 2018, but trade disputes could create uncertainty for the cargo market in 2019.
Hawaiian adopts a cautious approach to inter-island cargo operations
Hawaiian outlined plans to launch inter-island cargo operations in late 2015, and purchased two ATR 72 turboprops for the service. There were delays in launching the dedicated cargo flights, including FAA certification issues.

But now Hawaiian has debuted the cargo service and, according to the news outlet The Motley Fool, the company operates two nightly round trip flights from Honolulu to Hilo and Lihue.
The report stated that Hawaiian was aiming to expand its inter-island operations in 2019 with flights to Kona and Kahului.

Hawaiian executives recently explained that the company was starting with one turboprop operating the nightly flights between the islands and one spare. "We are highly spared up initially as we get this up and running, and as we get the third airplane out in the latter part of the year, we'll continue to grow the business", said company SVP revenue management, network planning and cargo, Brent Overbeek.
A solid opportunity exists in the Hawaiian inter-island cargo market
It is not surprising Hawaiian wants to grow its inter-island cargo operations. Before the launch of the dedicated ATR 72 freighters, the airline carried cargo in the belly of its Boeing 717s narrowbodies operated on passenger flights in the inter-island market.

Data from Hawaii's Department of Business, Economic Development and Tourism (DBEDT) show Hawaiian's inter-island cargo market share during 2016 was 6.35%.
Inter-island cargo freighted and airline market share for 2016

But the opportunity in the inter-island cargo market remains robust. Average annual growth in inter-island air cargo and mail flows from 2000 to 2016 was 8.61%.
Average annual cargo market growth for Hawaii from 1990 to 2016

During that period, growth in dedicated cargo airlines in the inter-island market grew significantly, whereas combination passenger and cargo operations started to decline around 2002.
Inter-island Air Cargo in Hawaii by type of airline, 1990 - 2016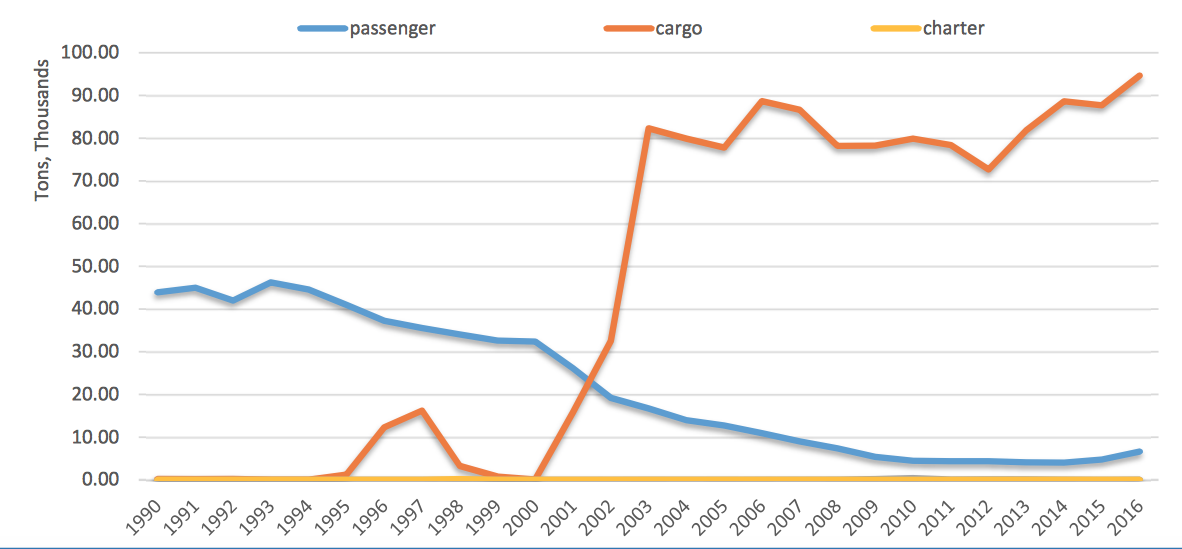 The DBEDT has calculated the value of Hawaii's inter-island cargo market in 2015 at USD3 billion, which paled to the USD10.4 billion value of inbound air cargo, but still represents an opportunity for Hawaiian to capitalise on growth in the inter-island cargo business.
Hawaiian eyes growth in the inter-island cargo market
Hawaiian's entry into the dedicated freighter market on inter-island routes with two turboprop aircraft is not likely to move the needle very much in terms of its market share of the cargo market in the islands.

But the airline has ambitions to grow in the market, and could be operating a handful of turboprops on cargo routes among the islands by the end of 2019. The company obviously wants to grow its share of the growing USD3 billion market, and the dedicated ATR 72s will add some breadth to cargo transported in Hawaiian's passenger 717s on inter-island routes.
Hawaiian sees strength in cargo operations outside the inter-island market
Even before Hawaiian launched its inter-island cargo operations, the company had positive outlook for its cargo business. Mr Overbeek stated that Hawaiian's cargo business grew 17% year-on-year in 2Q2018 on both strong volume and yield growth.

"Year-over-year freight transport remained strong, a trend that we expect will continue into the back half of the year", he said.

Mr Overbeek stated that Hawaiian saw solid strength in the latter part of 2017 and through 1H2018, with particular potency in tonnage and yield coming into the US. "Japan in particular has been quite strong for us", he said.

Approximately 40% of Hawaiian's AFTKs are deployed into international markets, and the airline is taking advantage of the network it has built up in Asia during the past decade. Hawaiian serves both Tokyo Narita and Haneda, and those two airports were the number one and number two, respectively, for the top five international cargo airports of origin for Hawaii in 2016.
Hawaiian Airlines international vs domestic AFTKs as of mid Aug-2018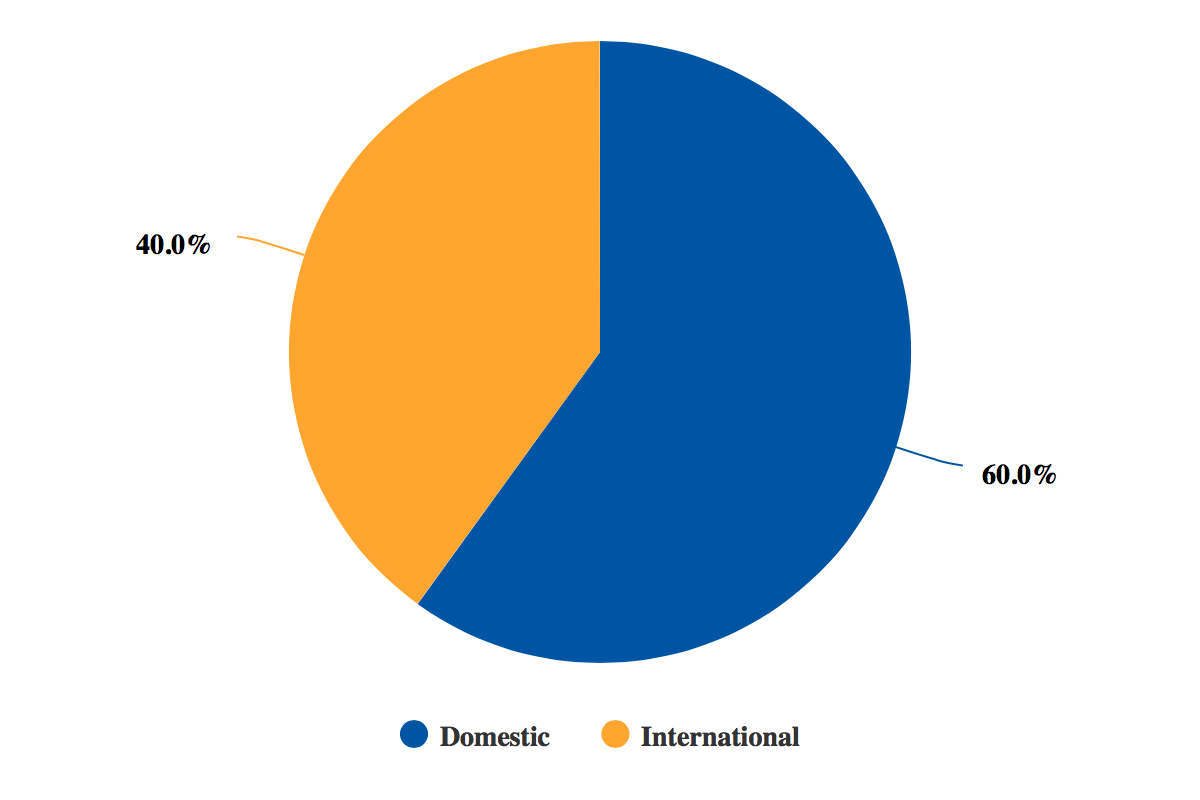 Hawaiian's cargo capacity has grown steadily since 2013. According to data from CAPA and OAG, the peak in growth was 2013, when the company's AFTKs grew 13% year-on-year. Projections for 2018 show growth of 10% year-on-year.
Hawaiian Airlines annual system AFTKs from 2013 to early 2019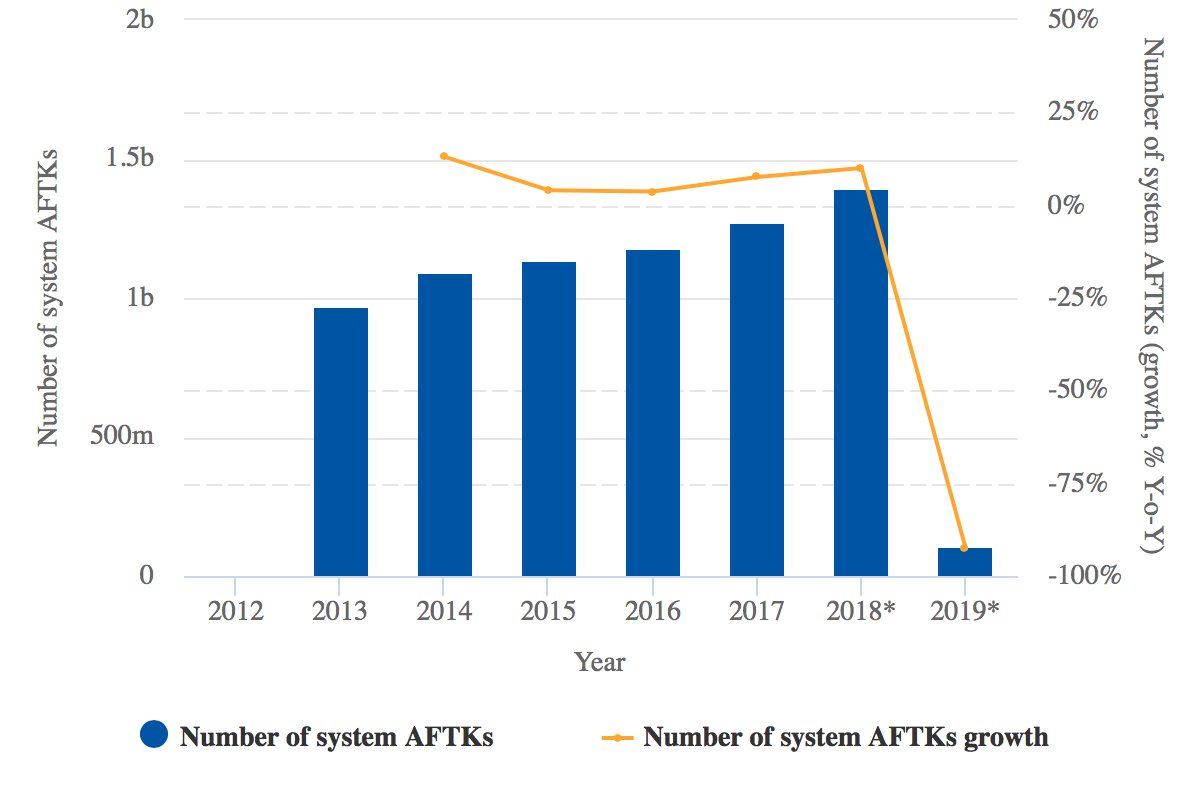 Trade uncertainty creates some dark clouds over robust cargo forecasts
Hawaiian joins its large US airline counterparts in offering a positive outlook for its cargo revenue growth in 2018. But a certain level of uncertainty, driven by potential trade conflicts, is creating an overhang on those forecasts.
IATA has warned that deterioration of world trade remains a concern, and even as air cargo is somewhat insulated from the current round of rising tariff barriers. "An escalation of trade tension resulting in a 'reshoring' of production and consolidation of global supply chains would change the outlook significantly for the worse", the association has warned.

At least for the time being, US airlines do not see any storm clouds affecting their strong cargo performance for the remainder of 2018.