Gulf carriers turn their attention to the US to fuel their continued rapid growth
Analysis
The big three Gulf carriers are turning to expansion in North America to round out their global networks that have largely focussed on Europe, Africa and Asia during the last few years. Emirates is leading the charge through the introduction of three new US cities during 2012, which will result in the carrier holding onto its leading position in the US-Middle East market. But its rivals Etihad Airways and Qatar Airways are not sitting idle as they develop plans to broaden their respective US footprints during 2013.
Shifting their attention to the US is a natural progression for Emirates, Etihad and Qatar as the Americas are the least served regions in each carrier's network. Now that those carriers have a well-established and firm footing in other key global markets, and as they bolster their fleets with more efficient long-haul aircraft, opportunities are emerging for expansion beyond their traditional growth patterns.
Expansion into the Americas during the next couple of years could also be a safer gamble than looking for new market opportunities in Europe. IATA in its latest market analysis examining trends for Jun-2012 stated although the continent's international traffic increased 7.3% for the month and grew 3ppts sequentially over May's growth, that trend has started to flatten in recent months, "which is consistent with the persisting economic weakness throughout much of the continent, so the improved performance in June could be a result of volatility, rather than re-acceleration in international traffic in Europe".
The uncertainty in Europe and the lower penetration by the Gulf carriers into North America creates opportunity for both network expansion and to diversify away from markets that could be risky if air travel to Europe does weaken. Although the East Asia/Australasia and Europe regions each still account for roughly 30% of Emirates revenues, the roughly AED6.3 billion (USD1.7 billion) the carrier recorded in revenue in FY2012 from its Americas operations inched closer to the revenue generation of the carrier's markets in West Asia/Indian Ocean market.
Emirates airline revenue break-down by region (AED millions): 2010-2011 and 2011-2012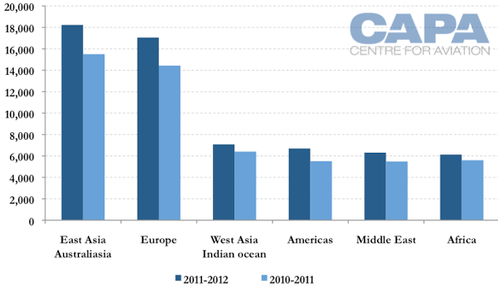 See related article: Fuel, foreign exchange and global events hit Emirates' profits, but momentum not slowed
Emirates accelerates US expansion after a four-year lull
During 2012 Emirates is launching flights to three new US destinations – Dallas/Fort Worth, Seattle and Washington Dulles. Dallas/Fort Worth and Seattle launched in 1Q2012 while Dulles flights will commence in Sep-2012. The expansion is somewhat rapid for the carrier whose last additions in the US market were San Francisco and Los Angeles in 2008.
New service to the US represents about 27% of the 11 new routes Emirates is launching during 2012. The airline also launched in early 2012 a Dubai-Rio de Janeiro-Buenos Aires route, its second route to South America after Dubai-Sao Paulo. (Qatar only has one route to South America, Doha-Sao Paulo-Buenos Aires, while Etihad has yet to launch services to Latin America but all three Gulf carriers have ambitions to expand across Latin America over the next few years.)
Emirates is the largest carrier between the US and Middle East by a significant margin. It operates roughly 17,000 one-way weekly seats between the two regions, which equals a 29% capacity share.
US to Middle East capacity by carrier (seats per week, one way): 19-Sep-2011 to 03-Feb-2013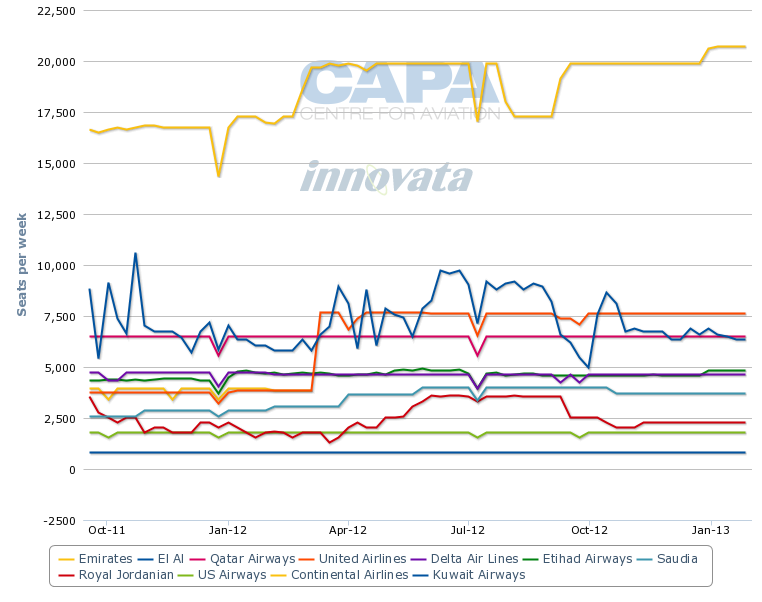 The carrier enjoys nearly unrivaled competition on its US routes, with no carrier operating direct flights to Dubai from its six current US gateways – Dallas, Houston, Los Angeles, New York JFK, San Francisco and Seattle. It only faces competition from regional rivals Etihad and Qatar on service to New York JFK and Houston. Etihad operates flights from Abu Dhabi (120km from Dubai) to New York JFK while Qatar offers service from its Doha hub (680km from Dubai) to New York JFK and Houston as well as Washington Dulles.
But Emirates offers far more capacity in those markets than its Gulf rivals. Current schedules in Innovata show that the carrier's approximate one-way weekly seat offering between Dubai and Houson is 2,600 compared with about 1,800 offered by Qatar from Doha. Emirates' roughly 6,000 seats from JFK to Dubai dwarfs the roughly 1,800 seats offered by Etihad between JFK and Abu Dhabi and the approximately 2,300 offered by Qatar on its Doha-JFK flights. Emirates is set to increase its weekly offering in the Dubai-JFK market by roughly 1,000 seats each way on 01-Jan-2013, when the carrier begins operating an Airbus A380 on its second daily flight in the market, replacing a Boeing 777-300ER. Emirates already uses the A380 on one of its two daily New York frequencies.
Once Etihad inaugurates flights from Abu Dhabi to Washington Dulles in 2013, all three major Gulf carriers will serve Washington DC. Currently all three of the carriers only serve one US market, New York.
Roughly one month after Etihad's Feb-2012 announcement that it would launch service from Abu Dhabi to Dulles in Mar-2013, Emirates revealed its own plans to inaugurate flights to Washington in Sep-2012. Emirates obviously aimed to start flights to Dulles ahead of Etihad in order to build a key passenger base for transit through Dubai rather than Abu Dhabi. Dulles will also be the first US markets where Emirates will face direct competition from a US carrier. United Airlines currently offers daily service from Dulles to Dubai with onward service to Doha.
Once it starts flights to Dulles, Emirates will offer roughly 2,000 weekly one-way seats in the Dulles-Dubai market, giving it a 58% share of the market compared with United's 42% seat share. With four carriers eventually serving the Gulf region from Dulles, it will become one of the more contested markets between the US and the Middle East.
Washington Dulles to Dubai capacity by carrier (seats per week, one way): 19-Sep-2011 to 03-Feb-2013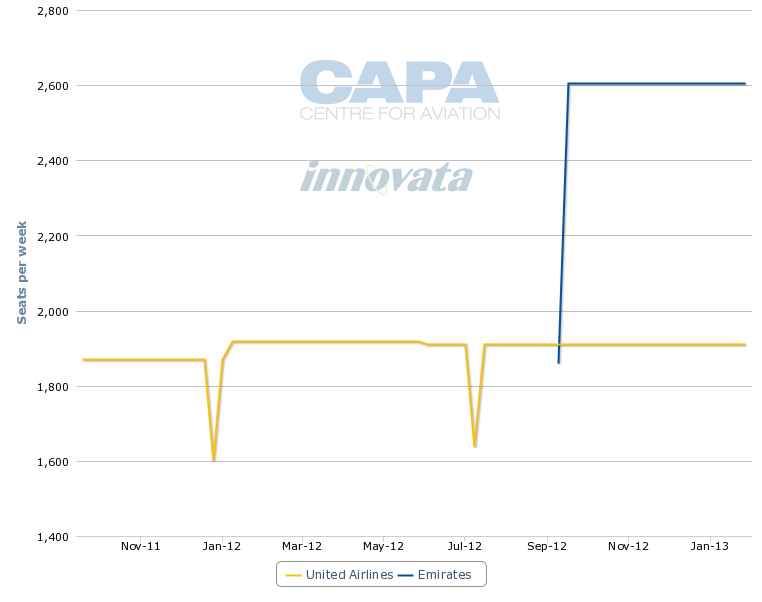 While United is the largest carrier serving Dulles and runs a hub operation from the airport, the carrier cannot rival the connectivity offered by its Gulf rivals to the vast networks they've built up from Dubai, Abu Dhabi and Doha.
United cannot easily partner with any of the Gulf carriers to tap into the network connectivity offered by those airlines as its Star ally and trans-Atlantic joint partner Lufthansa has fiercely criticised the rapid expansion of the Gulf airlines into Europe, stating that unlike the Gulf carriers, European airlines cannot "resort to government-subsidised infrastructure". United recently stated its intent to terminate its share agreement with Qatar in Sep-2012 after already ending a codeshare pact with Emirates. Lufthansa and Qatar also have a codeshare agreement but this could be dropped should Qatar end up in oneworld, which has been courting the carrier.
Comparatively all three major Gulf carriers are much younger than their counterparts throughout the rest of the airline industry. Emirates (founded in 1985) is the oldest among the three and due to its age has had a jumpstart in maturing its global network, including serving seven US destinations by the end of 2012.
But Qatar (founded in 1993) and Etihad (launched in 2003) are aiming to quickly shrink Emirates' lead as the largest carrier between the US and the Middle East. Etihad has indicated it would add more US markets once it starts deliveries of the 41 Boeing 787s it has on order in 2014. The aircraft is ideal for the launch of service between the Middle East and the US, as the range and seating allow for a low-risk launch in long-haul markets.
Etihad and Qatar actually enjoyed higher load factors on their flights to the US during 2011 than loads recorded by Emirates. Data from the US Department of Transportation show that Etihad posted a consolidated 83% load factor during 2011 on its US flights compared with 80% at Qatar and 74% by Emirates. But Emirates' loads were affected by the larger network footprint it has in the US and the greater number of seats it has on offer.
Qatar also has ambitions to expand into the US with its Boeing 787s. The carrier expects to take delivery of five of the aircraft this year. But it initially plans to utilise 777-300ER aircraft on new flights from Doha to Chicago, which will be launched in Apr-2013. Etihad already serves Chicago from Abu Dhabi. Previously Qatar has mentioned Atlanta, Boston and Detroit as other potential US gateways.
Expansion into the US appears to be a prime opportunity for Gulf carriers as the service footprint by US carriers to the Gulf region is limited. Delta operates daily flights from its Atlanta hub to Dubai while United's service to the Gulf entails its Dulles-Dubai-Doha route as well as Dulles-Kuwait-Bahrain.
In the near-term US carriers do not have any plans to expand in the Gulf region as they are managing their overall capacity carefully and making conservative moves with their international networks. Both United and Delta have been cutting long-haul flights to Africa in addition to tweaking their trans-Atlantic networks. The recent cuts on the trans-Atlantic impact their ability to sell connecting services to the Gulf operated by their European partners.
US Airways has no plans to grow in the Middle East beyond its current flights between Philadelphia and Tel Aviv while American appears to be focussed on expanding its role as the leading carrier between the US and Latin America. American currently does not have any services to the Middle East.
See related articles:
Partnerships could alter the landscape
Until recently the Gulf carriers have maintained they would remain independent instead of joining one of the global alliances. But Etihad now has ties to oneworld through its stake in airBerlin and oneworld, led by British Airways parent IAG, also has been courting Qatar.
See related article: oneworld's BA and Qantas may shake up global alliance irreversibly as Emirates and Qatar enter
Etihad and American in 2009 forged a codeshare covering both US domestic flights and trans-Atlantic services operated by American and Etihad's flights from the US to Abu Dhabi. If Qatar opts to enter oneworld, it could also gain from feed provided by American's US network, and a possible enlarged domestic space if American and US Airways ultimately merge.
Emirates appears to be sticking to its strategy of remaining independent, but it has forged a codesharing pact with JetBlue, which creates feed for Emirates at JetBlue's large JFK hub, and replaces its previous arrangement with United. The Emirates-JetBlue agreement allows Emirates to put its code on flights into 12 JetBlue markets, and the carriers are now seeking authorisation to add 10 additional markets to the pact.
While Emirates is enjoying a jumpstart in the US market compared with its Gulf rivals, the gap is likely to close as Etihad and Qatar recognise the importance to gaining a foothold in the Americas. With Airbus forecasting 1,044 aircraft deliveries to Middle Eastern carriers from 2011 to 2020, those carriers are looking for lucrative deployment of those jets, and expansion into the US will only help to fortify the ever-growing importance of Abu Dhabi, Doha and Dubai as major global transit points.
Background information
Emirates network summary at 19-Aug-2012
Emirates.png" alt="" height="287" />
Etihad Airways network summary at 19-Aug-2012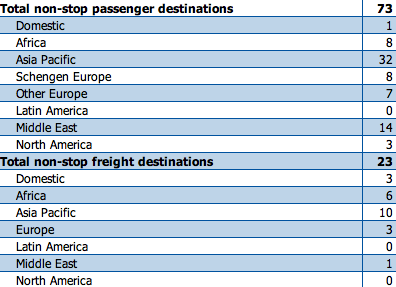 Qatar Airways network summary at 19-Aug-2012