Gulf airlines in Australia/New Zealand: 2017 could surpass 2016's record growth
Qatar Airways' casual remark in Jan-2016 that it would launch nonstop service to Auckland has resulted in nearly two years of accelerated growth as competitors look to pre-empt Qatar. That, in turn, is driving Qatar to build its presence in Australia and New Zealand – which is disproportionately small compared to the presence of Emirates and Etihad. In Feb-2017 Qatar will finally launch nonstop service to Auckland, making that air service the world's longest flight. After the launch of flights to Australia's secondary city of Adelaide in May-2016, Qatar intends to open service to another smaller market – Canberra.
2016 was the most prominent year for Gulf airlines growing in Australia and New Zealand. Excluding Qatar's proposed Canberra service, and other services under consideration, 2017 will be the third largest year for growth, but depending on how commercial and aeropolitical matters evolve, 2017 could surpass 2016 for growth. So far, there will be more absolute growth from Qatar than Emirates in 2017, by comparison with 2016.
In Australia/NZ Gulf airlines have doubled their presence between 2012 and 2017. In Australia/New Zealand, by 2020, Gulf airlines could create the presence of two Singapore Airlines, an operation which established itself over many decades. Gulf growth has broader implications as their mostly European traffic flows challenge historical Australia-Europe hubs in Asia.
Gulf airlines have doubled in Australia/NZ in five years
Five years ago Gulf aviation was already a strong force in Australia and New Zealand, reshaping markets, lowering fares and ultimately forcing Qantas to partner with Emirates. Yet since then Gulf aviation has become even stronger: between 2012 and 2017, Gulf airlines have doubled in size in Australia and New Zealand, growing from 1.8 million seats to the region in 2012 to 3.6 million in 2017.
Gulf airlines had just under 1.0 million seats to the region in 2008; they could cross the 4.0 million mark by 2020, meaning they would have quadrupled in 12 years. To put this in perspective, by 2020 Gulf airlines will have created the presence of two Singapore Airlines in Australia and New Zealand.
The figures somewhat understate the Gulf airlines' Australia-Middle East growth since Emirates operates a number of services via Southeast Asia. Etihad used to operate one daily service via Southeast Asia. It is understood that in recent times those flights carry fewer Asia-Australia passengers on a fifth freedom basis and instead are carrying passengers between the Middle East and Australia via Southeast Asia.
Emirates, Etihad and Qatar Airways collective annual seat capacity to Australia and New Zealand, and annual additions: 2007-2017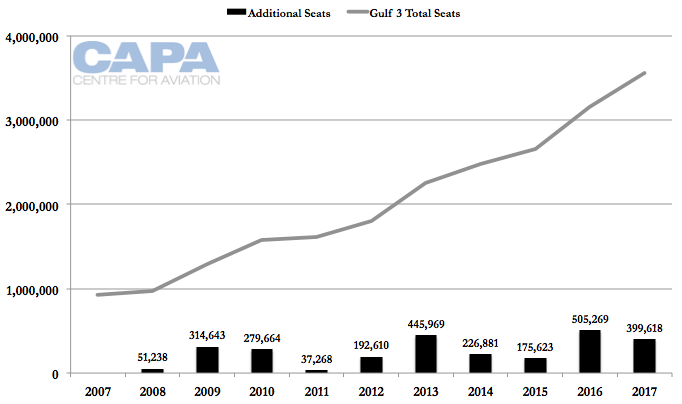 2016 was a record year for Gulf growth; 2017 could surpass it
The three Gulf superconnectors – Emirates, Etihad and Qatar – grew more in Australia and New Zealand in 2016 than in any prior year. The three airlines collectively added half a million annual seats to the market, or approximately the equivalent of three daily A380 services.
This expansion surpassed 2013, when the three airlines collectively added approximately 450,000 seats.
Annual seat capacity to Australia/NZ from Emirates/Qantas, Etihad/Virgin and Qatar Airways: 2007-2017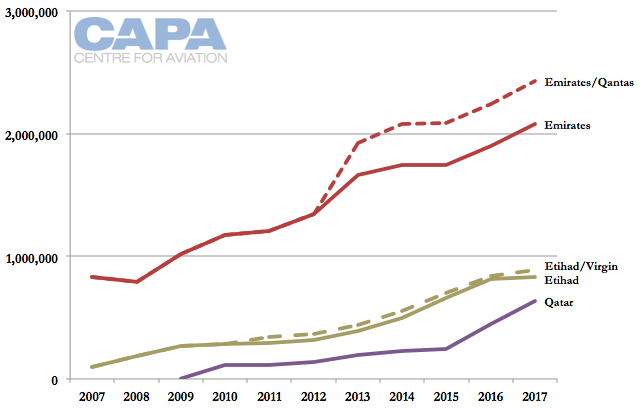 So far the airlines plan to add 400,000 seats in 2017, making the year the third largest for net additional growth. However, this figure is surely to rise – 2017 could be the largest year on record.
This will depend on several factors. Qatar Airways has announced its intent to operate Canberra services but details (launch date, equipment and frequency) are to be confirmed. Launching the service in the early part of the second half of 2017 would see the growth of superconnectors in Australia and New Zealand in 2017 exceed their expansion of 2013, the second highest year.
Emirates' planned expansion for 2017 is already larger than 2016, although some of the 2017 growth is a full-year realisation of capacity injected in 2016. Emirates' growth in 2017 is its third largest after 2013 and 2009.
It is difficult to foresee Emirates' expansion in the region. 2016's growth was more than Emirates would have liked, so Emirates is eager to slow itself and let capacity be absorbed.
Australia, along with Western Europe, are the only regions where Etihad will grow in 2017; elsewhere Etihad is contracting as it seeks to absorb fast-paced growth. This is part of a larger plan to improve its group financial position, and includes measures at airlines that Etihad has invested in. Etihad and Lufthansa are partnering to help alleviate the situation at Etihad-owned airberlin. Press speculation says Etihad could ultimately withdraw from airberlin and look to exit other airlines it has invested in.
See related report: Gulf airlines in 2017: Etihad cuts capacity 4% as Emirates and Qatar begin slowest growth in 5 years
Yet if Etihad's core business remains, Australia will surely continue to feature prominently. Australian markets could be a contender as Etihad receives the last of its A380s, which have a greater seat capacity. There is relatively minor net growth in the Australia-Gulf market from Etihad and Virgin changes that see Etihad takeover Virgin's Sydney-Abu Dhabi services while Virgin enters the Perth-Abu Dhabi market.

Further Gulf-Australia/NZ growth hinges on Qatar Airways, and responses to it
Emirates' growth was often in response to competitors – namely Qatar Airways.
Qatar added more capacity to Australia/NZ in 2016 than Emirates or Etihad, and this appears likely to repeat in 2017. Shortly after Qatar Airways announced its intent to fly nonstop to Auckland, Emirates mounted a nonstop Auckland service in a month – a breathtaking speed that delivered a sharp message that it would defend one of its most important markets.
Qatar's high growth over 2016 and 2017 has resulted in its size in 2017 being 77% of the size of Etihad (and 31% the size of Emirates). Qatar has narrowed the gap: in only 2015 Qatar was 37% the size of Etihad and 14% the size of Emirates.
As CAPA has previously noted, Qatar's growth in Australia is not mere market share competition, but also has broader impacts on Qatar as the lack of a sizeable Australian operation creates network imbalances.
Under-representation in Australia impacts Qatar's network in Europe since it does not have as many inbound Australian connections. Although that is the main impact, a weaker position in Europe impacts Europe-Asia flows and Qatar's presence in Asia, which in turn can impact Asia-North America connections.
Emirates, Etihad and Qatar Airways annual additional seat capacity to Australia and New Zealand: 2007-2017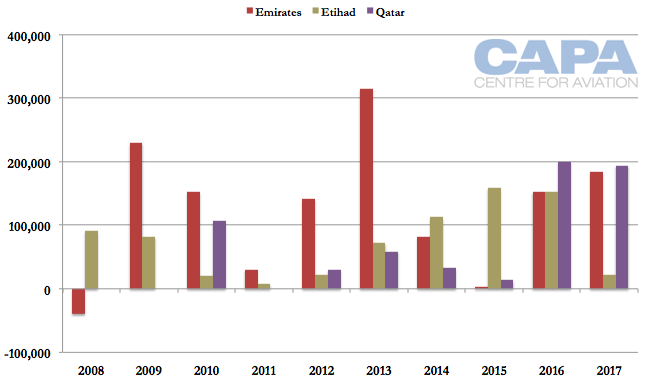 Spontaneous growth from Qatar Airways could see a response from Emirates, but probably only in important markets. Emirates serves Auckland from three Australian cities, so Qatar's proposition of a nonstop service was an unacceptable competitive threat that Emirates had to match. But with Adelaide being a small market, Emirates probably did not believe it necessary to increase its presence there in response to Qatar's entry. Likewise, Emirates is unlikely to take the position that it needs to respond to Qatar's planned entry to Canberra.
Qatar's expansion is largely dependent on Australia allowing further traffic rights, which Australia has only slowly been doing – a situation that has pleased Qantas and Virgin, and by extension their partners Emirates and Etihad. If additional traffic rights were made available, Qatar Airways could be expected to swiftly take them up, launching its first service to Brisbane and then a second daily service to each of Melbourne and Sydney.
Qatar was able to add Adelaide service because the city is excluded from Qatar's capacity limit. However, it appears too much of a coincidence that Qatar is putting in a service to Adelaide, which other airlines have shown limited interest in, and this was followed by Qatar suddenly receiving traffic rights for Sydney. Qatar may expect that launching Canberra, another market other airlines are not interested in, will result in Qatar receiving additional traffic rights to prime cities, so it could launch Brisbane or add frequency to Melbourne and Sydney.
Qatar is upgauging its single daily Melbourne and Sydney services from 777 to A380. This could further its argument with the Australian government that it is doing everything it can with existing entitlements: deploying its largest aircraft to Melbourne and Sydney and serving small cities not restricted in the bilateral. Qatar could argue that after maximising its existing frequency entitlements in Melbourne and Sydney by using the A380, it needs additional frequencies.
Emirates is Australia's largest airline for westward travel
Emirates has already overtaken Singapore Airlines as Australia's largest foreign airline, and Emirates is the second largest airline in Australia's international market. So far in 2017 Qantas will offer 65% more international seats from Australia than Emirates. But Qantas' portfolio covers regions that include North America.
10 largest airlines ranked on seat capacity between Australia and Asia/Middle East: 2017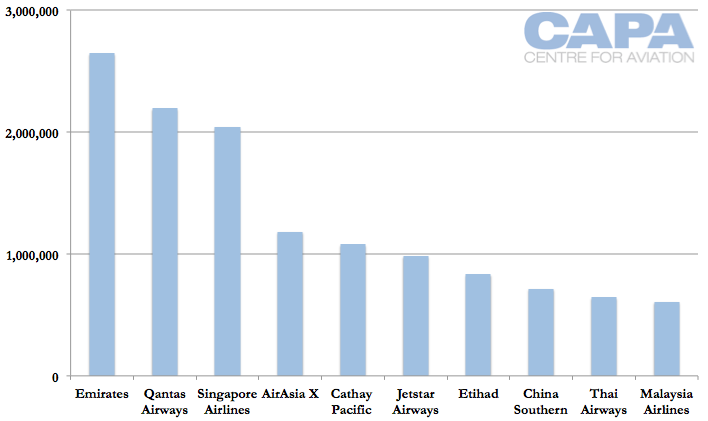 It is not a precise measurement only to consider capacity westward from Australia, but looking at the airlines flying from Australia to Asia and the Middle East (where there are connections to Europe from both regions), Emirates is 20% larger than Qantas. This is for sheer size and not network depth; Emirates' only Asian destinations from Australia are Bangkok, Kuala Lumpur and Singapore.
When Australia's 10 largest international airlines with those flying west to Asia and the Middle East are compared, two airlines – Air New Zealand and Virgin Australia – fall out of the ranking. Again, the measurement is not precise, but it alludes to the changing world where passengers leaving Australia for a region other than North America are more likely to be on a foreign airline (Emirates) than on the local (Qantas).
10 largest airlines with global seat capacity to Australia, and 10 largest only from Asia and the Middle East to Australia: 2017
| | | |
| --- | --- | --- |
| Rank | Largest – Global | Largest – Asia, Middle East |
| 1 | | |
| 2 | | |
| 3 | | |
| 4 | | |
| 5 | | |
| 6 | | |
| 7 | | |
| 8 | | |
| 9 | | |
| 10 | | |
Outlook: Australia supports liberalisation, but seeks sustainability
Globally, further growth from Qatar in key Australian cities should allow Qatar to balance its network, improving performance across its network. However, a stronger position may embolden Qatar to grow even further. Politically Qatar is challenged, since Australia's two airline groups – Qantas and Virgin – are partners with Qatar's competitors. Neither has any great interest in seeing Qatar grow further.
A Qatari news outlet inaccurately stated in Nov-2016 that Qatar and Australia had reached an open skies agreement following a visit from Australia's foreign minister, which would allow Qatar unimpeded growth. There was a swift response from Australia to clarify that the report was wholly inaccurate, and that bilateral restrictions remain in place.

Australia generally favours reciprocal liberalisation, but so long as growth is sustainable. Australia wants relatively steady growth and not peaks followed by contractions, which have a negative impact on the wider tourism industry.
In the year to 31-Jun-2016 Emirates averaged an 80% load factor to Australia (excluding New Zealand), and Etihad 83%. Qatar had an 81% load factor. Yield information is not available, but Qatar is known to have offered some very low fares in economy and premium cabins, not unusual in start-up routes. Latest data from BITRE indicates that Qatar's Adelaide service had an 83% load factor in Jul-2016, and then 84% in each of Aug-2016 and Sep-2016. These figures could have been boosted by strong promotions prior to the service's May-2016 launch.
Qatar's Adelaide service, and potentially Canberra if it is to be launched, can challenge Australian policy in that underserved cities are receiving significant capacity growth. They are not restricted in any way under Australia's unilateral open skies policy, for other than the four major cities. It does remain important however that their services are nonetheless sustainable in the long run.