Gulf Air and Bahrain Air report improving results in a difficult climate
Analysis
After suffering through local political unrest and the wider repercussions of the Arab Spring in 2011, Bahrain's two local airlines may finally have something to smile about. Gulf Air and Bahrain Air have both reported improving market conditions and stronger passenger numbers even though some regional instability remains and the two airlines face intense competition in local markets.
Bahrain Air has even reported a couple of profitable months of operations, although neither carrier is in an enviable position. The two airlines are on decidedly better ground than they were 12 months ago, when traffic levels were down by nearly 30% in the early part of 2011. Traffic at Bahrain International Airport has bounced back significantly in the past few months, although passenger numbers have only just recovered to levels seen in 2010.
Gulf Air reported 1H2012 revenue rose 6% year-on-year, although the airline did not report any net figures as it recovers from the Arab Spring related downturn in 2011.
Bahrain International Airport passenger traffic: 2010 to 2012
Gulf Air passenger and revenue up, but passenger being squeezed by competition
The increase in revenue was due to a 13% increase in passengers, including a 35% increase in its 'Falcon Gold' premium class and 12% growth in economy class. The carrier has been steadily improving both cabins, as it faces stiff competition from the sixth freedom Gulf carriers and airlines like Oman Air, which have been targeting regional premium traffic.
Gulf Air CEO Samar Majali said the carrier was able to achieve these results "with the combined efforts of rationalised route network, fleet optimisation, improved sales efficiency, products and services, cost efficiency measures and expenditure reduction". During 1H2012, Gulf Air suspended service to Entebbe, Geneva, Damascus, Athens, Milan and Kuala Lumpur, in favour of reinforcing its operations around the Middle East and into South Asia. 1H2012 passenger load factors increased 5ppt to 77%.
While the headline figures appear to indicate a slow recovery for Gulf Air, they are indicative of how competitive the Bahraini and Middle East regional markets are. Despite increasing premium traffic by more than a third and overall passenger traffic by 13%, the improvement in revenue at the airline can best be described as modest. This is particularly so given that effect of the political disruptions last year in the year-on-year comparison. The carrier's 2011 traffic in did not recover to 'normal' levels until around May/June.
Gulf Air is now three years into a turnaround effort, but progress towards profitability was thoroughly smothered by the external events of 2011. The regional geo-political situation and higher fuel costs "significantly affected the operations of Gulf Air and resulted in a higher operating loss versus the prior year", according to the carrier's owner, the Bahrain Mumtalakat Holding Company (BMHC). Losses reportedly ballooned out to nearly BHD200 million (USD525 million), with traffic dipping 8% as the airline dealt with falling home traffic and being shut out of the fast-growing Iran and Iraq markets.
See related article: Gulf Air further trims network as Arab Spring losses continue to mount
In its 2011 results announcement, BHMC reported that several restructuring initiatives had been undertaken at Gulf Air to reduce operating losses, achieve cost efficiencies and improve the quality of product offering and customer service. These measures have continued into 2012, with Mr Majali stating that the carrier is looking for a further 15% reduction to its cost base for the full year.
Gulf Air reported cost savings of BHD6.8 million (USD18.2 million) in 1H2012, a relatively modest achievement for an airline that has lost more than USD1 billion over the past four years. The carrier has shed staff and aircraft under its restructuring, but still finds itself hard pressed in the face of regional competition.
Under its turnaround plan, the airline had been projecting break-even for the end of 2012. This target that has been pushed back to the end of 2013 and realistically could be postponed again. The 1H2012 results show that there is at least a glimmer of promise for the carrier, which is still adjusting its network and operations and will regain access to several key markets shortly.
After being locked out of Iran and Iraq for political reasons, Gulf Air will resume services to the two Middle East countries over the next two months. The news is good for the long-suffering carrier, which views the two markets as core components of its regional network and strategy. While Gulf Air is still awaiting final approvals from civil aviation authorities in both countries, it plans to progressively resume the services on its Iran and Iraq routes between 20-Sep-2012 and 28-Oct-2012
In late Mar-2012, both Gulf Air and Bahrain Air were barred from operating Iran and Iraq. In the wake of Bahrain's civil unrest, a political feud developed between Bahrain and the two countries, related to criticism of Bahrain's treatment of the mostly Shi'ite protesters.
The Sunni-ruled, Shiite-majority Bahrain recalled its ambassador from Iran in Mar-2011 and only restored the position in mid-Aug-2012. A similar situation was repeated with Iraq. In early 2011, the political feud between the two states escalated after the Iraqi Prime Minister Nuri al-Maliki criticised Bahrain for requesting neighbouring Sunni nations intervene in its civil unrest. The carriers also temporarily suspend services to Lebanon – again for political reasons – but the split was quickly patched over, allowing services to resume in Jun-2012
Being forced to depart from Iran and Iraq left a huge hole in Gulf Air's regional network. Prior to the suspension, Gulf Air operated to four destinations in Iran – Tehran, Mashad, Esfahan and Shiraz – and four to Iraq – Baghdad, Najaf, Erbil and Basra (which it launched in Jan-2011). In total, the carrier operated 21 weekly frequencies to Iraq and 22 per week to Iran. According to Gulf Air CEO Samar Majali, the carrier's Iraq operations were among its most profitable flights.
Gulf Air Iraq and Iran operations pre-Arab Spring cancellations
Destination

Frequencies

Destination

Frequencies

5 x weekly

3 x weekly

Basra

4 x weekly

4 x weekly

6 x weekly

7 x weekly

7 x weekly

7 x weekly
To compensate for the suspension, Gulf Air expanded its operations into Saudi Arabia, particularly Riyadh and Jeddah. In early 2011, Mr Majali noted that Saudi Arabia was the only other major market available to in the Middle East until the suspensions were lifted.
Gulf Air will not only return to the Iran and Iraq markets, but it will also increase capacity by around 10% compared to when it left the market. Erbil and Mashad will increase to daily, taking total frequencies into the two markets to 47 per week, operated a mix of A320 family aircraft and Embraer regional jets.
A much changed market space
The Iranian and Iraqi markets are a more competitive place than they were when the Bahraini carriers were forced to make their exit 17 months ago. Gulf carriers, both large and small, have been quick to take advantage and have entered into the markets in some force.
This is particularly notable in Iraq, which is still one of the most underserved markets in the Middle East region, due to the political and economic difficulties the country has faced. However, with the massive nation-building reform process underway, coupled with an improved security situation and infrastructure improvements, air travel to the country has been expanding rapidity.
Iraq international capacity by carrier (seats per week): 03-Sep-2012 to 09-Sep-2012
UAE-based airlines have been notably aggressive. Emirates sees "massive potential" for Iraq, a market it first entered in Feb-2011 with four-times weekly service to Basra. Since the departure of Gulf Air, the airline has added service to Baghdad in Nov-2011 and launched its new Erbil service on 12-Aug-2012.
The rapidly expanding flydubai identified Iraq as one of its principal markets in 2010, adding routes to Erbil and Sulaimaniyah. After these initial forays were deemed successful, the carrier added a four-times weekly service to Baghdad and a three-times a weekly service to Najaf in Jan-2012. A new Basra service was launched on 08-Aug-2012. According to the Dubai-based carrier, the main demand generator for the two routes is expected to be business traffic, reflecting Iraq's social and economic resurgence.
Etihad Airways has also added more capacity into Iraq in 2012, complementing its existing operations. The carrier launched a new service to Basra in Apr-2012. At the time, Etihad Airways president and CEO James Hogan said that Iraq's "surging economy represents a good opportunity to add even greater depth to our schedule".
Qatar Airways has also added a number of new routes into Iraq. In May-2012 it launched a service to Erbil and followed this up with a new service to Baghdad in Jun-2012. Qatar Airways has also expanded heavily in Iran since mid-2011, adding a fourth destination as well as massively increasing capacity and signing a codeshare agreement with Iran Air. Oman Air has recently announced plans to add service to Tehran.
Iran international capacity by carrier (seats per week): 03-Sep-2012 to 09-Sep-2012
The Iranian market is still ripe for more capacity and competition. Emirates – the largest foreign carrier into Iran – reported in mid-2012 that the county was among its highest yielding Middle Eastern markets. Oman Air added its first service to Tehran on 01-Sep-2012 and several other carriers.
Bahrain Air reports profitable June and July
While Gulf Air has been reporting better traffic and a recovering market, so too has its local competitor Bahrain Air. The low-cost hybrid carrier reported passenger numbers, load factors and aircraft utilisation have all improved dramatically compared to 2011, so much so that the airline was profitable over Jun-2012 and Jul-2012, part of the crucial summer travel period.
Bahrain Air CEO Richard Nuttall said the result was a "major achievement". The carrier reported its revenue rose 67% during the two months, although no figures were disclosed. The airline also reported a 27% improvement in load factors for the period, although again without disclosing figures. In Jul-2012, Bahrain Air reported that its 2Q2012 passenger load factors were 78%, up from 58% in the same period in 2Q2011.
Mr Nuttall said the carrier is optimistic that it can to improve its performance further, although a slight downturn for Aug-2012 was expected in the month-to-month comparison, thanks to the impact of Ramadan. The outlook for Bahrain Air depends on a continued stable economic, security and political environment, as well as "receiving co-operation and support to our commercial operations from the concerned authorities".
See related article: Bahrain Air hybrid model to gain more premium features amid route expansion
The improved profitability has also allowed Bahrain Air to settle some of its outstanding debt. Mr Nuttall said the profitable performance of the carrier over the last two months has allowed it to become "fully current with all our government and quasi-government service providers in Bahrain and abroad since Mar-2012".
This may not be enough for the Bahrain government though. The Civil Aviation Affair bureau of the Ministry of Transportation has reportedly warned the carrier that it could suspend its operations over unpaid dues. The Transport Ministry warned that the carrier has failed to pay the departure taxes it had levied passengers on behalf of the government.
When announcing the profitable results for Jun/Jul-2012, Mr Nuttall said that the airline is "putting every effort to reach an agreement with our creditors for the restructuring of our debts that accumulated as a result of the unfortunate events that took place in Bahrain and the region".
Neither Bahraini carrier has been particularly timely with its payments to creditors, so much so that the Bahraini Government reportedly cautioned both of them that they will no longer be supplied fuel on credit by the Bahrain Petroleum Company (Bapco). In May-2012, Bahrain's Energy Minister Abdulhussain Mirza stated the two carriers owed a combined OMR73.5 million (USD195 million) in outstanding fuel payments to Bahrain Petroleum Company (Bapco).
Gulf Air owed almost BHD66 million (USD175.2 million) and the carrier and its Bahrain Mumtalakat Holding Company was working with the Bahrain Finance Ministry to arrange repayments. Bahrain Air owed BHD7.5 million (USD19.9 million).
Continuing to improve
The last 12 months have been exceptionally difficult for Bahrain's airlines. The Arab Spring forced the two of them into damage limitation mode and being shut out of Iraq and Iran meant that potentially lucrative sectors were closed off from them, at a time when they were most vulnerable.
With both airlines in financial trouble, merger and consolidation talk began to swirl around Gulf Air and Bahrain Air. So far neither side has confirmed that they are doing anything more than considering the possibility, although executives at both carriers have talked favourably on the possibility of a merger.
In Aug-2012, Bahrain Air managing director Ibrahim Al-Hamer stated he would be "very open" to a merger with Gulf Air and can see synergies to rationalise routes and cut costs. Mr Majali commented that Bahrain cannot afford two home carriers.
A merger between the two carriers does make some sense. The two airlines are in different market spaces, but are cannibalising each other's traffic to an extent. Their regional networks are closely aligned: Gulf Air operates to 17 of Bahrain Air's 19 destinations and Bahrain Air takes second place to the national carrier when traffic rights are doled out. Both have A320s as the core of their short-haul fleet, albeit with very different on-board products. Between them, the two carriers control just under 60% of capacity in the country.
Bahrain capacity share by carrier (% of seats): 03-Sep-2012 to 09-Sep-2012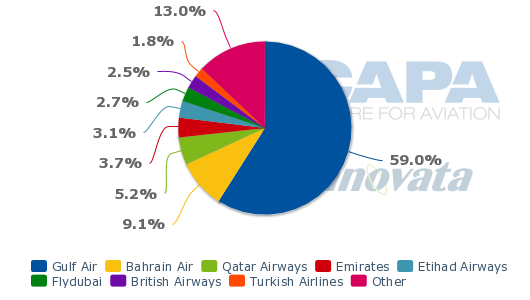 Both Gulf Air and Bahrain Air are also keen to expand in Saudi Arabia, which has decided to open its domestic market to foreign carriers. Bahrain Air would need a significant boost in funding if it was to develop a true stand-alone operation in Saudi Arabia, as the terms of the licences Saudi Arabia plans to hand out require a minimum fleet of 12 aircraft. Bahrain Air established a second hub at Dammam earlier this year, operating international routes to Bahrain, Khartoum and Beirut.
See related article: Gulf Air and Bahrain Air to battle in Saudi Arabia's Dammam
The expectations for this year are modest. Gulf Air expects more losses, although the bottom line will be improved on the disastrous 2011 results. Bahrain Air expects to see 2012 revenues return to 2010 levels, thanks to new routes into India and Saudi Arabia and the slow returning to health of the local market.