GOL, TAM stocks slide. Delta, Allegiant, Hawaiian underperform as Dow tips. Air Canada up.
Analysis
GOL (-7.6%), TAM (-7.3%) stocks fell heavily yesterday as Latin American economic sentiment wobbled. US major Delta (-4.7%) suffered the largest fall of the big five, while Allegiant (-5.8% - see below) and Hawaiian (-6.3%) also lost heavily. The steepest decline in a month on Wall Street fuelled nervousness towards the sector overall.
Economy-sensitive - and probably market indicators - package carriers, UPS (-3.7%) and FedEx (-4.4%) also continued their slides.
But, across the border, Air Canada (+1.4% - see below) showed the only airline gain on the day, as another union agreement appeared imminent.
For daily updates on American aviation stock prices and a complete wrap of the day's breaking news, sign up now for a complimentary subscription to America Airline Daily.
North & South America selected airlines daily share price movements (% change): 15-Jun-09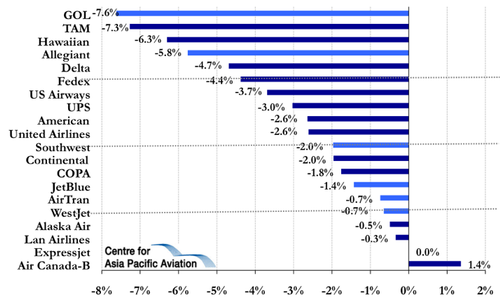 LCCs are highly vulnerable to consumer concerns about safety. There is little if any logic or statistical support to reinforce the concerns, but an undercurrent of sensitivity exists for various reasons. So, although oil prices were down (a key issue for Allegiant with its older, less fuel efficient aircraft), news of an MD-83 running off a taxiway at Fort Collins-Loveland Municipal Airport on Friday probably cooled some positive sentiment towards the airline.
The half a million strong Canadian Union of Public Employees (CUPE), which represents about 7,000 flight attendants at Air Canada, announced on Monday that an agreement with the company appeared likely. This follows the intervention of government-appointed mediator to the talks, where Air Canada is seeking a moratorium over funding a pension fund shortfall.
Achieving an agreement with CUPE would leave management only to conclude a deal with the pilots' union, who are remaining quiet for the time being.
Some happy CUPE workers on strike