Giant markets, giant potential – how does India's air travel development compare with China's?
Analysis
India has become one of the hottest markets for aircraft manufacturers as airlines place hundreds of new orders to support growth plans based on India's vast untapped demand for air travel. The country will soon have the world's largest population, yet it is also relatively underserved in terms of airline capacity.
Lured by this dynamic, India's airlines have collectively placed significantly more orders than the current fleet size.
Comparing India with China is an interesting exercise, as they now have very similar population sizes, and are both fast growing aviation markets. But China currently has a far greater air service market penetration, which highlights the scope of the potential in India.
This analysis examines some of the similarities and differences between the world's two largest markets. China has more passenger traffic, but India's rate of growth has been at least as high over the past decade. And while China also has a much larger fleet, order numbers are fairly similar.
Summary:
India's population will surpass China's, although its economy is still smaller
The United Nations projects that India will overtake China in 2023 to become the most populous country, with an estimated total of more than 1.4 billion. A higher projected growth rate indicates that India's lead will continue to grow, according to United Nations studies.
The CIA World Factbook also estimates that India has the second largest population in 2023, just behind China. The Factbook lists India's estimated annual growth rate at 0.7%, versus 0.18% for China. This supports the premise that India will overtake China at some point in the near future.
However, India's real GDP of USD9.3 trillion is significantly behind China's USD24.9 trillion, according to the Factbook. China is first on the rankings and India third, behind the United States of America.
In terms of GDP per capita, China is 99th in the world, with USD17,600 based on 2021 estimates, and India is 159th, at USD6,600.
China's system seat capacity is currently 3.5 times higher than India's
So what does this mean for air travel demand?
Despite China and India having similar population sizes, India has far less airline capacity than China. The higher per-capita GDP likely counts in China's favour in this regard.
The chart below shows that India's weekly system seat capacity has recovered to 4.9 million, as of 1-May-2023. This includes all airlines, based in India as well as overseas.
The current capacity total is slightly below the 5.1 million seats that were in this market in Feb-2020, just before the COVID-19 pandemic hit.
India's systemwide capacity, as measured in weekly seats, 2019-2023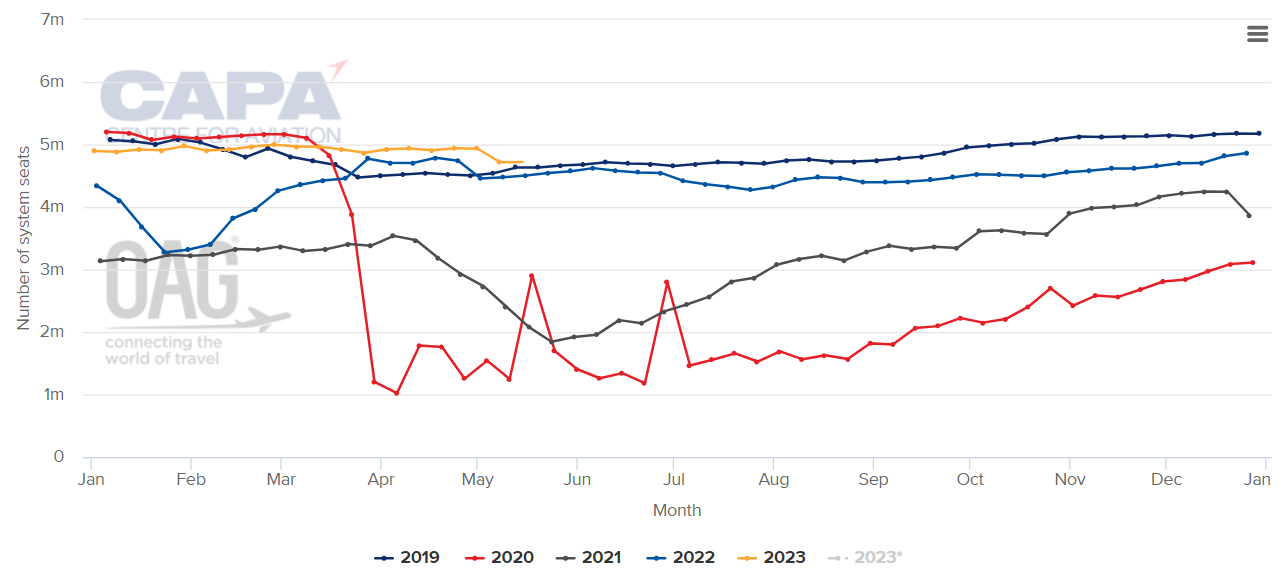 In contrast, mainland China's systemwide seats were at 17.8 million for the week of 1-May-2023 – this is still down from around 19 million in Jan-2020.
Clearly, China has far greater air service relative to its population than India.
Mainland China's systemwide capacity, as measured in weekly seats, 2019-2023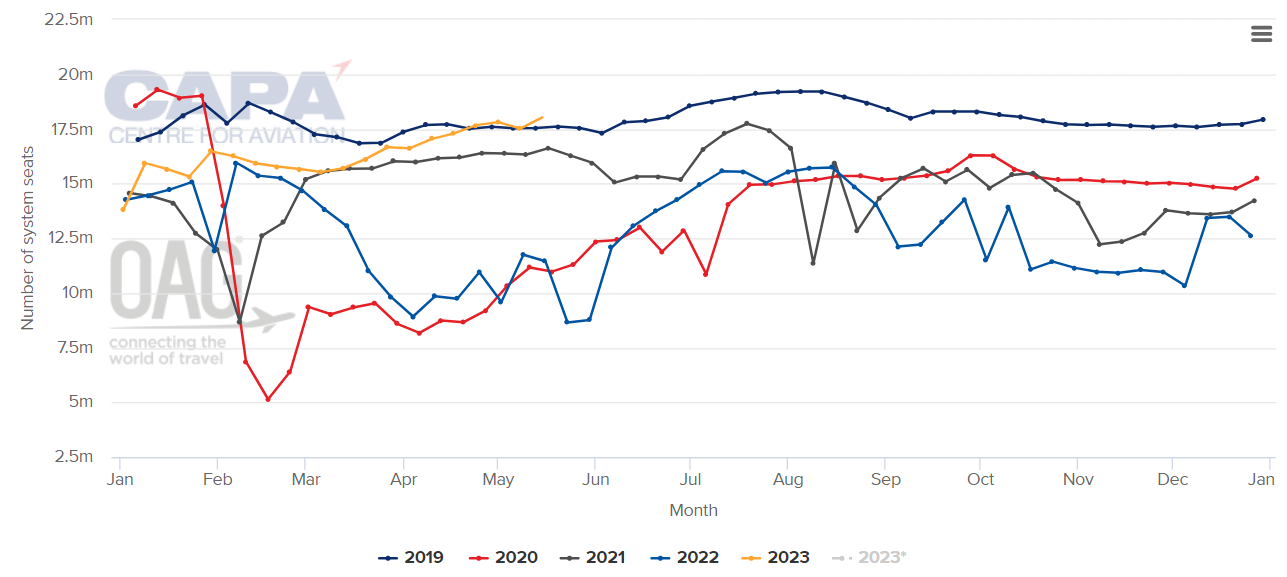 CAPA lists India as having 44 airlines and 171 airports.
Mainland China has 84 airlines and 270 airports. Both countries have major airport-building programmes under way.
In India, the construction of new airports in the Mumbai and Delhi markets is particularly important.
Naturally, there are other factors to consider when comparing the two countries. For example, China has a much larger geographic area, making air travel more important on many routes.
The CIA Factbook lists China's area as fifth in the world, at 9.6 million square kilometres, and India eighth, at 3.3 million square kilometres.
India's high levels of long-distance train travel represent an opportunity for airlines
One important aspect that boosts the potential for air travel growth in India is the huge numbers of people who travel long distances on the country's vast rail network.
Analyst Craig Jenks, of Airline/Aircraft Projects Inc, notes that rail journey times of 18-36 hours are fairly common in the country.
India has some trains classified as semi-high-speed, but the average speed is still relatively low.
While there is a project under way to start building true high-speed links, the completion of these is still some years away. China's high-speed rail development is far more advanced.
As in other countries that are heavily reliant on slow-speed ground transport for long domestic trips, this presents an opportunity for India's LCCs in particular.
Passenger traffic was rising quickly in both India and China in the pre-COVID decade
The chart below shows that India's passenger traffic was growing rapidly before the COVID-19 pandemic.
Annual growth was at least 15% in seven out of the 10 years from 2010. The growth rate in the other three years was much lower, however.
According to data from the Airports Authority of India, the systemwide – international and domestic – passenger total reached 349.3 million in 2019. This was followed by the drop-off in 2020 and the start of the rebound in 2021 and 2022.
Airports Authority of India: annual passenger totals, with annual growth rate, 2010 to 2022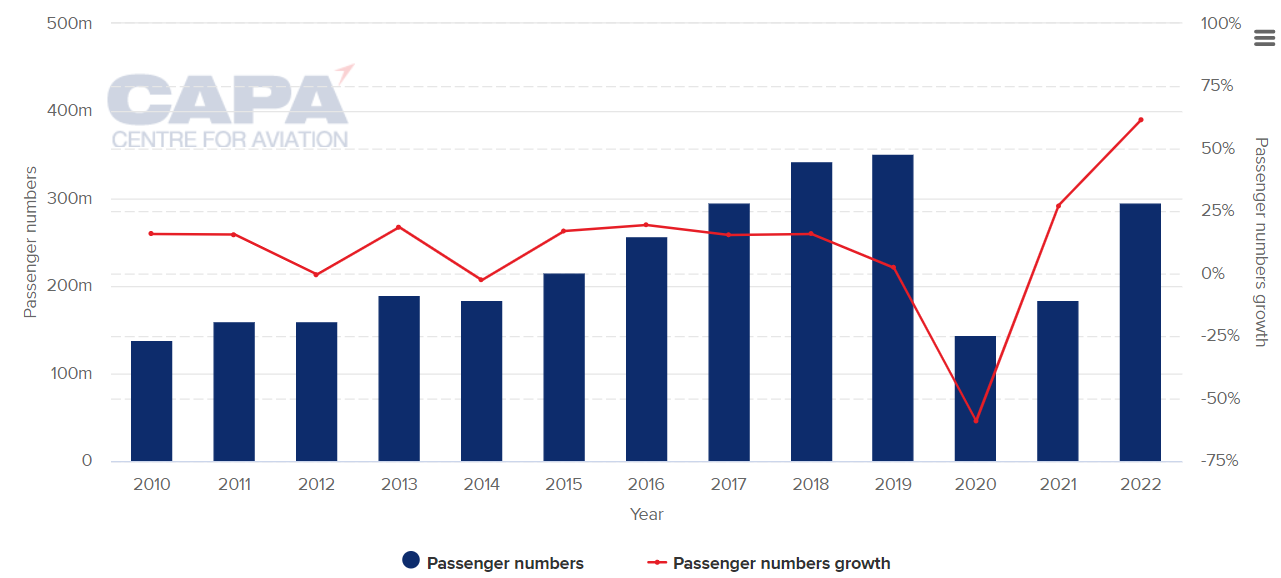 In China there was also strong passenger growth in the decade through 2019, as indicated by data for Chinese airlines from the Civil Aviation Administration of China (CAAC).
Annual increases from 2011 through 2018 were in the range of 9-13%, and passenger numbers were up by almost the same proportion as India's for the whole period.
The passenger total in 2019 (for Chinese airlines) reached 659.9 million – nearly double India's total for that year.
CAAC: annual systemwide traffic, with annual growth rate, 2010 to 2023 YTD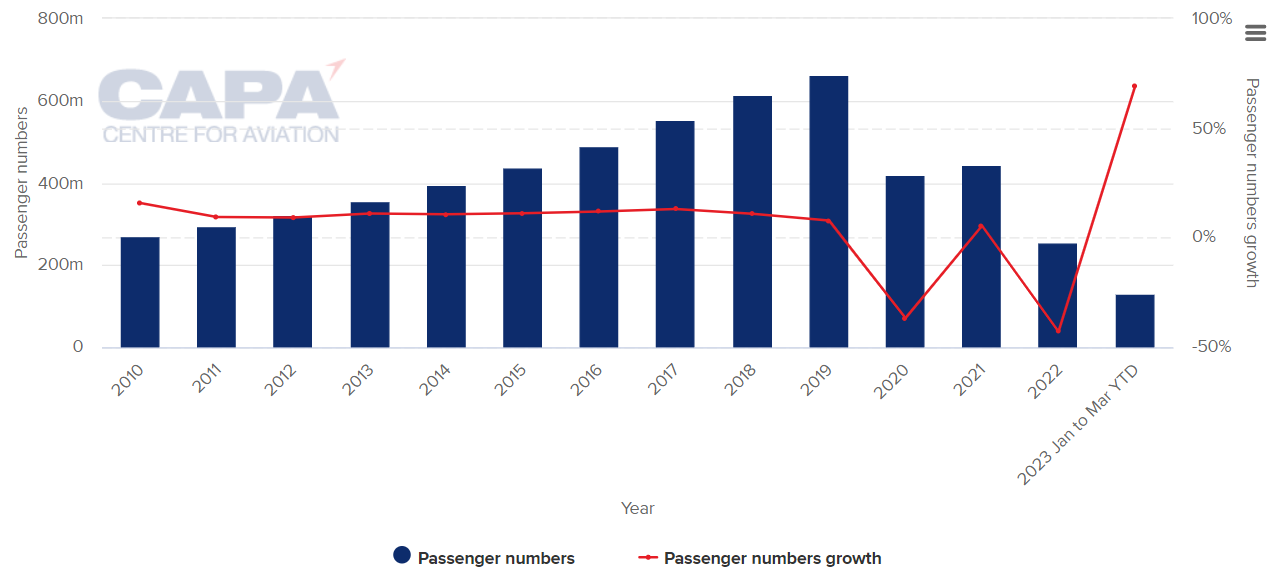 China's fleet is far larger, but order numbers are broadly similar in China and India
There is considerable disparity in fleet sizes. India currently has 701 aircraft in service, with another 120 inactive.
Indian airlines also have 932 aircraft on order. The total does not include the 470 orders placed recently by Air India, and more large orders are expected later in 2023.
However, India's total also includes 88 aircraft on order by Go First, which has recently filed for bankruptcy protection.
And the fate of 132 orders attributed to Jet Airways is uncertain, since the airline has been grounded since 2019 and its new owners have yet to set a date for its relaunch.
India's aircraft fleet status and orders, as of 15-May-2023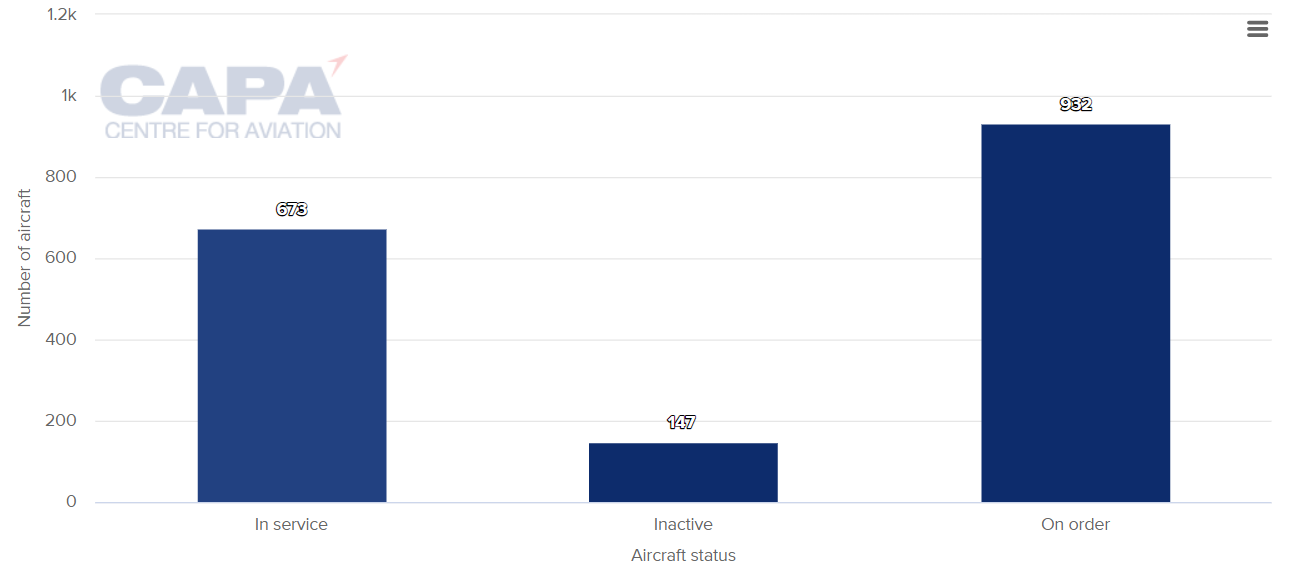 In contrast, China has more than 4,000 aircraft in service. While this dwarfs India's active fleet, the order numbers are not too far apart when the Air India orders are included.
China's aircraft fleet status and orders, as of 15-May-2023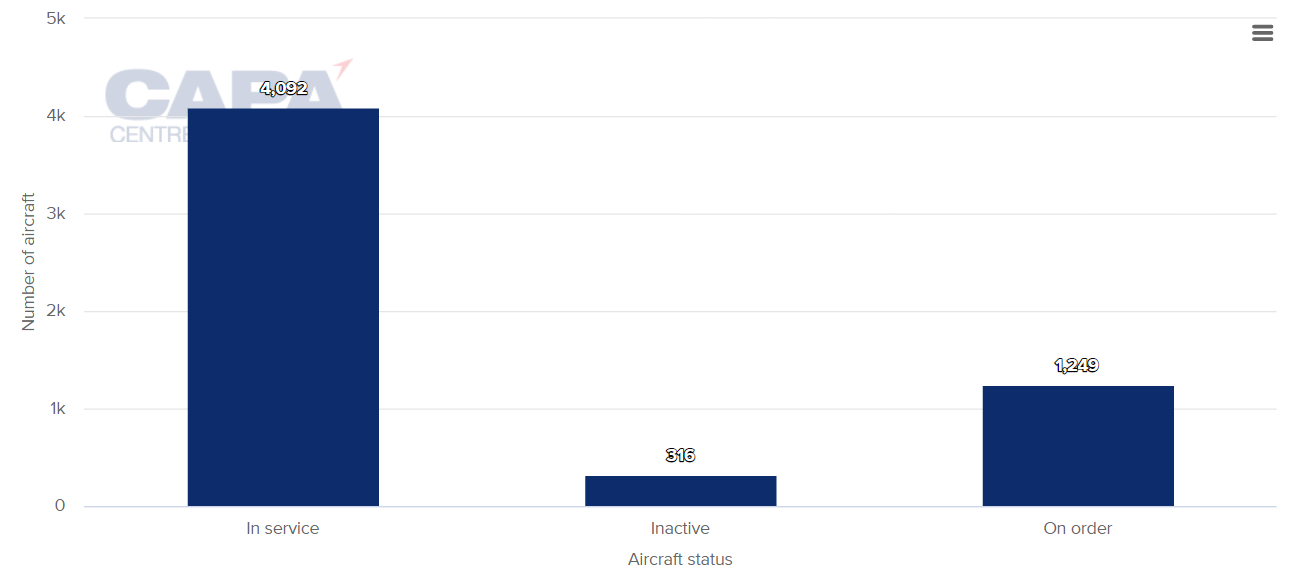 India's potential justifies massive orders, although growth challenges cannot be ignored
There is no question that India has huge potential for air travel growth – both domestic and international. The combination of the soon-to-be world's largest population, relatively low air service levels for its size, and lack of high-speed rail provide a good environment for local airlines.
In the international arena, Indian airlines aim to capture a greater share of the market from the overseas airlines that collectively carry 57% of Indian international traffic.
The country is currently well behind China on the growth curve in terms of airline service and fleet. However, for this reason India likely has the greater scope for expansion. A rapidly expanding backlog of aircraft orders shows that India's fleet, while smaller now, is destined for at least as much growth as China's. India has a far greater ratio of orders to active aircraft.
The market's growth potential indicates that the hundreds of aircraft orders placed – and planned – by Indian airlines are justified.
An important caveat is that the rate of expansion must keep pace with the acceleration in demand. In previous years, capacity has outstripped demand growth, depressing yields and causing airlines to struggle financially.
Aviation infrastructure improvement and workforce development must also be a focus, otherwise they could impede air service growth – even if demand is booming.
Significant infrastructure investment is under way, most notably in the airport sector, but workforce could be a tougher problem to solve.
NOTE: A condensed version of this article first appeared in the Jun-2023 edition of our sister publication Air Transport World. This issue includes the features: